As the crisp autumn leaves fall and the days grow shorter, October ushers in a month of enchanting birthstones that mirror the season's transformative beauty.
In this blog post, we delve into the captivating world of October birthstones, exploring the mesmerizing opal and tourmaline. These gems, with their kaleidoscope of colors and rich histories, hold a special place in the hearts of those born in this month.
Join us on a journey to uncover the hidden meanings, metaphysical properties, and dazzling allure of these gemstones.
Whether you're an October-born individual seeking to embrace your birthstone's energy or simply a gemstone enthusiast, prepare to be enchanted.
What Is October's Birthstone?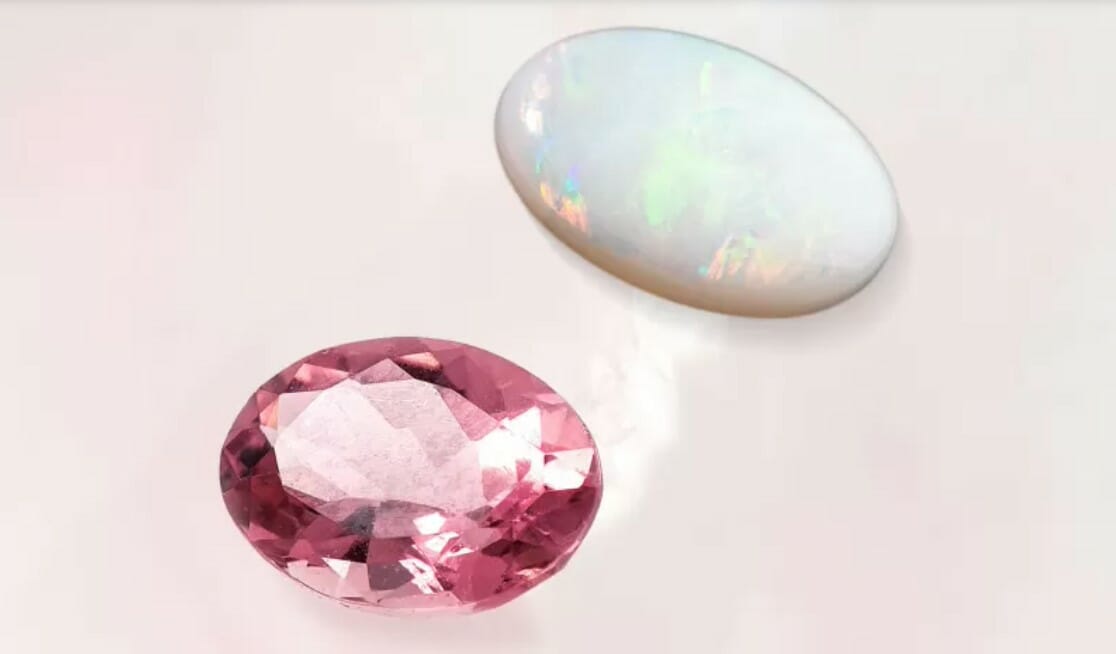 If your birthday is in October, you're lucky in that you've got more than one birthstone to choose from – opal and tourmaline.
Does October Have Two Birthstones?
Yes, October has two birthstones. The modern birthstone is tourmaline and is a favorite gemstone for many because it's available in a rainbow of beautiful colors, depending on the trace elements in its chemical makeup.
The more traditional birthstone is the opal, a gemstone that diffracts light to show a play of multiple colors.
Why Are There Two Birthstones for October?
October babies are fortunate enough to have two birthstones thanks to the National Association of Jewelers. In 1952, the organization decided it was time to standardize the list of birthstones.
Having two birthstones is also due to the simple fact that variety makes for a more accessible and flexible approach to purchasing birthstone jewelry.
What's October's Birthstone Color?
There's more than one birthstone color, however, the generally accepted October birthstone colors are multi-color, pink, and white.
October Birthstone Color: Opal and Tourmaline
Both opal and tourmaline boast a rich palette of colors. Let's see in what hues and shades they can be found.
Opal and Tourmaline Colors – From Pink to a Rainbow of Shades
Opal and tourmaline are two of nature's most splendid creations. Together, they paint the world with a breathtaking palette of colors and take you on a chromatic journey that ranges from delicate pinks to the enchanting spectacle of a rainbow in a single stone.
Opals are known for their "play-of-color", dancing with an ever-changing spectrum of hues. Tourmaline, the gemstone of the rainbow, offers an astonishing variety of shades, the most popular of which is pink.
Opal – History, Characteristics, Meaning & Value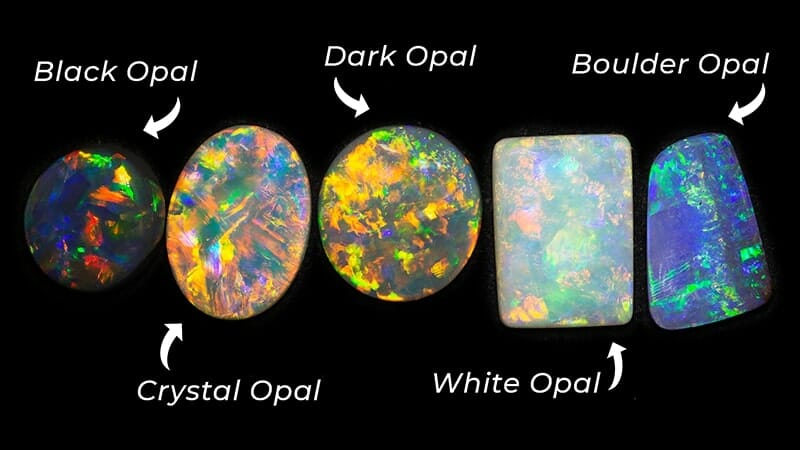 Opal: Properties and Characteristics
Unlike most other gemstones, opal isn't a mineral but a mineraloid. Its composition is a hydrated amorphous silica with a Mohs hardness scale ranking between 5.0 and 6.5.
It can be found in all colors, the rarest of which is black. The crystal structure of opal is an amorphous solid and its luster is subvitreous to waxy.
It wasn't until the 1960s that opal's characteristic "play-of-color" was properly explained. This was when scientists discovered that the gemstone is composed of microscopic silica spheres that diffract light to display assorted colors of the rainbow. Gems that display the classic "play-of-color" are called precious opals. While those that don't are known as common opals.
What Is the Message of Opal?
Over the years, opal has been an inspiration for many writers. They have compared it to volcanoes, galaxies, and fireworks.
Bedouins once believed opal held lighting and fell from the sky during thunderstorms. Ancient Greeks believed opals bestowed the gift of prophecy and protection from disease.
In Europe, it has long been a symbol of purity, hope, and truth. Hundreds of years ago, folk believed that the opal embodied the virtues and powers of all colored stones.
What Is the History Behind Opal?
The name "opal" originates from the Greek word opallios, which means "to see a color change". The Roman scholar Pliny also used a similar word, opalus, when writing about the gemstone's kaleidoscopic "play" of rainbow colors.
During the Middle Ages, opal was thought to bring the wearer luck. This changed in the early 1800s when a story emerged about an enchanted princess who wore an opal that changed colors according to her mood. The stone's magic fire was extinguished with a few drops of holy water, and the princess died.
Opal's image was revived around 1850 when opal deposits were discovered in Australia. At that time, 95% of the world's opal gemstones and many of the finest opal specimens came from there.
Other important deposits are found in Central Europe, Honduras, Indonesia, Peru, the United States, Madagascar, and Turkey.
Lightning Ridge, a small town in New South Wales, Australia, is well-known for producing the prized black opals. White opal can be found in the White Cliffs area of New South Wales, as well as in Coober Pedy, Andamooka, and Mintabie in South Australia. Boulder opal comes from only one location in the world. It's mined in Queensland.
What Determines the Value of an Opal?
Like all gemstones, opal is priced by carat weight, however, because of the variety of stones in the market, the price per carat differs based on your stone.
Common opals can cost as low as $10 per carat, but prices get up to $6,000 per carat for more rare, precious forms of opal gemstones, particularly those exhibiting the most fire and unique color patterns.
Factors that affect the value of opal include the type, body tone, brilliance, pattern, color bar thickness, the play of color, and faults.
Other key factors include the quality of the gemstone's cut and polish and the size of the stone.
Tourmaline – Symbolism, History, Characteristics & Value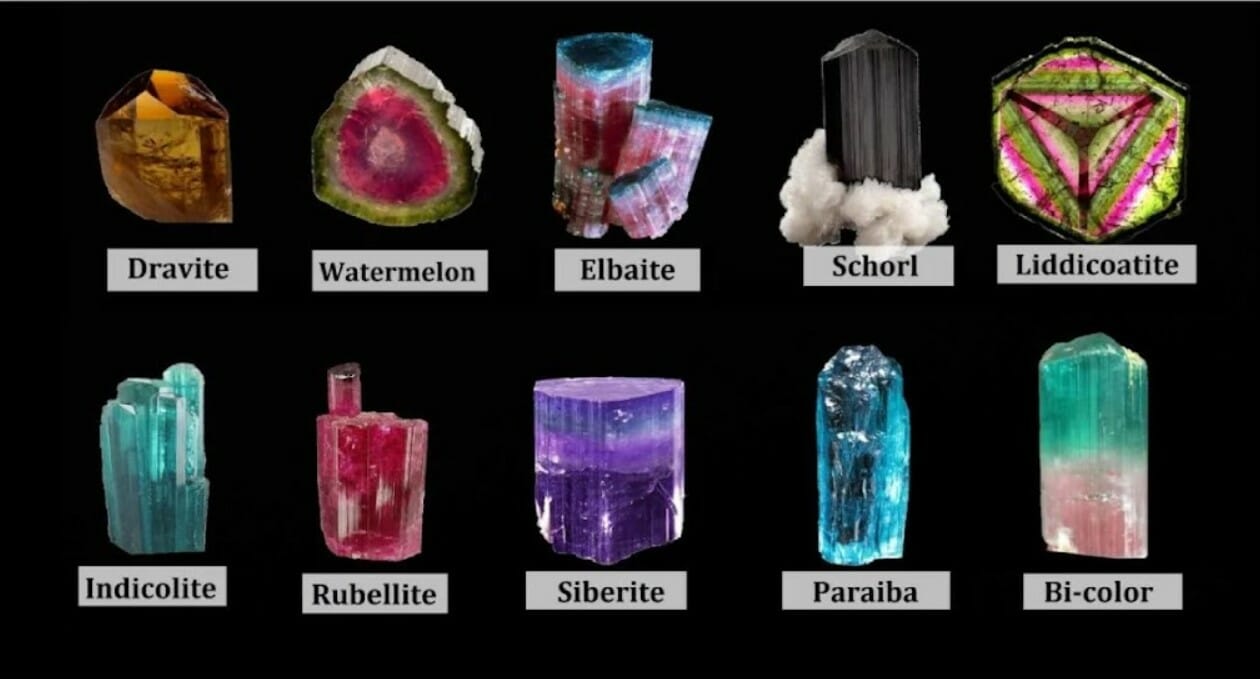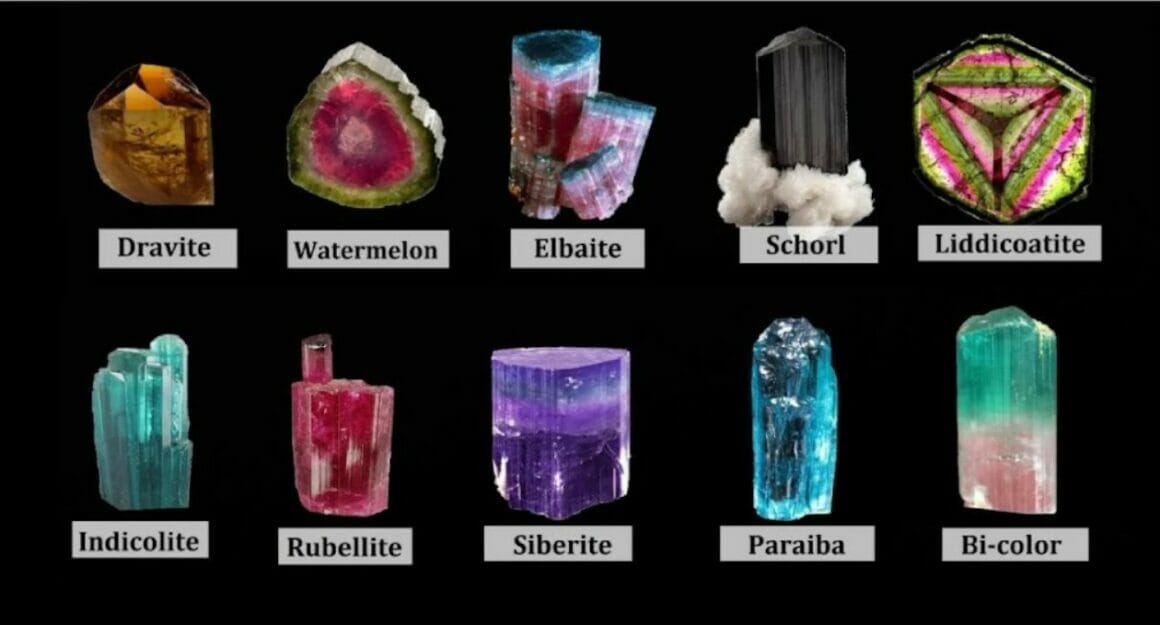 Tourmaline: Geological Properties
Tourmaline is a crystalline boron silicate mineral compounded with elements, such as aluminum, iron, magnesium, sodium, lithium, or potassium. It is a hard gemstone that's durable and well-suited for jewelry.
Also, tourmaline is classified as a semi-precious stone and comes in a wide variety of colors. It is a pyroelectric mineral. This means that when warmed, it attracts dust and other lightweight particles.
All colored tourmaline gems display pleochroism. This means their color changes when viewed at different angles. Depending on the gem, this quality can be hardly noticeable or strongly apparent.
What Does a Tourmaline Symbolize?
Tourmaline is the modern October birthstone, and its name comes from the Sinhalese word toramalli, meaning "stone with mixed colors".
There are very few gems that can match the dazzling array of colors, which may be the reason why ancient mystics believed tourmaline could inspire artistic expression.
Assorted colors of tourmaline are thought to have healing properties. People believed that black tourmaline protects the wearer and gives them a sense of self-confidence. Green tourmaline promotes courage, strength, and stamina. While pink tourmaline embodies love and is associated with compassion and gentleness.
A Brief History of Tourmaline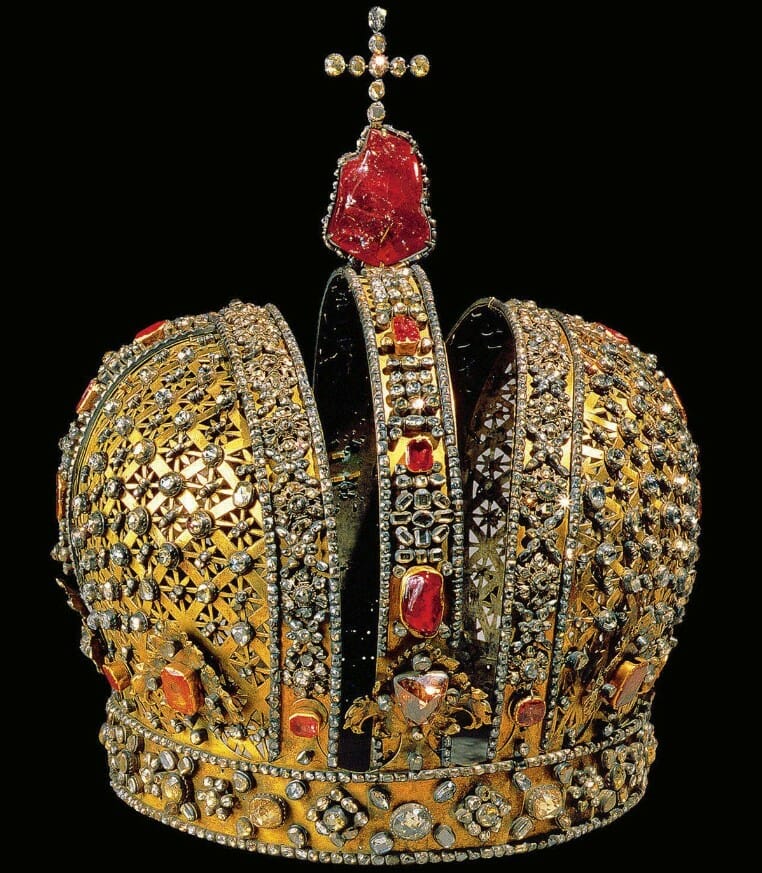 In the 1500s, a Spanish conquistador found a green tourmaline in Brazil. However, at the time, he mistook it for emerald.
Tourmaline was also discovered by Dutch traders off the West Coast of Italy in the 1700s. But again, they assumed that the stones were simply emeralds.
A century later, in the 1800s, scientists realized that the green tourmalines were a unique species of mineral.
The word tourmaline originates from a Sinhalese term, "Turmali", which means mixed gems. It's a term Dutch merchants used for the multicolored, water-worn pebbles that miners found in the gem gravels of Ceylon. People used the name for all colored crystals found on the island of Sri Lanka at the time.
Other tourmaline color varieties have also been mistaken for other precious stones. For example, folks thought that pink and red tourmalines were rubies. Similarities are so strong that stones in the Russian crown jewels were thought to be rubies for centuries. The stones were actually tourmalines.
Tourmaline is most commonly found in Brazil, mainly from pegmatites in the state of Minas Gerais. However, it's also mined in Pakistan, Afghanistan, Kenya, Mozambique, Madagascar, and other African countries. Historically, California and Maine are important producers of fine tourmaline in the US.
Tourmaline Quality Factors
The quality factors of tourmaline are color, clarity, cut, and carat weight. Tourmaline's rainbow colors have a wide range of color intensity and tone. One of the most sought-after and generally available colors is rubellite.
In terms of clarity, pink to red tourmaline often has more visible including than green to blue varieties. Tourmaline cutters tend to cut slender finished stones because of the long tourmaline crystals. Tourmaline is available in a range of sizes, but the larger stones tend to be rarer.
How to Care for Opal and Tourmaline?
Opals are a relatively soft gem so it's important to treat them gently to avoid scratching or chipping the surface. Store jewelry featuring opals away from other jewels, such as diamonds, rubies, emeralds, sapphires, and other hard stones.
The safest way to clean an opal is to gently wipe it down with lukewarm, soapy water. Another more intense cleaning method could damage it. You should also keep opals away from extreme heat or sudden temperature changes. Therefore, ultrasonic or steam cleaning is not recommended.
You can clean the tourmaline with warm soapy water and a soft brush. It is a gemstone durable enough to withstand light and most chemicals, however, too much heat could damage the stone. This is another gemstone you should clean using ultrasonic or steam cleaners.
October Birthstone and Zodiac Sign: Libra & Scorpio
A month of transition and transformation, October is not only adorned with opulent opal and vibrant tourmaline as its birthstones but also marks the celestial influence of two powerful zodiac signs: Libra and Scorpio.
October Birthstone: Libra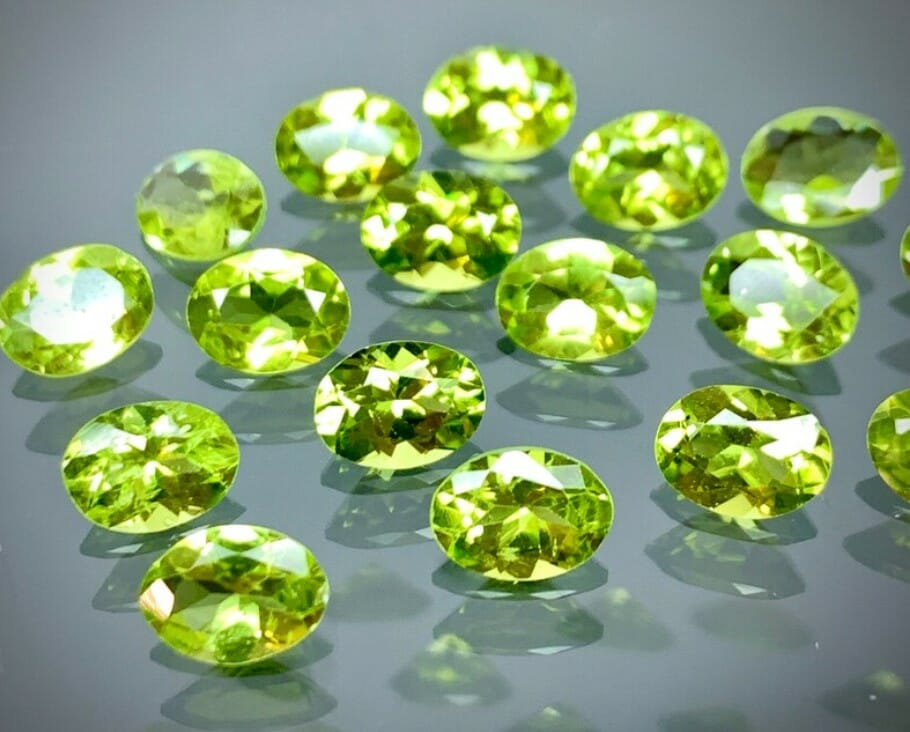 Apart from the mystical opal, which is the original birthstone for Librans, there's also the gorgeous peridot – an alternative birthstone for this zodiac sign. This green gemstone can bring good luck and success to the wearer. One should also wear it for radiance and purpose.
Ancient Egyptians called peridot the "gem of the sun," believing it protected its wearers from the terrors of the night. Some historians believe that Cleopatra's famed emerald collection may have been peridot.
What Is Libra Lucky Stone?
According to Western Astrology, labradorite is the ultimate birthstone for the sun sign Libra. This grey-to-greyish-black stone displays a remarkable optical phenomenon called Labradorescence.
Color flashes of peacock blue, violet, green, orange, and yellow-gold appear on the stone when light reflects from its surface. These color flashes resemble the iridescent pattern on a butterfly's wings.
Labradorite symbolizes courage and mysticism. Many believe that it brings clarity, stability, transparency, independence, and positivity all at once.
October Scorpio Birthstone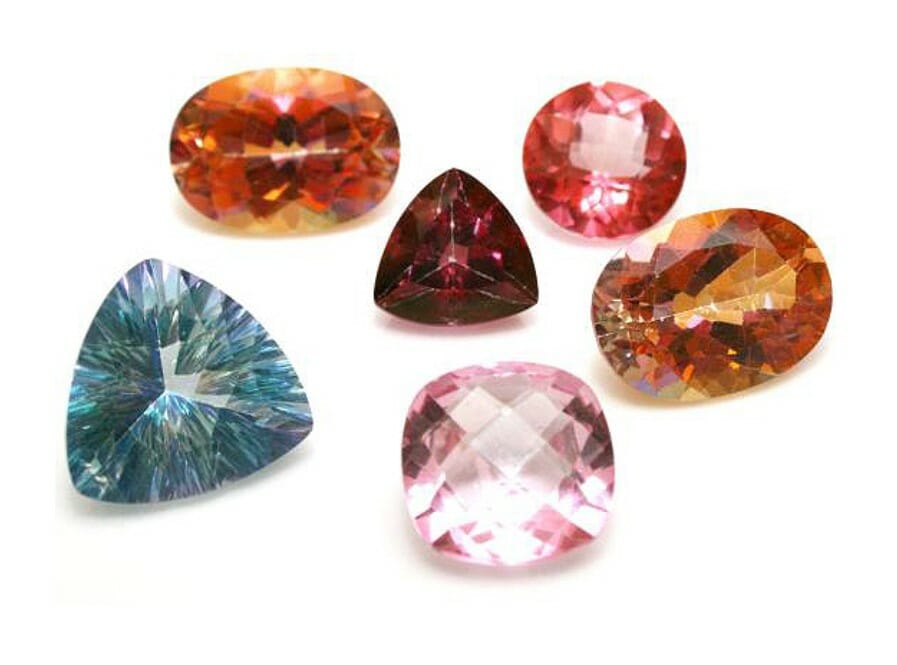 The zodiac sign for the second half of October is Scorpio.
What Is the Birthstone for October Scorpio?
Topaz is the birthstone for Scorpians. This gemstone comes in many colors, including yellow, blue, and pink. It promotes healing and strength.
Pure topaz is colorless, but it can become tinted by impurities to take on any color of the rainbow. The most prized color is Imperial topaz, which features a vibrant orange hue with pink undertones. Blue topaz, although increasingly abundant in the market, very rarely occurs naturally. The gemstone undergoes irradiation treatment to turn blue.
Alternative Birthstones for October
We've already mentioned the most common birthstones for October, but there are several others we often associate with October.
Aquamarine was the traditional birthstone for October from as early as the 15th century, as well as the ancient October birthstone in the old Arabic, Hebrew, Polish, and Roman calendars.
Beryl is the ancient birthstone for October in the old Italian and Russian calendar.
In the old Tibetan calendar, Jasper is the birthstone for October. Jasper is an opaque variety of chalcedony that occurs in a wide range of colors.
In the Hindu calendar, October's birthstone is coral. However, this is not the most ethical choice if you're looking to buy something for a loved one.
October Birthstones: Jewelry & Fashion Trends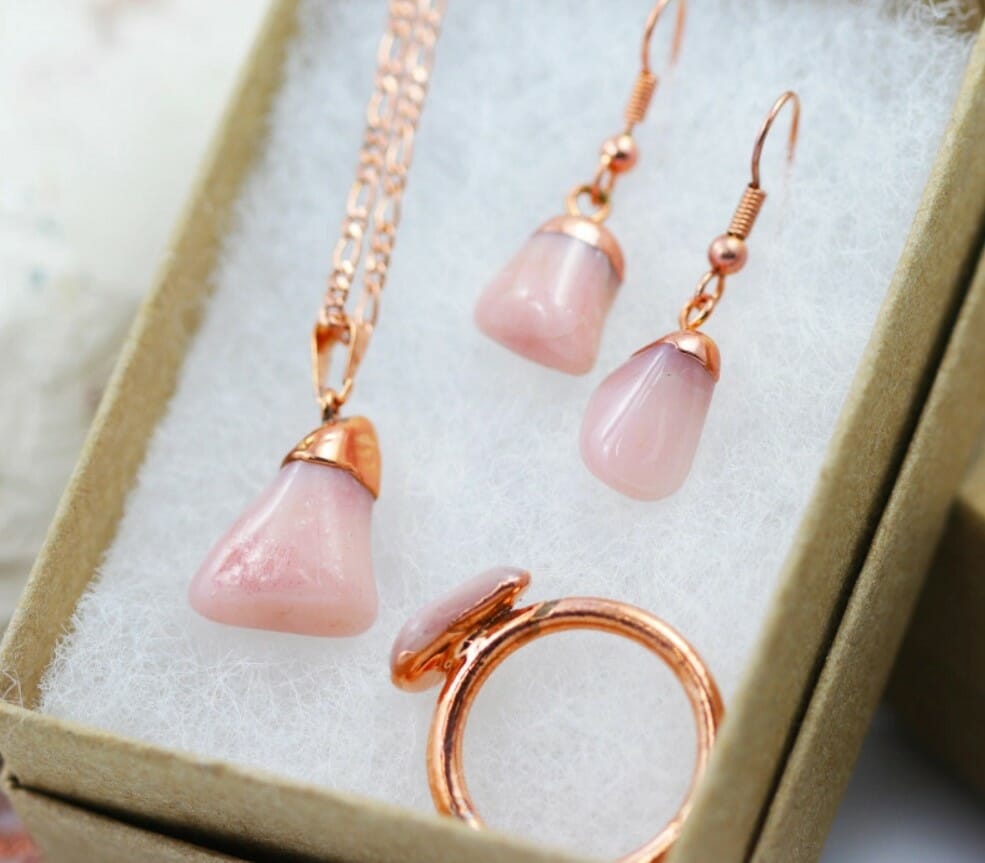 When it comes to selecting the perfect gift, few options are as meaningful and personalized as jewelry adorned with birthstones. Whether you're celebrating a loved one's birthday or a special milestone, birthstone jewelry is a thoughtful choice that speaks volumes. These exquisite gems not only highlight your thoughtfulness but also carry centuries-old beliefs of luck and healing properties.
For instance, an October birthstone necklace can make a stunning gift for a friend born in that month, not only reflecting their unique personality but also bringing them luck and enhancing their emotional well-being. Likewise, an October birthstone bracelet can be a beautiful way to surprise a loved one in your life, harnessing the gem's reputed healing energy.
Whether it's a sparkling October birthstone ring with a pink tourmaline for a birthday gift or an elegant October birthstone opal ring, birthstone jewelry adds a touch of personal magic to any occasion.
October birthstone opal earrings or October birthstone tourmaline studs could also be the perfect gift that will resonate with your loved one's unique qualities and even bring them a little extra luck and positivity.
Opal is a gemstone that's soft and can break easily. It's therefore important to mount them securely. The most secure way to mount opals is to bezel-set them. This encases the entire circumference of the opal in a metal rim, providing maximum protection and support.
When it comes to choosing the metal for mounting opals and tourmaline, both gold and silver are popular choices. Gold is a more expensive option, but it is also more durable and less prone to tarnishing than silver. Silver is a more affordable option, but it is softer and more prone to tarnishing than gold.
In general, if you want a more secure and long-lasting mount for your birthstone, gold would be a better choice. However, if you are on a budget and don't mind the extra maintenance, silver can also be a good option. Ultimately, the choice between gold and silver comes down to personal preference and budget.
Explore More Birthstone Articles:
October Birthstone: FAQs
Q: Is October birthstone rare?
A: Opal is rare and comes in multiple colors, ranging from white to black. Natural, untreated opal is becoming rarer, as Australia's deposit diminishes.
The rarity of tourmaline depends on the variety and quality of the stone. The rarest and most valuable varieties are rubellite, along with chrome tourmaline, indicolite, and paraiba tourmaline.
Q: Who should not wear opal?
A: One of the better-known legends about opal is that it's bad luck to wear one if it's not your birthstone. Those, born in months that are not governed by Venus should definitely avoid wearing jewelry with opal.
Q: Why Is the Tourmaline so special?
A: One of the most distinctive features of tourmalines is pleochroism. The presence of differing colors or depths of color, when you rotate the gem, is behind the term.
Q: What does October's birthstone color mean?
A: October has two birthstones: opal and tourmaline. While both gemstones are available in a wide variety of colors, classic white opals, and pink tourmalines are the two most popular colors.
Conclusion
In this comprehensive guide to October birthstones and the latest jewelry trends, we've delved into the enchanting world of opal and tourmaline, uncovering their rich histories, vibrant colors, and deep symbolism.
Whether you're an October-born individual looking to embrace your birthstone's energy or a jewelry enthusiast seeking to stay in vogue, this exploration has been a gem of knowledge.
As you adorn yourself with these exquisite stones, remember that birthstone jewelry not only enhances your style but also carries age-old beliefs of luck and healing. So, whether you're drawn to the mystical opal or the mesmerizing tourmaline, let your birthstone jewelry tell your unique story and keep you fashionably connected to the timeless traditions of October.
References: