Are you born at the start of the year and want to know your birthstone? Well, in the world of birthstones, those born in January are fortunate in that they've got more than one gem to choose from.
Keep reading to learn about the most popular January birthstone – garnet, and its special place in history and culture. Discover the gem's physical characteristics and get some tips on buying this pomegranate-colored semi-precious gemstone for that special someone in your life.
You will also find out what other birthstones we associate with January, based on your specific birth sign, whether it's Capricorn or Aquarius.
Historical Background of January Birthstone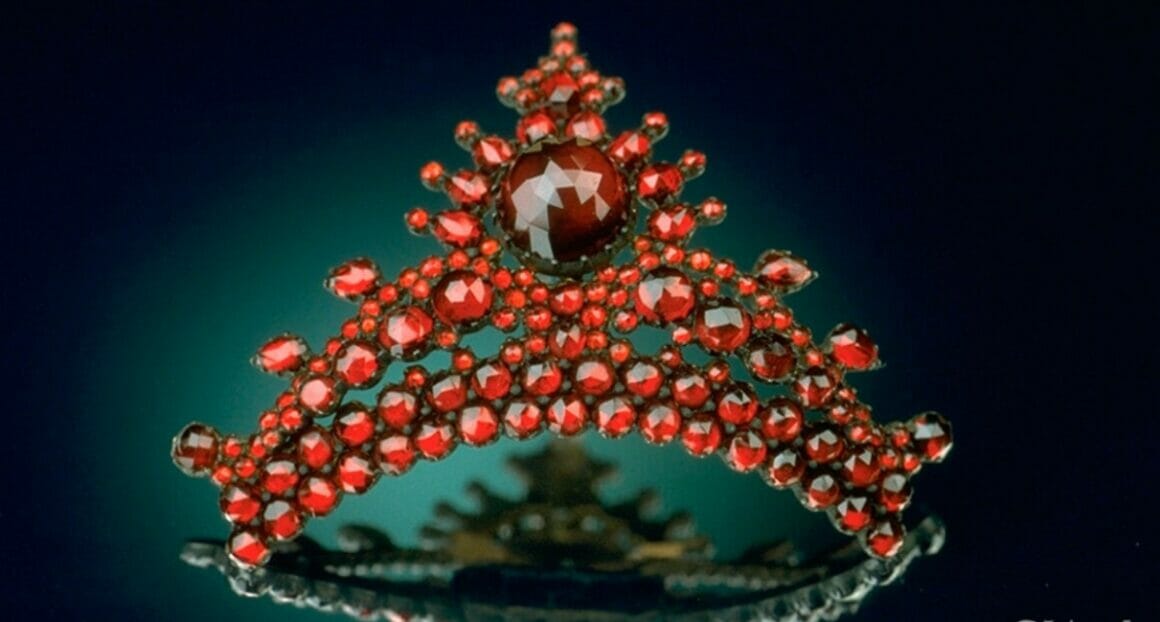 Image by GIA.edu
Garnets have been a popular gemstone for jewelry for thousands of years and have a rich and interesting history. The name garnet originates from the medieval Latin granatus, which means pomegranate, in reference to the garnet's most common color red.
During the Bronze Age, garnets were used as gemstones and abrasives. In ancient Egypt, pharaohs were known to wear necklaces studded with red garnets. In ancient Rome, garnet intaglios were used to stamp the wax seals that secured important documents. Furthermore, during the Middle Ages, the nobility and clergy also had a fondness for red garnets.
One of the most famous pieces of garnet jewelry is an antique pyrope hair comb, currently on display as part of the National Gem Collection at the Smithsonian Institution.
At the crest of the comb is a large rose-cut garnet that came from the historic mines in Bohemia, now part of the Czech Republic. The piece was fashioned in the Victorian era when the rich red stones were extremely popular.
Historically, garnets were known as carbuncles and there are several references to this jewel in the Bible. Legend has it that Noah used a carbuncle to illuminate the ark and sea, which allowed the vessel to safely navigate the waters at night.
Scientific Aspects of January Birthstone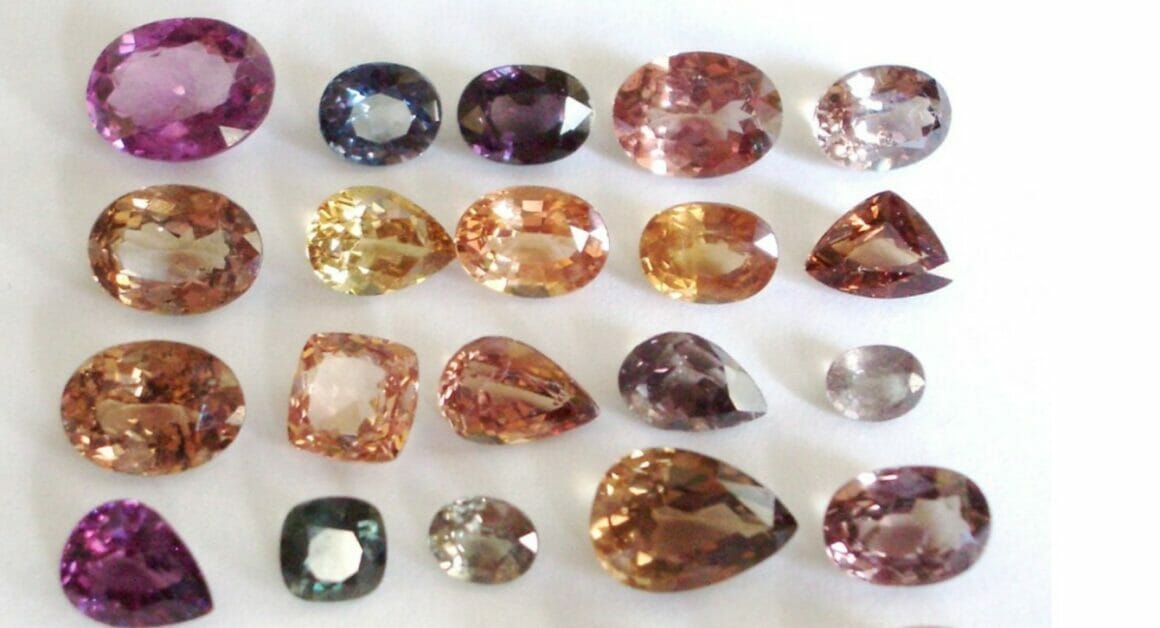 Image by Magnetism in Gemstones
Garnets are a group of silicate minerals with similar crystal forms and physical properties. However, their chemical composition is different, which is what gives them their assorted colors, including black, brown, purple, green, yellow, orange, red, pink, and even colorless.
Garnets are formed under similar geological conditions and are mostly found in metamorphic rocks. When sedimentary rocks travel deep into the earth, the heat and pressure alter the minerals, leading to the formation of garnet crystals. Some garnets even change chemical compositions to reflect the temperature and pressure at the time of formation.
The primary source of red pyrope garnets, popular during Victorian times, was Bohemia, but they can be found in many different countries and regions. Nowadays, most of the world's garnet supplies come from the African continent.
Demantoids are produced in Namibia, bright green tsavorites come from Kenya, Madagascar, and Tanzania, and rich orange-to-yellow spessartine garnets are primarily found in Tanzania and Namibia.
Other areas well known for producing the gem include Southern California's Little Three mining area, Sri Lanka, India, Pakistan, Afghanistan, Iran, Brazil, and Myanmar.
January Birthstone: Physical Characteristics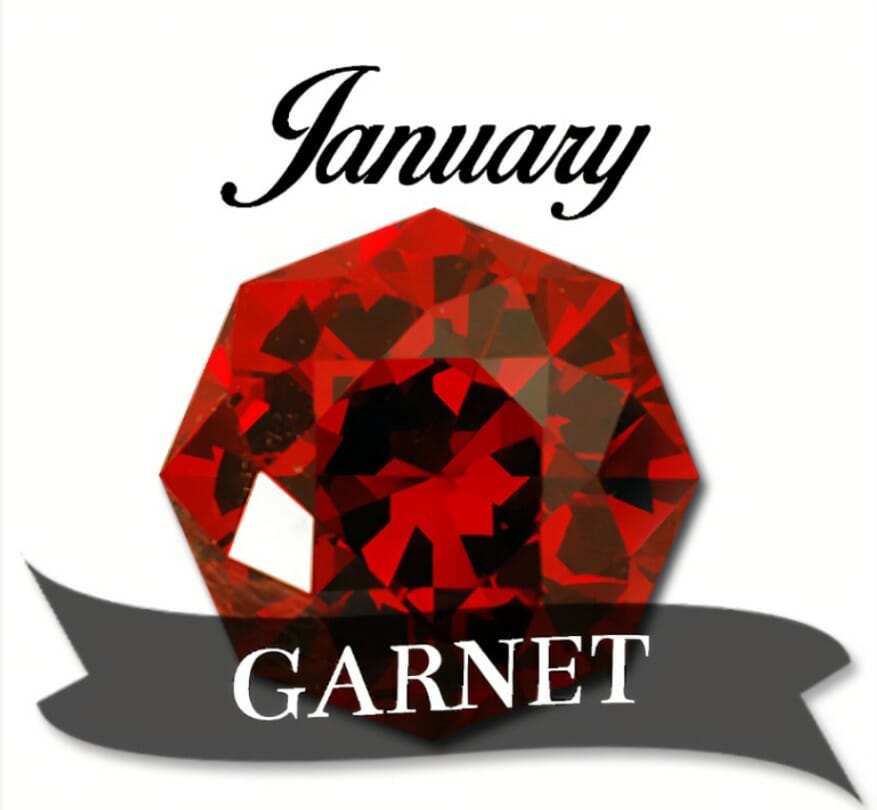 Image by Fotolip
Very few people are aware that garnets are far more colorful than the wonderful deep red they're best known for. Thanks to their rich color spectrum, this gemstone can keep pace with changes in style and color trends of fashion, like no other jewel.
The garnet exists in various shades of green, a fiery orange, tender to intense yellows, and fine earth-colored nuances. There are also garnets that change color from blue to purple, depending on the lighting.
Garnets not only have many colors, but they also have a wide variety of names. Uvarovite, spessartine, tsavorite, rhodolite, pyrope, hessonite, grossularite, almandine, and demantoid, to name just a few.
Other distinctive characteristics include its good hardness of 7 to 7.5 on the Mohs scale. This is the main reason for the gemstone's excellent wearing qualities. Another plus is the gem's refractive index, which leads to the garnet's great brilliance. However, it does not like being knocked around or subjected to improper heat treatment.
You'll typically find garnets cut into standard shapes and sizes, as this allows easy setting into jewelry. Red garnets are particularly popular for pendants, earrings, brooches, and rings.
In terms of quality, the principal factor is color. As they come in a wide range of colors, the specific hue and saturation can affect their value. The quality of the cut impacts the overall appearance and brilliance of the gemstone. Higher-clarity garnets tend to be more valuable. In terms of carat weight, larger garnets are usually more valuable, although other factors also play a significant role.
Symbolic Meanings of January Birthstone
Garnets can symbolize many things, depending on the context and the beliefs of the person who owns them. Some of the more common symbolic meanings include love and passion, making it a popular choice for engagement rings and other types of romantic jewelry.
It is also believed to help balance emotions and promote feelings of compassion, tenderness, and warmth. People looking for emotional stability and harmony in their lives often choose garnets.
In some cultures, garnet is believed to bring good fortune, prosperity, and success to anyone who wears one. No surprise it's a popular choice for entrepreneurs and businesspeople.
Garnet is also believed to have healing and protective properties, as well as helping to ward off negative energies and promote emotional and physical healing.
Garnet: Buying Guide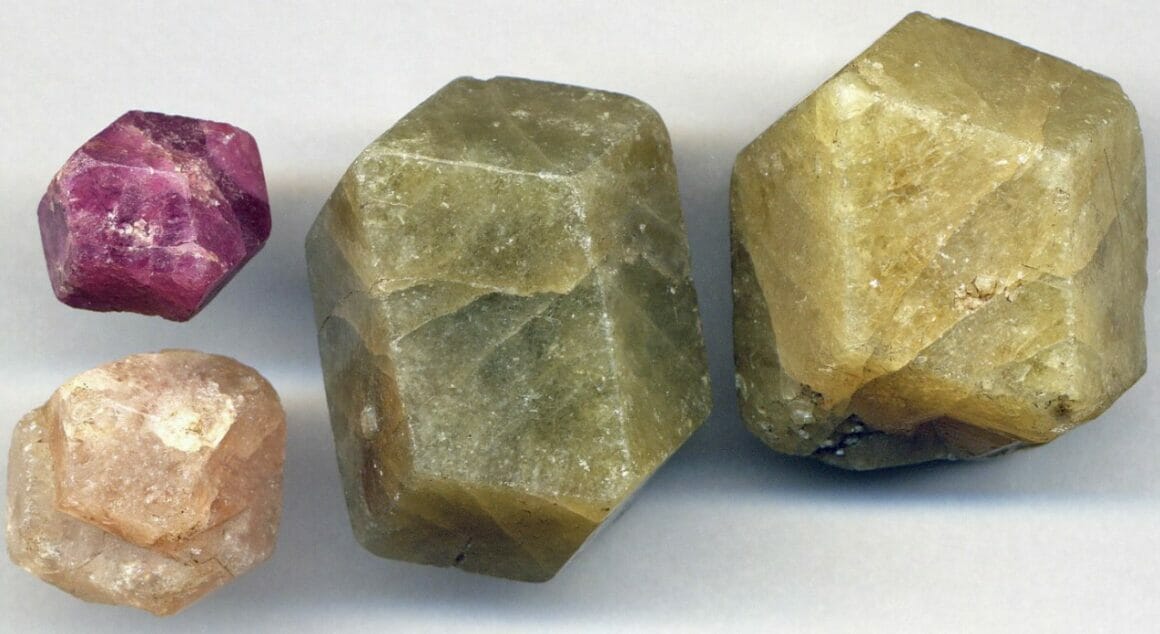 Image by International Gem Society
The price of garnet is very much influenced by a variety of factors. These include the place you buy them from, the carat weight, the gem's cut, color, and clarity. Contrary to what most people think, the cost is mostly influenced by the overall quality and not by the carat. The cost of loose rough garnets ranges from around $1.60 to $15 per carat.
If you're thinking about buying garnet but are worried about authenticity, you should follow the famous rule of the 4Cs to evaluate a garnet's quality. The 4Cs are cut, color, clarity, and carat weight.
Value by Color & Cut
There are three main components to consider in terms of color: hue, tone, and saturation. Hue refers to the dominant color of the garnet. The tone is how light or dark the color appears. Saturation refers to the intensity of the color. A high-quality garnet will have a well-balanced color with a strong saturation that makes its hue pop.
The cut of garnet is important for its aesthetic appeal, brilliance, and durability. To evaluate the cut of garnet you should focus on the proportions of the cut, the symmetry of the facets, and the depth of the cut.
Value by Clarity, Shape, Size & Quality
Garnets are known to be pristine gems, with clear transparency, and a glass-like sheen. They are usually free from noticeable flaws. However, orange garnets are an exception to the rule and tend to have more inclusions or internal marks.
You'll find garnets in a range of shapes and sizes. Rarer kinds are generally smaller, which means when their carat weight goes up, their value tends to increase significantly. More common types of garnets are typically available in more generous sizes.
Storing & Looking After Garnets
Garnet is more susceptible to damage than some other birthstones such as sapphires, diamonds, and rubies. Not all garnets are good candidates for daily wear, but they make attractive earrings, brooches, and pendants.
If you store your garnet jewelry with other harder gems, it can be scratched. Similarly, garnet will scratch softer gems such as pearls or opals.
Garnets tend not to be treated and if you need to clean them, you should use a soft brisk with warm soapy water. Ultrasonic cleaners are usually safe unless the garnet has a fracture or has been fracture-filled. Steam cleaning is not recommended for garnets.
January Birthstone: Fashion and Trends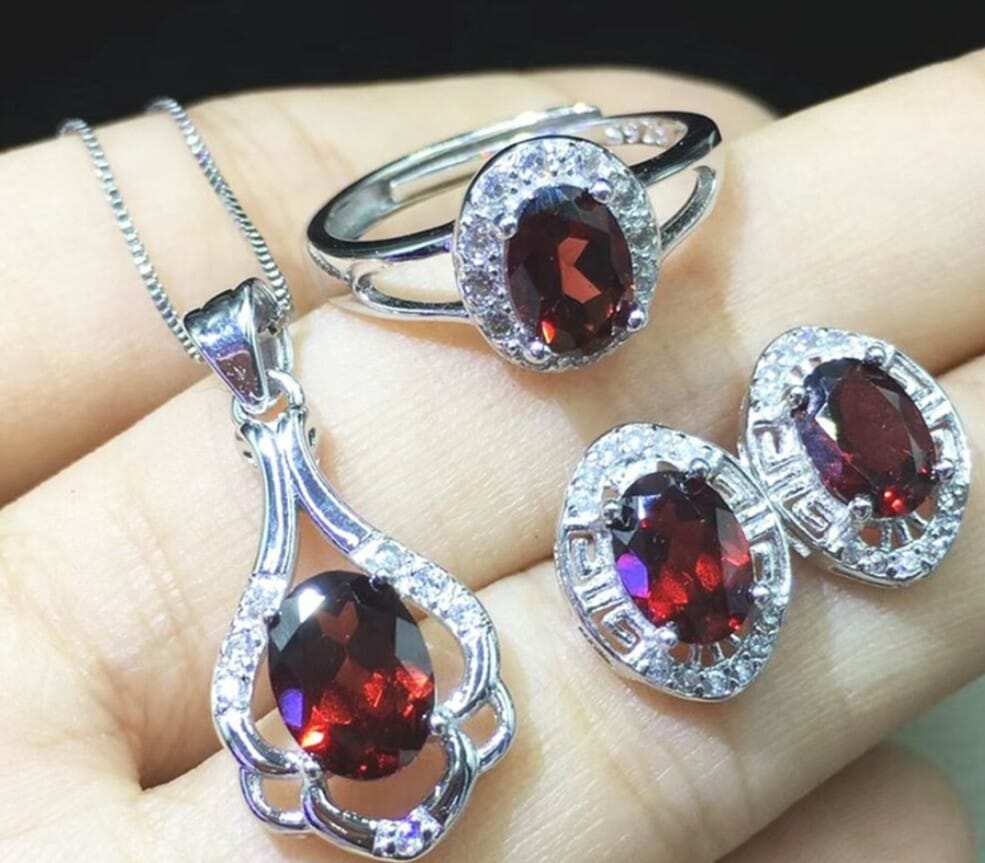 January birthstone, the garnet, has been a symbol of passion, vitality, and strength for centuries. In modern fashion, garnet jewelry is experiencing a resurgence, blending tradition with contemporary style.
Garnet jewelry is no longer confined to classic styles. Increasingly, designers are crafting modern and innovative pieces to showcase the gem's rich hues.
Statement January birthstone rings with oversized garnets, layered garnet necklaces featuring garnet pendants, and dainty January birthstone earrings with garnet accents are all the rage. For an utterly unique look, consider garnet jewelry with intricate geometric settings or mixed-metal combinations.
Garnet's rich colors pair beautifully with a variety of clothing styles. For a bold, bohemian look, wear garnet jewelry with flowing maxi dresses and fringed accessories. In a more formal setting, garnet complements navy or black evening gowns elegantly.
You can also add a touch of sophistication to everyday attire by pairing garnet studs with office wear or a garnet bracelet with casual denim.
Whether you prefer traditional elegance or contemporary flare, garnet jewelry offers versatility and timeless charm. Embrace this January birthstone not only as a celebration of your birth month but also as a stunning addition to your jewelry collection, displaying its beauty in the ever-evolving world of fashion.
DIY Garnet Projects
Crafting your garnet jewelry is a creative and rewarding endeavor. Start by selecting high-quality garnet beads or loose stones from your local craft store or online suppliers.
Popular DIY garnet jewelry projects include creating beaded necklaces, bracelets, and earrings. You can mix garnets with other gemstones or metals for a unique look. Online tutorials and jewelry-making kits are readily available to guide beginners through the process, making it accessible to all skill levels.
Making Your Garnet Jewelry
To begin, gather your supplies, including garnet beads, jewelry wire, clasps, and pliers. String the garnet beads in your desired pattern, securing them with crimp beads or knots. Experiment with assorted designs, such as a classic single-strand necklace or a multi-strand bracelet.
For more advanced jewelry makers, try wire-wrapping techniques to create intricate garnet pendants or earrings. Personalizing your garnet jewelry allows you to tailor it to your unique style and preferences.
Incorporating Garnet in Home Decor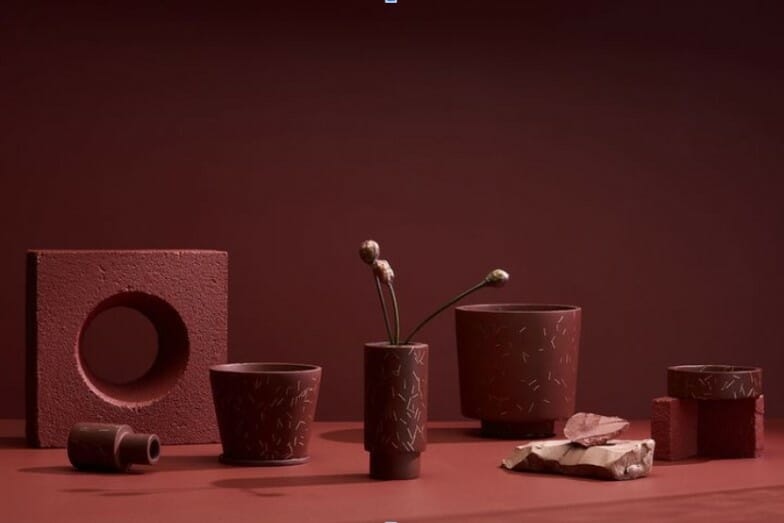 Image by Pinterest
Garnet's rich red hues can also enhance your home decor. Consider garnet-colored throw pillows, curtains, or rugs to add warmth and sophistication to any room. You can also use garnet-inspired paint colors for an elegant accent wall or choose garnet-colored dinnerware for a touch of luxury in your dining area.
Real garnet stones can be incorporated into decorative items like candleholders, coasters, or mosaic artwork for a unique and opulent touch to your living space. The possibilities are endless when it comes to infusing the beauty of garnet into your home decor.
More Birthstone Articles:
The Hidden Lore and Lure of the January Birthstone: FAQs
Q: What color is Garnet?
A: Garnets come in a spectrum of colors such as yellow, orange, pink, purple, gray, green, black, and brown. However, the most recognized color is red.
Q: What does Garnet Symbolize?
A: Garnet symbolism is rich and varied. This gemstone has inspired many legends and popular associations with vitality, light, friendship, and love. Historically, gernets have been associated with the heart, inner fire, life force, and blood.
They are believed to represent fertility, feminine energy, strength, and safety. The spiritual meaning of garnet is that it's the embodiment of the energies of fire, passion, strength, and creativity.
Garnets are also considered to be a stone that symbolizes physical love and the relationship between loving partners.
Q: How rare is garnet?
A: Garnet is a common gemstone, but some types are rarer than others. Green garnet, tsavorite, is one of the rarer types, while demantoid garnet is the most valuable and rarest of all garnets. It is also one of the most uncommon and valuable of all colored gemstones.
Q: What zodiac sign is garnet?
A: As well as being the traditional birthstone for January, garnet is also associated with the zodiac sign Capricorn.
Q: How is Garnet formed?
A: Garnet is formed when a sedimentary rock with high aluminum content, such as shale, is metamorphosed, or subjected to heat and pressure. This breaks the chemical bonds in the rocks and causes minerals to recrystallize. The new minerals that form, in this case, garnet, are more stable in these conditions. Garnets are typically found in metamorphic rocks as well as in some sedimentary and igneous rocks.
Related: A Beginner's Guide To Understanding Gemstone Cuts And Shapes
Conclusion
In conclusion, the January birthstone is more than just a gem. It's a timeless symbol of passion, strength, and versatility. Its deep colors and rich history make it a favorite choice for DIY crafters, fashionistas, and jewelry enthusiasts alike.
From trendy jewelry designs that bridge tradition and modernity to the endless possibilities of incorporating garnet in home decor, this gemstone continues to captivate hearts and minds.
Whether you wear it proudly as your birthstone or simply appreciate its beauty, garnet stands as a testament to the enduring allure of gemstones in our lives.
Also, keep in mind that onyx and jasper are alternative January birthstones, while amethyst is the birthstone for Aquarius.
References: