As Fall paints the world in shades of amber and gold, November ushers in its own exquisite treasures: the topaz and citrine birthstones. These November birthstones, known for their fiery hues and radiant warmth, are symbolic of the changing seasons and the inner fire that burns within us.
In this blog post, we embark on a birthstones-by-month journey through the captivating world of November birthstones, exploring their origins, meanings, and the unique qualities that make them cherished symbols of this transformative month.
Whether you're a November-born individual seeking to embrace your birthstone's energy or a gemstone enthusiast, prepare to be enchanted by the radiant beauty of topaz and citrine.
What Is November's Birthstone?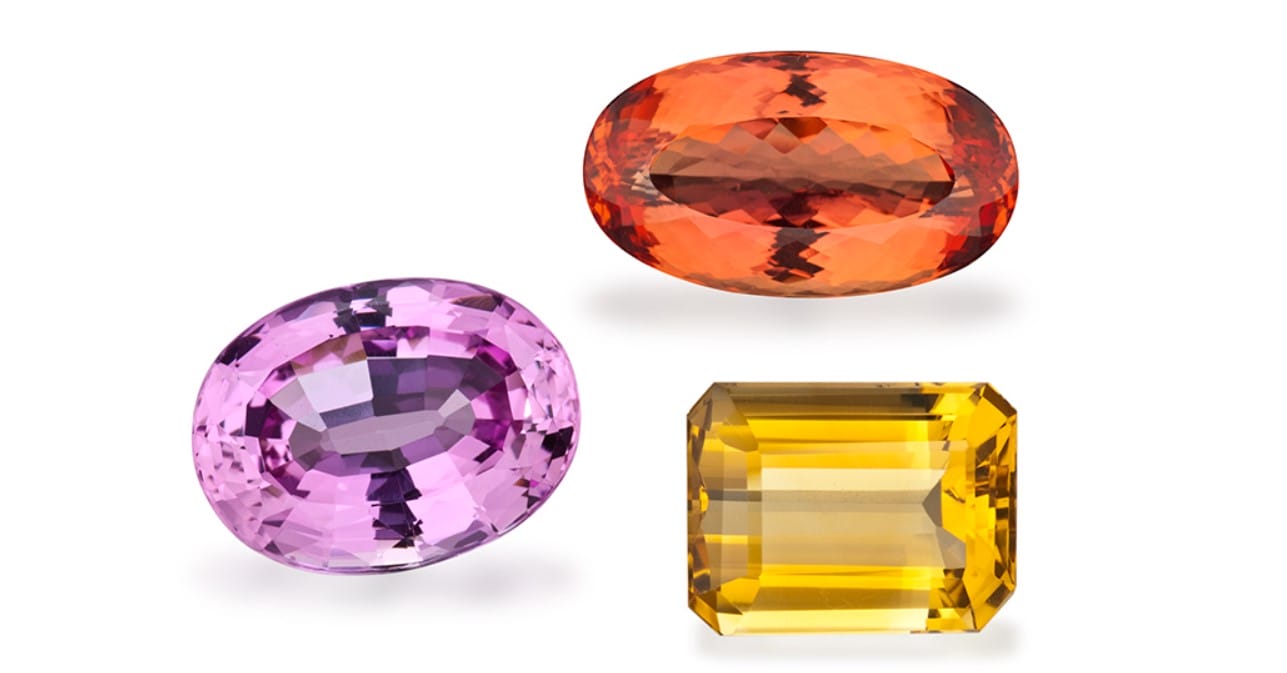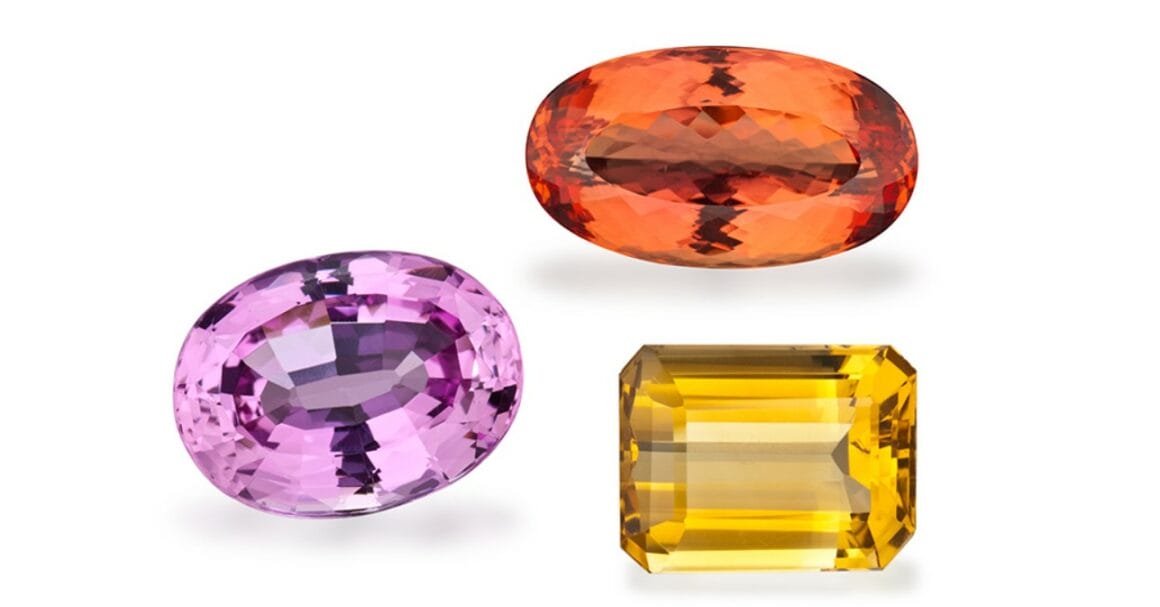 People born in November are fortunate to have two beautiful birthstones to choose from. The first is topaz, found in a rainbow of colors. The second in citrine, prized for its fiery yellow and orange hues.
Both birthstones are known to have calming energies, but at the same time will bring fortune and warmth to the wearer.
Another notable feature of these birthstones is that they're not as rare as many other birthstones, making them more affordable and easier to find.
Why Are There Two Birthstones for November?
There are two birthstones for November because, in 1912, the Jewelers of America wanted to standardize the birthstones. The new list is based on what is easier to sell in large quantities. Topaz was the original birthstone. Citrine was added as a more affordable option.
What's November's Birthstone Color?
Traditionally, November's birthstone color ranges from golden yellow to orange. You can buy topaz in a rainbow of colors, but typically, it's associated with a warm yellow-orange hue, known as Imperial Topaz.
Citrine is popular for its warm yellow and orange hues. Therefore, the primary birthstone color for November is yellow.
Is the November birthstone blue or yellow? This is a common question because topaz is often thought of as a blue gemstone. However, natural topaz with an attractive blue color has always been rare and expensive. Today's blue topaz is mostly the result of gem treatment.
November Birthstone: The Beauty of Topaz and Citrine
November's gemstones, topaz and citrine, bring a burst of warmth and radiance to the month, mirroring the vivid colors of autumn leaves and the cozy glow of harvest season. These two exquisite gemstones may differ in their appearance, yet they share a common ability to captivate with their beauty and significance.
Topaz, with its golden and multifaceted charm, has been revered for centuries as a symbol of love and strength. Citrine, bathed in sunny hues, exudes an aura of positivity and abundance.
Topaz – Origin, Properties, Meaning & Value Factors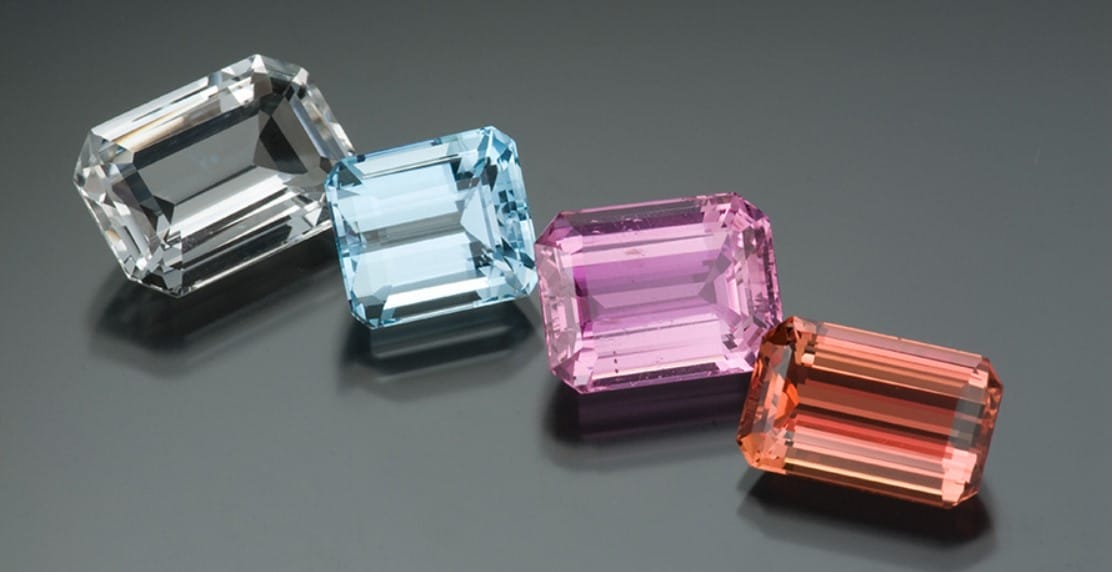 History and Origin of Topaz
The origin of the word topaz is often contested. Some believe it comes from the Sanskrit word tapas, which means fire. Others trace it back to the Greek word topazos.
Topaz is a rare silicate mineral that's fairly common and inexpensive. It can be found in a variety of hues including colorless, yellow, orange, light blue, pink, brown, violet, and very rarely, red.
In addition, most of the blue topaz seen today is the result of treating colorless topaz with irradiation and heating. Mystic Topaz, a gem that displays a rainbow effect, is created by coating colorless topaz with a thin artificial film.
One of the most important sources of high-quality topaz is Minas Gerais, a state in Brazil. Topaz has been mined in this area for over two centuries. Some of the colors unearthed have included red, pink, violet, yellow, orange, and blends of red with purple or orange.
Topaz is also mined in northwestern Pakistan. Ghundao Hill has been mined since 1972, and more commonly, it's been the highly sought-after shade of pink topaz that's been unearthed.
Furthermore, other major sources of topaz include the United States, Sri Lanka, Myanmar, Mexico, Madagascar, Nigeria, and Namibia.
What Are the Characteristics of a Topaz Gemstone?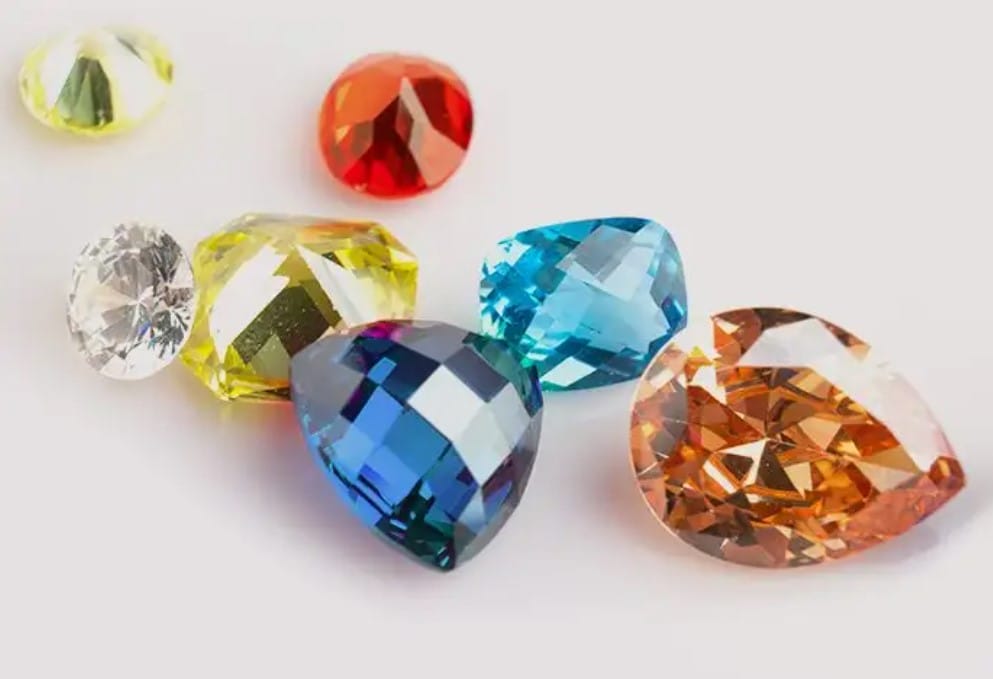 One of the best-known physical properties of topaz is its hardness. It has a hardness of 8 on the Mohs hardness scale.
Topaz is a silicate with a vitreous luster and is transparent to translucent. The chemical composition of topaz is Al2SiO4(F, OH)2, and its crystalline structure is Orthorhombic.
What Does Topaz Symbolize?
The ancient Greeks believed that topaz gave them strength. In Europe, between 1300 and 1600, people living there thought it could destroy magic spells and drive away anger. In India, people have believed for centuries that when topaz is worn above the heart it assures long life, intelligence, and beauty.
What Are the Spiritual and Healing Properties of Topaz?
Humankind has revered topaz for millennia. It is known for its various spiritual and healing properties, such as:
Promoting forgiveness and truth
Cutting through doubt and uncertainty
Supportive for affirmations and manifestation work
Promotes honesty and openness, self-control, and self-realization
Invites love and peace into your life
Cleanses the aura and induces relaxation
Known as a stone of love and good fortune
Topaz: Value Factors
Topaz is a popular gemstone, and its value is determined by several factors. Gems with the highest value are the rare pink and red stones, followed by orange and yellow.
The rarest are red, natural pink, and fine golden orange, sometimes with a pink tone. Although clarity and size also significantly affect the value of topaz, color has the greatest impact on pricing.
Citrine – Meaning, History, Value, Characteristics & Color
History of Citrine
Citrine has been adored since ancient times. Where does citrine originate? Some of the earliest records date back to Ancient Greece, where it was a symbol of importance and beauty. Folks adorned jewelry, shields, and many other items with it. The Ancient Egyptians made it into talismans to ward off spirits.
To note, it was a particularly popular gemstone in the Victorian era when people used it in colorful Scottish jewelry.
The top locations where you can find citrine include Bolivia, Spain, Mexico, Uruguay, and Madagascar. Amethysts that are treated to a citrine color are mostly mined in Brazil.
An important source of natural, unheated citrine is Bolivia's Anahi mine. It lies deep in the world's largest freshwater wetland.
The mine was discovered by a Spanish conquistador in the 1600s and given to him as dowry when he married Anahi, a princess from the Ayoreos tribe of Paraguay. The mine was lost for three hundred years until it was rediscovered in the 1960s.
Citrine: Characteristics and Color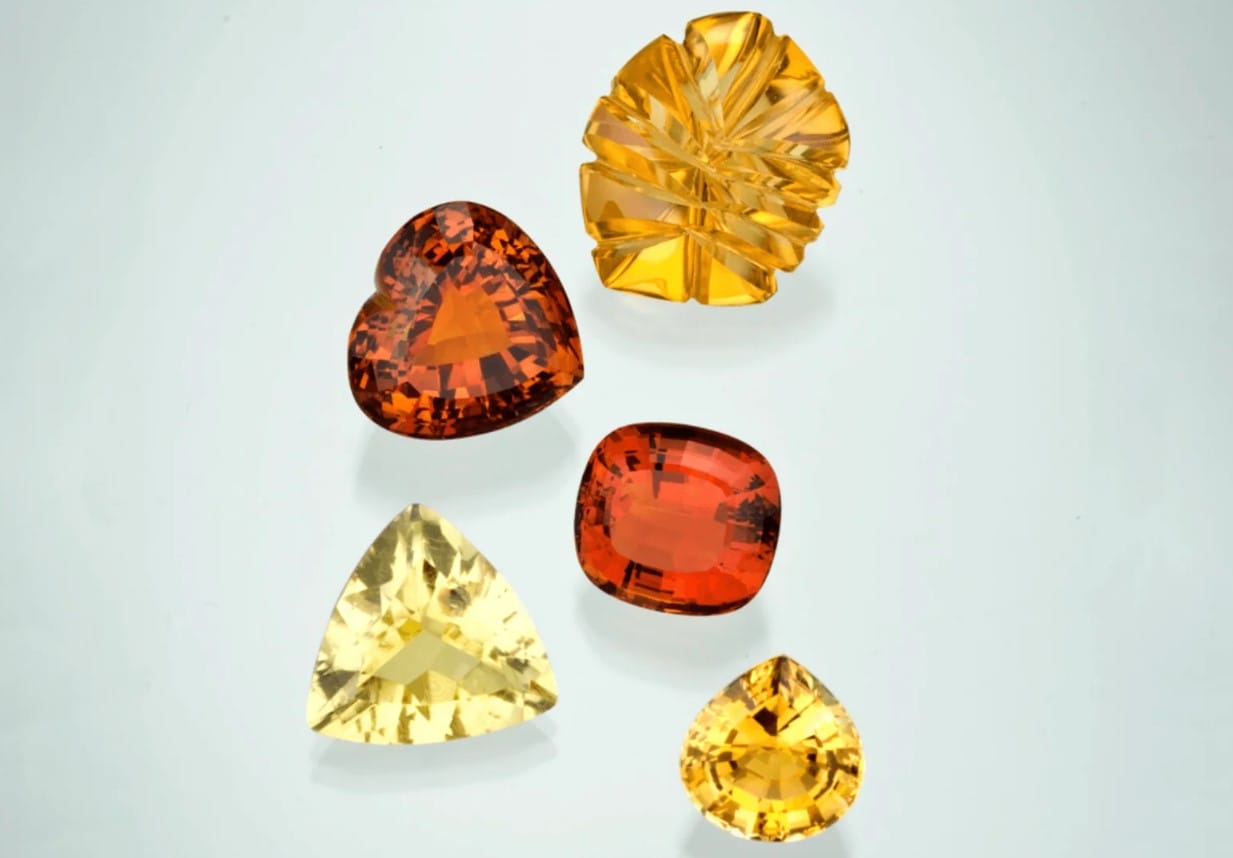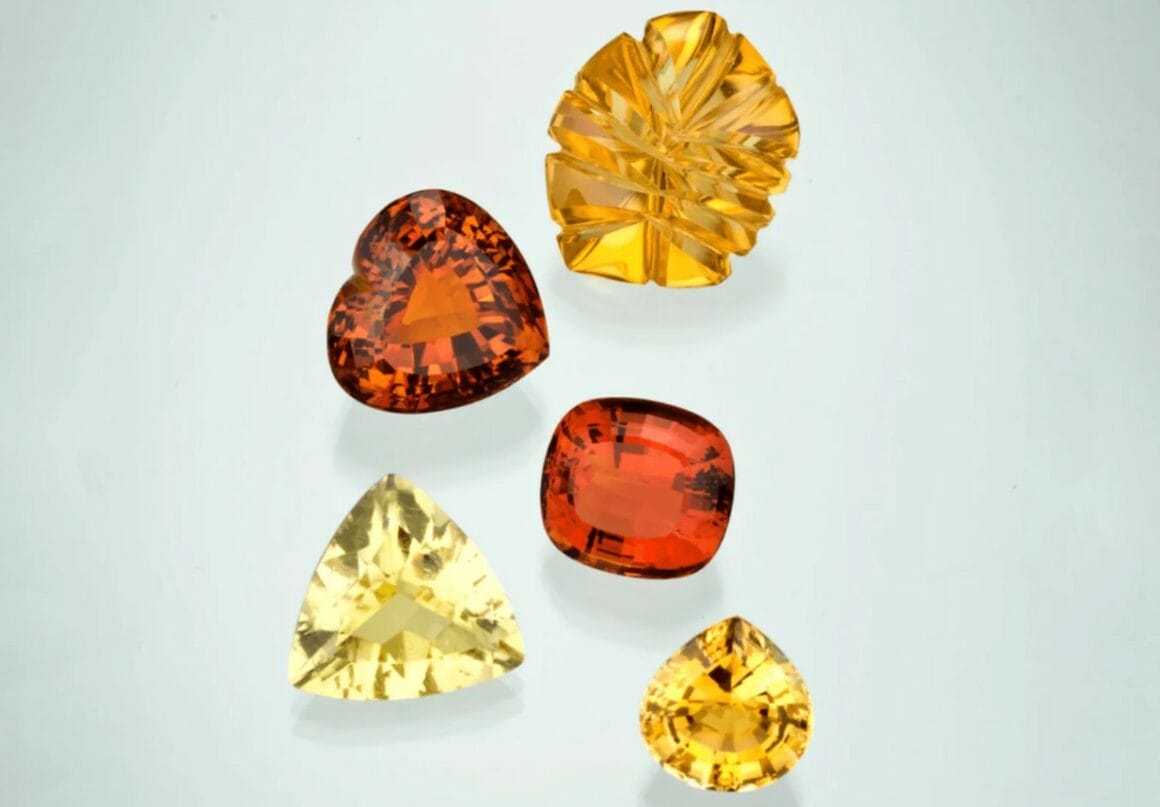 Natural citrine is rare, so most of the citrine on the market is the result of heat treatment. This gemstone is typically created when amethyst and smokey quartz are heat treated.
It is a gemstone readily available in a broad range of sizes, making it one of the most affordable and desired yellow gemstones.
Citrine's yellow colors are due to the presence of ferric iron.
What Is the Spiritual Meaning of Citrine?
Citrine is a powerful crystal that carries the energy of the sun. its pale yellow color gives this crystal its name. Citrine comes from the French citron, meaning lemon. Aside from its literal meaning, citrine also has a deep spiritual meaning.
Its yellow hues symbolize the spiritual qualities of joy, abundance, and transmutation. It can be often associated with personal power, creativity, and manifestation.
It is believed to help a person achieve their goals, attract abundance, and open up new possibilities.
Also known as "The Merchant's Stone", due to its ability to transmute energies quickly and easily, citrine facilitates energy to transfers from one to another.
If you ever find yourself involved in business ventures, particularly with new clients or partners, citrine could be the crystal to have on hand, in your pocket or purse, to increase the flow of money-based energy from one hand to another.
What Are the Benefits of Citrine?
Citrine is a fascinating stone with a variety of healing and metaphysical properties. Some of the key properties associated with this gemstone include:
Help with physical ailments and emotional issues
Facilitate the healing of stomach ache, bedwetting, depression, diabetes, birth, sadness, and growth problems
Assimilates and digests energy, food, and ideas
Supports the urinary tract
Stimulates your mental efforts and energy
Fortifies the nerves and warms the body
It is warm, comforting, energizing, and life-giving
Simulates the chakras, clearing the mind and stirring the soul to action
Awakens creativity and imagination
Citrine: Value Qualities
Four factors combine to determine a citrine's value: color, clarity, cut, and carat weight.
Vivid yellows, reddish oranges, and earth tones are more popular with consumers. Visible inclusions are not common in citrine. If they are present, they'll decrease the stone's value.
Citrine is available in a wide range of sizes for setting into various jewelry styles. This gemstone might be carved, custom cut, or calibrated for jewelry use.
Alternative Birthstones for November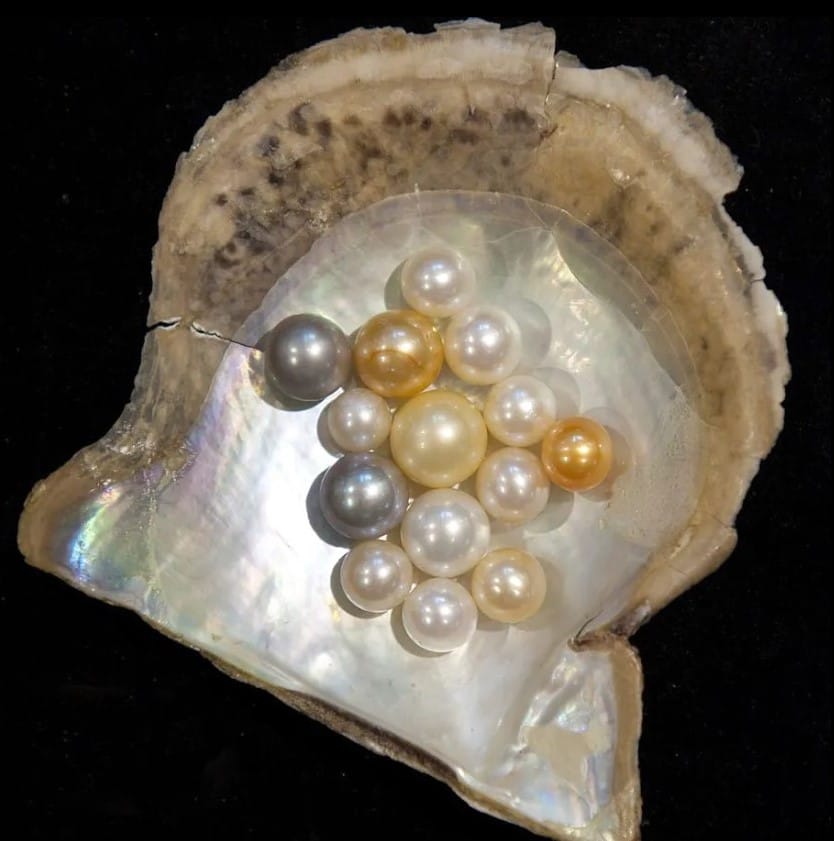 There are several other November gemstones:
Pearl: Symbolizes purity, faith, charity, and attention, and helps to keep you focused
Amethyst: Provides emotional balance, helps with problems of the nervous system, and cures insomnia
Ruby: Enhances feelings of courage, spontaneity, and joy, and instills confidence
Garnet: Promotes feelings of love, passion, and courage
Beryl: Helps get rid of emotional baggage
Turquoise: Provides relaxation and calm, and boosts the immune system
Sapphire: Brings peace of mind and enhances concentration
November Birthstone: Star Signs
People born in November can fall under either Scorpio (October 23 – November 21) or Sagittarius (November 22 – December 21).
What Is the Main Birthstone for Scorpio?
The main birthstone for a Scorpion is topaz, for strength and intelligence.
What Is the True Sagittarius Birthstone?
The true birthstone for a Sagittarian is turquoise, for well-being and good fortune.
November Birthstones: Fashion & Jewelry Ideas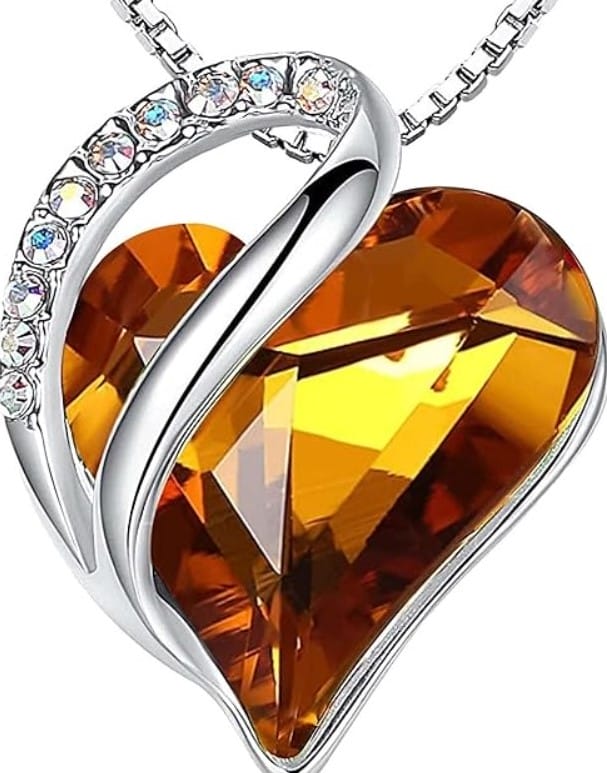 Jewelry adorned with birthstones is the epitome of a thoughtful and personalized gift. Each gemstone corresponds to a specific birth month, making it a unique and cherished token of affection. For example, a November birthstone bracelet, featuring mesmerizing citrine, not only reflects the wearer's birth month but also brings an extra touch of luck and prosperity. These gemstones possess the power to attract positive energy and abundance, making them a perfect choice for anyone born in November.
When it comes to the healing properties of birthstone jewelry, they have long been celebrated for their ability to promote well-being. For November-born individuals, a stunning November birthstone necklace or a pair of November birthstone earrings not only enhances their style but also contributes to their emotional balance and spiritual growth. So, whether you're choosing a November birthstone ring or another birthstone gift for a loved one or treating yourself, birthstone jewelry is a captivating and meaningful choice that combines style, symbolism, and a touch of magic.
Explore More Birthstone Articles:
November Birthstone: FAQs
Q: Is the November birthstone rare?
A: Good-quality topaz and citrine are not as rare as some other birthstones. However, the natural stones that fall into the pinkish-orange Imperial topaz category have aristocratic cachet and are particularly rare. The most sought-after shade of pink topaz from Katlang has a tinge of violet, which some in the gem trade call cyclamen pink.
Q: Is November the only month with 2 birthstones?
A: November is not the only month with two birthstones. March, August, and October also have two birthstones. June and December have three.
Q: Can November birthstone be blue topaz?
A: The November birthstone can be blue topaz as this is one of the many available hues. Other colors include yellow, orange, pink, violet, brown, and colorless. The vast majority of blue topaz seen today is the result of treating colorless topaz with irradiation and heating.
Q: What is the rarest color of topaz?
A: The rarest color of topaz is Imperial Topaz. It is a vibrant and intense orange-red variety of the stone.
Q: What makes citrine more valuable?
A: In general, untreated citrine is more valuable than treated ones, but the quality of the treatment can also affect the price.
Conclusion
In conclusion, November birthstones, topaz, and citrine encapsulate a world of meaning and beauty. These gems signify warmth, prosperity, and protection, making them a truly meaningful gift for November-born individuals or anyone seeking a touch of positive energy in their lives.
Whether it's a dazzling topaz necklace, a pair of citrine earrings, or a stunning citrine ring, birthstone jewelry not only complements your style but also carries deep personal significance.
To keep these precious gems radiant, remember to clean them gently with a soft cloth and mild soapy water, avoiding harsh chemicals. With proper care, your November birthstone jewelry will remain a cherished and vibrant symbol of the unique qualities and blessings associated with this autumnal month.
References: