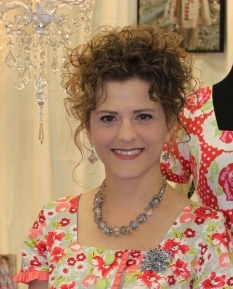 I'm pleased to introduce Kay Whitt, author of Sew Serendipity: Fresh and Pretty Designs to Make and Wear (F+W Media).

Kay's new book Sew Serendipity Bags is all about sewing purses and totes! For the last decade, she's also designed and sold her sewing patterns through an online shop. She's carved out a niche for herself in the design world by being true to her style. I love these Q&As because there is so much to learn from each other's experiences.

Kay, I see that your first design at Serendipity Studio was released in 2001. How did you get started designing patterns?

I have sewn all of my life. My mom taught me to sew when I was a young girl and I have had needle in hand ever since then. We always manipulated commercial patterns to suit our needs as I was growing up, so I understood how pieces came together as a whole. It wasn't long until I was dabbling on my own to create patterns, so I did this sort of thing informally throughout my youth.

I have a degree in education and spent the first nine years of my professional career as an elementary school teacher. While teaching school, I continued to create and sew, sometimes selling my creations to coworkers during the holidays. That was my springboard for jumping into pattern design when I was looking for a change in profession.
I talked with shop owners and showed them my work, asking if the type of sewing I did would make for a good pattern. With their support and enthusiasm, I started the company in the spring of 2001.
I also resigned from teaching that year to focus solely on the pattern business and creating designs. I began with appliqué driven design work and evolved into formal clothing drafting of pattern pieces in 2005 with the aid of some drafting software. I am living proof that you don't have to have a degree in art or design to make the magic happen!
Can you tell us what we can expect to see in your book Sew Serendipity Bags?
Sew Serendipity Bags is just that . . . a book with 12 unique bag designs! I have included variations with some of the bags, so you are really getting 20 bags if you account for size and handle changes.
The book is split into three project sections: simple, intermediate, and challenging, so there is something for the beginner bag maker to a very experienced one. I also included my favorite techniques for bag making in a photographed section.
Just like in the first book, I have hand illustrated all of the construction steps in the instructions. The styled photography of the finished bags is just beautiful and I am so excited to share this new book with everyone!
How do you come up with inspiration for new patterns? Once you have an idea in mind, what are the steps involved in releasing a new pattern for your shop?
I am inspired by a lot of things. Sometimes it is a piece of fabric, sometimes an article of clothing seen on TV, the Internet, or in a magazine. I let my brain work on it for a while and eventually a design is born. This happens a lot at night when I would rather be sleeping, but my brain is ready for work! I usually start with a rough sketch, then begin drafting those pieces into my software so that I can work through a prototype in fabric until the design is how I want it. As with anything, some designs go easily and some require more work. I love working that part out until it matches the vision that I originally had for the design.
Speaking of the "business side" of your creative business, what do you find to be the greatest challenge? And, what's the best part of running your own business?
The greatest challenge is to try and stay on top of everything at once! I still pretty much do it all myself, so between processing orders, thinking about new designs and working through those, talking with customers, visiting shops, and oh yeah….writing books, I stay pretty busy! The very best part of running my own business is that it is so flexible. I can move my schedule to suit my personal needs. I also love that the business' direction is charted by my personal drive and instinct for design.
What is your number one tip for running a creative business?
The number one tip I have is to develop a unique style and do it well. It becomes a sort of signature for your work. People know my designs without having to look at the information on the pattern! It is always best not to try and "be" anyone else. Stay true to your own style and trust your instincts.
Giveaway!
Thanks Kay! We are excited to offer a copy of Kay's new book, Sew Serendipity Bags, to one lucky winner! To enter, just leave a comment on this post about bags, totes or purses. What do you like? Winner will be announced Friday, Oct. 7. This giveaway is now closed.