Looking for an e-reader sleeve to protect your iPad, Kindle, tablet or other device? This easy zippered iPad sleeve is lined and quilted to keep your device protected and dust-free! The e-reader cover can be made with our easy and free sewing pattern, which will teach you how to install a simple zipper in a fully-lined pouch. It also works great as a simple, lined pouch for your journal, pen or crafting supplies. The device cover makes a great gift, too!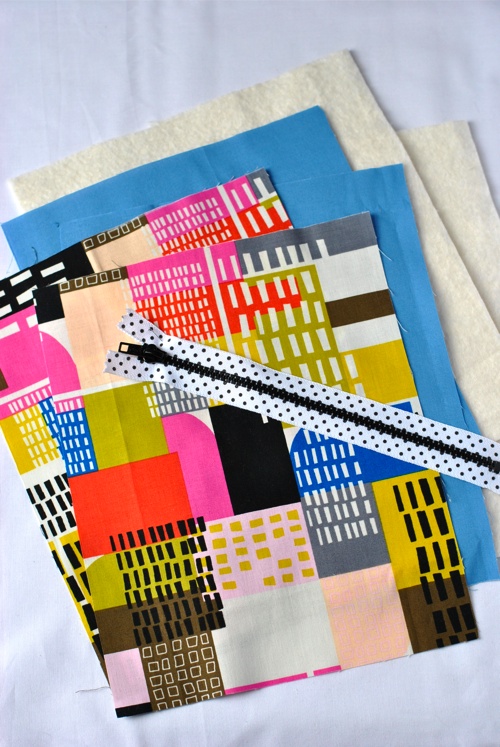 Materials
– 2 fat quarters (18"x22") of cotton quilting fabric
– Quilt batting scraps (4 pieces slightly larger than outer fabric)
– 11″ or longer zipper (1.5″ longer than the widest measurement of your device)
– Sewing machine with zipper foot
Finished Size
10.5″ long x 8.25″ wide
All seam allowances are 1/4″ unless otherwise noted.
Cutting:
iPad Size Sleeve:
From outer fabric and lining fabric, cut (2) rectangles 9.25″ x 11.5″ and (2) zipper tabs tabs 1.5" x 3". From batting, cut (4) pieces slightly larger than outer fabric.
Any Size e-Reader Sleeve:
Measure your device and add 2″ to height and width. For instance, since the iPad is 7.25″ x 9.5″ (and just 1/2″ thick), I added 2″ to the length and width, which is what I used for my pattern pieces.
Quilting the Panels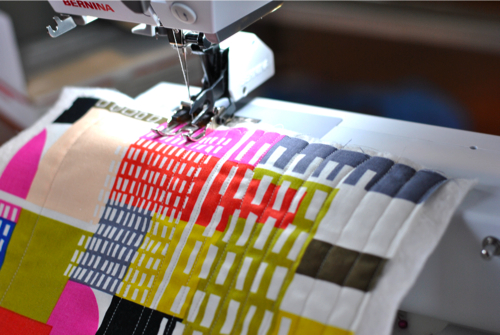 Stack outer fabric on quilt batting. Quilt as desired. I chose a wavy lines design.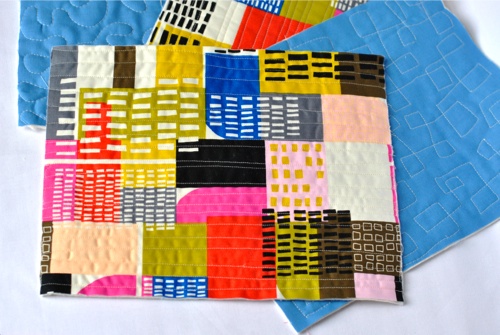 Adhere the lining pieces against your other batting scraps, and quilt as desired. I used a can of spray baste adhesive and two free-motion quilting designs: one stipple and one square quilting shapes. Trim the excess batting off the outer fabric and lining pieces.
Prepping the Zipper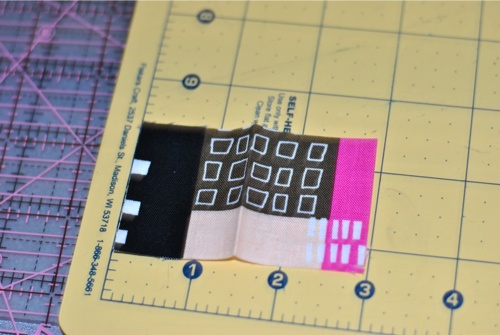 Fold zipper tabs in half widthwise, to make a square shape.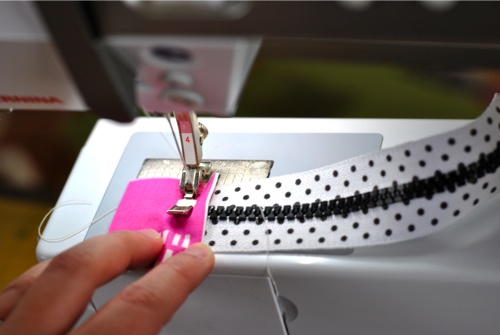 On the right side of zipper, position fold of one zipper tab so it just overlaps metal end of zipper. Center and pin in place. Using zipper foot, stitch zipper tabs in place with horizontal line along folded edge, about 1/8" from fold. Avoid metal parts as you sew.


Position other folded zipper tab so fold just overlaps edge of zipper pull. Again, center and pin in place. Test zipper to make sure tabs do not interfere with zipping. This is what your zipper tabs will look like.
Note: If using a zipper longer than 10″, pin zipper tabs so entire length from end of one tab to end of the other tab is as wide or wider than you pouch front. Then use scissors or pliers to trim off excess from zipper end.
Attach Zipper to Panels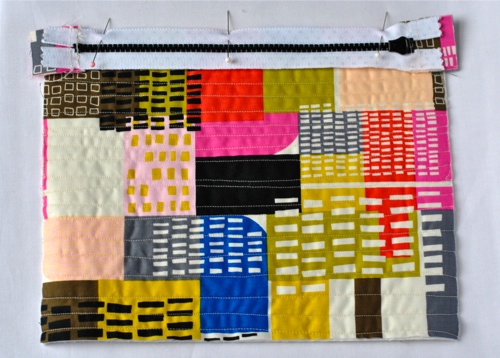 Center zipper edge along the pouch front, so right sides of pouch and zipper are facing. Pin edge of zipper to raw edge of top flap. With zipper on top, stitch 1/4" from pinned edge.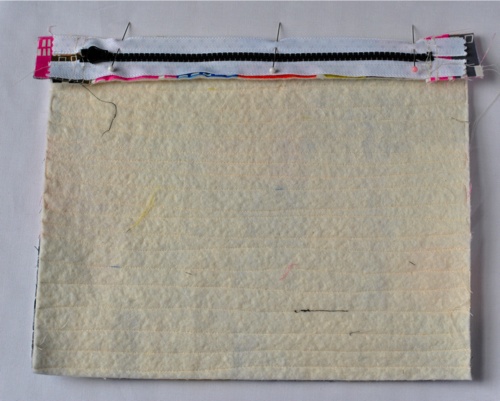 Place the other outside panel in front of you, and align the zipper against the long raw edge, and pin. The right sides of the fabric should be facing. Stitch zipper edge to the panel.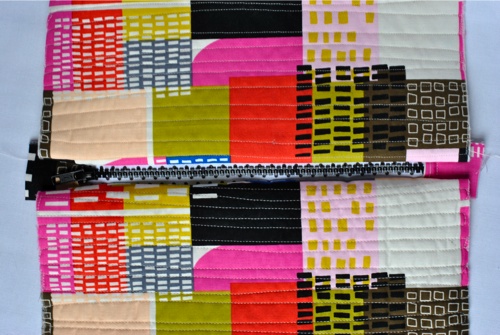 This is what you should see after stitching the zipper to both outer panels.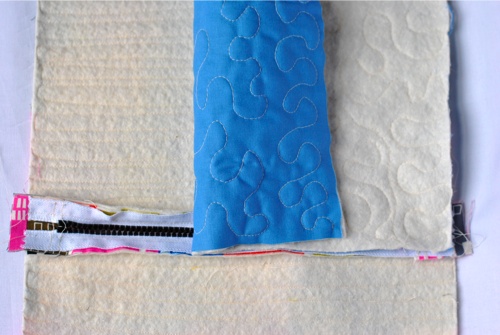 Lay the pouch wrong side up. Pin the right side of one lining panel to the exposed zipper edge. Stitch 1/4" from pinned edges to attach the lining panel.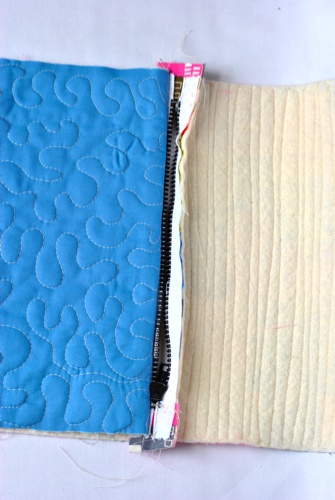 This is what you'll see when you open up the first panel.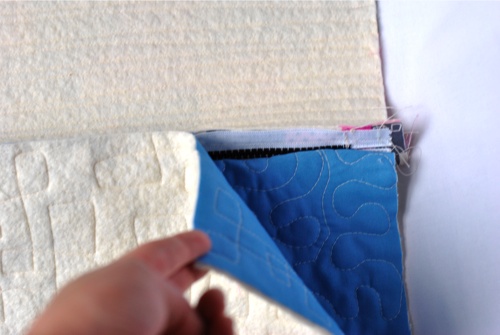 Place the raw edge of the second lining panel against the raw edge of the zipper, so that both linings face each other. Pin in place and stitch 1/4″ from the edge.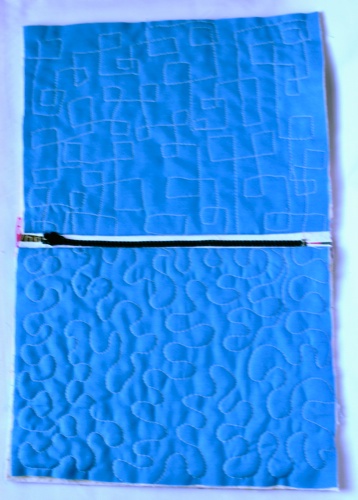 This is what the lining of your zipper pouch will look like, opened up.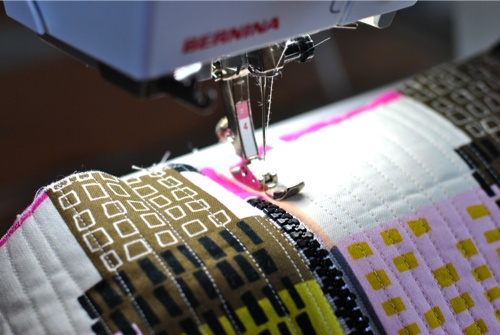 If you'd like, you can top stitch very close to the zipper, to sew the lining and pouch front together. This will help the zipper from sticking due to bunched up fabric.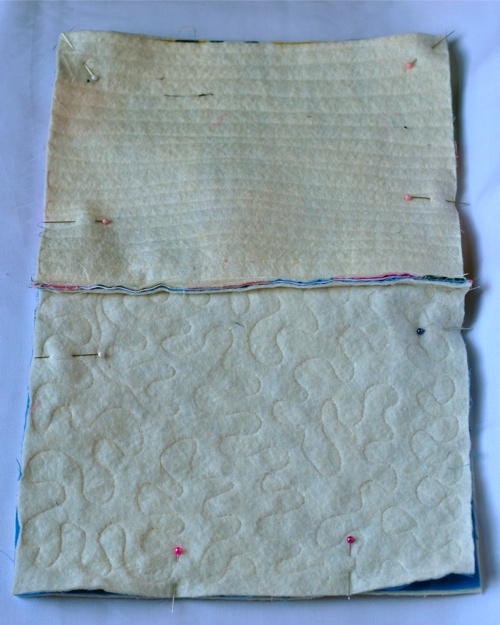 Leave zipper unzipped, and pin together right sides of pouch body. Pin together right sides of lining pieces.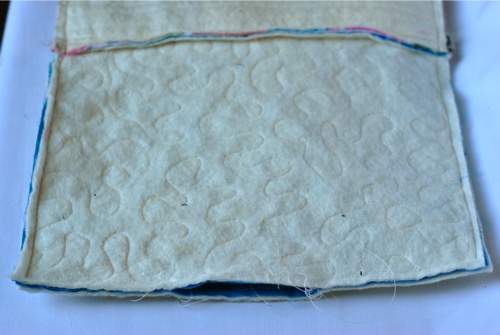 Stitch 1/4" around perimeter of both body and lining, leaving 4" open at bottom of lining for turning.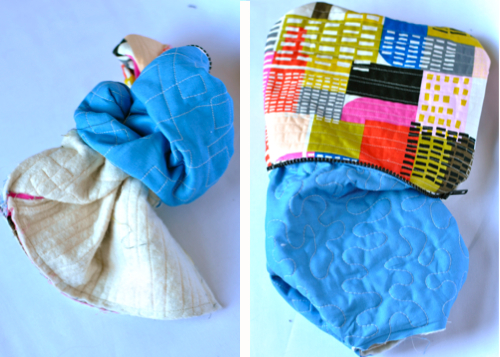 Turn pouch inside out, and push lining into bag.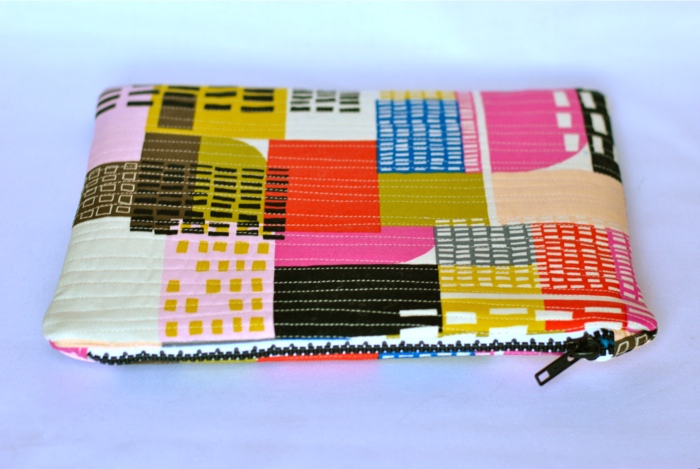 Press clutch and hand-stitch lining closed. Enjoy your new quilted iPad case, Kindle cover or e-Reader sleeve!
If you make this free e-reader sleeve sewing pattern, we'd love to see it in the Craft Buds Flickr group! If you are looking for a beginner's version of this project, try the Easy Lined Zipper Pouch.