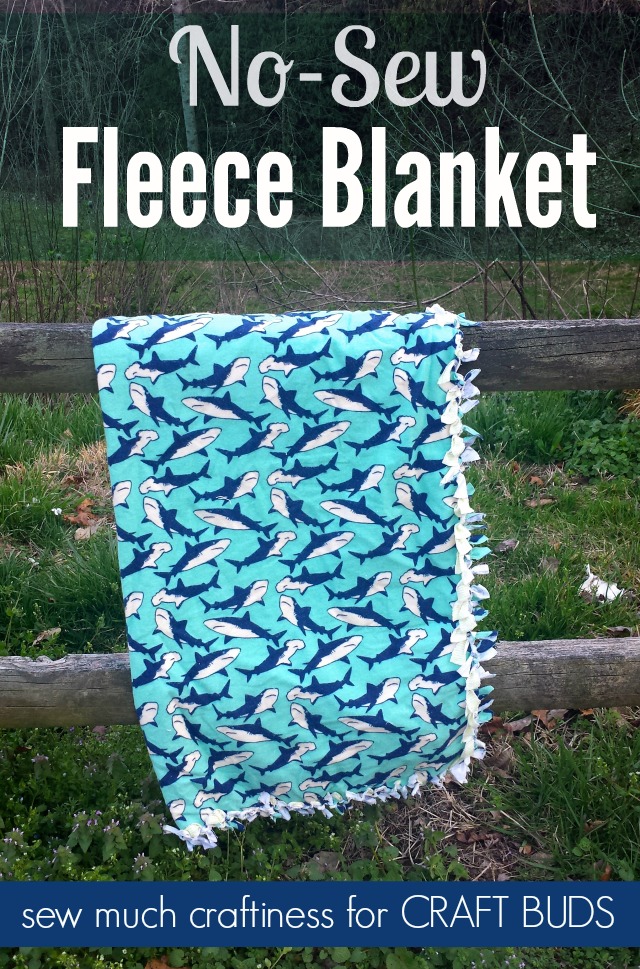 Hello everyone! I'm Janelle from Sew Much Craftiness guest posting at Craft Buds. Today I'm going to show you how you can make a throw blanket, or a baby blanket, in a blink of an eye! It's so simple, and if you have no sewing machine, you have no problem! This is a no-sew tutorial. Ready? Let's get started!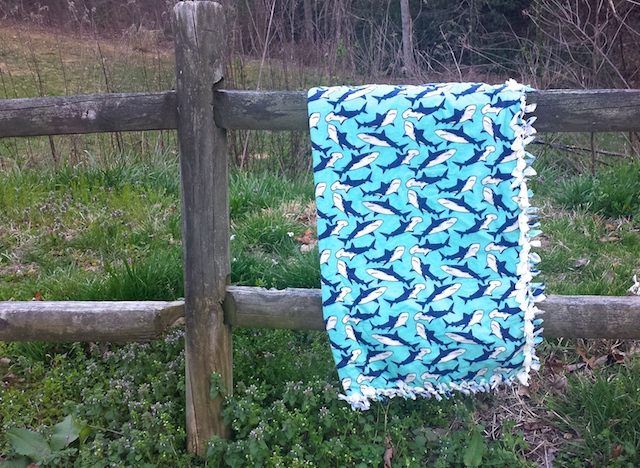 No Sew-Fleece Blanket Materials:
Scissors
Fabric – I chose two different fabrics for this project so each side of the blanket would be different. But you can certainly choose one fabric, you will just need two pieces. Both of my fabrics are 42 inches, and I had 1.5 yards cut of each. I chose flannel fabric so that the blanket would be cozy and warm without being too bulky.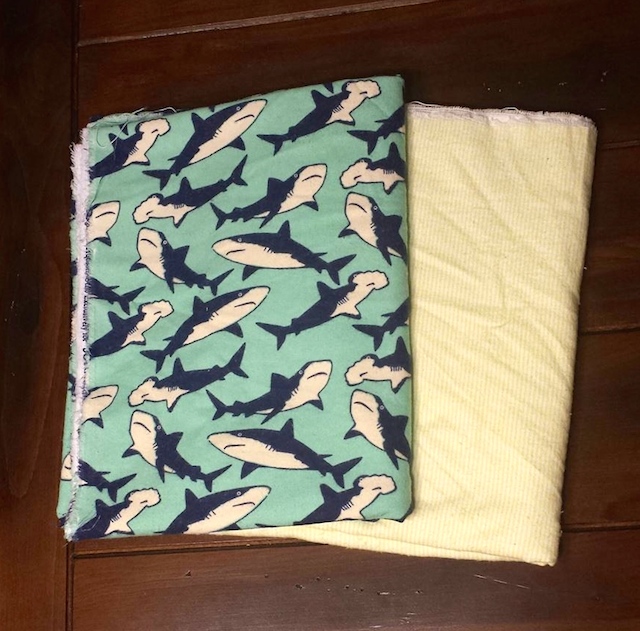 Before working on your blanket, make sure you have pre-treated your fabric(s). I'm using one fabric that's what with yellow stripes, and one with a fun shark print. Wash and dry according to the instructions for your fabric (most bolts will have a sticker that gives instructions on how to care for your finished project), and then iron if you choose to do so.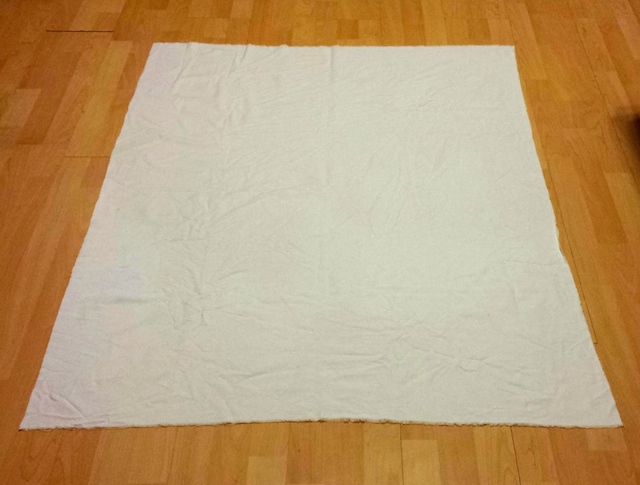 Lay one of your fabrics face down on a clean surface or floor. Then lay the other fabric face up on top of the other one. That means wrong sides of the fabric together. Match up the corners and edges.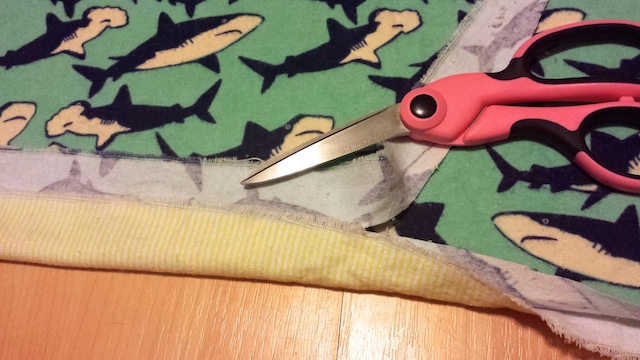 Sometimes the pieces of fabric you have won't be the exact same size, so trim up the fabric if you need to. You want both pieces to match.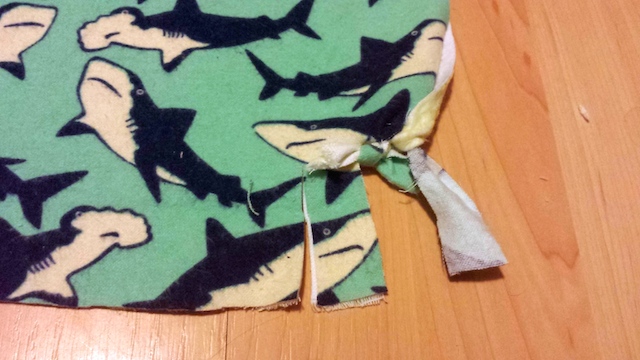 Now here's where the fun begins! Starting at one corner, begin to snip through both pieces of fabric so that you have two independent ribbon-like sections. I made these sections about 2.5 inches long, and 3/4 of an inch wide. Tie these together in a double knot. That is how you will make your blanket. Continue to do this on all 4 sides of the blanket.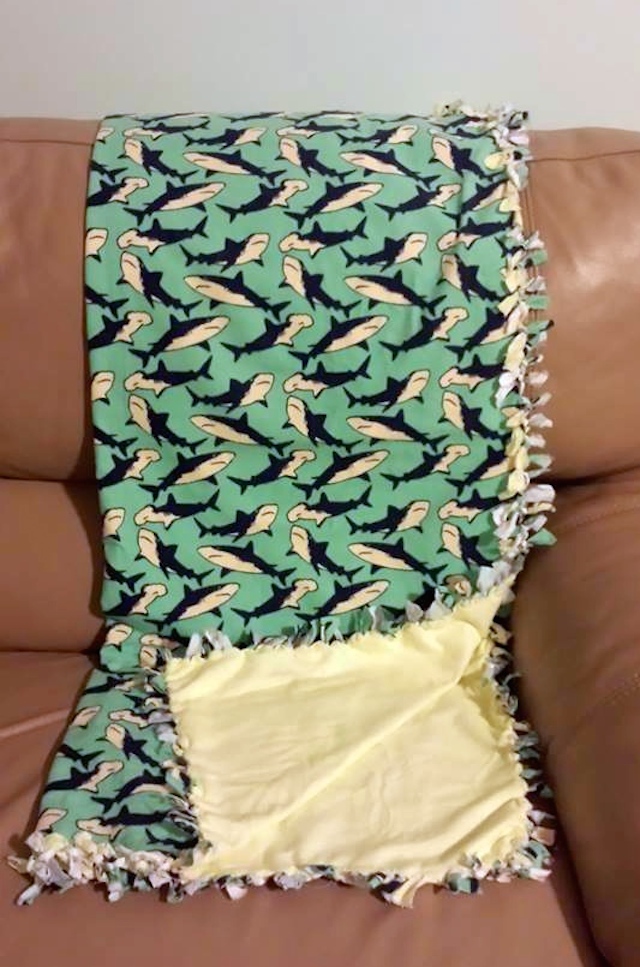 And there you go! That's all there is to it. Now you have a gorgeous new blanket you can show off to your friends. Enjoy!
About the Author
Janelle Curtis is a lover of arts and crafts and all things that take a bit of creativity. She runs a craft site with her own creations at SewMuchCraftiness.com.