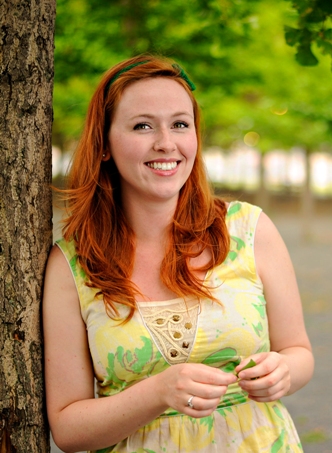 Photo: Dan Bracaglia
Please welcome Rachel Gillett, owner of the Etsy shop Rachel's Knit Knacks to Craft Buds! Rachel works in publishing by day and is a knitting queen by night. I had fun chatting with Rachel about her handmade shop, promotion and getting her store ready for the holidays. She's got some excellent advice about running your handmade business, so you will definitely want to soak it in.
Rachel, many knitters I know take their craft with them everywhere from work, to the movie theater to the car (for working on projects at a red light). What's your favorite non-traditional place to knit?
Knitting isn't just your grandma's craft anymore. Knitters today come from all walks of life, with varied time commitments. So for many modern-day knitters, I feel that the craft is not always something we can allot a set time and place for, but rather we fit it in when and where we can. True, it's great to make time for one's self to sit down to a movie and knit away, or to gather with fellow knitters in the local coffee shop. But for so many 9 to 5ers, or 5 to 12ers, or whatever the schedule may be, it's about stealing those precious moments of peace and using them to create something wonderful.
I like to take advantage of any time I'm in transit to squeeze in a little (or a lot of) knitting. Road trips are the absolute jackpot when it comes to finding some quality knitting time. This summer I took a trip with my boyfriend to Bonnaroo in Manchester, TN, which was about a 14 hour car ride either way. Needless to say, I returned with a bounty of knitted items to boot – as well as a new-found appreciation of hot showers!
I see you started your Etsy shop a few years ago. What have you learned about being an Etsy store owner that you wish you would have known when you got started?
I could easily run down a list of things I wish I had known when I got started – skills that would have been great to have up front – but then again, half the fun of owning an Etsy shop is learning new things along the way. If you had asked me three years ago what SEO tactics I planned on using, I would have probably stared blankly for a while and then muttered something about needing to check Wikipedia.
These days, I can confidently say I know the value of acquiring photography and editing skills, using networking to your fullest advantage – word of mouth is still a viable option in this technology-driven age – and using descriptive language to bring alive your product for shoppers. But I feel that all of these skills come with time – unless you are already an expert in these areas – and that's perfectly ok!
However, there is one little nugget of wisdom I feel is vital for any shop owner to have from the get go. When you are creating something and putting it out there for the world to see, it is absolutely necessary to be proud of what you are creating. When I first had the idea of starting my shop, the concept was met with a lot of doubt. "Do I really expect to make a profit from knitting?" "Do I feel confident enough in my product for people to spend their hard-earned dollars on it?" Even thoughts of, "I hope people don't think this is juvenile," slipped in. Still, after I shrugged off some of this doubt and opened Rachel's Knit Knacks, it was a struggle to keep the faith in the beginning. Only after my first few customers and positive ratings did I truly begin to appreciate what I was doing here, and my only regret now is not having been able to see that sooner. In an age of monopolized mass-consumerism, during months of low sales, you can always take comfort in knowing that what you do and what you create is special, and you should be proud of all your accomplishments.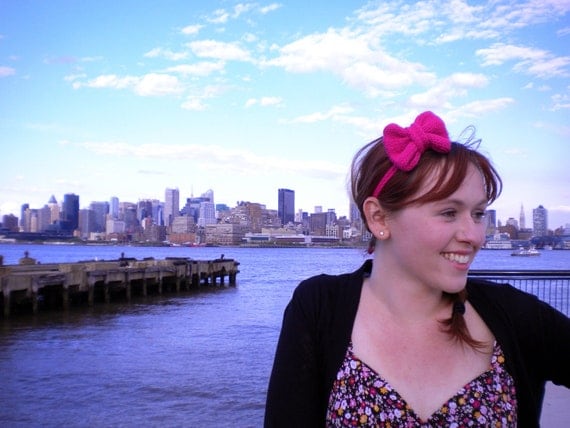 How do you come up with inspiration for new products?

Whenever I come up with a new design concept, it is usually driven by my desire to clothe someone close to me – myself, my friends, my boyfriend, or family members. That is always the starting point for me. I've been told that perhaps this is not always in the best interest of my business, since there are so many other markets out there. But for me, inspiration is the key to a great design. Maybe one day I'll keep a pooch in my purse and have a baby strapped to my back, in which case, you can look forward to all sorts of Shih Tzu sweaters and baby bonnets!
I also like to push the envelope in what can actually be feasibly created through knitting. Essentially, anything that is generally created with traditional fabric can also be knit. Once you realize this, the options are limitless. Sure, silk woven ties are more common place, but there is also something to be said about a retro-inspired, knit necktie. Some people make the mistake of thinking that knitting is reserved for the colder months, but societal conventions are fickle, so here's hoping knit earrings and hair bows become the next big thing!
What has been the most helpful tool in terms of promoting your Etsy shop?
I have to say, my most faithful client is my best friend, Michelle. She contributes a lot to the brand in that she gives me honest critiques of my beta designs, inspiration for the sort of items she would want, and she is also one of my lovely models. For example, since she currently sports a natural afro, she has a lot of great know-how as to what other women with naturally curly hair look for in accessories. It's actually because of her that my flower clips came to be! And in return, she sports these clips, bows, and headbands on an almost daily basis. It's a win-win situation!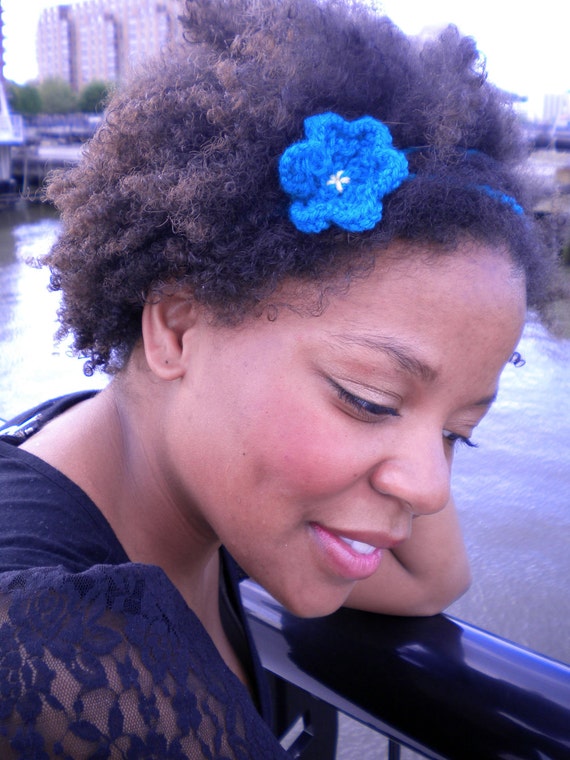 Why do you like to support handmade shops during the holiday season?
I love knitting special gifts for my loved ones during the holiday season. It's a great way to show that I went out of my way to make something special just for them. In that same vein, shopping handmade shares these ideals. There are so many crafters out there just waiting to create something that suits exactly what you are looking for. Also, using Etsy is just as easy as shopping on Amazon or other online retail venues. Certainly, your wait time to receive your item may be a bit longer, but the benefits of shopping handmade far out-weigh any perceivable down-sides. For one, there's that extra level of customer service, where shoppers can know that when they reach out with questions or special requests, they are talking to the creative minds behind their purchases.
Are doing anything special to prepare for the holiday shopping rush?
When the holiday shopping rush pops up its head, I go into overtime in an effort to bulk up my inventory. It's vital to preempt the rush, and oftentimes you can see me knitting winter hats in the summer months. (It's quite a sight to see someone soaking up some rays and toying with chunky yarn and oversized needles!)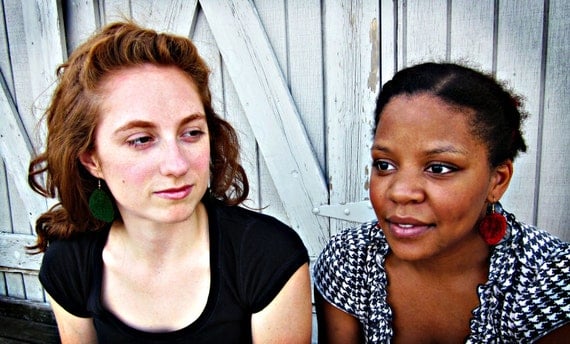 Thanks for the words of wisdom, Rachel! Aren't these knit leaf earrings adorable? If you like what you see here, why not visit Rachel's Knit Knacks and add it to your Etsy favorites?

For more tips on preparing your Etsy shop or handmade business for the holidays, check out the Etsy Holiday Bootcamp, which brings inspiration, checklists and tips to your inbox.