Today we're excited to welcome surface and space designer Alison Glass! Many of you know from her work with Andover Fabrics, and she is here today to chat about her journey in the industry and how she balances her creative work with family time. Read on, and be sure to enter the fabulous giveaway at the end of this post!
Alison, we're so excited to have you as a guest at Craft Buds. Can you tell us a little bit about your career background how you got started as a licensed designer with Andover?
Thanks so much! I really appreciate it.
My background is actually in education. I was an art and classroom teacher before my daughter was born. I have always loved art, fabric, sewing, creating, and especially color. I started my home dec business when my second child was three. I was doing a lot of sewing and reupholstery for clients, using beautiful fabrics from the quilting industry, and at some point in that process realized that people make the designs that get printed on fabric. I became fascinated with the idea of creating those designs, especially the repeat and color part, and just started drawing. Chalk on the dining room walls was my favorite outlet!
It was a bit of a journey designing that first collection and figuring out how to present it to manufactures, and thinking back seems so wild to just show up at Quilt Market not knowing anyone, but that's how it happened. It's one of the best things I have ever done, just showing up. I met with a bunch of people and after much consideration ended up with Andover, which I am thrilled about. I adore working with them and appreciate their dedication.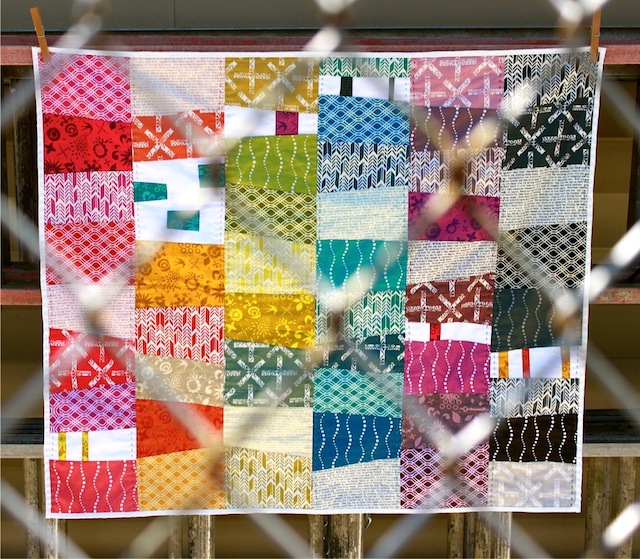 What is your design process like and where do you most often find inspiration?
As I reflect about what I've designed up to this point, I would say that I find a ton of inspiration in the details that surround me. There is so much beauty and interest in the world, making a conscious decision to see it creates a nearly endless stream of ideas and thoughts. I love the process of taking these glimpses of detail and translating them into my own ideas, colors, and patterns.
With each design I almost always start out with a sketch on paper, finalize the lines and repeat using tracing paper, then hand trace and color digitally. I like this process, and though it takes a bit longer, I feel that I have complete control over the art work and where each line is placed and how it moves. This is my favorite part of the work, the art.
There is a lot of new fabric on it's way at this point: Sun Print, Clover Sunshine, Field Day, and some unnamed work that I hope will be super for garment sewing! I am really excited to get to see what people will make with these new designs.
I know many fabric designers do other types of creative work as well. Do you have other crafts, hobbies or business ventures that help supplement your work?
Up until the last year I ran a small, local design business designing spaces and custom home dec pieces for clients. There was about a year or more overlap when I was doing both. Then last summer we moved to a new state, so I wrapped up that local business to concentrate on surface design and the quilting industry. I am definitely still in the process of figuring this out as a business, but I feel like things are moving forward pretty well. I am very lucky in that my true interests are very tied to this work, so what I am making for work and for fun are the same.
I have recently started selling super high-quality art prints, kits, and patterns through my online shop, which is something that has been in the works for a while. I plan to expand the shop, and am so happy to have it up and running. I am especially excited about the art prints, which I've wanted to do for a number of years, and a number of new patterns will release in July, including embroidery! As for freelance graphic design, although it's not official, when people ask I am happy to help! I do love the artwork part the most!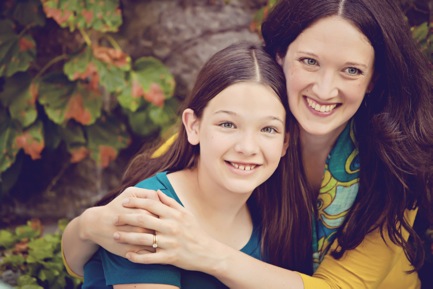 Is it hard to find a balance between your creative work and your personal or family time?
Well, the kids are just now out of school for the summer, so maybe check back with how I'm feeling about this next month! The noise-canceling headphones are helping at this particular moment! Seriously though, it's a tricky thing, balancing work and home life.
I think good communication with the family is really important and necessary to make this sort of job work, and an honest assessment about the reality of one's situation. If something isn't working, you talk about it and make adjustments. Chris and I are both incredibly supportive of each other's work and life goals, and we are also very lucky to have two fairly independent, responsible, and quiet/introverted kids. Anna is 11 and Jack is 9, so they are not so little anymore, which to me makes it easier. They have grown up watching both of us working very hard to create the life we want for us and for them. We have been very open and honest about that, and they seem to have a pretty deep understanding that to create the life you want takes a huge commitment paired with continual decisions to keep moving forward and live in the new/present with as much personal integrity as possible. "Live in the New" is a favorite phrase of mine. It's about letting go of things that are holding you back and a deep focus on the current reality and what can be done with it.
These three that surround me are amazing individuals and truly make me want to work in a way that they will be proud of. This also means I can't just ignore them and work all the time, which is my bent. I adore working, however even more than that my greatest desire is deep and good relationships with people, especially the ones I am with most of the time. For me, managing this is just taking things day by day and knowing that if something takes longer than I'd like, it's probably for a good-and-larger-picture reason. I do get wound about stuff, and I'm working on getting better at letting things go.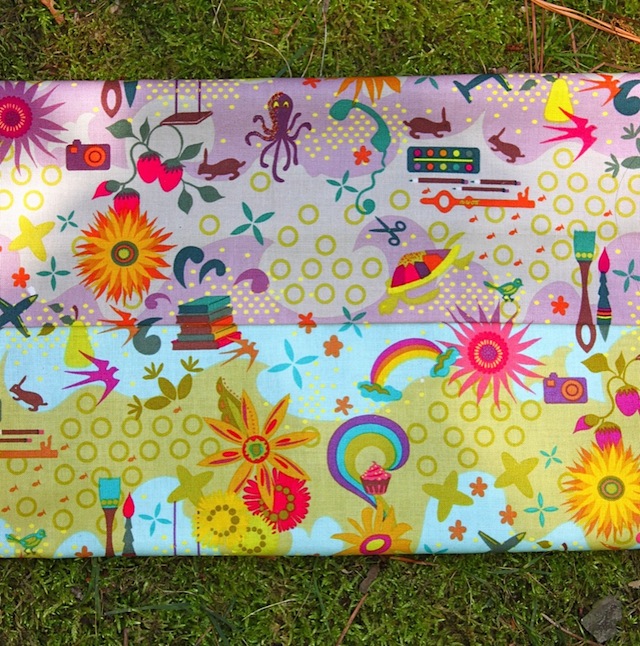 Based on lessons you've learned in the industry, what is your best advice for an aspiring fabric designer?
Gosh, that's hard, it depends so much on what someone is wondering. Generally, though I would have a two-part thought, which is a combination of diligently pursuing one's interest in fabric design and also knowing that it's not for the faint of heart. No one will ever know if it's going to work or not if they don't try, and though that sounds so obvious, it's true. I spent longer than I should have wondering if a company would pick up my work. If anyone is serious about fabric design and wants to do it for the right kind of reasons, then it is worth trying.
That being said, it is a ton of work and time, and even more once fabric is in production. The commitment is huge, and knowing why you want to design fabric and where you want to go with it is key. If it is just kind of a fun goal for someone, that is one thing. If a person sees it as a career they are professionally pursuing, it is an entirely different commitment. I feel that overall fabric design needs to start with great artwork, repeat, and colors, and putting one's best work forward it always key.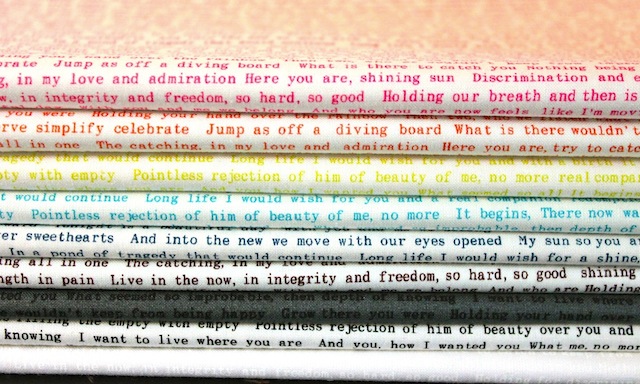 Giveaway!
Alison is generously giving away a prize pack of goodies that are not yet available in stores! One lucky winner will receive:
– Fat quarter bundle of the new Feathers print from the Sun Print line
– Feathers Quilt Pattern
– Embroidery Pattern – Winner's Choice
– Alison Glass Art Print – Winner's Choice
Enter via the Rafflecopter widget below. Good luck!