Today, we are excited to offer a fabric giveaway from one of our new sponsors, Owl & Drum! At their brick-and-mortar store in Tulsa, Oklahoma, you'll find modern fabrics galore, including a great selection of organic quilting cottons. They also offer workshops and there's an online shop for out-of-towners.
I wanted to find out a little bit more about owner Bianca and her creative business. Read on for a Q&A and giveaway!
Bianca, can you tell me a little bit about yourself and how you got interested in fabric and sewing?
Since I was a little girl, I've always had an interest in sewing and crafts. My main focus was fashion and I would "attempt" to make myself clothes. It was fun to think about colors and design. I ended up studying fashion design and then fashion merchandising at the Fashion Institute of Technology in NYC. I then took a bit of a break from creating and was a buyer at a Tulsa department store, before moving to Portland, Oregon, to work at Nordstrom.
Living in Portland was very inspiring, so I soon started working from home making jewelry, accessories and home goods–all from recycled T-shirts–under the brand Urban Creatures. I also became very intrigued with the modern quilt movement and soon, of course, I became obsessed with all things fabric!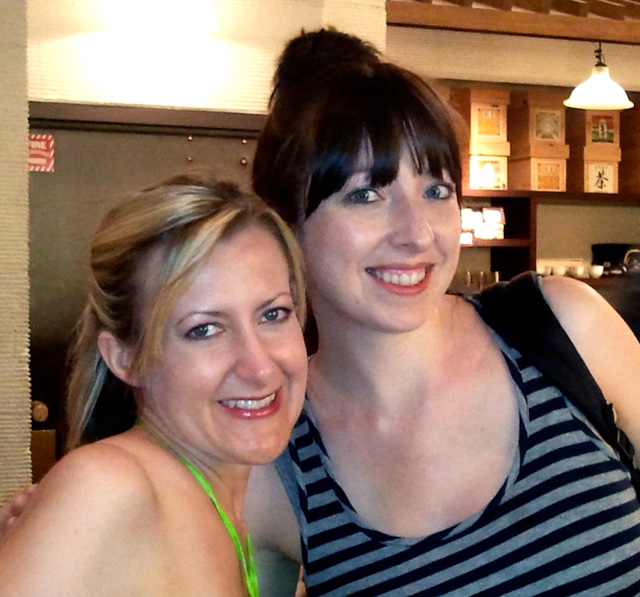 How did you decide to start your fabric shop, Owl & Drum? What's the story behind your name?
One of my lifelong dreams was opening up my own store. Through the years, ideas would come and go. But with sewing and crafting becoming a big part of my daily life, I decided I should focus my business efforts on something that I love: fabric and craft supplies.
I also wanted to provide a place where people–young and old, beginner or experienced–could enjoy classes, workshops and events. It's been really pleasing that Tulsans, especially kids, have got a kick out of making things at Owl & Drum. Our instructors have been great, too.
I had been wanting to move back to Tulsa, which has seen really cool developments in recent years, and it just felt like the right idea in the right place at the right time. So, my husband and I took the plunge and moved to Oklahoma and opened up Owl & Drum.
My husband and I are big "Owl" lovers. Our last name is Howell and the owl has always been a family symbol. We thought it would make for a fun-looking logo, too! The "Drum" comes from my business partner and friend Dani Weaver. She's a drummer, so the name Owl & Drum is a little part of me and a little part of her. Basically, we thought the name would be a hoot!

If you were somehow forced to destash all of your fabric except for only three designers, which ones would you keep and why?
Birch Fabrics – Birch Fabrics are so plush and beautiful. First of all, I love that they are 100% organic cotton. Secondly, their prints are fantastic. I'm really excited about their upcoming Charley Harper collection. I've been a fan of his work for a long time so, when I saw there was going to be fabric with his illustrations, I went nuts. We placed the order at the International Quilt Market last month and I had a hard time deciding which ones to choose.
Heather Ross – Who can resist Heather Ross? I loved her designs when she worked with Kokka. The cotton/linen blends were a perfect match for her vintage-style of drawings. I am, however, thrilled that she is now designing for Windham Fabrics. Her new line, Briar Rose, will be launched next week and we cannot wait to share those fabrics with everybody. People will love them!
Anna Maria Horner – As someone who likes to make clothes, I find Anna Maria Horner's prints are perfect for apparel.
Her designs are exactly what I like to see in clothing. Skirts, dresses, handbags – they all look good in Anna Maria's fabrics.
Okay, because 3 is not enough I have to mention a 4th – Monaluna. Monaluna is a fabric line that is also 100% organic cotton. The owners design all of the prints and they are very clever. We recently had a fabric of theirs called Llama Love. It was wonderful! Who knew that fabric with llamas on it would be so cute. Their recent collection, Raaga, is just beautiful. Its Indian-inspired prints are very sophisticated and would look really good in the home.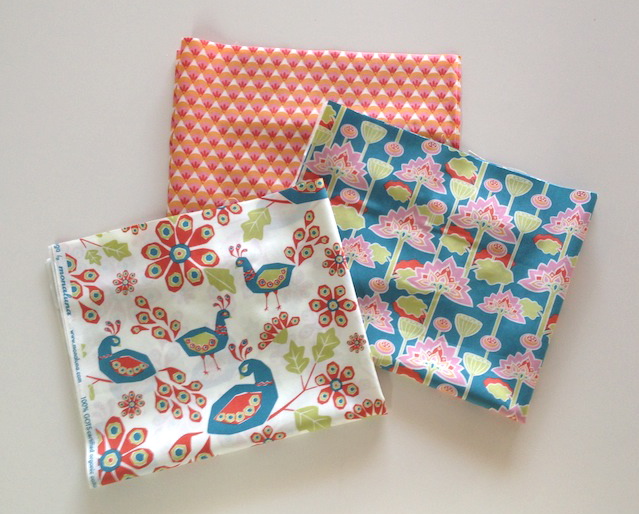 Giveaway!
One lucky Craft Buds reader will 1 1/2 yards of Monaluna Raaga organic fabric (1/2 yard each of the three prints pictured) from Owl & Drum. To enter the giveaway, follow the instructions in the Rafflecopter form below. Good luck!