Madame Alexander Dolls hold a distinct legacy in the doll world, one you may not initially realize. Her ingenuity shaped the doll industry as we know it today, and her creations are just as priceless as her contributions. Her dolls are considered pioneers in the American doll world for many reasons: an institution of creativity and innovation. In this article, we will review the history of Madame Alexander, why her creations are so significant, the types of dolls to look out for, and how to get involved in the Madame Alexander Doll community.
Madame Alexander's Historical Background
The Legacy of Madame Alexander
Who was Madame Alexander?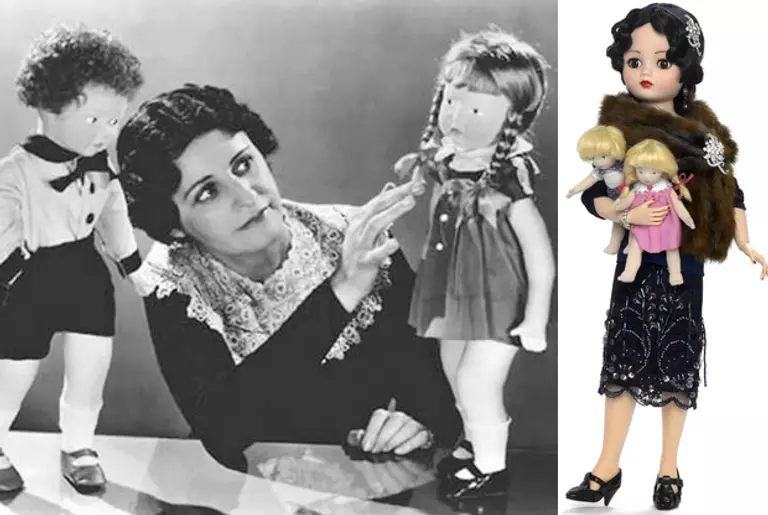 Born in the Lower East Side of New York in 1895, Beatrice Alexander was a first-generation American born to Russian parents. Her father was a toy maker who ran a 'doll hospital', taking porcelain dolls from wealthy clients into his care and repairing them.
When the First World War and an embargo on German-made products, including porcelain dolls, hit New York, Beatrice began making her own dolls out of cloth. She began selling her creations in her father's doll hospital, and her business was born from there.
Madame Alexander's Role in American Culture
Beatrice officially began her doll business in 1923 with a $1,600 loan with an initial crew of 16. With a piercing eye for detail and innovation, Beatrice moved her business to a proper storefront just a few years later. Along with her keen eye for design came the designation 'Madame,' and although it is unclear how it came to be her name, it reflects Beatrice's constant desire for refinement and elegance.
Madame Alexander Dolls quickly became the largest dollmaker in the country, employing over 1,500.
In 1947, she began producing dolls in hard plastic with eyelashes and custom clothing, as we know them today. She won the hearts of Americans with her dolls inspired by pop culture, such as the Cissy doll in 1955, four years before Barbie was first released.
Milestones in Doll Making
Key periods and collections in the history of Madame Alexander Dolls
The 1920s: Beatrice creates her company, marketing cloth dolls instead of porcelain to encourage play, changing the doll industry from the inside
1930s: She made her first dolls based on pop culture and real people, like Alice in Wonderland, Little Women, and Gone with the Wind. Later, she released a line of dolls featuring influential women at the time, including Jackie Kennedy and Coco Chanel.
1940s: She introduces one of the industry's first walking dolls, Jeannie, and creates the first plastic face mold, changing the doll manufacturing and design industry forever.
1950s: The Cissy doll debuts, the first fashion doll in America and the first with high heels, preceding the Barbie doll by five years. A line of 36 dolls with authentic royal coronation outfits is released to celebrate Queen Elizabeth II's coronation.
Pioneering Innovations Introduced by the Company
As a pioneer of the doll manufacturing industry, Beatrice Alexander had a profound impact on how we know dolls today. To summarize her incredible innovations, she created the 'sleep eyes' that let dolls' eyes close or simulate sleeping and made the first plastic doll face molds.
These two details may seem fundamental to us now, but these were incredible design features when the Madame Alexander company first introduced them.
Types of Madame Alexander Dolls
Composition Dolls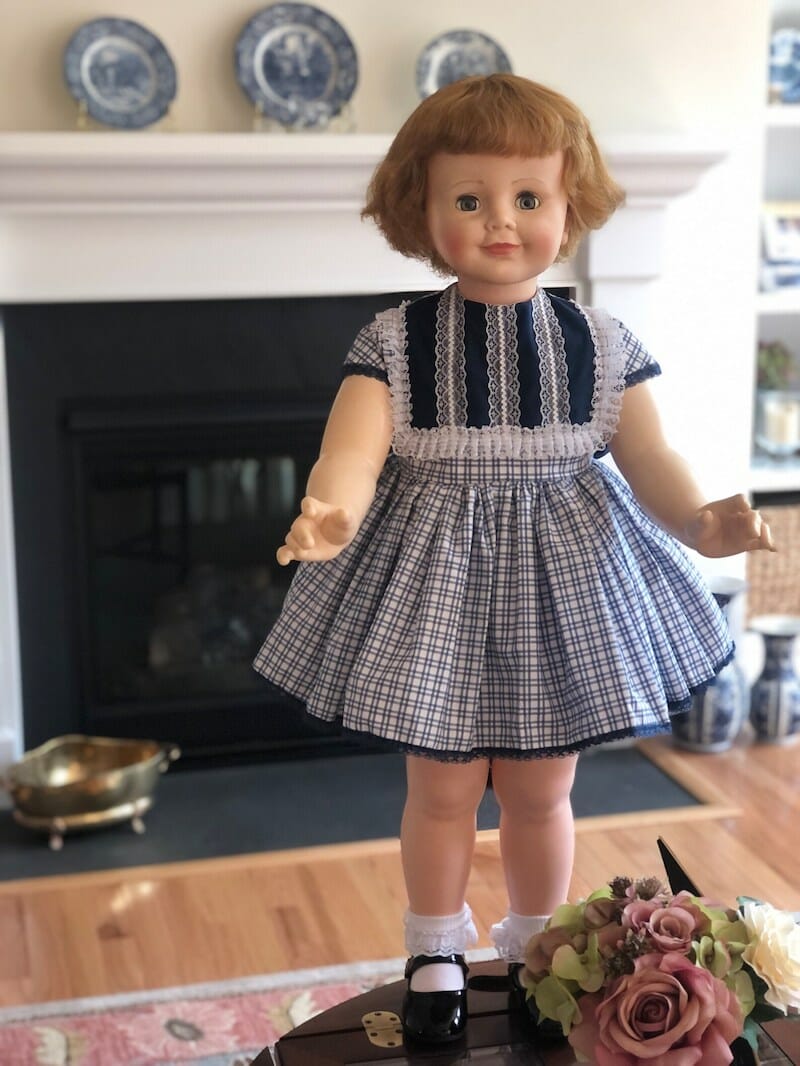 Features and Characteristics
A composition doll is made of composite, a mixture of sawdust, glue, and often cornstarch or resin. They were considered more durable than the French or German bisque dolls. This provided an 'unbreakable' alternative to porcelain during the German product embargo in the early 20th century.
How to identify composition dolls
Madame Alexander composition dolls generally have a clothing tag, consisting of the doll's name, Madame Alexander, New York USA, sewn into a seam of the doll's clothes. They are either made partially of composition, meaning the doll has a composition face and cloth body, or entirely of composition. Most dolls will have a Madame Alexander marking on their back or head. Only dolls with composition heads are called 'composition dolls'.
Madame Alexander Vinyl Dolls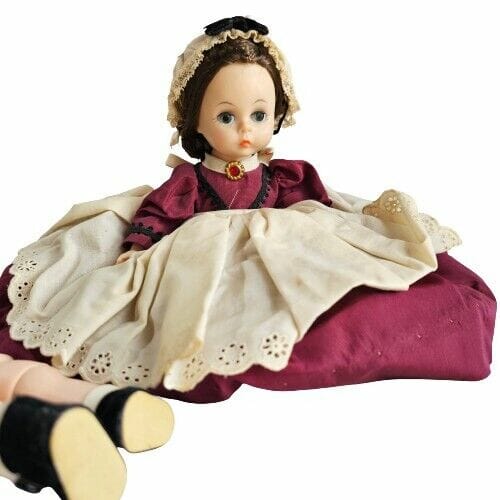 Unique aspects and selling points
Vinyl dolls were a later innovation of the Madame Alexander Company as a more flexible and lightweight version of porcelain and composite material.
Vinyl is also more affordable and allows children to play with their dolls without fear of damaging them. They are also easier to clean and maintain and do not require the same amount of upkeep as porcelain dolls.
Tips for collectors
Identifying and maintaining the condition of your doll collection is crucial, especially if you hope to one day sell your collection. Keep your vinyl doll away from consistent heat or cold sources and acetone and oil.
Acetone and oil can react with the vinyl and cause damage, even melting off paint and damaging the vinyl finish.
Madame Alexander Limited Edition Dolls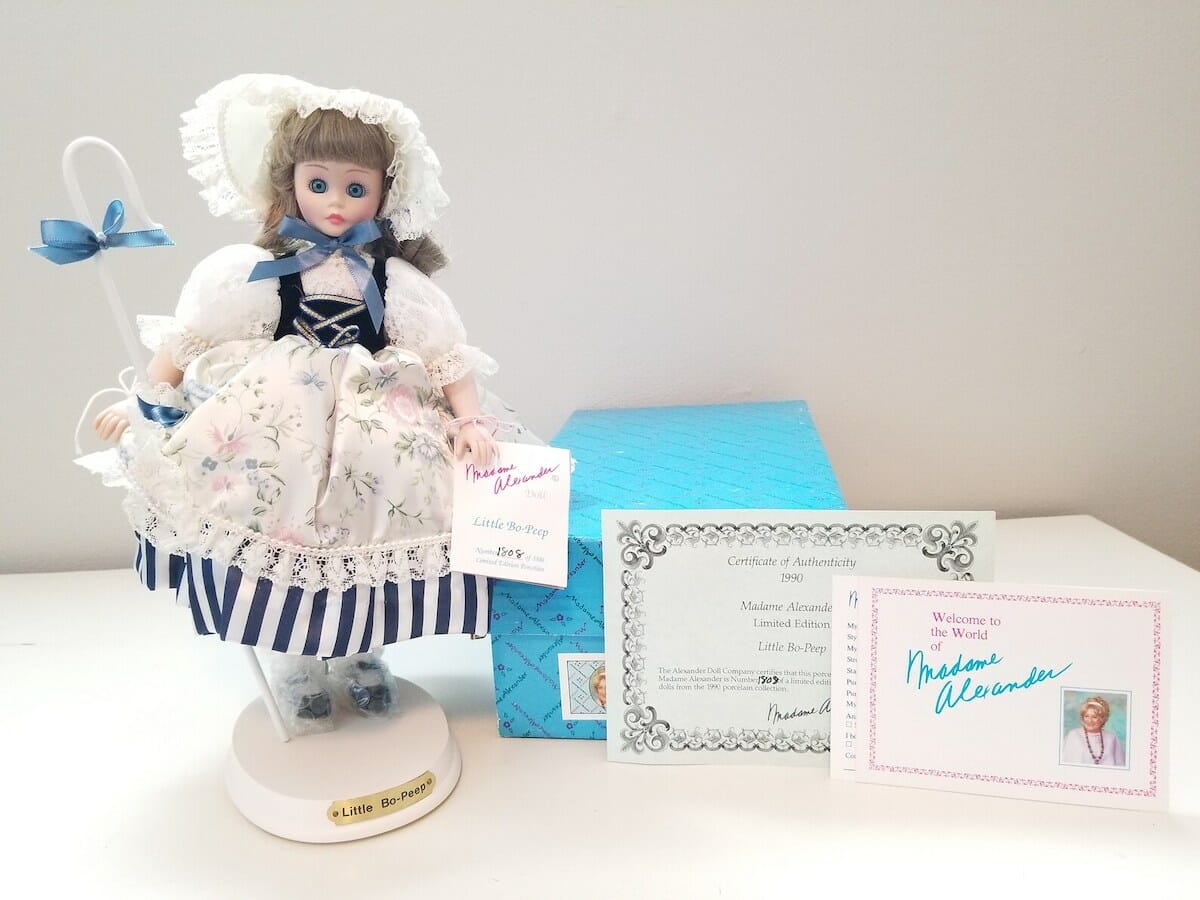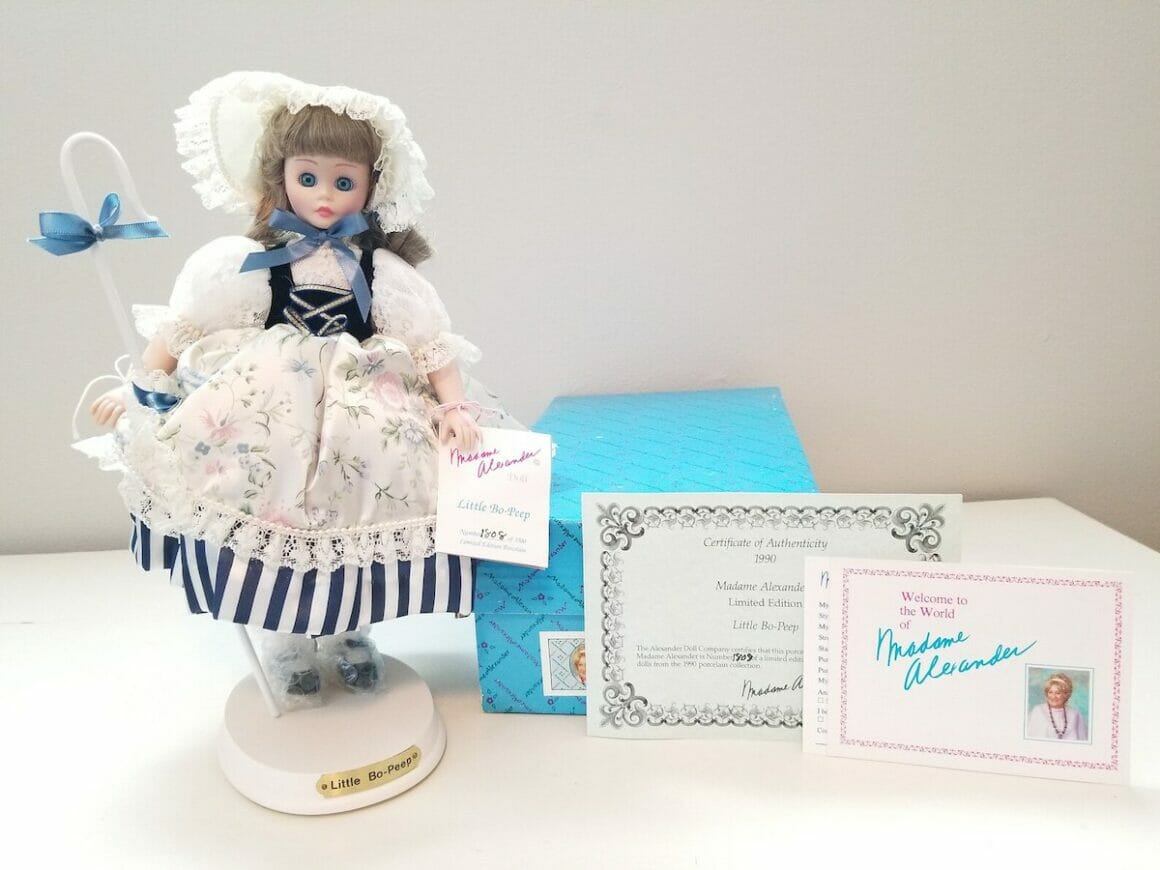 What makes them special
Limited edition dolls can be labeled this way for many reasons, whether they were part of a unique, limited collection released by the company or a mid-year collection, dolls that were altered by the factory, or dolls that the factory redressed. How to validate their authenticity
Many Madame Alexander dolls are marked with 'Mme Alexander' or simply 'Alex' on the nape of their necks. You can also find manufacturer's marks sewn into clothing or seams. You can also use the Madame Alexander website to further validate your doll's authenticity.
Madame Alexander Aesthetic Appeal
Craftsmanship
Attention to Detail
One major part of the Madame Alexander brand and design is the attention to detail. Madame Alexander dolls feature bright paints, detailed facial features, realistic eyelashes, and range of motion.
Beatrice's view that dolls can teach empathy, responsibility, and compassion for one another created a product that fans and collectors still adore today. Even the dolls' clothing was designed with elegance, imitating Beatrice's tastes in delicate fabrics.
Artistry
Beatrice's artistry in her designs is evident and creates the iconic image of the Madame Alexander brand. Balancing creativity and innovation, she made the modern image of the fashion doll when she created her dolls modeled after pop culture characters and female role models.
With the addition of vinyl material to make the dolls more lifelike, intense research and precise materials make Madame Alexander dolls truly special even today.
Clothing and Accessories
Intricate Clothing Designs
Madame Alexander's doll clothing was yet another detail that set her creations apart. Clothing was made from delicate fabrics like velvet and silk and was influenced by designers like Coco Chanel and Cristian Dior.
Each doll's attire was carefully designed and crafted to reflect its history. Nothing was left on the drawing board, with designs including intricate lace patterns, shawls, frills, and embroidery.
Accessories and Value
Often, it is almost impossible to identify a doll without its clothing or accessories, meaning dolls with their original clothing and boxes can be authenticated much more quickly. Hold on to those accessories and clothing because they're just as crucial as the doll.
Madame Alexander Dolls Values and Rarity
The value of Madame Alexander dolls varies significantly based on factors like condition, rarity, and edition, with prices ranging from around $150 to upwards of $2,500. For the most accurate and current valuations, it's advisable to consult multiple sources such as experts, price guides, and recent auction results.
Factors Influencing Value
Age, Condition, and Edition
Different aspects can influence a doll's relative value and the venue where the doll is being sold, such as an auction or retail. However, the most commonly used identifiers to assess value are age, condition, and edition.
Keep aware of these and consider these aspects first when appraising.
Tips for Assessing a Doll's Worth
An excellent way to assess a doll's worth is to use Doll Reference, a database that lists about 5,000 Madame Alexander dolls and their worth. The database also provides information such as high and low values for the doll, size, year of production, and images. Doll Reference will give you a sense of the current market for collectible dolls.
10 Most Valuable Madame Alexander Dolls
The most sought-after Madame Alexander dolls are the Cissy dolls, the first fashion doll on the market in the '50s and the precursor to the Barbie doll.
These dolls have an extensive wardrobe and accessories, which only increase the doll's value. Up there with the Cissy doll are early cloth dolls and 21" composition dolls from the '40s.
The following indicative values are based on Etsy, eBay, Auction Daily, and Doll Reference.
1. Cissy in "Golden Goddess" Outfit
This doll could fetch between $800 to $1,500 in mint condition with the original packaging.
2. 1951 Alice in Wonderland
Mint condition models can go for as much as $1,000 to $2,000, especially if they come in the original box.
3. Scarlett O'Hara Portraits
These dolls can range in price from $300 to $800, depending on condition and rarity. Limited editions can be higher in value.
4. "McGuffey Ana"
Early versions in excellent condition can command prices ranging from $400 to $800.
5. First Lady Series
Depending on the specific First Lady and condition, these dolls can go for $200 to $600 each.
6. 1953 Queen Elizabeth II Coronation Doll
A mint-condition doll could be valued anywhere from $1,000 to $2,500.
7. Rare Variants of Baby Dolls
Depending on the variant and condition, these can range from $200 to $700.
8. Coco Chanel Doll
This doll might be priced around $600 to $1,200 in excellent condition.
9. International Dolls Series
Some of the rarer dolls in mint condition can fetch between $150 and $500.
10. Special Commissions and Limited Editions
These can vary widely, but expect prices from $300 to over $1,000, depending on the limited edition.
Buying and Selling Madame Alexander Dolls
Online Platforms vs. Physical Auctions
Physical auctions have become less common with the birth of the online platform, but the market is still out there. With collectors preferring the in-person trust in the institution, there are often more opportunities for online connections. Of course, always be careful when purchasing and interacting with anyone online.
Trusted Sources for Purchase
The best place to go for Madame Alexander dolls would be their website. While you cannot find the vintage and rare styles on their website, this is the best place to buy new dolls. For vintage styles, try official historical auction sites or other well-known names.
Trusted 3rd Party Grading
The best way to have your Madame Alexander doll graded or authenticated is by using the services of Collectible Doll Authority. This third-party service provides an in-depth inspection to determine a doll's originality and condition, assigns a grade, and includes a custom acrylic case with a unique serial number for showcasing and preserving the item. Their thorough process involves multiple levels of graders and master graders to ensure an accurate and unbiased assessment.
Precautions When Buying
Red Flags and How to Avoid Scams
The best way to avoid scams online is to research and always follow your intuition when interacting with sellers. Anyone who pressures you for a deposit or your information without proper conversation or introduction is usually a scammer.
Always set up payments through a trusted service and never give sensitive information over the internet if it can be avoided.
The Importance of Documentation
Obtaining a provenance or seeing proper documentation of authenticity for anything bought of significant value is crucial. Documents can be faked, but by obtaining certified documentation of authenticity, you can ensure that your purchase is genuine.
A provenance also shows the record of previous sales and owners, which is essential, especially to understand the item's history.
Care and Maintenance
Cleaning and Preserving
How to Clean Madame Alexander Dolls
Keep your doll's hair and clothing clean with an antibacterial wipe, but ensure it doesn't contain bleach because it will stain the doll and cause further damage. To clean stains, gently detergent with a damp cloth in small circular motions. If the stains persist, consider taking the doll to a professional cleaner.
Long-term Preservation Tips
To preserve your dolls in their condition, store them away from direct heating or cooling, as thermocycling can damage and weaken their materials. Keeping them in a contained area will also keep dust at bay. Keeping your dolls out of fluorescent light is also preferable, especially if the dolls are porcelain.
Display and Storage
Ideal Conditions for Displaying Dolls
An attic or basement space without temperature control is not ideal; aim for an area away from direct sunlight that is temperature controlled. Keep dolls away from pets and cigarette smoke, as these can be especially damaging to dolls and accessories.
How to Properly Store Them
Don't store dolls in plastic bins– they can trap moisture and damage materials and clothing. Don't handle dolls with bare hands, as the natural oils on your skin can damage paints and pigments on the doll's face and clothing. Don't store dolls in newspapers, as ink can leach into clothing and onto the skin.
Collector Groups and Forums
Where to Find Fellow Collectors
There are many different avenues to find fellow doll collectors. Try Meetup or the United Federation of Doll Clubs for doll collectors in your area. Both apps sponsor groups to meet in person to discuss doll collecting and are excellent resources for making connections within the community.
Facebook, Reddit, and eBay are other great places to connect with other doll collectors, whether they are enthusiasts or sellers.
Benefits of Joining Collector Groups
There are endless benefits to joining collector groups, from learning the latest finds and prices for dolls and accessories to connecting with people who share your interests. If you find the right group online, you won't regret engaging in the community and expanding your knowledge.
Events and Auctions
Prominent Madame Alexander Events
The Annual Madame Alexander Convention is held in the summer each year and includes events such as seminars and unique displays, as well as tours and workshops related.
There are Friendship Luncheons that are open to non-members hosted around the country. Finally, there are premiers similar to the convention that include events for members.
More Dolls & Figurines Articles
Madame Alexander Dolls FAQs
What makes Madame Alexander Dolls so collectible?
Madame Alexander Dolls are so collectible because of their American legacy and the many famous figures recreated in doll form throughout the 20th century, such as Marie Antoinette and Queen Elizabeth II.
How can I ascertain the authenticity of a Madame Alexander Doll?
Checking manufacturer marks on the doll's head and back is crucial to confirming authenticity. Check the doll's clothing for the brand name, which is the most reliable confirmation method. However, The best way to have your Madame Alexander doll graded or authenticated is by using the services of Collectible Doll Authority.
Where can I sell my Madame Alexander Dolls?
Online marketplaces like eBay or Etsy are helpful but can easily lead to scams. The most reliable place to sell Madame Alexander Dolls is a Madame Alexander location or at a confirmed auction house.
What's the best way to clean and maintain my collection?
For vinyl and plastic dolls, a quick wipe with an antibacterial wipe (not containing bleach!) will do the trick to remove dust from hair and features. Keep dolls stored in a temperature-controlled room away from direct sunlight and fluorescent lights.
Are there any forums or events for collectors?
Madame Alexander clubs often host events both online and regionally. Meetup, Facebook, and Reddit are online platforms where collectors and enthusiasts can engage with each other.
Conclusion
The Madame Alexander Doll legacy continues to make a name for itself 100 years after its founding. They represent innovation and ingenuity during an age when women were not considered innovators, creating a lasting impression in the hearts of enthusiasts worldwide.
Sources & References