Hummel figurines have been a firm favorite of collectors worldwide for decades. Gaining popularity in the 1970s, their value skyrocketed and secured their place in the world of collectibles. These charming porcelain sculptures depict various heartwarming scenes in a variety of different forms.
This comprehensive guide delves into Hummel figurines' history, identification, valuation, care, and where and how to buy them.
The History of Hummel Figurines
Hummel figurines derive their name from Sister Maria Innocentia Hummel, a German nun who, in 1931, had recently graduated from art school. Encouraged by her fellow sisters, she began selling her paintings. Franz Goebel, who headed a renowned German pottery company, was captivated by her artwork and decided to bring her paintings to life in the form of ceramic figurines.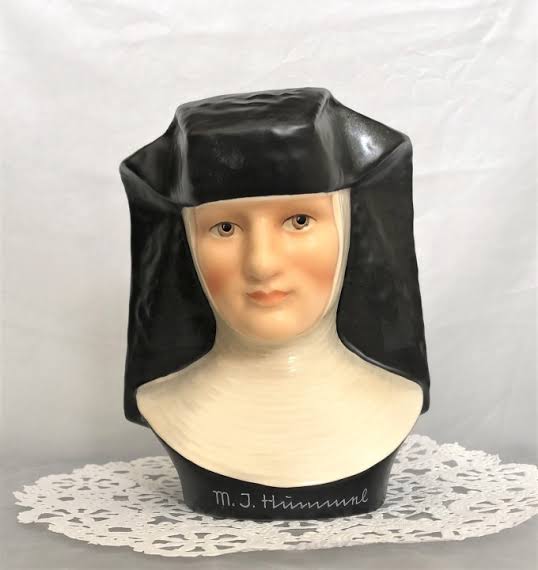 Introduced to the public in 1935, the Goebel Hummel figurines achieved instant popularity. Plans were underway for an additional 40 designs, but the onset of World War II halted production. Tragically, Sister Maria Innocentia Hummel passed away in 1946 at the young age of 37, but her artistic legacy was far from over.
Production of the cherished Hummel figurines resumed in late 1946 under Goebel's direction, with demand soaring once more. American troops stationed in Europe became avid collectors, often sending these figurines back to the U.S. as treasured gifts for loved ones. To this day, Goebel continues to uphold each Hummel figurine's impeccable quality and artistry, paying tribute to its original designs and vision.
Identifying and Dating Hummel Figurines
Being able to identify authentic Hummel's is essential whether you are looking to buy or sell figurines. Check out this video to learn more.
How to Identify Hummel Figurines: A Guide to Back Stamps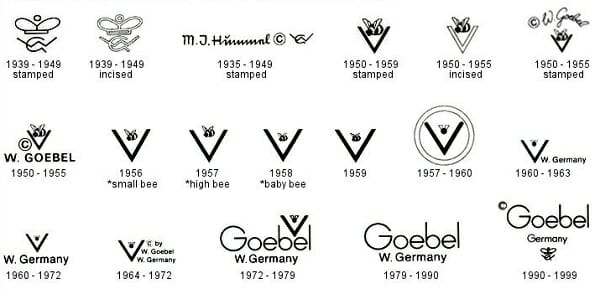 1. The Crown Marks (1935-1949)
These are the earliest marks and are referred to as the Crown Marks.
Cataloged as Trademark 1 or TMK-1.
The letters "WG" within the mark stand for William Goebel, founder of the Goebel company.
2. Introduction of the Bee (1950-1955)
During this period, back stamps were updated to feature a bee prominently.
Cataloged as TMK-2.
3. The Smaller Bee (1956-1959)
While the backstamp design saw slight alterations each year, the bee remained but was reduced in size.
Also cataloged as TMK-2.
4. The Stylized Bee Mark (1960-1972)
This period introduced a distinct bee design.
Generally referred to as the Stylized Bee Mark and cataloged as TMK-3.
5. The Stylized Bee with Text (1964-1972)
Alongside the stylized bee, three lines of text were added.
This variant is cataloged as TMK-4.
6. The Famous Bee Returns (1972-1979)
The back stamp was updated to reintroduce the now-iconic bee.
Cataloged as TMK-5.
7. Removal of the V and Bee (1979-1990)
Both the V and the bee were removed from the mark.
This design is cataloged as TMK-6.
8. The Crown's Return (1990)
In 1990, the back stamp was revised to include the crown once again.
Cataloged as TMK-7.
9. The Modern Mark (Since 2000)
The crown was removed, and the famous bee was reinstated.
This contemporary design is cataloged as TMK-8.
Remember, these back stamps are pivotal for authenticating and understanding the rich history of Hummel figurines. Always refer to them when in doubt about a figurine's origins.
Dating your Hummel figurines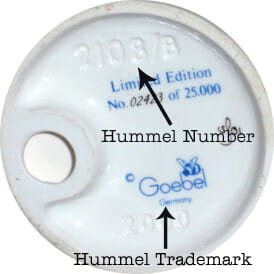 Hummel figurines are dated using serial numbers and the markings discussed above. They can usually be found on the base and provide clues about their age and value. These indicators can also help determine how rare a Hummel figurine is, as some fetch a much higher price than others.
Types of Hummel Figurines
Hummel figurines come in various sizes, themes, and designs. The smallest recorded Hummel is 2 ¾ inches tall, while the largest is 32 inches tall.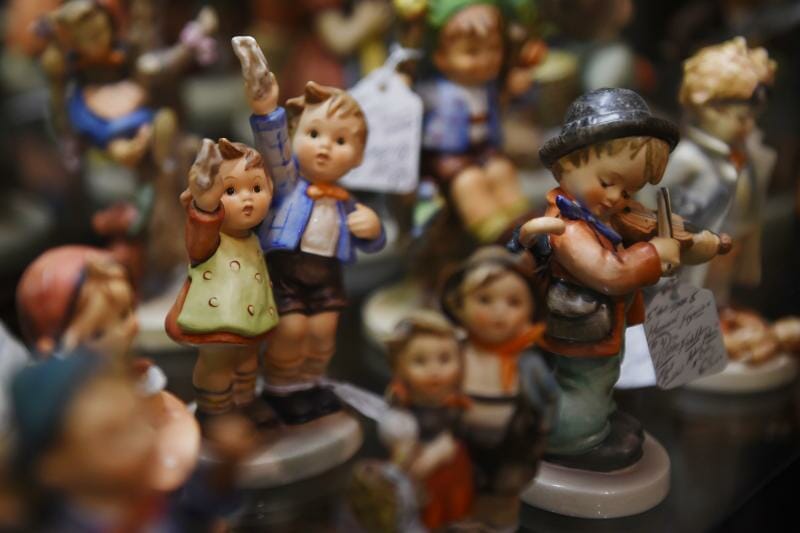 The most popular Hummel designs can usually be found on the following items:
Authentic Hummel porcelain figurines
Plates
Miniatures
Lamps
Bells
Plaques
Ashtrays
Bookends
Music boxes
Candleholders
Some of the different themes that Hummels depicts include:
Hummels with animals – birds, cats, dogs, sheep
The century collection
Christmas
Hummel Club exclusive designs
With hearts
Gardening
Reading the news
Hummels as Madonnas
The orchestra
Around 42 different Professions, including- chimney sweep, mailman, doctor, baker, cobbler, waiter, and many more
Playing sports
Hummel Figurines with music boxes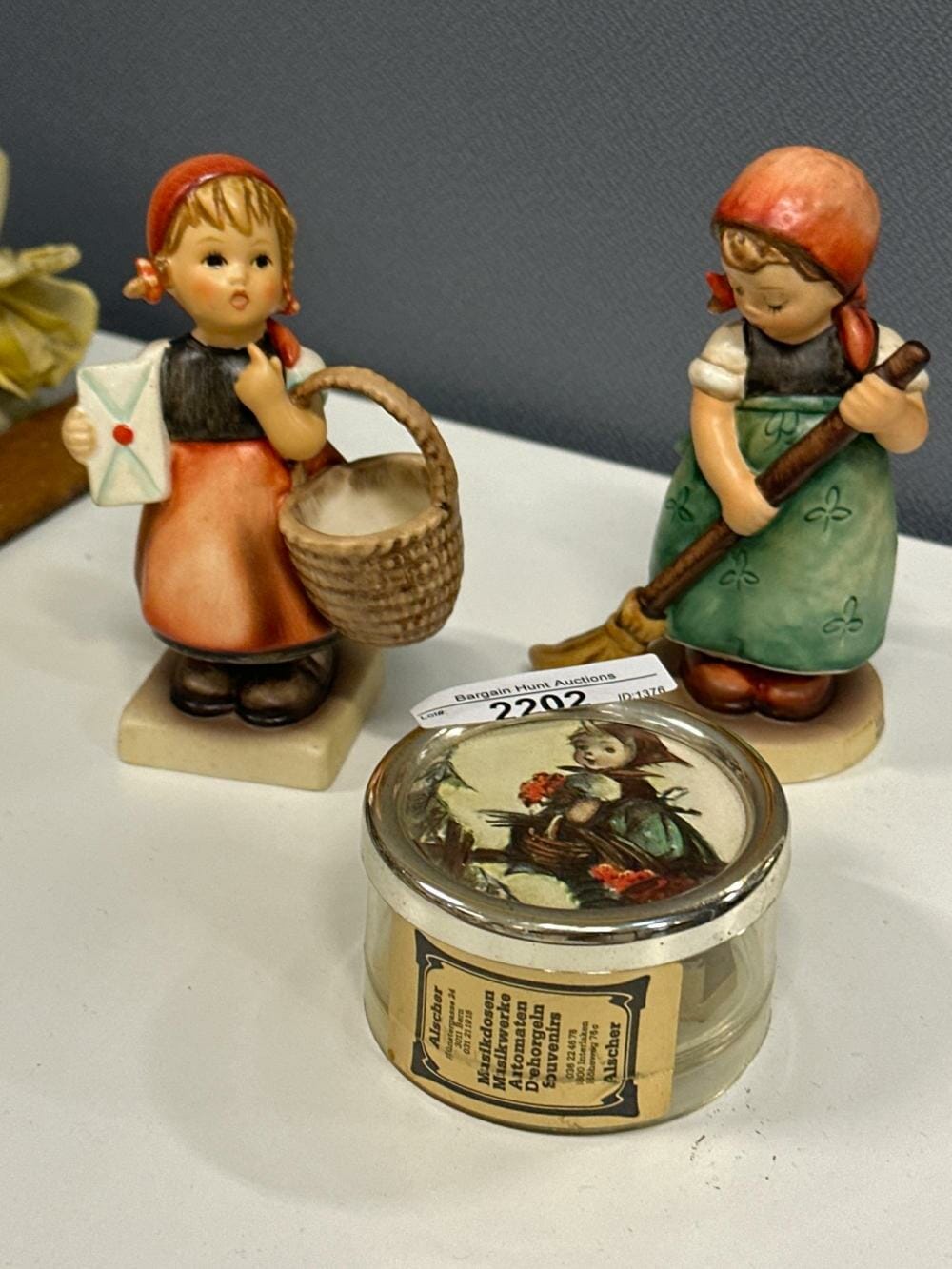 As mentioned above, Hummel figurines can be designed with music boxes. These are generally round or rectangular in shape. Many are made of wood with the Hummel figurine that rotates as music is played from the box. These music boxes are generally more valuable than music boxes, where both the box's top and bottom are made from porcelain.
Hummel Figurines Value
The value of Hummel figurines can be quite diverse. While some pieces command premium prices, others may be more modestly valued. Even within a single Hummel design, factors such as condition and age play significant roles in determining its worth.
Hummel figurines display a diverse value range. Prices start as modestly as $5 for figurines like "Vintage Girl with Ducks" and can escalate up to $10,000 for limited editions like the "Barnyard Tails."
Factors affecting the value of Hummel Figurines
Factors that can affect the value of Hummel figurines include
The condition
How rare the figurine is
Its age
It's demand
Hummel Figurines Price List
Below are a few Hummel figurines and their average value. Remember to cross-reference sources when determining how much your Hummel figurine may be worth.
1. Vintage girl with ducks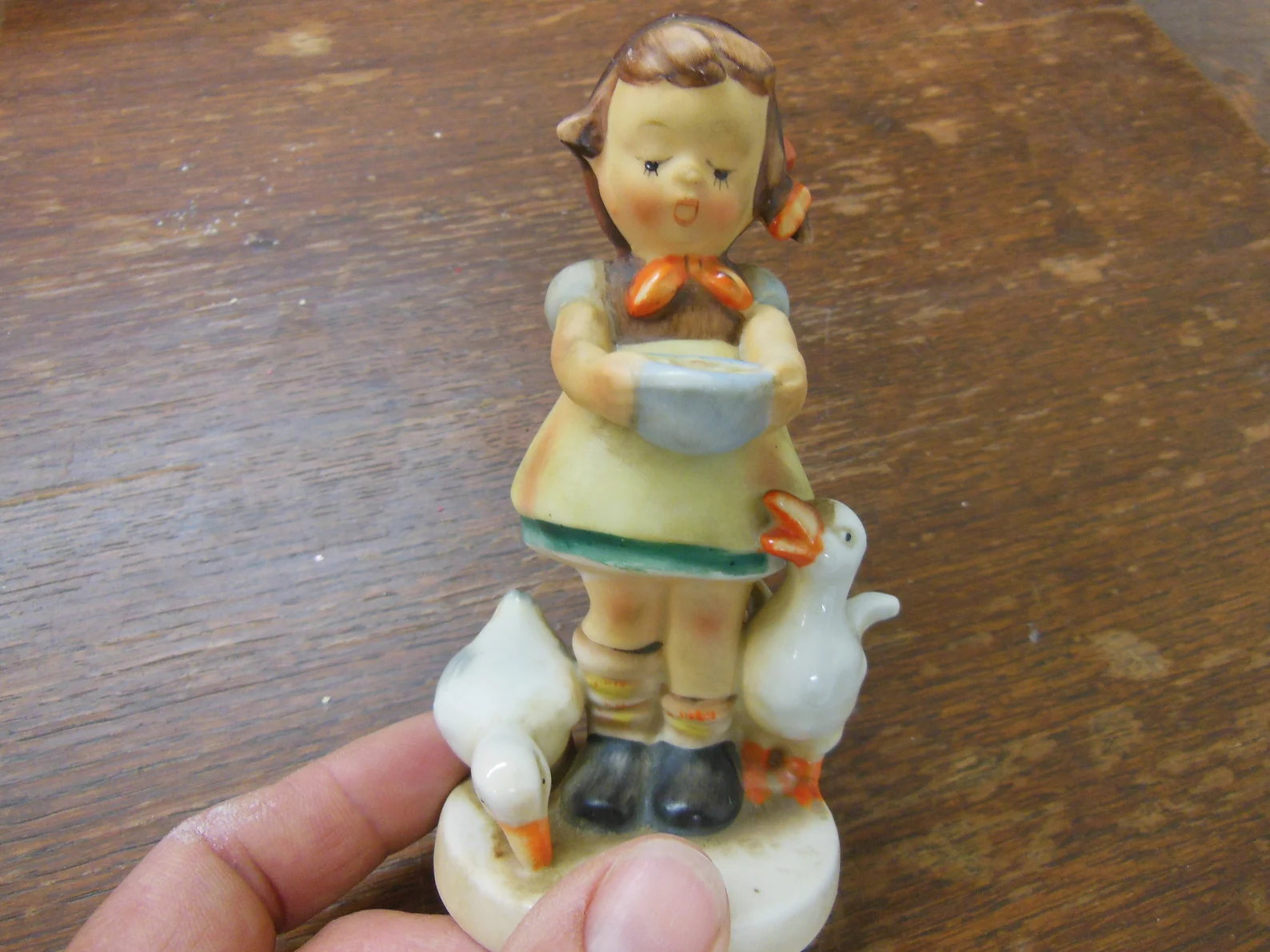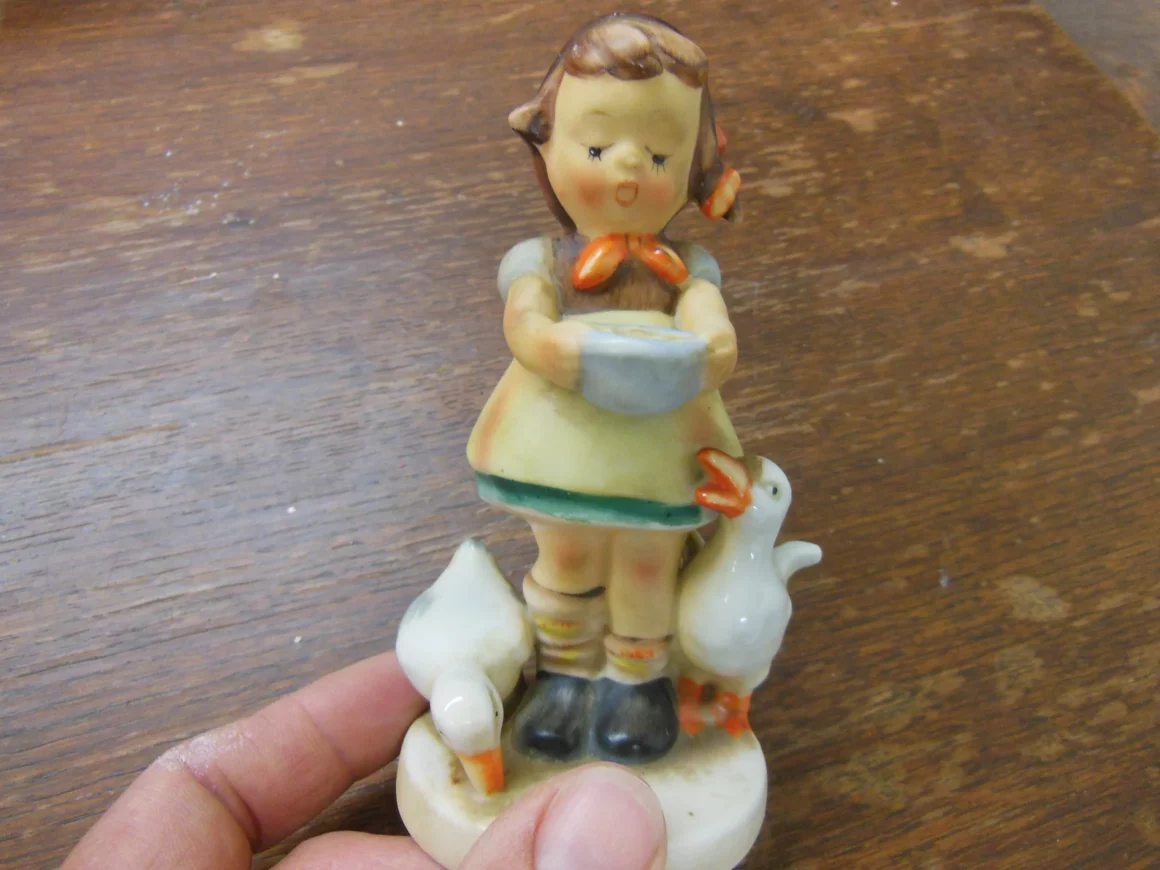 The "Girl with Ducks" is a charming vintage Hummel figurine, capturing childhood innocence paired with ducks' gentle nature. Originating from the renowned Goebel company, this piece showcases a young girl, often depicted in traditional attire, admiring or feeding a group of ducks.
Like many Hummel figurines, the attention to detail, from the girl's expressions to the ducks' playful poses, is a testament to the craftsmanship and artistry of Hummel creations.
Collectors and enthusiasts alike treasure this figurine for its nostalgic portrayal of a simpler time, making it a sought-after piece in many collections. Whether displayed in a curio cabinet or given as a cherished gift, the "Girl with Ducks" figurine embodies the enduring appeal of Hummel's timeless artistry.
Vintage Girl with Ducks Value: $5-$50
2. Girl and boy salt and pepper shakers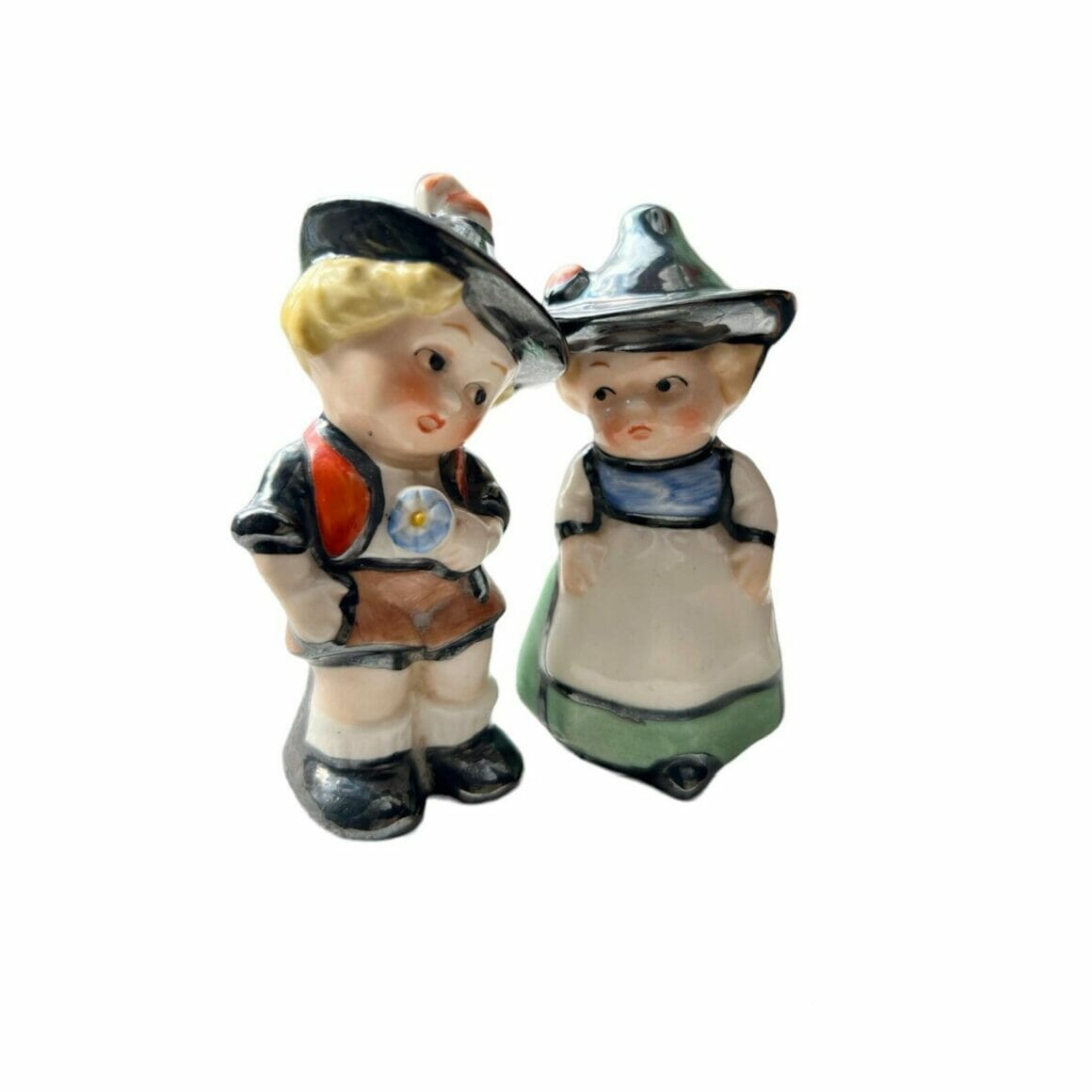 The Hummel "Girl and Boy" salt and pepper shakers are delightful collectible items, presenting a unique blend of utility and artistry. Produced by the esteemed Goebel company, these shakers depict a traditionally dressed young girl and boy, each captured in a characteristic Hummel style that radiates innocence and charm. The meticulous detail, from the children's facial expressions to the folds of their clothing, reflects the high standards of craftsmanship associated with Hummel creations.
Not just ornamental, these shakers serve a functional purpose on dining tables while adding a touch of vintage elegance. They're especially prized by collectors who appreciate the union of form and function. Whether showcased in a display cabinet or used daily, the "Girl and Boy" salt and pepper shakers stand as a testament to Hummel's enduring allure and timeless appeal.
Vintage Girl with Ducks Value: $5-$50
3. Vintage Boy Figurine Fence Sitting Flute Playing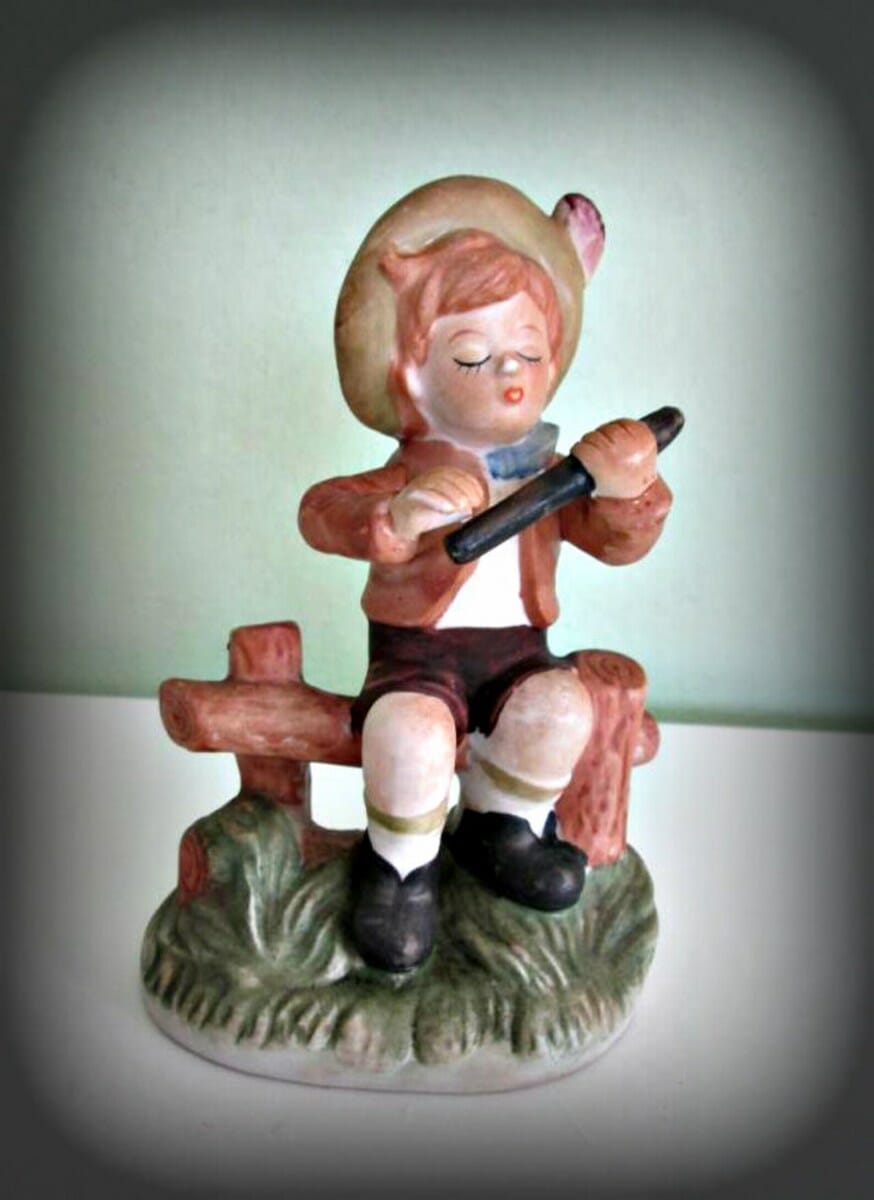 The Hummel "Boy Sitting on Fence Playing Flute" is a captivating vintage figurine that paints a serene picture of pastoral life. Crafted by the distinguished Goebel company, this figurine captures a young boy, typically adorned in traditional garb, lost in the melody of his flute as he sits perched on a rustic fence.
The beauty of this piece lies not just in its thematic innocence but also in the intricate detailing — from the delicate fingers on the flute to the gentle ripples in the boy's clothing, every feature is meticulously rendered. The soft, contemplative aura of the boy and the melody he creates, even though silent, resonate deeply with collectors, making it a prized addition to any Hummel collection.
Whether it finds a home on a mantlepiece or within a dedicated collector's display, the "Boy Sitting on Fence Playing Flute" is a heartwarming representation of Hummel's timeless artistry and a tribute to simpler times.
Vintage Boy Figurine Fence Sitting Flute Playing Value: $10-$100
4. Hummel Harmony In Four (No. 471) Figurine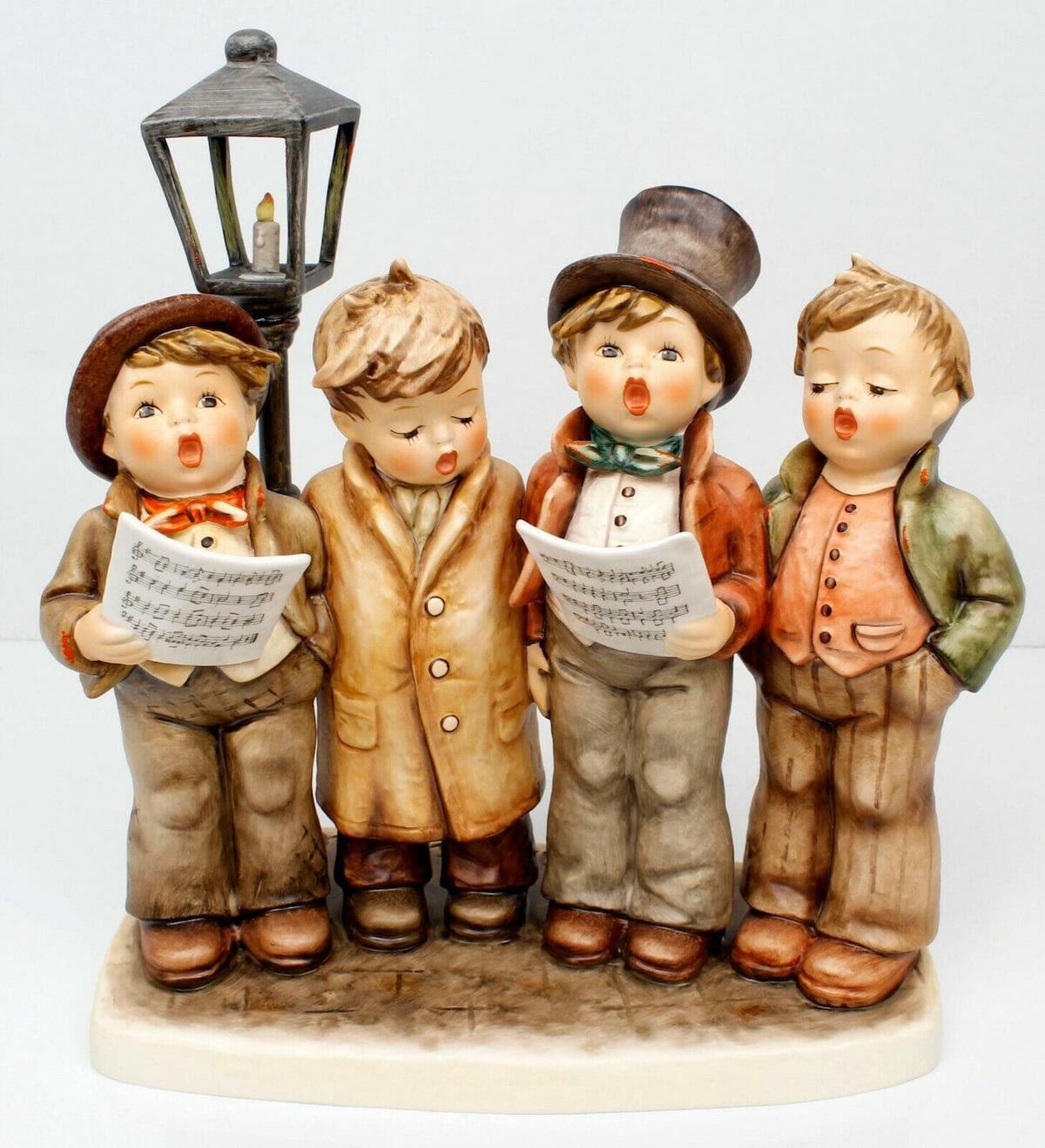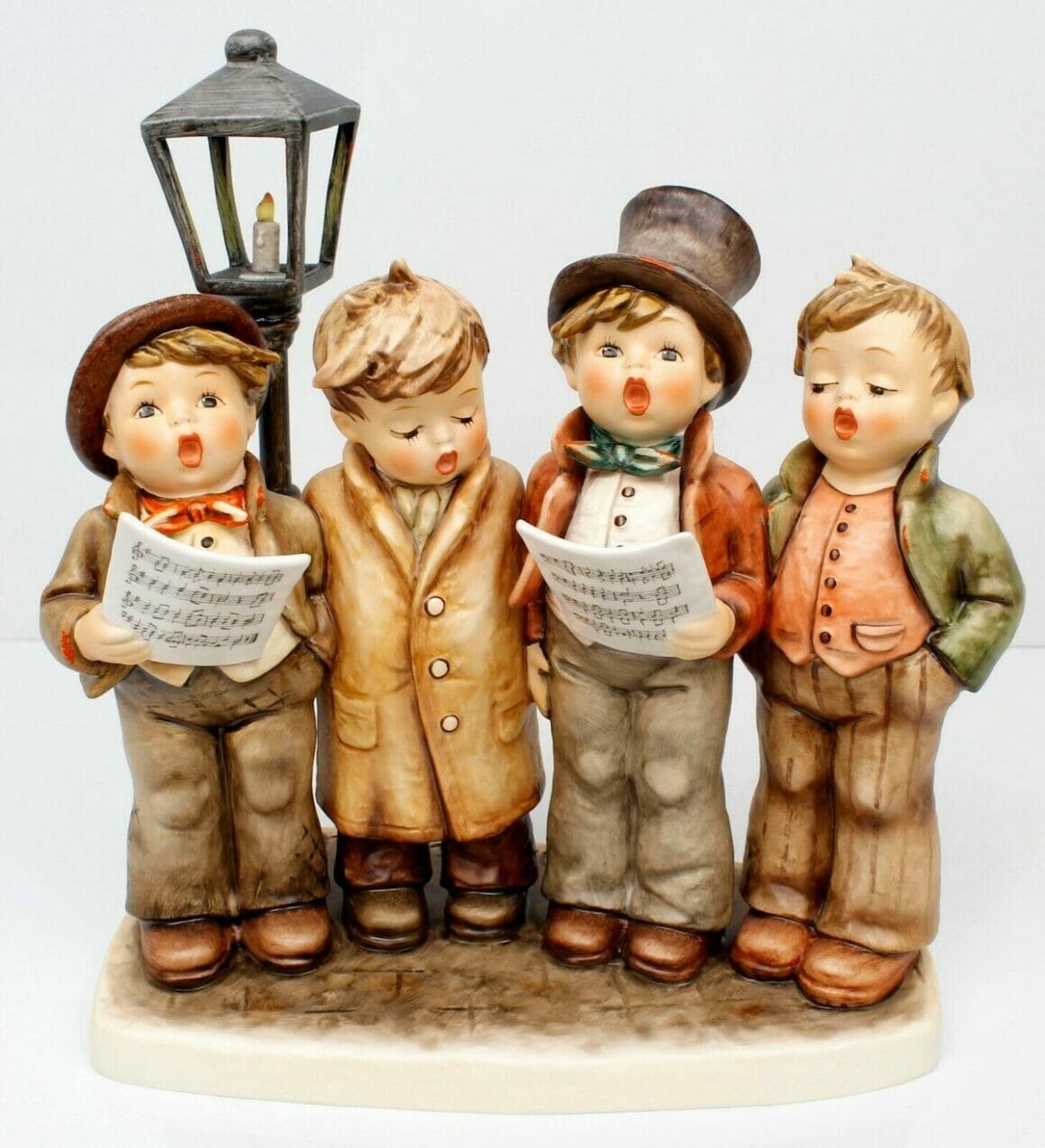 The "Harmony In Four Parts" figurine (No. 471) is a standout piece in the Hummel collection, encapsulating the spirit of camaraderie and the joy of music. Produced by the renowned Goebel company, this figurine features a quartet of children, each engrossed in their own musical instrument, coming together to create a harmonious melody.
The attention to detail in this creation is exceptional. From the delicate positioning of fingers on the instruments to the individual expressions of concentration and joy on each child's face, the craftsmanship is unmistakably Hummel. The ensemble evokes a sense of nostalgia, reminding one of bygone days when simple pleasures brought immense joy.
For collectors, the "Harmony In Four Parts" (No. 471) is not just a figurine but a story frozen in time, celebrating unity and the universal language of music. Whether displayed prominently on a mantel or nestled within a curated collection, this piece stands as a testament to Hummel's enduring legacy and timeless appeal.
Hummel Harmony In Four (No. 471) Figurine: $150-$600
5. International Hummel Serbian Girl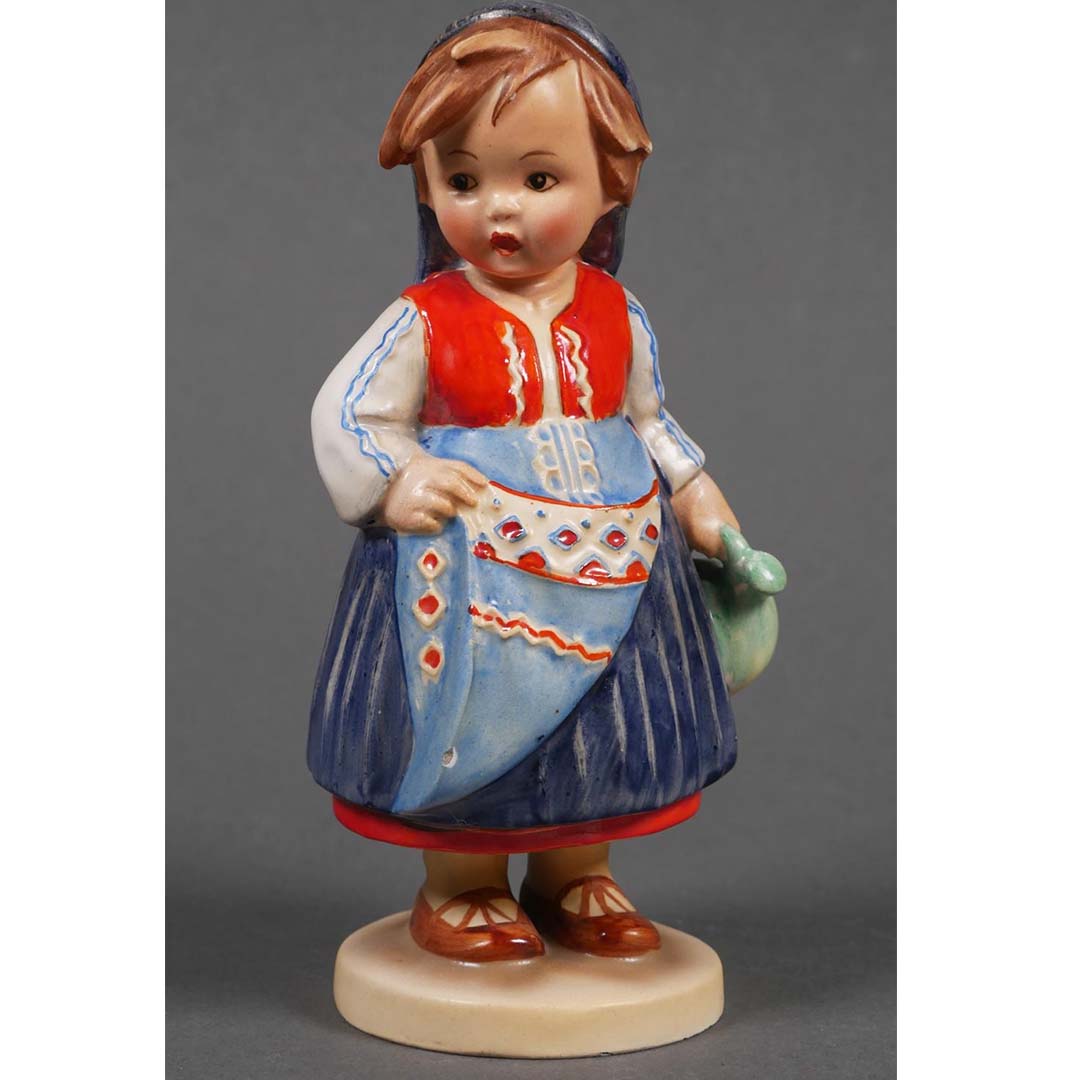 The "International Hummel – Serbian Girl" figurine is a distinctive representation of the world's diverse cultures as seen through the artistic lens of the Hummel collection. Crafted by the esteemed Goebel company, this piece portrays a young Serbian girl, elegantly dressed in traditional attire, capturing the essence and richness of Serbian heritage.
The figurine's beauty lies in its meticulous detailing. From the intricate patterns on her dress to the subtle gleam in her eyes, the "Serbian Girl" is a true testament to Hummel's commitment to authenticity and craftsmanship. Every fold of fabric and every accessory has been carefully rendered, evoking a sense of admiration for the culture it represents.
For collectors, this "International Hummel" piece offers a unique blend of traditional Hummel charm with an exploration of global cultures. The "Serbian Girl" stands as a reminder of the world's vast tapestry of traditions, making it a prized addition to any Hummel collection. Displayed on a shelf or within a dedicated showcase, this figurine celebrates the beauty of cultural diversity and Hummel's timeless artistry.
International Hummel Serbian Girl Value: $3000-$4000
Adventure Bound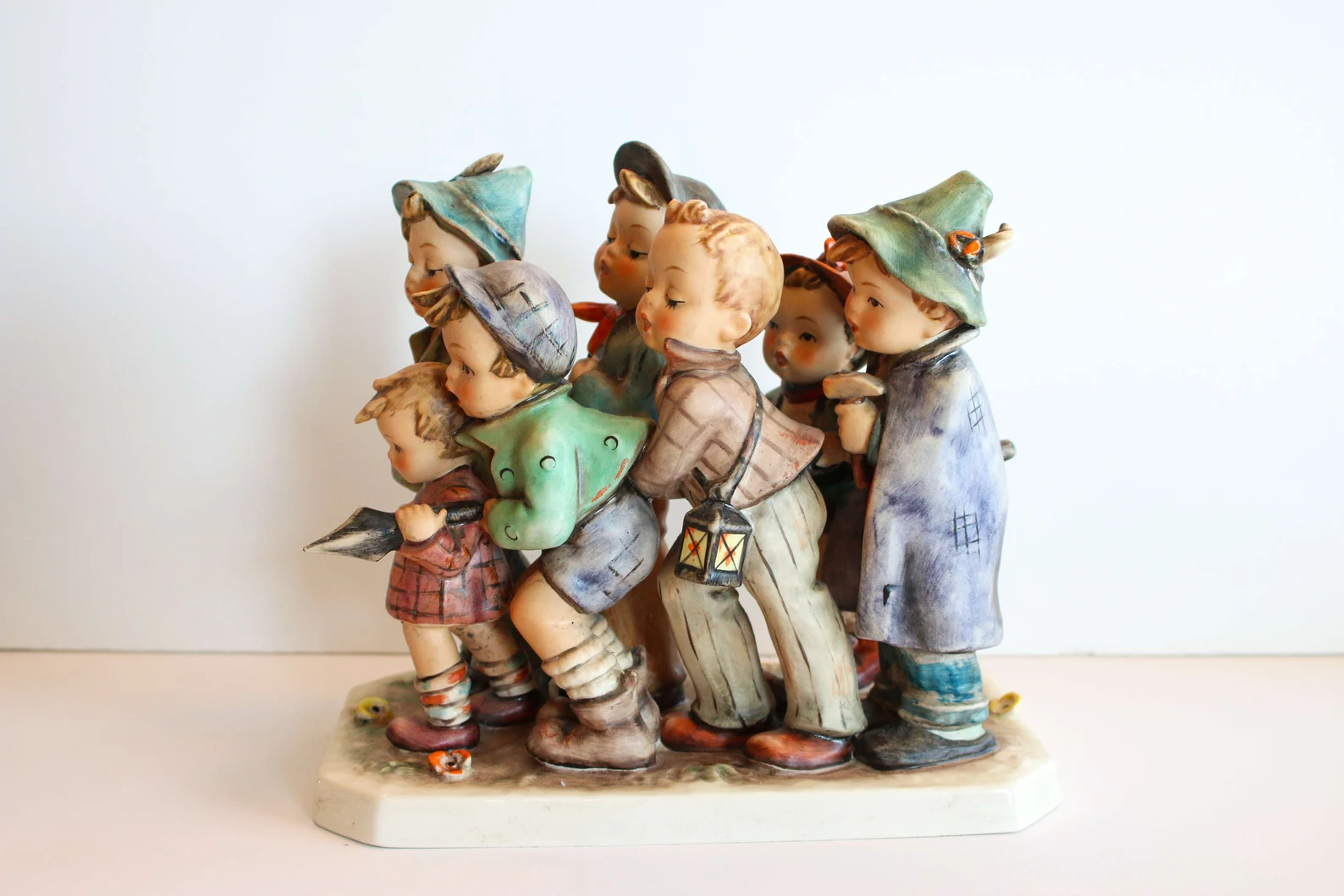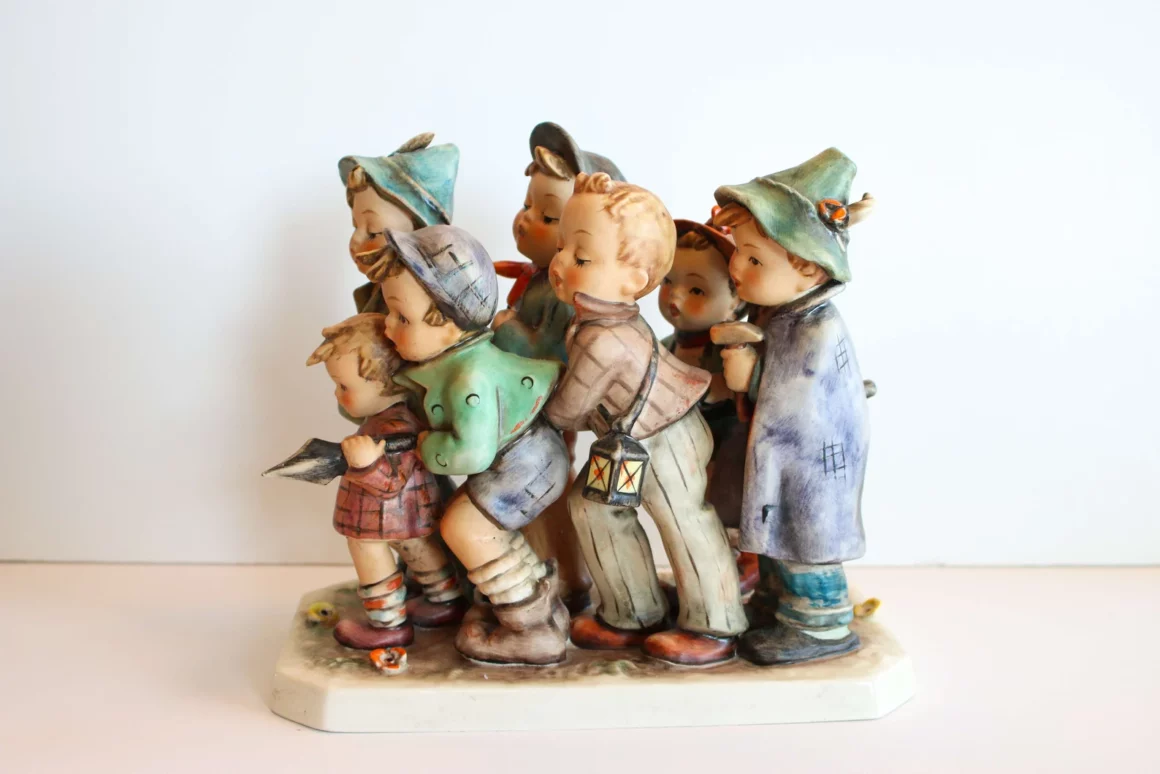 The "Adventure Bound" Hummel figurine is one of collectors' most iconic and sought-after pieces. Created by the illustrious Goebel company, this artwork captures a group of five young boys embarking on a journey, exuding a sense of anticipation and youthful curiosity.
Every detail of this intricate figurine, from the boys' determined expressions to their carefully rendered clothing, reflects Hummel's unparalleled craftsmanship. The scene evokes memories of childhood adventures, where the world was vast and full of mysteries waiting to be discovered.
For many, the "Adventure Bound" figurine isn't just a piece of decor but a symbol of innocence, camaraderie, and the insatiable human spirit of exploration. Whether it stands proudly on a collector's mantel or is lovingly stored in a display cabinet, this Hummel figurine is a timeless representation of the adventures that lie in the heart of every child.
Adventure Bound Value: $3000-$4000
Hummel "Apple Tree Boy" and "Apple Tree Girl"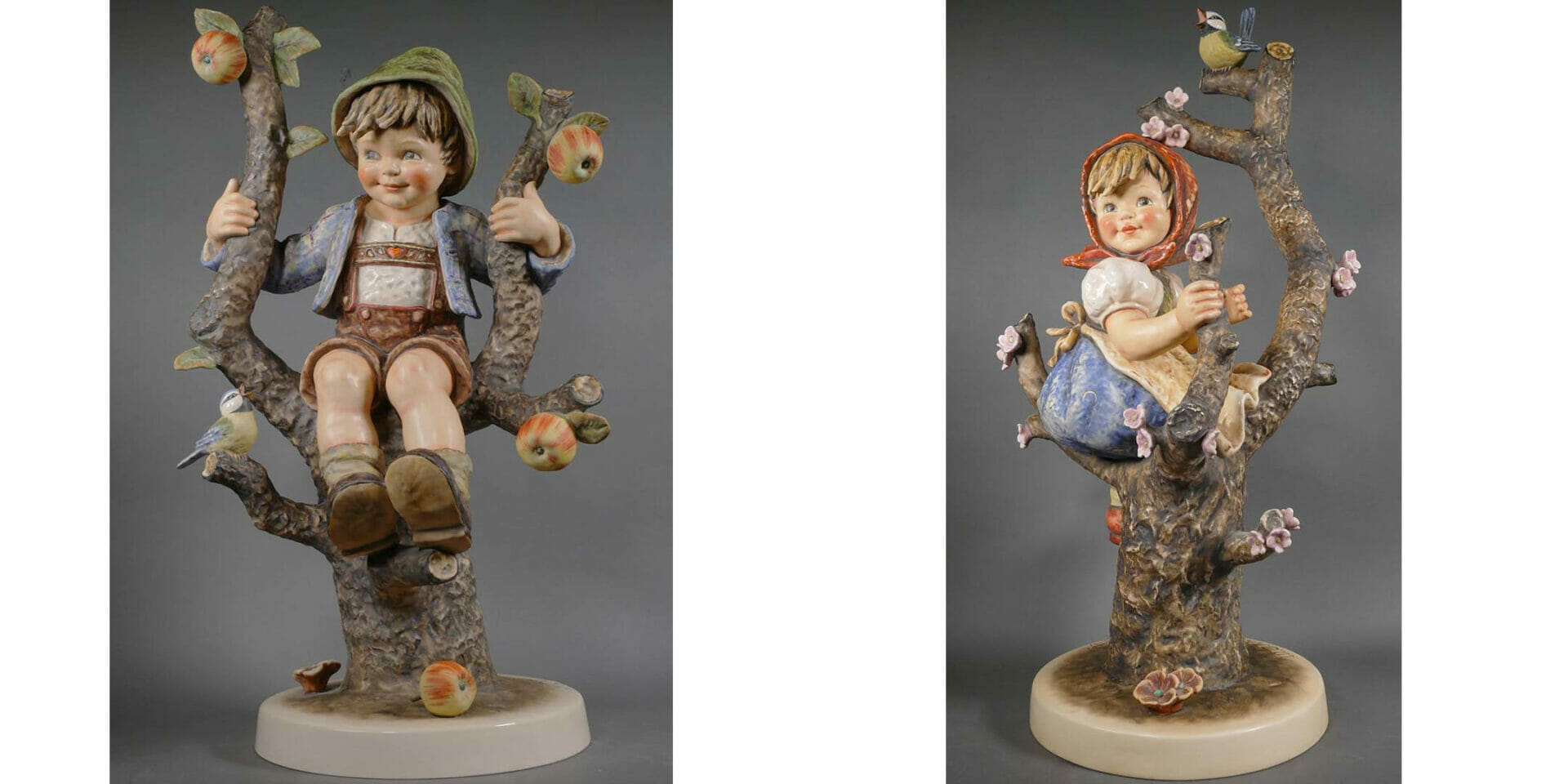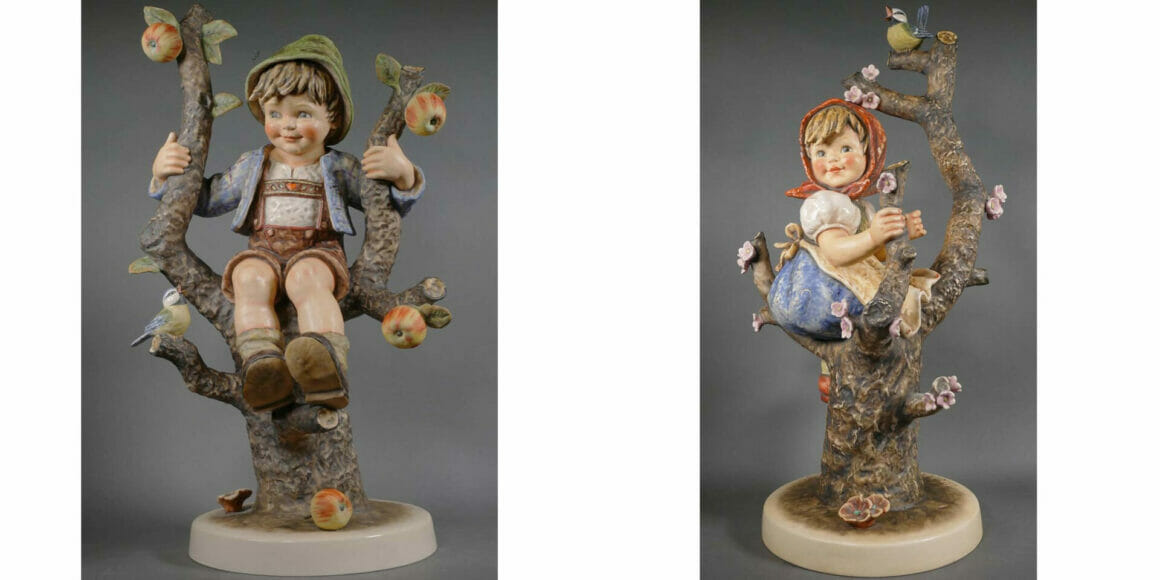 The "Apple Tree Boy" and "Apple Tree Girl" are among the most beloved figurines from the esteemed Hummel collection. Crafted with meticulous precision by the renowned Goebel company, these figures capture the innocence and wonder of childhood moments spent under the comforting shade of an apple tree.
The "Apple Tree Boy" depicts a young lad, perhaps lost in thought or taking a brief respite, as he leans against the trunk of an apple tree. His counterpart, the "Apple Tree Girl," presents a young girl, equally contemplative, as she nestles amidst the tree's branches.
Every detail in these figurines, from the nuanced expressions on their faces to the gentle rustle of leaves and the realistic portrayal of the apple fruits, embodies the signature craftsmanship of Hummel. Together, they paint a picturesque scene of simpler times, evoking memories of lazy summer afternoons and the sweet taste of freshly picked apples.
For collectors and enthusiasts, pairing the "Apple Tree Boy" and "Apple Tree Girl" not only serves as a testament to Hummel's timeless artistry but also as a nostalgic journey back to the carefree days of youth. Displayed side by side, they tell a story of innocence, nature, and the moments of tranquility we cherish from our past.
Hummel "Apple Tree Boy" and "Apple Tree Girl" Value: $2500-$5000
Barnyard Tails Limited Edition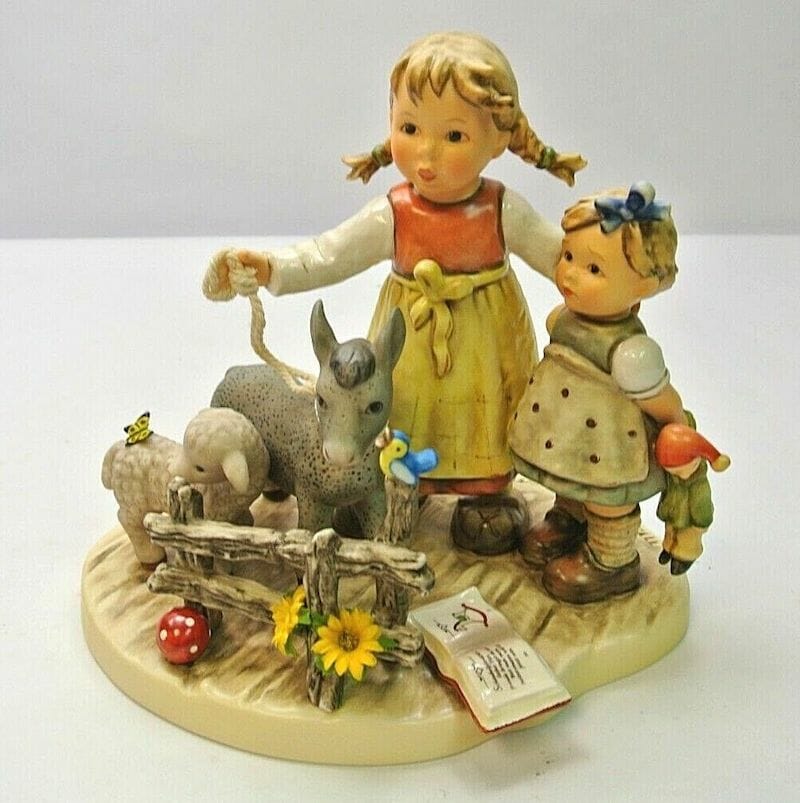 The "Barnyard Tails" Limited Edition is a standout piece in the illustrious Hummel collection, showcasing a tapestry of farm life through the lens of childhood wonder. Crafted by the acclaimed Goebel company, this figurine is a testament to the detailed craftsmanship and artistic finesse synonymous with the Hummel brand.
The "Barnyard Tails" figurine depicts a delightful scene where children interact with farm animals, capturing their shared moments' mutual curiosity and enchantment. Every facet, from the children's rapt expressions to the animals' playful antics, is rendered with utmost precision. The lively tableau evokes a sense of nostalgia, transporting onlookers to a world where nature and innocence converge.
Being a limited edition, the "Barnyard Tails" holds an added layer of exclusivity, making it particularly sought-after by collectors. It isn't merely a figurine; it's a portal to a time of simplicity, to memories of dawn's golden hues on a farm and the tales woven amidst hay and play. Whether perched on a mantle or featured in a display cabinet, this Hummel piece is a celebration of pastoral beauty and the timeless moments it encompasses.
Barnyard Tails Limited Edition Value: Up to $10,000
Where and How to Buy And Sell Hummel Figurines
If you decide to part with your cherished Hummel figurines, there are a few different selling avenues to consider. Make sure to explore all your options before committing to selling your figurines. This includes looking at online platforms, forums, price guides, and visiting shops, antique shows, and auction houses.
Online selling platforms may include eBay, Etsy, AuctionDaily and RubyLane.
If you decide to sell your Hummel at auction, you can choose between traditional auction houses or online auction sites. Both have their advantages and disadvantages, the main difference being that online auctions have a much greater reach than your local auction house. However, many collectors like to see the physical figurines before bidding to check their condition, marks, and authenticity.
Preparing your figurine for sale
Clean your Hummels: Clean your figurines to ensure they look their best in person and in photographs. Find out how best to clean your Hummels below.
Photograph each Hummel: Photograph each Hummel separately, especially if selling online. This ensures there is no confusion about what will be included in the price. Try taking photos in natural light or using a spotlight instead of a flash. This will help avoid glare.
Care and Preservation
How to clean Hummel Figurines
It is important to understand that any area of the Hummel that is not glazed will soak up water. The main area for this is the inside of the Hummel. The air hole that is usually located at the underside of Hummels will let water in during cleaning if not securely covered.
To clean your Hummel:
Place it on a flat surface
Cover the air hole
Use a soft brush such as a make-up brush with warm water and mild soap to gently wash over the figurine's surface.
Rinse in lukewarm water
Wipe over with a soft cloth
Allow to air dry.
How to store Hummel Figurines
Most people store fragile items in newspapers, but this is not recommended when storing Hummels as the newsprint will start to blend with the colors of the figurines.
The best way to store your Hummel is in its original box in a cool, dry place. Use colorless foam or bubble wrap for protection if you don't have the original box.
Environments that can damage your Hummel include wet, damp environments, excessive temperature or humidity changes, wrapping them in silk paper, or keeping them in direct sunlight.
The Community Aspect
Hummel collector groups and online forums
The Hummel community is vast, and there are many ways to get involved within the community. There are many online forums and groups that specialize in Hummels and allow you to share your experiences and gain knowledge. You can find good active groups on Facebook to help you explore your hobby.
Inter-Chapter Hummel Club Conferences are held up and down the country and celebrate the love for Hummel figurines. Attending face-to-face events allows you to meet experts in Hummels and socialize and share experiences about this beloved hobby.
The Hummel Club is still running today, and for only $130 a year, you get a multitude of benefits, including:
An exclusive figurine at a discounted price
A club magazine delivered to your house 4 times a year
A membership card that invites a range of activities and benefits in its own right
Be the first to know about any new Hummels being produced.
Hummel Figuries FAQs
How can I assess the true value of my Hummel Figurine?
There are many factors involved when assessing the value of your Hummel figurines. These include its rarity, condition, age, and demand. It is best to consult reputable price guides and collector communities for help when determining your figurines' worth.
Where can I find a comprehensive Hummel Figurines Price List?
There are many ways to find a comprehensive price for your Hummel figurine. Books dedicated to collectibles are a great place to start. Other places include online collector forums and specialized websites. Cross-referencing sources ensures your pricing information is accurate.
How can I find and engage with other Hummel Figurine collectors?
Attending Hummel events and conventions is a great way to connect with other collectors and exchange knowledge and your collection. Online forums and social media groups are also a great way to engage with other collectors.
Are there any reputable auction houses specializing in Hummel Figurines?
While many auction houses specialize in collectibles, make sure you research well to find the auction houses with knowledge and expertise in Hummel figurines to help you get the best price when selling your figurines.
More Dolls & Figurines Articles
Summary
Although the value of Hummel figurines has dipped slightly in recent years, they continue to captivate collectors all over the world with their artistic excellence, sentimental value, and historical significance. Their innocent charm and distinctive features make them loved by many, making them a great choice for anyone wanting to start a collector's hobby. With so many designs and varied prices, Hummel's not only are great for collecting, but the community surrounding these quaint figurines is unlike any other.
Sources & References