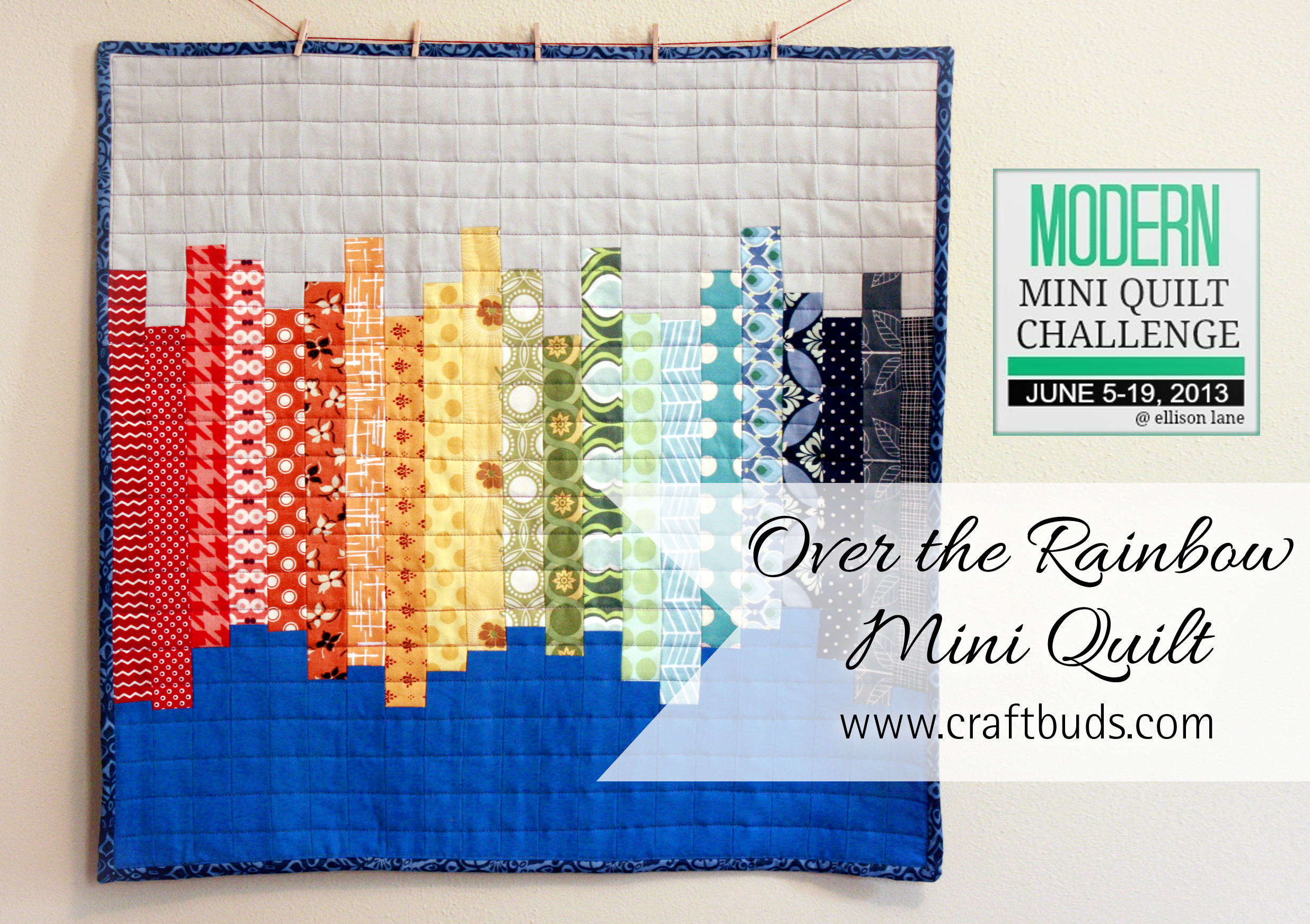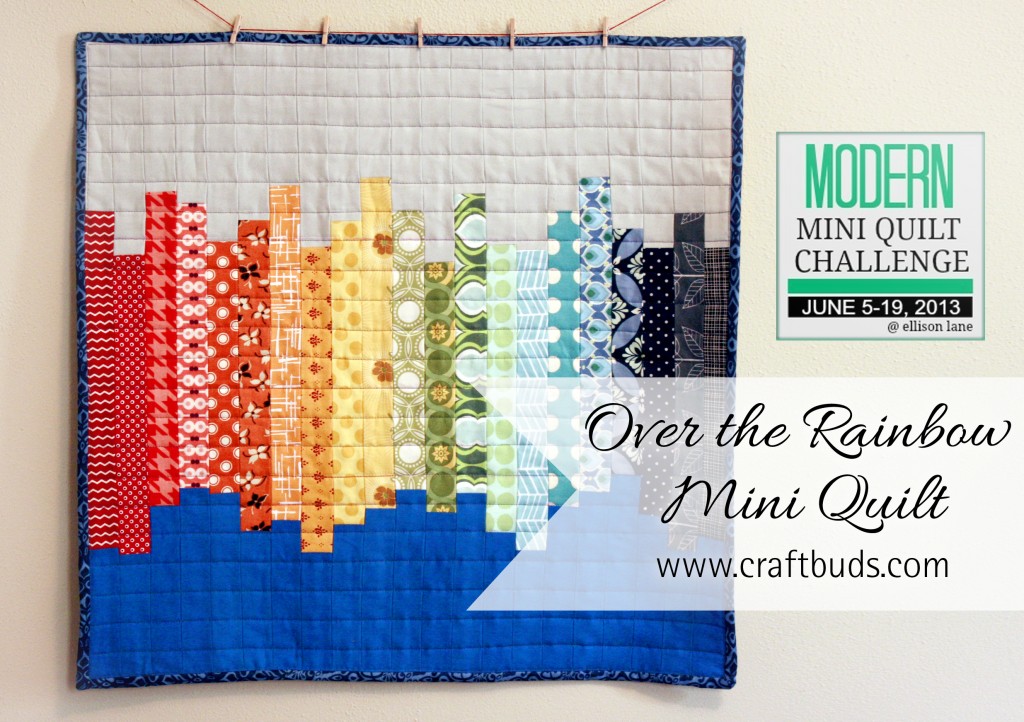 When Jennifer (Ellison Lane Quilts) asked if Craft Buds would like to be part of the Modern Mini Quilt Challenge I figured it would be a great reason to get more experience! I've been sewing for years but just took up quilting earlier this year so I'm constantly learning and trying to improve my quilting skills. I've been compiling a rainbow of fabrics for a throw sized quilt and had just enough scrap strips left over for a mini quilt. To make this quilt, I cut 21 strips of my rainbow fabrics. Each strip is 9 to 12 inches long and 1 1/2 inches wide. I added 8 inch gray and blue strips to either side of the rainbow fabrics, then sewed all the strips together with 1/4″ seams, deciding the placement as I went.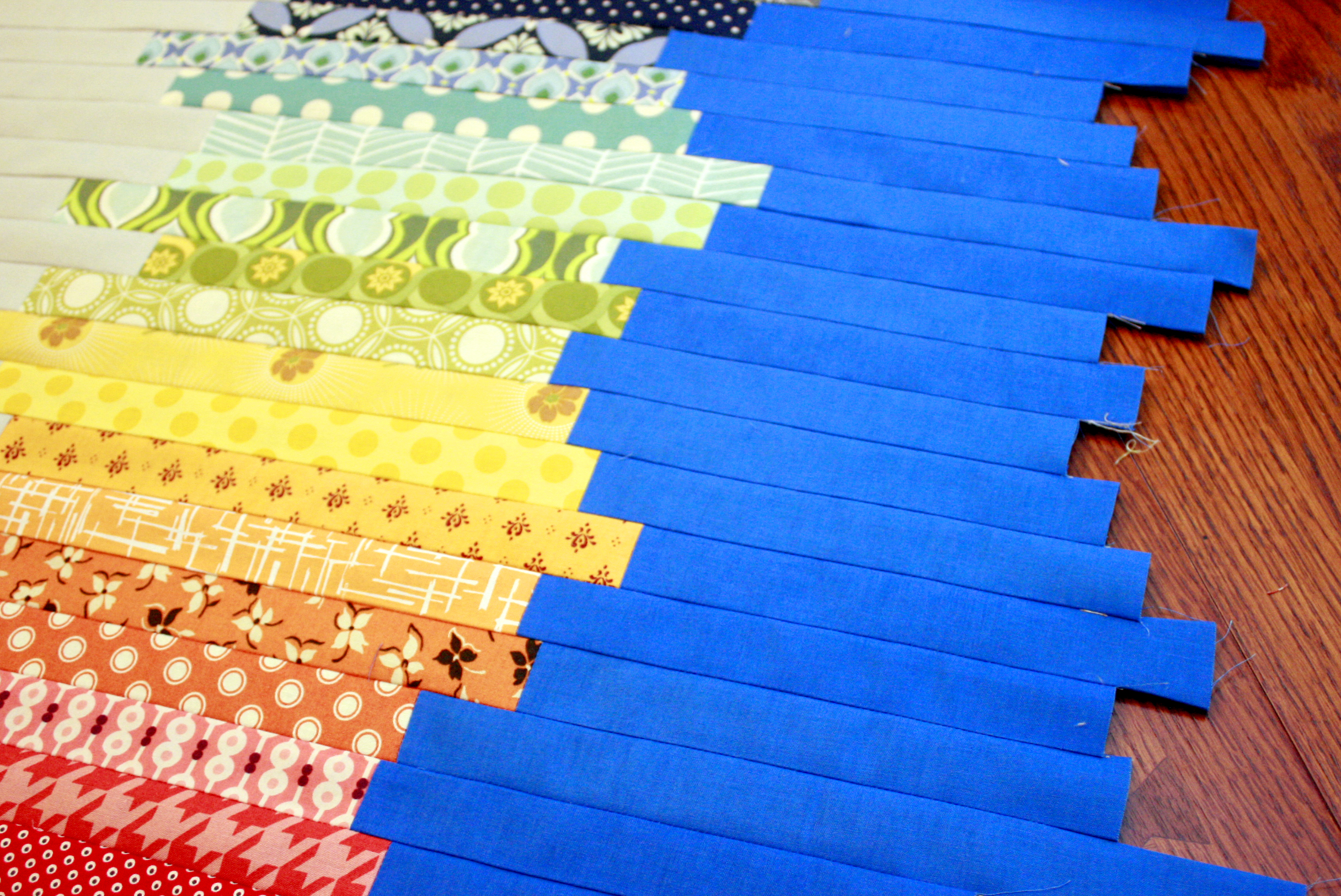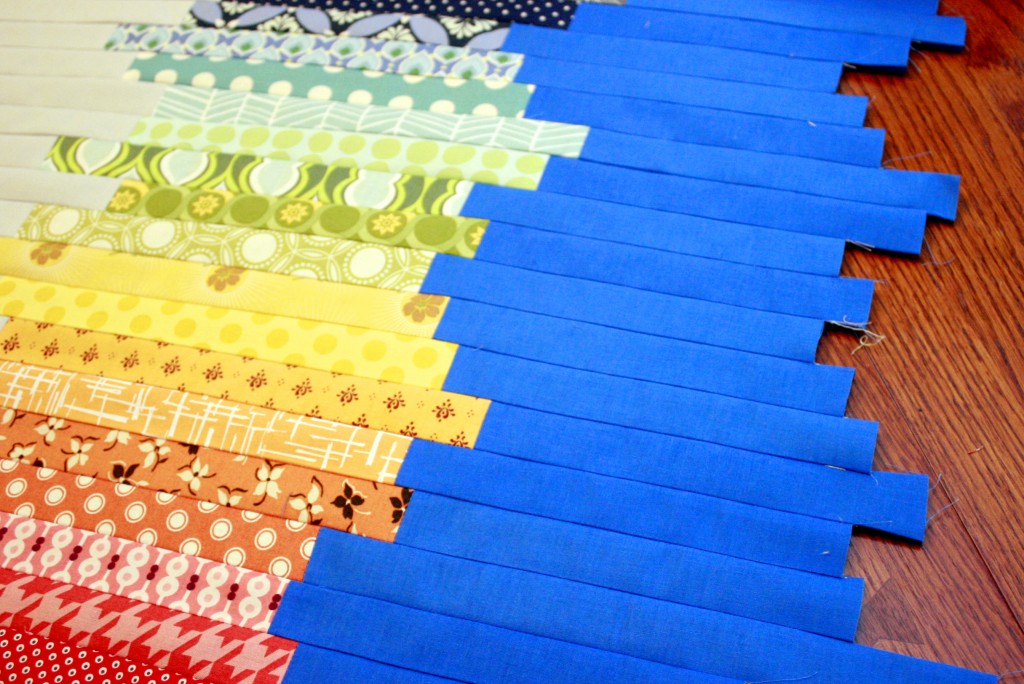 After all the strips were together, I trimmed the edges straight and used a grid pattern for the quilting. The finished size is 21 inches wide by 19 inches tall.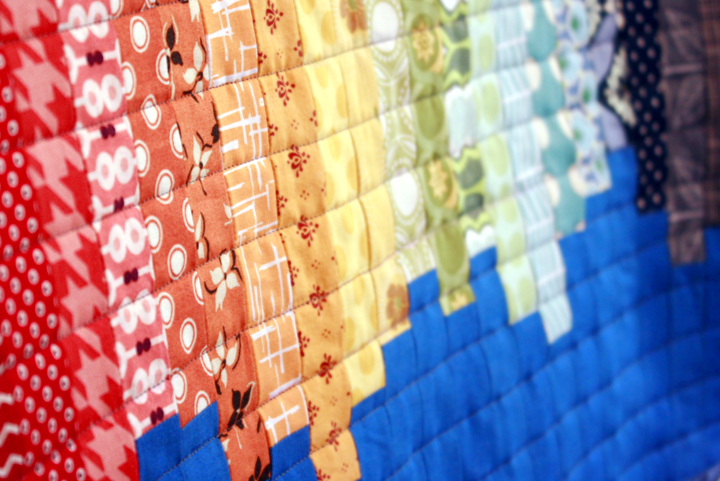 Modern Mini Quilt Challenge
Have you made a mini quilt in the last 6 months, or are you thinking about making one soon? Here's more information from Jennifer of Ellison Lane Quilts about entering the contest and winning prizes!
Are you ready for the Modern Mini Challenge? Here's the deal. The Modern Mini Challenge is a call to challenge yourself. Try something new: a new technique, a new pattern, a new thread, etc and make a mini quilt. A mini quilt makes it possible and oh-so-doable! What's a mini quilt? It's a mug rug, a pillow, a wall hanging, a table topper… you get the idea! Check out the AMAZING minis in last year's contest! There were over 200 awesome entries! You don't have to be an experienced sewist to enter! Don't let your lack of experience keep you from joining in! I want this event to be fun, encouraging and inspiring- just go for it! Believe in your ability and go CREATE!! Go be AWESOME!!
Speaking of awesome, there will be fabulous prizes available just for entering! So try your best, pick something fun to create that speaks to you and get sewing.
The details: You can enter any mini quilt that you've made within the past 6 months. Remember, a mini quilt can be a mug rug, a mini quilt, a pillow, a table topper, etc. Only one entry per person. Size requirements: must be at least 6″ x 6″ and no bigger than 24″ x 24″. You can enter a mini quilt made from your own design or from a pattern. Please give credit to the pattern designer in your description. Starting June 12, you'll be able to link up your entry at Ellison Lane. You'll have until 5:00 PM EST on June 16 to add your mini quilt. Link from your blog (a NEW post please), your Flickr account or your Threadbias account. Remember, you don't have to have a blog to enter! PRIZES! Did she say prizes? For sure! Check out these amazing goodies up for grabs:
(2
) $
50
prize packs of
Dritz
sewing products
Need some inspiration? Never fear! There's a snazzy group of quilters ready to share some of their creations to show just how fun a mini can be.