Today we're excited to welcome fabric maven Brenda Ratliff, owner of the popular online store Pink Castle Fabrics! If you've had the pleasure of meeting Brenda at Quilt Market, attending one of her Camp Stitchalot sewing weekends or interacting with her in blogland, you know that she's pretty fantastic.
If you've ever thought about running your own fabric store, you'll be interested to hear from Brenda how she got started, where she researches fabric trends and some surprises that come along with running a creative business.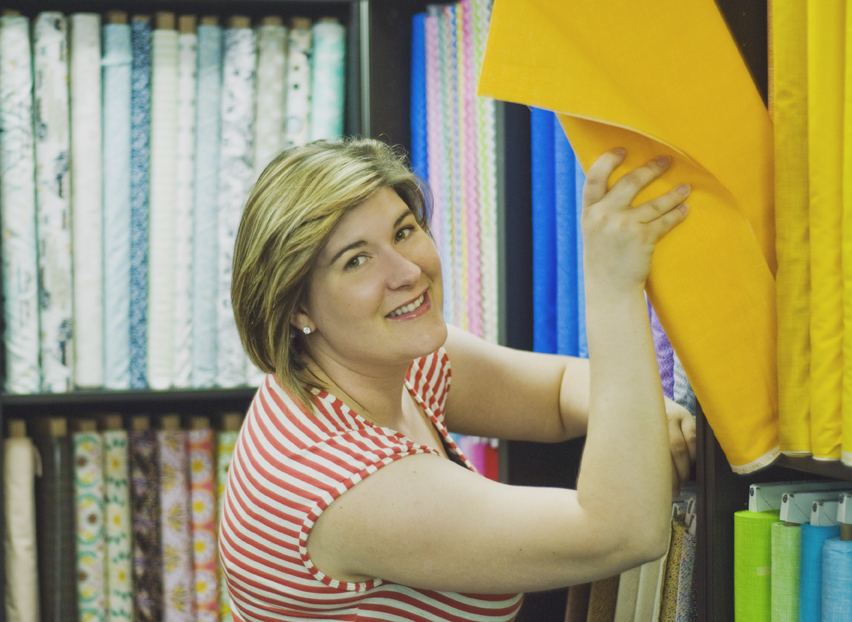 Brenda, we're excited to have you at Craft Buds to chat about owning an online fabric store. Can you tell us a little bit about your background and how you started Pink Castle Fabrics?
Thanks Lindsay! I'm pretty excited to be here! A long time ago I went to college and studied Sociology and Marketing. During and after college I worked in a lot of fun sales positions including cell phones and mortgages. I did pretty well in sales and I enjoyed it. I took some time off work when I had my son over 3 years ago now and it was my first time not working since I was 16. I decided to learn how to quilt in my new found free time. I kept seeing all the beautiful modern quilts online and I was really inspired. I couldn't find any of the amazing modern fabrics that the bloggers were using at any local quilt shops. I figured I would just buy a few bolts that I liked and sell the extra fabric online. I had no idea that there were so many other quilters out there that wanted the same fabrics!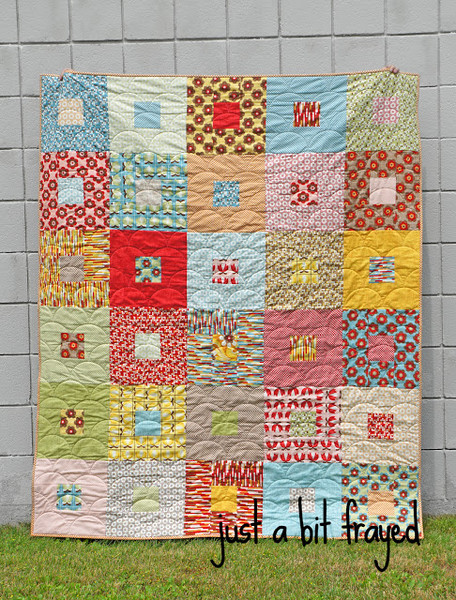 Since you've been in business, what have you learned about owning an online fabric shop that might surprise people?
In business you think of other shops that do the same thing you do as competitors. In the fabric world I've actually found most other shop owners, both online and local shops to be very friendly and open. I appreciate the willingness to help each other out as a community. There's room in the industry for a lot of fabric shops to be successful. The more we can work together to teach our crafts to new people the more business we will all have.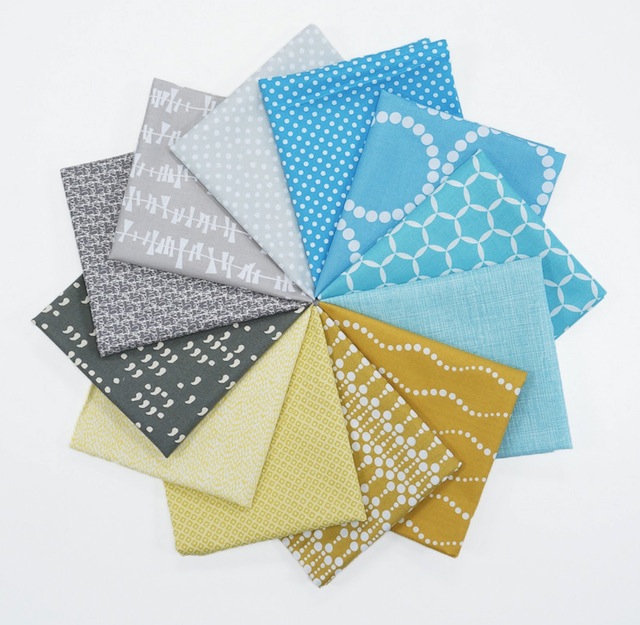 I've been really impressed by your innovative approach to fabric retail, from the Stash Stack Club to all the pretty collections and bundles you've curated. How do you ultimately decide what fabrics to stock in your shop and what's going to sell like hotcakes?
A lot of what I decide to buy for the shop are fabrics that I would like myself. I've learned that not everyone has the exact same taste as I do so I read a lot of blogs and tweets and Instagram and Pinterest and try and get a feel for trends and what future lines people are excited about. It's fun to see what fabric at market gets the most photos and buzz. It's certainly not always a good indication on what quilters are going to buy (Likes on Instagram are free!) but it at least points me in the right direction.
Stash Stack Club was born when I realized that my personal stash was filled with beautiful focus prints and really cute novelty fabrics but I never bought myself any blenders or stash builders! I usually get project ideas late at night after I start relaxing and now that I have a full color wheel of stash basics I can easily start something without having to wait to shop. I'm really happy that this club is doing so well and that there are others out there like me. We are finishing up our first full year and it's going to keep on going starting over with the first color again.
Photo: Made by Rae
The retreats you've hosted look like they've been a lot of fun! What was your favorite part?
Camp Stitchalot has been fun! I really love getting to know the other campers. We have had two so far and it's so nice that it's a small intimate retreat (only up to 36 people). It really gives me a chance to sit and talk to everyone during the weekend. Everyone becomes good friends by the end of the weekend. And I love the supportive atmosphere we have had in the past. Campers are helping each other and oohing and aahing over everyone's projects. We are all lucky to be a part of such an amazing community.
We also get a lot accomplished. Jan who owns the Inn we stay at cooks all the meals so there's a lot more time to sew. I know in my life it's hard to find a good stretch of uninterrupted sewing time and it's so nice to leave with finished projects.
We will be doing two more camps this year and four next year. I'm really looking forward to all of these camps!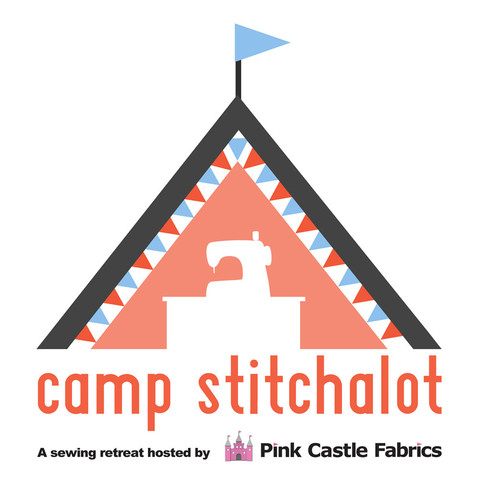 How do you find a balance between running a business and your personal/family time?
It's tough to find time for everything when you are beginning a business. I've sacrificed a lot of personal engagements to make time for work and my family. It's hard to let down my friends when they invite me to do something fun. I have some very supportive friends who understand and have helped me with my business as well.
What is your advice for someone who wants to branch out and start their own business?
Set goals is my big advice to budding entrepreneurs. Knowing where you want to end up is the best way to figure out how to get there. There are a lot of great blog posts online and business books that spell out the best practices of goal setting. I was taught the SMART method in an entrepreneur incubator I was a part of here in the Detroit area. It's easier said than done. I've found myself getting off track and having my goals written down is a great way to allow me to prioritize my To Do list.
It seems some days like all you are doing is putting out small fires and it's easy to get down on yourself. Then you get a "thank you" email from a customer or you see a project that someone made with fabric you sold them and it makes it all worth while. Stick to it and remember your end goals! If the path you are on isn't leading you to where you want to be, change it.
What's next for you, Brenda?
The next big thing for Pink Castle Fabrics is our new Brick and Mortar location. I'm a little nervous but like with any new endeavor it will take some time to find my rhythm. We have a nice space here in Ann Arbor with a big classroom. One of the things I love about quilting is the community it can create. I'm hoping to give some of that community a home. We have a lot of talent here in Ann Arbor and a young audience of quilters that are eager to learn. I'm glad to be able to share my store in person now!
I will also be coming out with a line of quilting patterns this year. First in PDF form and then in print. Of all the fun things you can make with fabric, quilts really are my favorite. I'm excited to share quilting with more people and teaching new techniques in patterns is a great way to do that. They teach confidence and skill building and at the same time you get something beautiful at the end!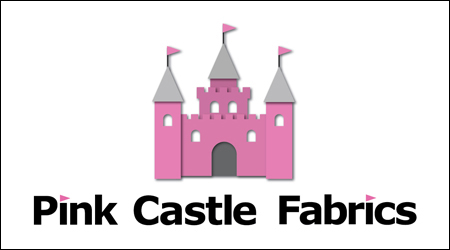 Sale Alert!
Brenda is clearing the shelves for her summer sale to make room for lots of new fabric coming out this July!
Head on over to check out the deals.