Have you ever cruised before? My husband and I just took a week-long cruise on the amazing Harmony of the Seas! It's an Oasis-class ship of Royal Caribbean, meaning it is just shy of being the world's largest cruise ship (second only to its sister, the Symphony of the Seas). This ship is absolutely incredible, and one of my favorite parts of cruising on Royal Caribbean is that there's just so much to do. Broadway shows at sea, a zipline, water slides, huge hot tubs, food everywhere, and even crafting.
Yes, CRAFTING!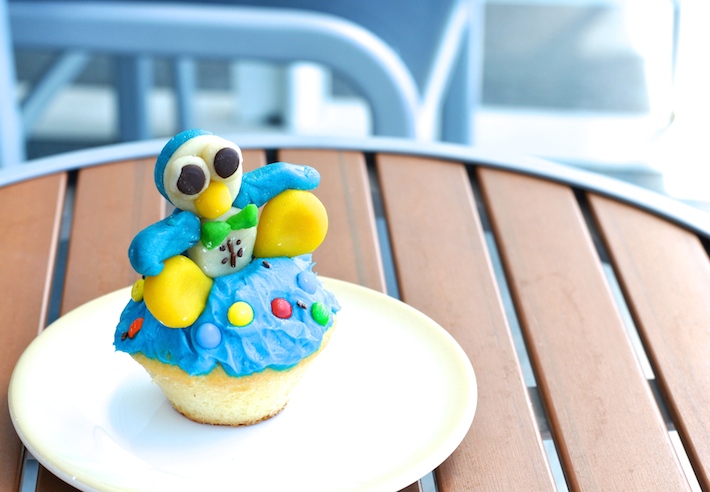 Before you even get on board the ship, you can fill your cruise calendar with fun classes like cupcake decorating, making sushi or guacamole, or dining at a specialty restaurant. There are other crafty classes on board like scrapbooking and jewelry making.
A few years ago, I took a cruise on the Oasis of the Seas and had fun decorating cupcakes onboard with my mom, a fellow crafter! So I knew I wanted to try out the cupcake class on Harmony of the Seas, too.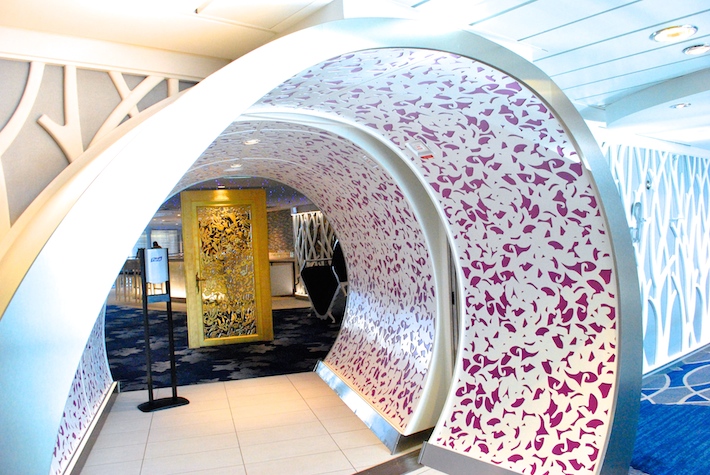 When I showed up for my class, the second morning of the cruise, I entered through the doors of the spectacular Wonderland restaurant. The menu here is inventive, based around molecular gastronomy. It has to be one of the most creative places to eat while sailing on the ocean!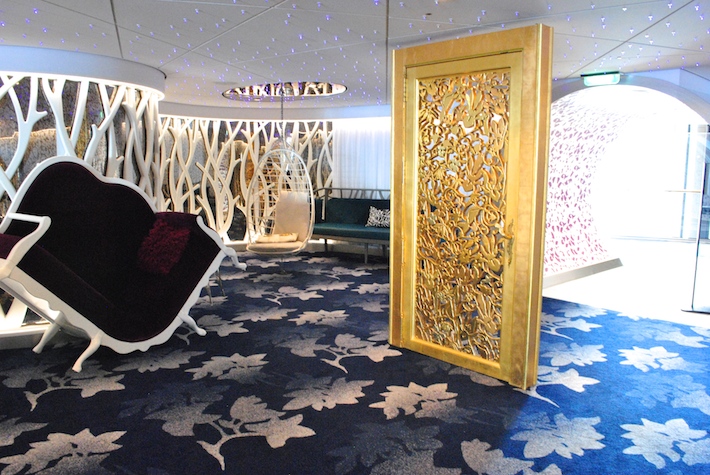 The decor reminds you of Alice's Adventures in Wonderland by Lewis Carroll. Walk past the golden door and enter a world of culinary possibilities. Mmmm!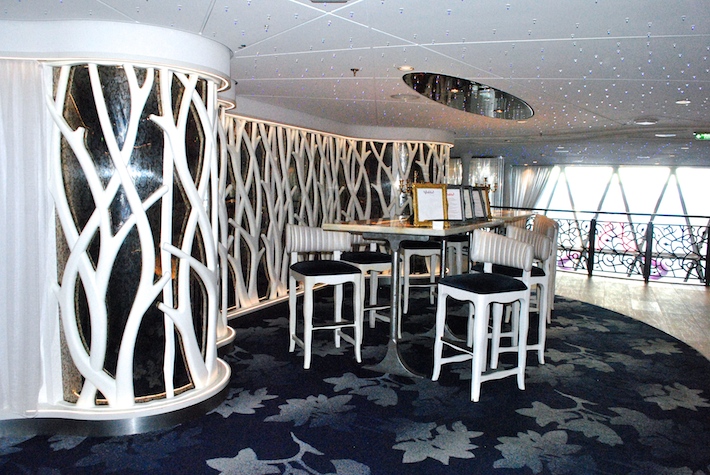 Although my husband and I didn't eat at Wonderland during our cruise (we loved several other specialty restaurants, like Jamie's Italian!), I was really thankful to sit inside of the beautiful, two-level space for my cupcake class.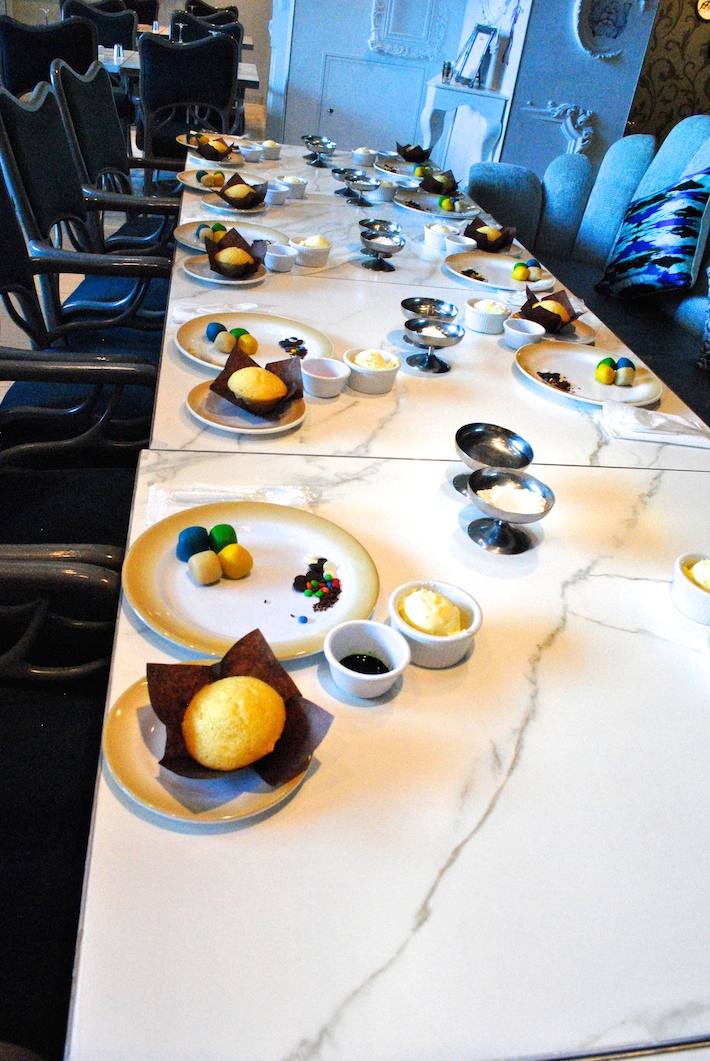 About 12 people showed up to take the cupcake class (a mixture of couples, women, and older children). Each participant sat in front of a plate with a fresh-baked vanilla cupcake, a tub of cream cheese icing, utensils (including a plastic spoon and tooth picks), a different color of food coloring, and colorful balls of almond paste.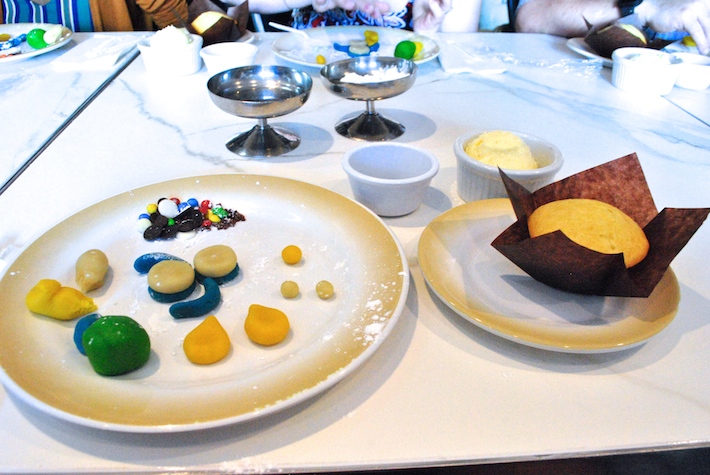 Without giving away the "secret identity" of our cupcake, our instructor led us through a fun class with easy-to-follow instructions about rolling the almond paste into balls and hot dog shapes. When we got close to the end, someone was able to guess that it was a penguin, and won a prize: a special lovebird cupcake!
After finishing our penguin cupcakes, we were giving a second cupcake to decorate with the remaining M&Ms Minis, sprinkles and frosting! We all quickly scarfed down our second cupcakes and carried our "pretty" ones back to our rooms.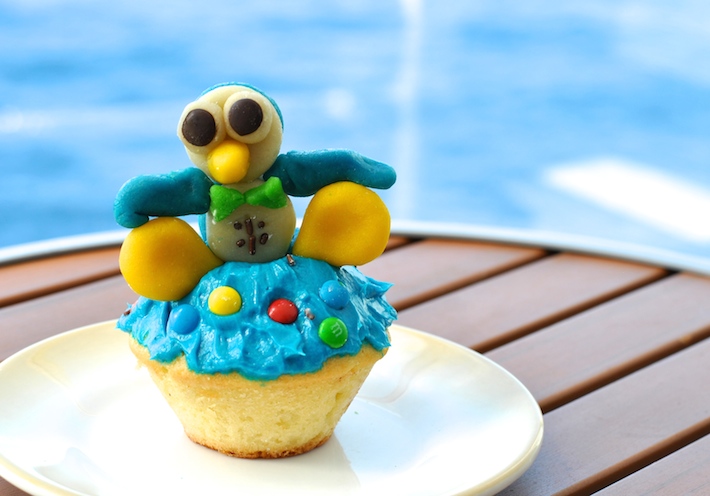 Overall, I really enjoyed the chance to do some crafting at sea! The entire experience on board the Royal Caribbean Harmony of the Seas was one I'll never forget. The cupcake was quite tasty, too!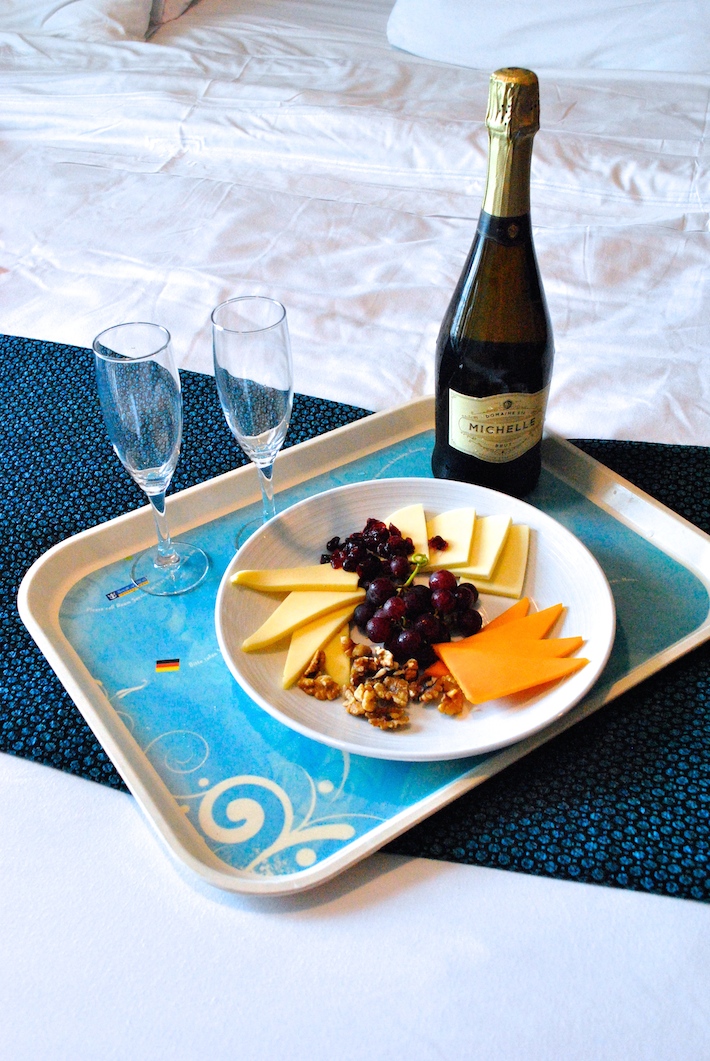 Cheers! Thank you to the staff of Royal Caribbean for arranging our VIP welcome gift of champagne, a fruit and cheese plate, and Evian water. There's really no better feeling than leaving Indiana in the middle of winter to be treated to a week of warm weather, a beautiful ocean view, and the exuberant joy that comes with sailing on the world's largest cruise ship!