Hello, and welcome to my stop on the Safari Moon Blog Hop! I am so happy to share my latest quilty finish, which I made from a new line from designer Frances Newcombe and Art Gallery Fabrics.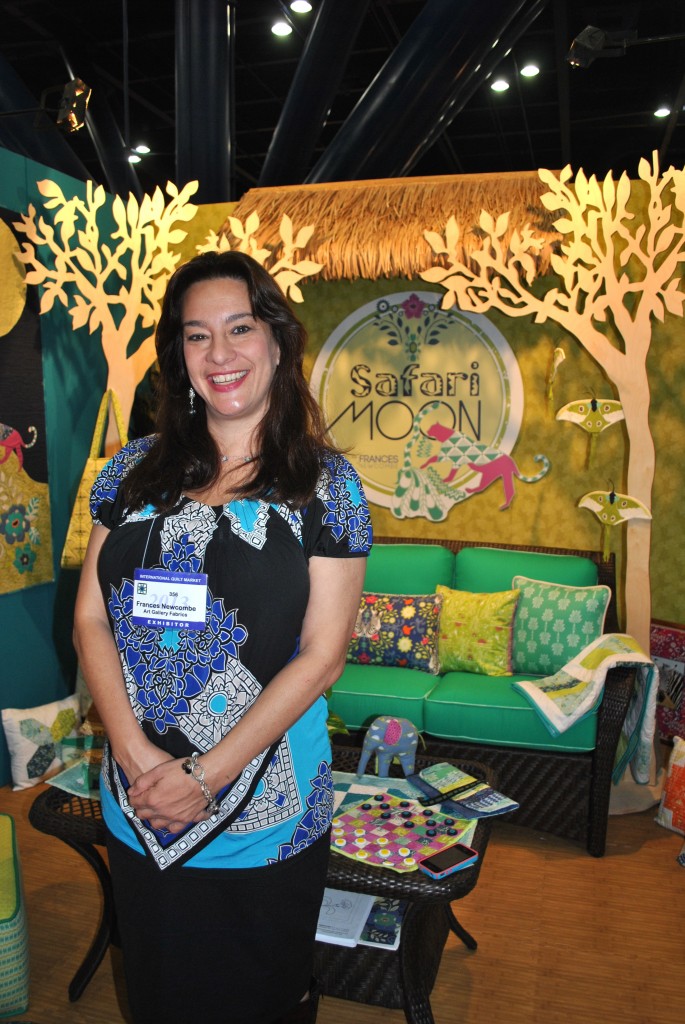 Before I dive in, I have to say that Frances Newcombe is a lovely person, and I had the privilege to meet her at Quilt Market in October. I fell in love with her Safari Moon booth, where we chatted a bit about fabric and babies (I was very pregnant at the time). She is a mom to an adorable little guy and we've become Instagram friends since!
The quilt pattern I used is called "Playing Cards" and it was designed by Jennifer of Ellison Lane Quilts for my book, Modern Bee: 13 Quilts to Make with Friends. I chose this pattern because it has large blocks, which I thought would be perfect for showing off the variety of prints. I also chose it because it's goes together fairly quickly and is a manageable size to quilt on my home machine.
When it came time to quilt this project, I ran into some issues with my free-motion foot. Breaking thread, tension issues . . . it wasn't pretty. Time to visit the sewing machine doctor! I compromised by switching to my walking foot and quilting organic wavy lines. I'm really happy with the texture that resulted (and can't wait to see how crinkly it looks coming out of the washer/dryer).
When I saw this collection at Quilt Market, I immediately fell in love with the rich, saturated colors. I tend to stick with very dull colors in my own home and wardrobe, but when it comes to quilting fabric . . . the brighter, the better!
I joined four different fabrics together to sew a scrappy binding. It's actually, my first binding made from multiple fabrics. I tend to use a single solid fabric for my bindings, but I'm really happy with how this scrappy version turned out!
My favorite print in the collection is the stamped leaf motif, shown in both green and blue. I could see this print as a really cute summer dress or bag.
The background fabric is FreeSpirit Designer Solids Cream. For the quilt back, I used a Parson Gray print I've been holding onto from a huge fabric sale. I bought 4 yards, so I may have enough for another small quilt back!
Thank you Frances for including me on the Safari Moon Blog Hop!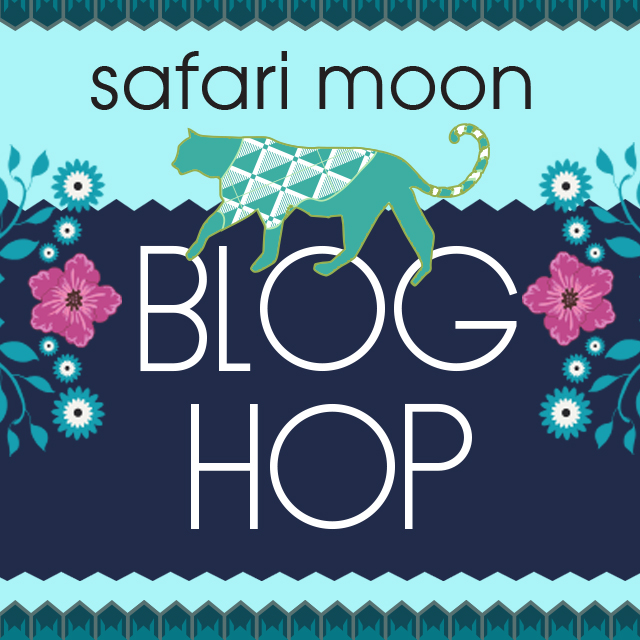 Follow along with the rest of the blog hop to see more projects made with this stunning fabric!