In the enchanting world of ceramics, a technique stands out like a flickering flame in a dimly lit room – Raku pottery. This ancient Japanese art form, rooted in tradition and steeped in innovation, captivates the hearts of artists and collectors alike. In this blog post, we embark on a journey to explore the magical world of Raku pottery, uncovering its rich history, intricate process, and unparalleled significance in the realm of ceramics.
As we delve into the world of Raku pottery, we'll discover the artisans' meticulous craftsmanship, the philosophical underpinnings that guide their work, and the significance of Raku in tea ceremonies, spirituality, and contemporary art. Join us on this voyage through time and creativity as we unveil the secrets, beauty, and profound uniqueness of Raku pottery, a treasure in the world of ceramics.
What Is Raku Pottery?
Raku, which translates to "enjoyment," "comfort," or "ease" in Japanese, encapsulates the essence of this remarkable pottery style. Unlike many other ceramic methods, Raku pottery embraces imperfections and unpredictability, celebrating the beauty of spontaneity. Its importance lies in its aesthetic allure and the profound cultural and historical roots that run deep into Japanese heritage.
What sets Raku pottery apart is the mesmerizing firing process. Raku pottery artists place red-hot ceramics directly into combustible materials, often straw or sawdust, causing intense flames and smoke. This immediate transformation from searing heat to a smoky environment imparts unique patterns, colors, and textures to each piece, resulting in a breathtaking array of one-of-a-kind creations.
The Historical Roots of Raku Pottery
Raku pottery is a style of pottery that originated in Japan in the late 16th century. The first raku pottery master, Chojiro, was born in Japan around 1516. Chojiro initially trained as a tile maker under his father's guidance. However, he later moved on to create ceramic tea bowls that were in high demand then.
Chojiro was influenced by Sen no Rikyu, a prominent tea master and influential figure. Rikyu's aesthetic principles, known as "wabi-sabi", emphasized the beauty of imperfection, simplicity, and the natural world. These principles caused Chorijo to adapt his pottery techniques and create tea bowls that reflected the wabi-sabi philosophy.
Chojiro died in 1592, but his son, Jokei, continued the raku pottery family tradition. Jokei became the second-generation raku master. The family went on to produce many generations of skilled potters, each contributing in their own way to developing and refining the raku technique.
By the middle of the 20th century, raku pottery was becoming popular in the US and Europe. Artists were experimenting with the technique and making their own style and cultural context adaptations.
Raku pottery is still popular today, and artists around the world continue to embrace its aesthetic values and unique process.
Traditional Japanese Raku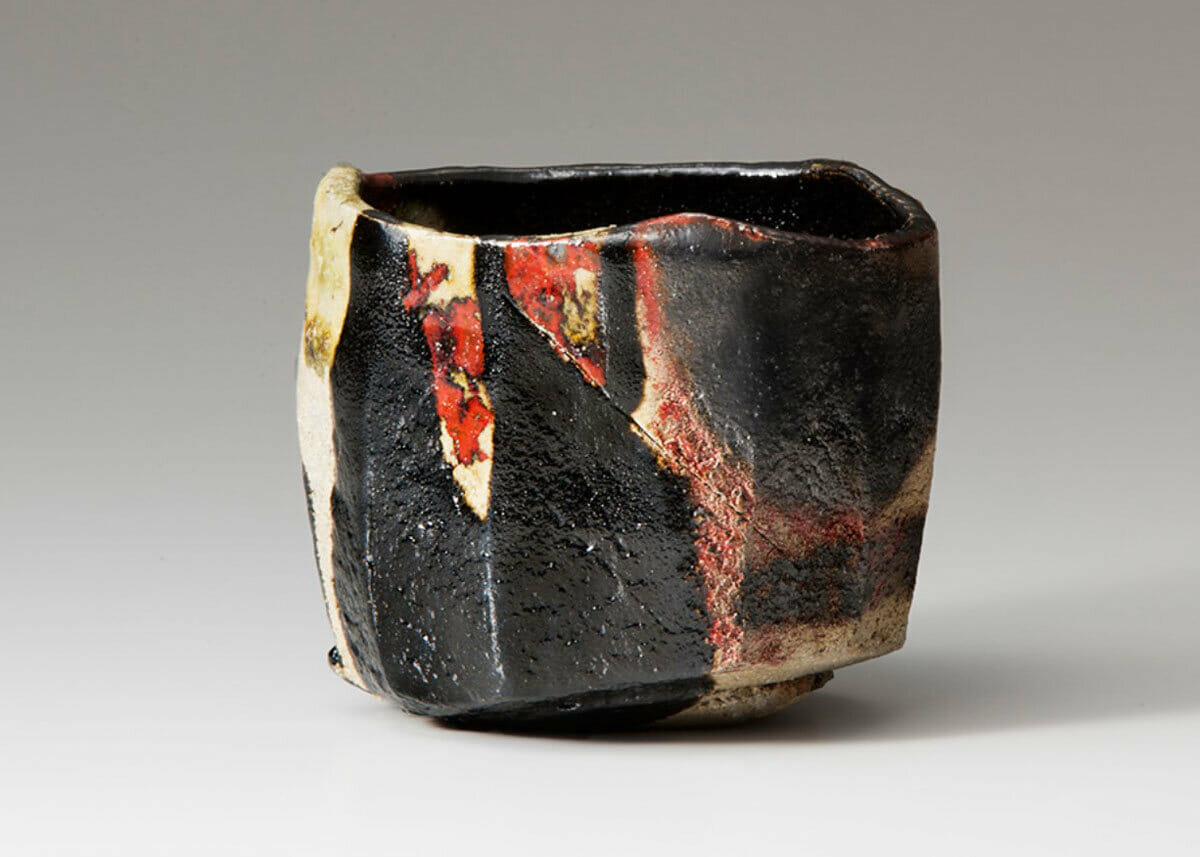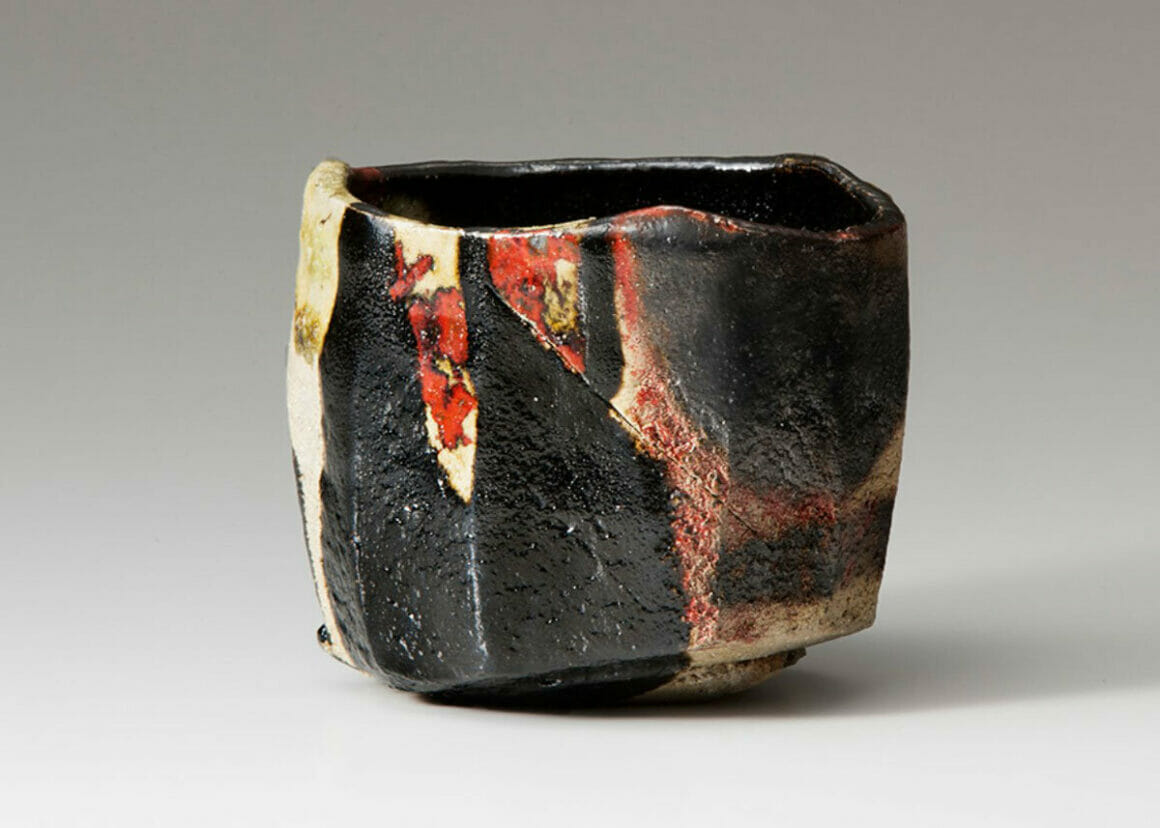 Traditional Japanese raku pottery is characterized by its simplicity, spontaneity, and deep cultural significance. It was first developed in Japan, but the core principles remain relatively consistent while it has evolved into various schools and styles.
The crafting process utilizes a specific low-fire clay called "Raku-yaki," valued for its ability to withstand extreme temperature changes. Additionally, Raku glazes are designed to yield unpredictable and one-of-a-kind effects during the firing stage.
The philosophies that influenced the raku pottery process include the Japanese tea ceremony and wabi-sabi, which celebrates imperfection, impermanence, and the beauty of the imperfect and unfinished. Raku artists also value spontaneity and unpredictability.
Aesthetically, raku pieces tend to be hand-formed, leading to irregular and asymmetrical shapes. Raku glazes are known for the stunning diverse effects that are created, including metallic lusters, iridescence, crackling, and vibrant colors. Raku pottery's tactile qualities are also highly valued.
Step-by-Step Traditional Japanese Raku Process
Characteristics of the process of making raku pottery include low firing temperatures, rapid cooling, and a post-firing reduction process that involves placing the piece in a container filled with combustible materials like leaves, paper, or sawdust. This reduction process creates the distinctive patterns, textures, and colors Raku pottery is best known for.
Here are the steps you follow:
Prepare the clay: Generally, raku pottery clay is open-bodied with many refractory materials, such as grog or sand. These materials allow the clay to withstand the thermal shock of the process. The clay is wedged to remove air bubbles and ensure consistency.
Forming techniques: Hand-building methods such as slab construction, pinching, wheel-throwing, and coil building are used to create the form.
Preparing the kiln: The kiln should be clean, debris-free, and then preheated to around 300°F (150°C).
Firing the pottery: Place the pottery into the preheated kiln and then increase the temperature rapidly until it reaches the desired temperature of between 1,500-1,800°F (815-982°C). The length of the firing process depends on the kiln type, pottery size, and desired effects.
The reduction process: The piece is removed from the kiln once it has reached the desired temperature and the glaze has matured. While the piece is still red-hot, place it in a reduction chamber filled with combustible materials such as leaves, newspaper, or sawdust. The hot pottery ignites the combustible materials. A lid is placed on the container, trapping the smoke inside and starving the environment of oxygen. This triggers a reduction process, affecting the glaze's metallic oxides and creating the colors and effects that are characteristic of raku pottery.
Cooling and cleaning: After the reduction process, the pottery is removed from the reduction chamber and allowed to cool. Once cooled to room temperature, it's cleaned with water and a soft brush or cloth.
Clay Bodies
In theory, any kind of clay is suitable for making raku pottery. However, because of the extreme temperature changes, it's often recommended that grogged clay is used.
Grog is clay that's been fired and ground up before being added back into unfired clay. The grog makes clay stronger and reduces the amount of shrinkage. It also makes the clay more refractory. This means it can withstand temperature shifts and is less affected by thermal shock.
Before it can be formed into a pottery shape, the clay must be wedged to remove air bubbles. This part of the process also ensures consistency before it's shaped into the desired form.
Raku Glazing
Glazing is not an essential part of the process, but if you do choose to glaze your piece, it's essential to know what type of glaze to use.
The glazes used for raku pottery must be low-temperature glaze or raku glaze. Low-temperature glaze has a low melting point. It also remains stable at lower temperatures while still providing variations in color and texture when cooled quickly.
Mid and high-fire glazes are not recommended because the temperature that raku is fired to is too low.
Use a low-fire clear glaze on a white clay body if you want a nice crackle effect on the final piece. It's also possible to add stands to create a unique look.
Raku glazes are specially formulated to withstand rapid temperature changes. Often, they contain metallic oxides, such as iron or copper. These oxides produce vibrant colors and a variety of surface effects.
Raku Pottery Firing Process
A raku kiln would traditionally be fired in a small, above-ground kiln made of brick or clay. Modern raku kilns are typically metal or ceramic fiber. The kilns are specially designed to heat up quickly and reach the required temperature in less than an hour.
The raku firing process is very different from other forms of pottery. The pottery being fired is placed in a preheated kiln and then heated rapidly to an extremely high temperature. The firing cycle is short, typically between 15 and 20 minutes, depending on the glaze and kiln you're using.
Raku Cooling and Post-Firing Treatments
Following the firing process, the piece is removed from the kiln using long tongs while it is red hot. It is transferred to a reduction chamber that's been filled with combustibles, such as sawdust or paper. This creates smoke and fire until the container is covered to create an oxygen-starved environment, which triggers the reduction process.
The reduction method is not the only post-firing or cooling technique used. Some potters allow the ceramics to cool down in the open air. Others submerge the hotware into the water to cool it down rapidly.
Oxidation occurs when pottery cools in the air or submerges in water. The oxygen interacts with the metals in the clay and glaze to create a particular finish. Typically, this process will produce blues and greens on the surface of the piece.
Another technique is to bury the hot pottery piece in a pile of combustible material. Once ignited, a metal bucket is placed over the top of the smoking matter.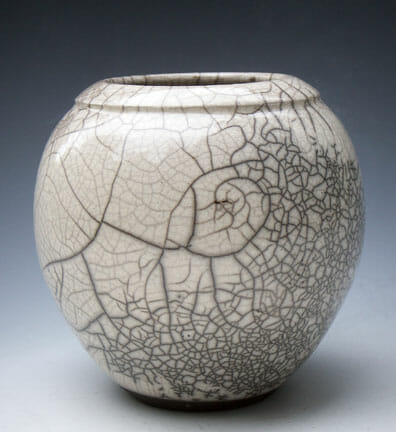 Crack marks are a particular feature of raku pottery. These are caused when glaze and slip are applied to the bisque ware. These cracks expose the underlying clay body in the cracked areas during the rapid temperature change. The exposed areas are then blackened by carbon circulating in the reduction atmosphere.
The Artistic Significance of Raku
The artistic significance of raku lies in its unique production process and aesthetic qualities. The imperfections and irregularities resulting from the raku process are highly valued in Japanese aesthetics.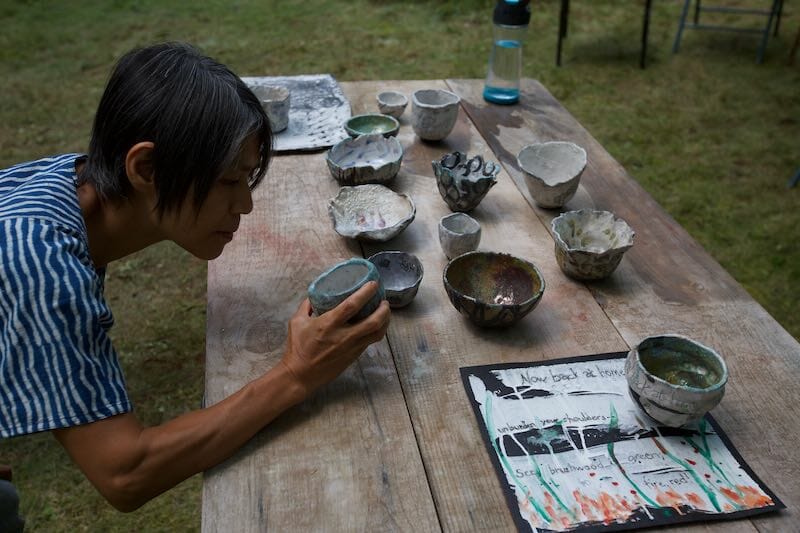 Zen and Spiritual Connections
Raku pottery is closely linked with Zen philosophy. They are similar in that they both emphasize simplicity, spontaneity, and a deep connection to the present moment. In the same way that Zen practitioners seek enlightenment through meditation, potters seek a state of mindfulness while creating raku pottery.
Delving back into the history of raku pottery, it was explicitly mentioned by the Zen Buddhist Masters in their ceremonial teaware. It's been well documented that it was the preferred method of ceramics for these masters as raku ware embodies many of the things that Zen philosophy embodies. Most notable is its simplicity and naturalness.
In raku firing, all of nature's elements are used. Earth is used to make the pot. It's put into a kiln and then a reduction chamber before being plunged into the water to halt the firing process.
A charming fact about raku is that the name translates as 'happiness in the accident.'
Aesthetic Elements
Raku ware's beauty lies in its simplicity, unique imperfections, and adherence to the philosophy of wabi-sabi.
It is also renowned for its unique aesthetics. The combination of the firing process and glaze effects creates irregular shapes, spontaneous patterns, crackling, and beautiful metallic finishes. The imperfections and organic textures are embraced in the process and give each piece a distinct character.
Modern Interpretations of Raku Pottery
In recent years, modern interpretations of Raku pottery have emerged. They reflect a harmonious synergy between age-old techniques and contemporary design. Artists have transformed this traditional pottery technique into vibrant and contemporary art forms, attracting attention and appreciation from around the world.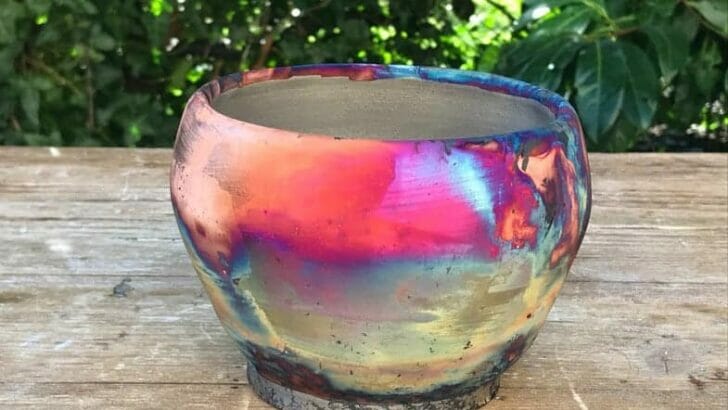 Some of the most recent raku pottery trends include:
Copper Matte Raku: Characterized by its lustrous coppery hues and matte finish. The process starts with the application of a copper glaze before firing. During the reduction process, the copper glaze undergoes a fantastic transformation. It reacts with the reduced atmosphere, leaving behind rich, earth tones. There is also a tactile element with the copper matte raku technique.
Smoked Raku: More commonly known as naked raku, the finish gets its name before, during the process of firing, the outer shell of slip that was applied falls off to reveal the 'naked' surface of the pot underneath. When dry, it shrinks and crackles just like mud on the side of the road.
Tape Resist Raku: After bisque firing, marking tape or painter's tape is used to make a pattern or shapes on the piece. Several coats of glaze are applied over the tape, and once the glaze is dry, the tape is removed before firing.
Horsehair Raku: This technique applies strands of horsehair to the hot pottery immediately after removing it from the kiln. The heat from the pottery causes the horsehair to burn and leave behind carbon trails.
Environmental Considerations
In recent years, there has been a growing emphasis on environmentally friendly processes and sustainability.
Artists are incorporating more eco-friendly practices, such as using locally sourced clay and reducing waste during the firing process.
Such a shift towards sustainability aligns with broader efforts to promote environmentally conscious art practices.
The Global Community of Raku Artists
Some of the popular western raku artists include:
There are numerous festivals and events that take place around the world, celebrating raku pottery and providing a platform for artists to display their work. Some of the more notable events include:
International Raku Festival in Romania: Artists from all over the world come to the city of Cluj-Napoca to demonstrate their raku techniques and participate in exhibitions, workshops, and cultural exchanges.
Raku in the Valley in the United States: Held in Wissahickon Valley Park, Philadelphia, this annual event features hands-on workshops, a pottery sale, and demonstrations.
Raku Hoolaulea in Hawaii: This annual event celebrates Hawaiian culture and raku pottery. It's held over three days and includes demonstrations, workshops, and a beachside raku firing.
Raku Autumn Festival in Japan: this event is held in the birthplace of raku pottery, Kyoto. It honors the tradition and artistry of raku ceramics. There are demonstrations by master raku potters, workshops, and a special exhibition.
Raku Pottery Festival in Italy: Held in the picturesque town of Castelli, raku potters from across Italy come together. Event visitors can participate in workshops, view demonstrations, and purchase raku pottery items.
Collecting Raku Pottery
The distinctive characteristics of raku pottery, such as its cracked glaze and unpredictable patterns, have made it highly sought after by collectors and art enthusiasts around the world. Its rich history and cultural significance are other factors that make raku pottery valuable. The actual process of creating raku pottery is also a part of its allure and value.
Factors that influence the value of raku pottery include:
Artist reputation: If the artist is well-known and highly regarded in the art world, their pottery is likely to command a high price.
Quality of craftsmanship: Pieces that are expertly made with precision and attention to detail tend to be more valuable.
Uniqueness: Collectors are often drawn to unique pieces and exhibit special artistic flair.
Historical significance: A piece's historical context and narrative can significantly impact its value.
Condition: Pieces that are well-preserved and free from damage or repairs are generally more valuable.
Size and scale: Larger and more intricate pieces often require more time and effort to create, making them more valuable.
Western Raku
Japanese raku pottery and western raku pottery differ in several ways. Japanese raku pottery primarily focuses on making tea bowls to be used in the traditional Japanese tea ceremony. The technique includes forming the clay, glazing, and firing.
Western raku pottery, often referred to as American-style raku, tends to use bright colors and is often playful in design. Japanese raku ceramics typically feature neutral tones such as brown, black, or red glazes. Western raku pottery is not limited to tea bowls and can be used to create several types of ceramics and pottery.
How to Get Started with Raku Pottery
If you'd like to try your hand at raku pottery, a wealth of resources are available online. YouTube has a fantastic number of tutorials and informational videos conversing everything from techniques and materials to the art form's history.
There are also online forums, websites, and social media groups dedicated to raku pottery. Using these platforms, you'll be able to connect, ask questions, and share your work.
You might also find a local artist or institution offering classes and tutorials. All of these resources make it easy for aspiring potters to learn about making raku in your home.
More Pottery-Related Articles
Raku Pottery: FAQs
Q: Is Raku pottery food-safe?
A: Most raku pottery is not food-safe. There are several reasons why. Firstly, the raku firing process is quick and low fire, which means the ceramics and glaze are not fully matured. This makes raku pottery fragile, porous, and unsuitable as a water-holding vessel.
The crazed and cracked surface that is synonymous with raku pottery can harbor bacteria and allow liquid to seep through the cracks.
The final reason not to use your raku pottery at the dinner table is that some of the raku glazes contain metal oxides such as lead and cadmium, which are toxic when ingested.
Q: How do I care for my Raku pottery?
A: Raku pottery requires particular care to maintain its beauty and longevity. Here are some general guidelines:
Avoid using harsh chemicals or abrasive cleaners.
If your raku pottery gets dirty, gently clean it with a soft cloth and warm water.
Be careful with your raku pottery, as it can break easily.
Limit the contact your raku piece has with water.
Ornamental pieces should only be dusted with a soft cloth or feather duster.
Q: Can I do Raku pottery at home?
A: Yes, you can do raku pottery at home. However, when firing clay at home, it's important to take safety precautions.
Conclusion
In conclusion, Raku pottery embodies a profound mystical and artistic significance that transcends mere ceramics.
Rooted in Japanese tradition, its ritualistic firing process imparts a sense of spirituality, spontaneity, and impermanence, making each piece a unique work of art.
Raku's global appeal has led to evolving methodologies, with artists worldwide incorporating their cultural influences and techniques, resulting in diverse styles and interpretations. 
As this ancient craft continues to evolve and captivate artists and collectors around the world, it serves as a testament to the enduring power of art to bridge cultures and connect us to the mystical essence of our shared human experience.
Sources & References