Lye is a strong alkaline substance, usually sodium hydroxide (NaOH) or potassium hydroxide (KOH), commonly used in soap-making, drain cleaning, and various industrial processes. It is highly caustic and must be handled with care to avoid skin and eye irritation.
Lye, a seemingly inconspicuous substance, is a silent protagonist in our daily lives, residing in various household products. However, it plays pivotal roles in industrial applications and has endless versatility within crafting.
In this article, we will delve deep into the secrets of lye, encompassing its intricate chemistry, tracing its rich historical significance, along with safety concerns, and its limitless application in various crafts.
The Basic Chemistry of Lye
Lye, in its most fundamental form, is a chemical compound consisting of two primary variants: sodium hydroxide (NaOH) and potassium hydroxide (KOH). These compounds are highly alkaline and reactive in nature. When dissolved in water, they dissociate into their constituent ions, sodium (Na+), potassium (K+), and hydroxide (OH-), releasing a considerable amount of energy in the process.
Chemical Formula
The chemical formula of sodium hydroxide is NaOH, while that of potassium hydroxide is KOH. These formulas represent the elemental composition of different lye variants, with sodium or potassium ions bonded to hydroxide ions.
Difference Between Sodium Hydroxide and Potassium Hydroxide
The key difference lies in the metal ion within the compound, sodium or potassium. These differences result in variations in their properties and applications, which will be explored further in this article e.g., Sodium hydroxide is used in soap-making, and potassium hydroxide is used in liquid soaps. Understanding this distinction is vital when selecting the appropriate type of lye for various projects.
A Brief History: Lye in Ancient Crafts
With its remarkable versatility, Lye has been a valuable substance in various traditional crafts spanning centuries. These crafts have harnessed the unique properties of lye to create essential products and works of art.
Traditional Crafts That Utilized Lye
Soap-Making
Ancient civilizations such as the Babylonians and Egyptians developed early soap recipes by mixing lye with fats and oils. This transformative process turned these basic ingredients into cleansing bars, greatly enhancing personal hygiene and cleanliness.
Textiles
Lye played a role in textile production, particularly in dyeing processes. In some cultures, lye was used as a mordant—a substance that helps fix dyes to fabrics. This allowed for the creation of vibrant and long-lasting colors.
Evolution Over Time
The use of lye in crafts evolved alongside advancements in knowledge and technology. Over time, various cultures refined their methods and safety measures to make the most of lye's unique properties.
As chemistry and understanding of lye improved, it found applications in an increasingly diverse range of crafts, including:
Pottery
Woodworking
Paper-Making
Glass Crafting
Culinary Arts
Hazardous to Handle: Lye Safety Concerns
Lye is a powerful and versatile compound requiring great attention to safety due to its hazardous nature. Understanding the risks associated with lye is paramount for anyone working with this substance.
The Dangers of Lye:
Chemical Burns: Lye is highly caustic and can cause severe, painful chemical burns upon contact with skin or eyes, which may result in lasting damage if not treated promptly.
Inhalation Risks: Inhaling lye fumes or dust can harm the respiratory system. Prolonged exposure should be avoided.
Corrosive Properties: Lye can corrode or damage various materials, including metals and certain plastics.
Safety Precautions When Handling Lye:
Protective Gear: Always wear appropriate protective gear, including safety goggles, gloves, and an apron, when working with lye.
Well-Ventilated Space: Work in a well-ventilated area to disperse fumes and reduce inhalation risks. Use a fume hood for added safety.
Emergency Supplies: Keep a supply of neutralizing agents, such as vinegar or citric acid, to counteract lye exposure. Eyewash stations should be accessible in case of emergencies.
Proper Mixing: Always add lye to water and not the other way around to minimize the risk of lye splashes or eruptions.
Labeling and Storage: Clearly label lye containers and store them out of reach of children. Store in a cool, dry place away from incompatible materials.
Lye: A Plethora of Uses and Applications
Lye's versatility and chemical properties make it a key ingredient in various industries, from soap making to food preparation and even biodiesel production. Let's explore some of the more commonly used below.
Lye in Soap-Making: The Classic Craft
Lye within soap-making allows artisans to create personalized bars of soap with unique scents, textures, and designs. Here's a more detailed look at the process:
1. Safety First: Before diving into soap-making, ensure you have the necessary safety gear, work in a well-ventilated area, and have ant-neutralizing agents to hand.
2. Measuring Ingredients: Use a digital kitchen scale to measure lye and your chosen oils or fats. Many recipes can be customized to create moisturizing or exfoliating properties.
3. Mixing Lye: Stirring carefully to water in a heat-resistant container. Never add water to lye; it can generate heat and release harmful fumes. Allow the lye mixture to cool to a safe temperature, usually around 100-120°F (37-49°C).
4. Melting Fats and Oils: Melt your selected fats and oils on low heat, ensuring they are well-mixed. It's important to let them cool to a temperature that's compatible with the lye solution, typically between 100-120°F (37-49°C).
5. Combining Lye and Oils: Slowly pour the lye mixture into the oils, stirring continuously. This step initiates saponification, the chemical reaction that transforms fats and oils into soap. The mixture should start to thicken and resemble pudding.
6. Additives and Creativity: This is where you can let your imagination run wild. Add essential oils, dried herbs, flowers, oatmeal, coffee grounds, or natural colorants to give your soap a unique finish.
7. Molding and Curing: Pour your soap mixture into the molds of your choice. Allow the soap to cure for several weeks. During this time, saponification continues, and the soap hardens.
Natural Dyes: Lye as a Mordant
Natural dyes have been used for centuries to infuse textiles with vibrant hues sourced from plants, minerals, and insects. Lye plays a crucial role in this ancient art as a mordant—a substance that enhances the color-fastness of dyes by forming a chemical bond with the fibers.
Using Lye in Dyeing Fabrics
When natural materials like cotton, wool, or silk are dyed with plant-based or insect-based dyes, the colors tend to fade over time. Lye prepares the fibers to accept and retain these natural pigments by altering the pH of the fabric, making it more receptive to the dyes.
The Chemistry Behind Color Fixation
Lye, when mixed with water, forms a highly alkaline solution. When textiles are soaked in this lye solution, it swells the fibers, allowing the natural dyes to chemically bond with the fabric, resulting in colours that are not only more vivid but also longer-lasting.
Lye In Candle Making: Saponification for Wax Crafting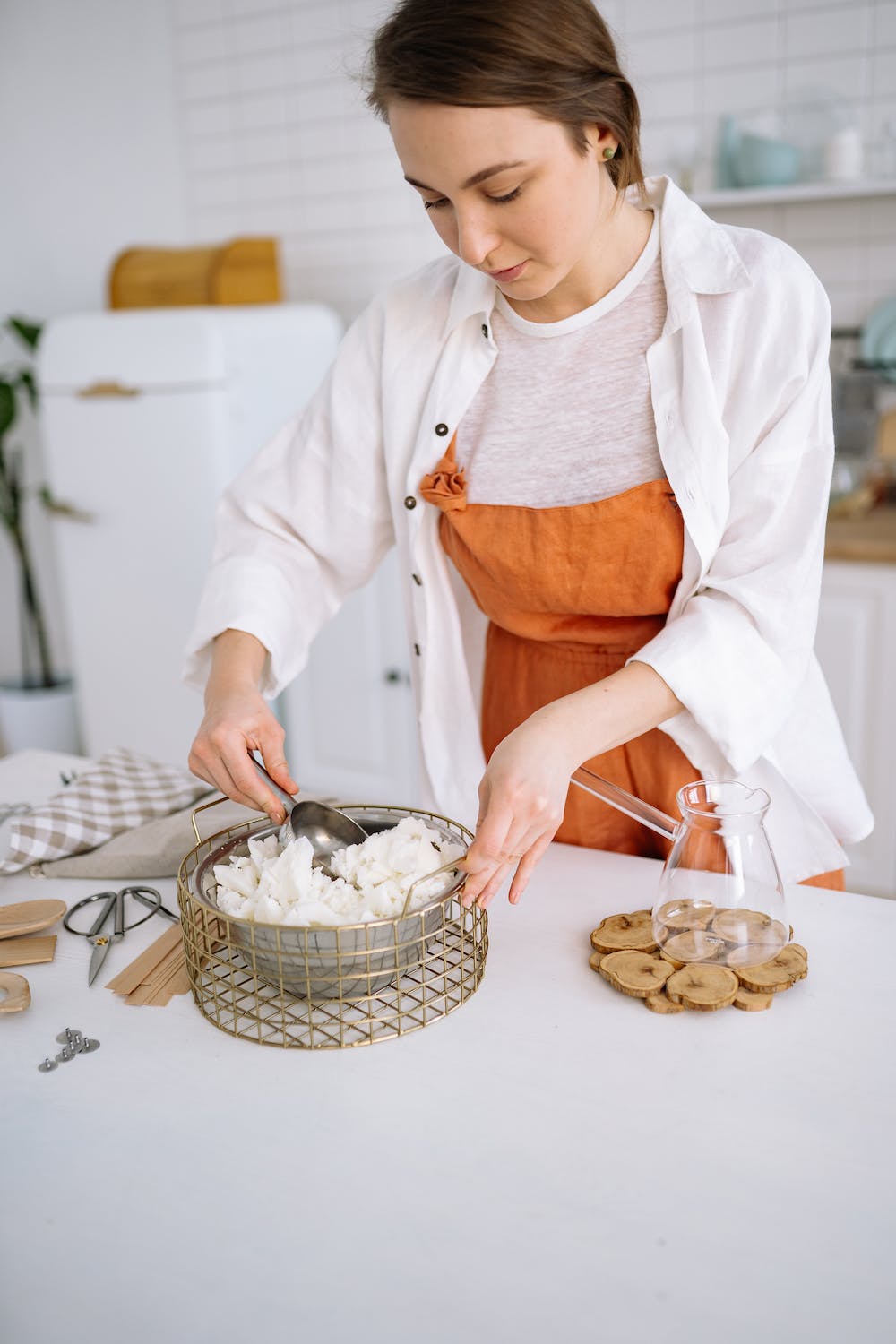 While Lye is typically associated with soap-making, it may seem like an unusual ingredient in candle-making. Here's a glimpse into lye's significance in candle-making and the variety of candles it can help produce:
Lye's Role in Candle-Making
In candle crafting, lye is used to create a unique type of candle known as a "lye candle" or "soap candle." This process involves mixing lye with a specific type of wax, often soy wax, which undergoes saponification, just like soap. The lye and wax react chemically to form glycerin. This results in a candle that provides illumination releases a mild fragrance, and can be used as a moisturizing lotion when melted.
Related: Best Candle Making Kit: Tried And Reviewed (2023)
Different Types of Candles with Lye
Lye can be incorporated into various candle-making projects, allowing for creativity and customization. Some possibilities include:
Lye Soap Candles
Scented Lye Candles
Decorative Lye Candles
Natural Ingredient Candles
Related: Candle Making Supplies: Best Wax, Wicks, Melter, Oils & More
Pottery and Ceramics: An Unexpected Use Of Lye
Lye is such a versatile chemical that finds a surprising application within pottery and ceramics and is an essential tool in glaze removal and kiln wash.
How Lye is Used in Pottery and Ceramics
Glaze Removal: Lye strips, glazes, and stains from pottery pieces. A lye solution is applied to the ceramic surface, which reacts with the glaze, breaking it down and making it easier to remove.
Kiln Wash: Lye helps create a protective coating to shelving in the form of a kiln was and prevents molten glaze or ceramic from adhering to them during firing.
Safety concerns and tips
Working with lye in pottery and ceramics demands careful safety measures. Wearing protective gear, including gloves and eye protection, and working in a properly ventilated area is crucial. It also serves to be cautious when mixing lye with water, as it generates heat.
Woodwork: Lye for Wood Treatment
In the world of woodworking, lye emerges as an unconventional yet highly effective tool for wood treatment, including aging and staining wood.
Using Lye for Wood Aging and Staining:
Wood Aging: When applied to wood, Lye accelerates the aging process by darkening the surface, resulting in a weathered, rustic appearance. This technique is particularly popular for creating vintage or reclaimed wood aesthetics and adding character to projects.
Wood Staining: Lye can act as a wood stain when mixed with water. It reacts with the natural tannins in the wood, producing unique, greyish, or silvery hues. This effect is especially prized in Scandinavian and coastal design aesthetics.
Crafting Wooden Furniture and Decor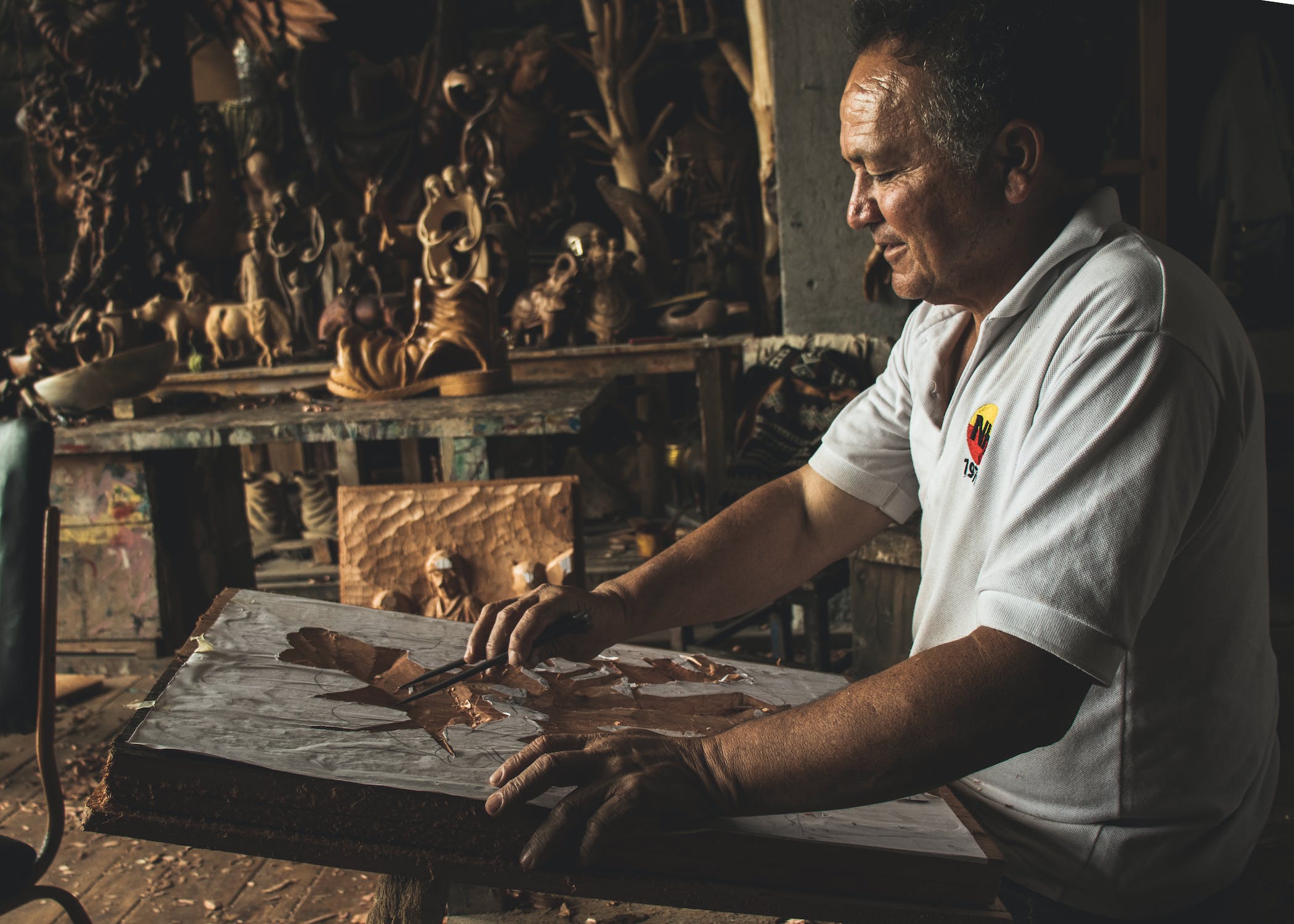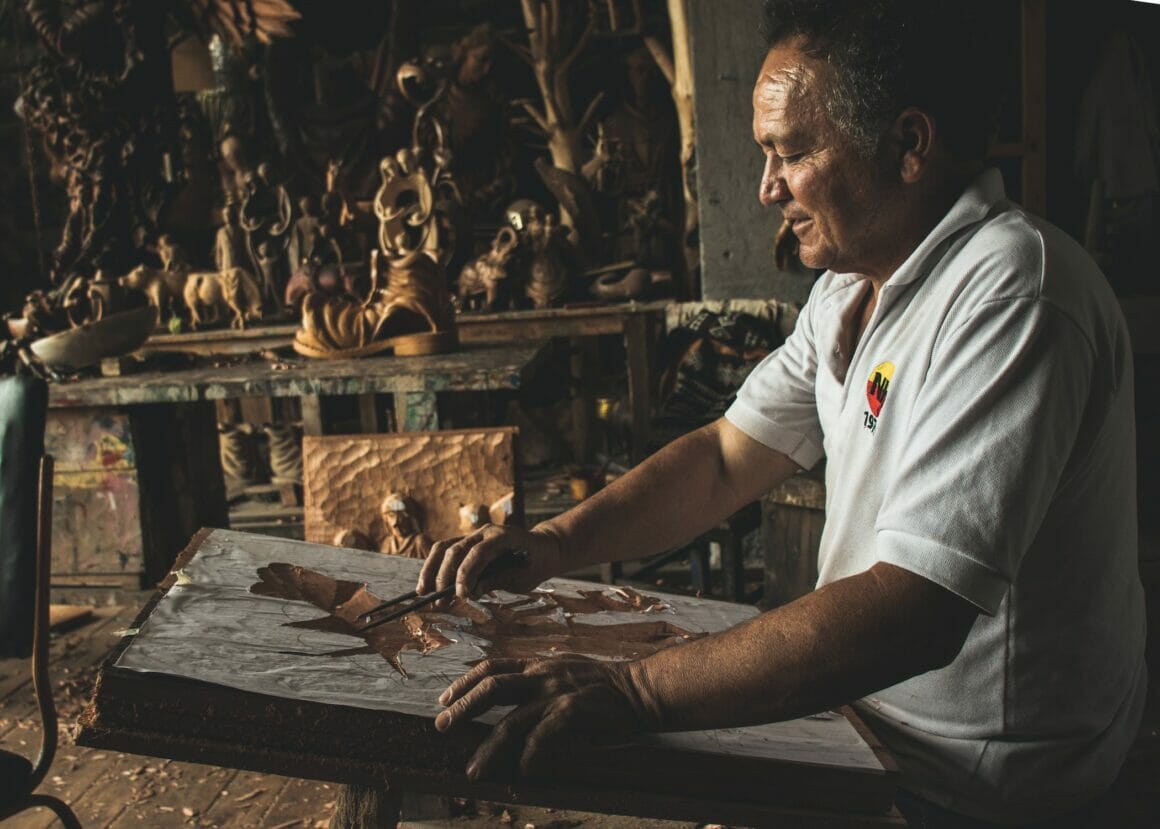 Woodworkers and artisans utilize lye in the creation of various wooden pieces, including:
Farmhouse Tables
Cabinetry
Kitchen furniture
Decorative Items such as picture frames, wall art, and shelving units
While working with lye in woodworking requires caution, its application opens up exciting possibilities for crafting distinctive and aged wood pieces that capture the essence of time and craftsmanship.
Paper Making: From Pulp to Page
The art of paper-making is a fascinating process that often involves a surprising ingredient: lye. Lye plays a pivotal role in homemade paper-making, assisting in breaking down plant fibers and transforming them into paper.
Lye's Role in Homemade Paper-Making
Fibre Preparation: Lye is used to soften and break down plant fibers, such as wood pulp or recycled paper, during the paper-making process. This alkaline solution helps separate the fibers, making them easier to work with.
Sizing Agent: Lye can also be used as a sizing agent to control the absorbency and strength of the paper. By adjusting the concentration of lye in the pulp, paper-makers can achieve different paper characteristics, such as smoothness or water resistance.
A Guide to the Craft
Pulping: Begin by breaking down your chosen raw materials, such as wood chips or used paper, into pulp. This can be done mechanically or by soaking and cooking the materials with lye.
Beating and Mixing: Mix the pulp with water and adjust the pH by adding lye. Beating the mixture mechanically or by hand helps disperse the fibers evenly.
Sheet Formation: Pour the pulp mixture onto a screen or mold, allowing excess water to drain away. The fibers will bond together, forming a wet sheet of paper.
Pressing and Drying: Press the sheet to remove more water, and then carefully dry it. This can be done by air drying or using a heated press.
Glass Crafting: Etching with Lye
Glass etching is a captivating craft that transforms ordinary glass surfaces into elegant, personalized works of art, and lye serves as a powerful agent during this process.
Glass Etching using Lye
Preparation: Begin by thoroughly cleaning and degreasing the glass surface to ensure proper etching solution adhesion.
Masking: Create a stencil or use pre-made adhesive stencils to cover the areas of the glass that you want to remain clear. The stencil acts as a barrier, protecting those areas from the etching process.
Mixing the Etching Solution: Carefully mix lye with water to create a solution with the desired strength. The lye solution chemically reacts with the glass, creating a frosted or etched effect.
Application: Apply the lye solution to the exposed glass areas within the stencil. Be careful to avoid spills, as lye can cause irreversible damage to unprotected glass surfaces.
Etching Time: The length of time the solution is left on the glass depends on the depth of etching desired. This can range from a few minutes to several hours.
Rinsing and Finishing: Rinse the glass thoroughly with water to remove the lye solution and then remove the stencil. Clean the glass again to reveal the etched design.
Safety and Tips for Better Results:
Wear protective gear
Work in a well-ventilated area
Keep vinegar or a neutralizing solution on hand for any spills.
Test the etching process on a small, inconspicuous piece of glass before working on your main project.
Experiment with different etching times and techniques to achieve the desired level of opacity and detail.
Culinary Crafts: Lye in Food Preparation
Traditional Foods Crafted with Lye: In the culinary realm, lye imparts unique flavors and textures to a range of traditional foods, including pretzels, bagels, lutefisk, and more.
Making Pretzels, Bagels, and More: Foods such as pretzels and bagels are often dipped in a lye solution before baking, helping them to develop their delicious brown glazed look we're all so used to.
Lye in Jewelry Crafting: Metal and Stone Treatments
Using Lye to Clean or Modify Metals and Stones: Jewelry makers can make use of lye's caustic properties when cleaning or modifying metals and stones. However, safety and sustainability considerations are paramount when incorporating lye into jewelry crafting. Proper disposal of waste materials is also essential to minimize environmental impact.
Crafting with Kids: Is Lye Safe?
Age-Appropriate Crafts Using Lye: Crafting with lye can be a rewarding experience for children. Make sure you choose age-appropriate projects. Soap making, and paper crafts are always a big hit.
Safety Measures and Precautions: When crafting with kids, close supervision and proper guidance are essential for a safe and enjoyable experience. As children get older, they will be able to take more responsibility during projects.
Regulation and Guidelines: Crafting within the Rules
When working with lye, it is crucial to follow safety regulations and guidelines to ensure your own well-being and the safety of others. Here are some key regulations and guidelines to keep in mind when using lye in various crafting applications:
1. Personal Protective Equipment (PPE): Always wear the appropriate protective gear, including gloves, safety goggles, and an apron.
2. Proper Ventilation: Work in a well-ventilated area or use an exhaust fan to minimize exposure to fumes and vapors.
3. Storage and Handling: Store lye in a cool, dry place in its original container, away from incompatible materials. Keep it out of reach of children and pets.
4. Mixing and Dilution: Always add lye to water, not the other way around, to avoid dangerous reactions. Stir slowly and cautiously when diluting lye in water, as it can generate heat. Never use aluminum containers when working with lye.
5. Emergency Measures: Have a container of white vinegar or other neutralizing agent nearby for spills. Know the location of emergency eyewash stations if you are working with lye.
6. Local Regulations: Be aware of any local, state, or national regulations that may apply to the storage, handling, or disposal of lye or lye-containing products. Some areas may have specific rules regarding the use of certain chemicals.
Must-Have Tools and Supplies for Crafting with Lye
Crafting with lye requires specific tools and supplies to ensure your projects' safety, accuracy, and efficiency. Whether you're making soap, candles, or working on another craft, here are some must-have items:
Safety Gloves
Safety Goggles
Apron
Digital Scale
Glass or Plastic Measuring Cups and Spoons
Stainless Steel or Plastic Stirring Utensils
Chemical-Resistant Containers
Stick Blender
Plastic Pitcher or Funnel
Well-Ventilated Workspace
Fire Extinguisher
Emergency EyeWash
Neutralizing Agents
White Vinegar or Citric Acid
Molds and Containers both for mixing and storing
Lidded Containers
Thermometer
pH Test Strips
Labels and Markers
First Aid Kit
These tools and supplies are essential for crafting with lye safely and effectively. Remember that safety should be your top priority, so invest in high-quality protective gear and maintain a clean and organized workspace.
What Is Lye? FAQs
Q: Is it safe to craft with lye?
A: Crafting with lye can be safe if proper safety precautions are followed. It's essential to wear protective gear, work in well-ventilated areas, and have emergency supplies on hand.
Q: Can children use lye in their crafts?
A: Lye can be used in age-appropriate crafts with children, but strict safety measures must be followed, and adult supervision is essential.
Q: How do I dispose of lye responsibly?
A: Disposing of lye responsibly involves diluting it with water and neutralizing it before disposal. Check local regulations for specific disposal guidelines.
Q: What are some crafts that don't involve lye?
A: If you prefer to avoid lye, there are plenty of crafts to explore, such as painting, knitting, crocheting, and more.
Key Takeaways
In conclusion, lye is an incredibly versatile compound that has left its mark on both the industrial and crafting worlds. By understanding its chemistry, respecting its safety precautions, and exploring its myriad applications, you can unleash your crafting creativity safely and skillfully. Embrace the opportunities lye offers, and embark on a journey of safe, creative, and rewarding crafting experiences.
Sources & References