Some of you might remember last summer, when we told you about Sara Lawson (a.k.a. Sew Sweetness) and her Kickstarter campaign to help launch her sewing patterns business. Many of you supported her by pre-ordering sewing patterns, and others may have seen her bag sewing patterns popping up everywhere in 2013!
I've halfway lost track, but I know that she's put out a new pattern every week for about 9 weeks or so. Amazing! I decided to make myself a new everyday bag, since my old was has been in use for at least 4 years, pretty much non-stop.
I chose to make Sara's Velocity Girl Bag pattern, because I liked the size and shape of it, and it has plenty of pockets to keep all my odds and ends.
I ordered some Melody Miller fabric (Ruby Star Sparkle / Ruby Stories Skate-A-Thon) and interfacing from Sew, Mama, Sew! and go to work. This pattern, like all of Sara's bag patterns, has step-by-step photos, so it is super easy to follow. I installed a metal purse slider and a zippered pocked, both for the first time, and had no problems along the way!
Can I tell you how often I lose my cell phone in my purse? I can't believe how long it sometimes takes me to find my phone, even when I know it is in my purse and I can hear it vibrating. I adore these side pockets on the outer purse, which are the perfect size for my phone. Now, I only have to look two places to find it!
I did make a couple of simple modifications to the pattern. I decided to add metal rings and strap extenders on both sides of the purse instead of just one. That's the way my old purse was, so I figured I would be used to it already! I also added a piece of yarn as "cording" in order to make piping for the tops of the outer pockets. I don't think this made a huge difference versus the flat piping called for in the pattern, but I do think it helped my fabric strip keep its shape a little bit more, since I used a thinner cotton for the piping.
You can find the Velocity Girl Bag and many other patterns–including a camera bag, a travel bag, a paper-pieced clutch and more–in the Sew Sweetness Pattern Shop! All PDF patterns are available for immediate download, so there's no waiting or wasted paper. You only need to print off what you will use, which was just one page, in my case!
Giveaway!
Sara is generously giving one lucky winner a complete set of 9 sewing patterns from Sew Sweetness!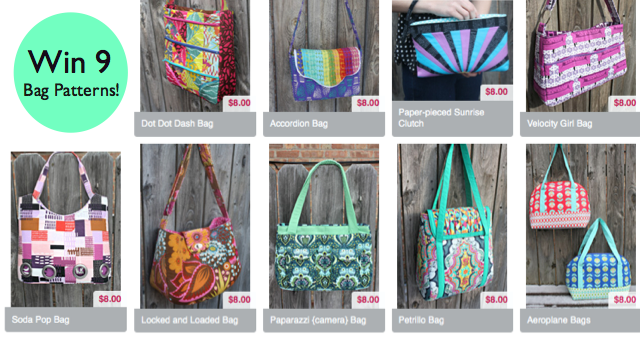 Fill out the Rafflecopter form below for your chance to win. Good luck!