At Craft Buds, we believe in coming alongside crafters who want to start their own handmade business, and today I'd like to introduce you to Sara of Sew Sweetness! Yes, she made all of these amazing outfits. And she wants to write sewing patterns and teach you how to do the same with step-by-step, easy-to-follow patterns.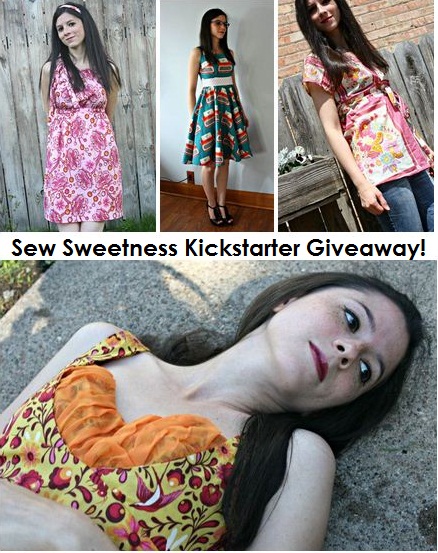 Sara has launched a Kickstarter campaign to help her raise the funds to start drafting sewing patterns for clothing. She also makes some of the best FREE bag and purse tutorials online. We want to support her in this new endeavor, so we're giving away some lovely fabric in support of Sara's new project. Sara says:
My Kickstarter goal minimum is to raise the money to buy a package of quality garment pattern drafting software, which will allow my patterns to be available in sizes XXS-XXL. I would like to produce my instructions as a PDF. All pattern pieces would be included, as well as full-color step-by-step photos and very detailed sewing instructions. The finished patterns would be available online as downloads.

I wish I could do this on my own, but I just can't! I work at a pet store on the weekends so I can stay home with my kids during the week while my husband is at work, and I think this is a way that I can not only better myself, but help my kids learn about hard work and that it's possible to do something that you love.
Giveaway!
To enter this giveaway, visit Sara's Kickstarter campaign and make a donation of any amount ($1, $5, any amount!). Then come back here and leave a comment letting us know you've donated.
One randomly drawn winner will receive the soon-to-be-released, oh so cute Lotta Jansdotter Bella Fat Quarter Bundle! (image courtesy redpepperquilts.com)
One randomly drawn winner will get this gorgeous charm pack of Liberty Art Fabrics from Sara's stash. (See more drool-worthy pics of this fabric from Sara's Quilt Market post, here!)
Besides being one of the nicest, most generous sewists in blogland, Sara is a mom to two adorable kids and she is extremely passionate about teaching others to sew. Let's help Sara kickstart her new handmade business! As a bonus, you can donate for one of the set amounts and can pre-order Sara's dress patterns or get some other fun rewards once Sara meets her goal!
Sara's Blog | Facebook | Twitter
So, if you'd like to enter to win one these prizes, just pop on over to Kickstarter, make a donation of any amount, and then leave us a comment to say you did! This giveaway is open worldwide and closes on Friday, August 10, 2012.
Update: Congrats to our winners, #40 Cassandra (Bella fat quarter bundle) and #7 Carlyn Jane (Liberty charms)! Thanks to all who donated, because it looks like Sara is going to beat her original fundraising goal!