To kick start our handmade business tips here on Craft Buds, I wanted to focus on Twitter, a wonderful tool for crafting bloggers and artists to make connections in the virtual world. These relationships can transpire into more traffic and ultimately increase sales. (Photo by Craftsquatch.etsy.com)

Getting Started with Twitter
I'm going to assume that you already know the basics of Twitter, but just in case, Twitter is considered a micro-blogging site, because users are allowed to post updates of no longer than 140 characters. In other words, a teeny blog hosted on Twitter.
Account Basics
When you sign up for a Twitter account, you must register a username and set up a profile for either your personal life or crafty business. The naming is very important here, as you'll be stuck with it for awhile. Many crafters choose the name of their business or Etsy store, or they might use their first name and craft medium (like mine, LindsaySews, which is also the name of my blog).
Your Profile
The same goes for the profile section, example below ("A writer and editor by day…"). This is the space to send a brief message of what your Twitter postings will be about, like knitting or technology, so others can find you! If you plan to tweet about marathon training, but your username is chocoholic, people probably aren't going to find you. There's also a spot to put a link to your URL (blog or Etsy store). Use this space!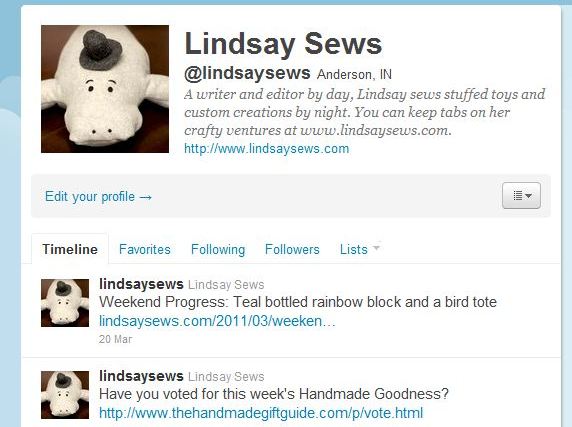 Your Icon
When choosing your photo icon, think of this image as prime real estate for your craft business or blog. Rather than selecting an icon of a cute cat or a cherry blossom tree, why not show off your best-selling product? A blogger might use her profile photo here or a logo, which is also a good choice, because it makes people feel like you are a real person.
Whether you go with your face, company logo or a product shot, make sure your profile pic displays the feel, personal or professional, that you want to convey through your Twitter account.
First Tweet
After you've set up your account, it's time to make your first post, also known as a tweet. After all, you don't want people to find you and notice that you don't have any content on your page.
My first tweet was about sewing and included a link to a blog post that I hoped readers would find helpful. If you are stuck for ideas, feel free to simply post "I've joined Twitter!" or something similar.

Wallpaper
You may also wish to customize your background image now (in the Design page on Twitter), so it matches the feel of your blog or online store. Twitter wallpaper or backgrounds are available at TwitPaper and many other sites or you can make your own. Do a Google search for Twitter Backgrounds for countless free options.
Finding and Following
Now that you're set up, it's time to make some contacts! Twitter has a tool that allows you to import contacts from your Web-based e-mail account, which is a good start for finding people you know in the real world. Find their profiles and follow them.
When you find someone whose tweets you enjoy, click on their list of followers. (In the example below, you would click on the blue 2,378 to see who is following LindsaySews). This is a great way to see who is also tuning in to this person's posts. Follow anyone who sounds interesting! You may also wish to see who that person is following (the blue 2,343), because they likely have the same interests you do. Follow along with some of those users and start making connections.
Statistics show that around 30% of people you follow will follow you back. As you can see, I'm now following almost the same number of people that are following me. That doesn't mean that all of the people I follow are also my followers, but many of them are.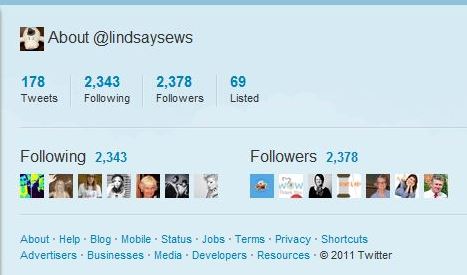 Follow Ratio and Interaction on Twitter
One interesting quirk about Twitter is that you can only follow so many people per day. If you try to go beyond that magic number, Twitter will tell you to wait until tomorrow. The more followers you have, the better your follow ratio and the more people you'll be able to follow.
Some of the "superstar" Twitter users may have 100,000 or more followers, but they follow fewer than 10 people. This is someone who is known to have great Twitter power, or a large audience. You do not have this kind of following ratio to market yourself effectively on Twitter. In fact, some might say that having a more equal followers-to-following ratio makes you seem more approachable and personable, a definite advantage in the crafting and handmade communities.
Retweeting
After using Twitter for some time, you'll probably figure out the users who are not worth following (especially if they aren't interacting with the community and are always about self-promotion) and you may choose to unfollow them. Being an active citizen in the Twitter world, especially the handmade marketplace, involves some give and take. Support others in their endeavors by retweeting links and contests, and spread kindness. You'll be surprised how many people take notice.
To retweet someone else's post, simply click the retweet link under that post. Click retweet again when prompted to confirm. To see which of your tweets have been retweeted by others, go to your Home page, select the Retweets tab, and choose "Your Tweets, retweeted."
Mentioning on Twitter
When I started Twitter, I wanted to follow as many like-minded people as possible. I found StacySews, sewLindsaysew, and some other quilting and sewing bloggers who I wanted to "meet." I followed them and occasionally "mentioned" them in my posts. (You can mention another user by typing the @ symbol and their user name in a tweet, like @LindsaySews.) Before long, people started following me back. I used my best judgment on who I wanted to follow. If a person updated too often or filled up my screen with too many off-topic tweets, I'd unfollow them.
There's a tradition on Twitter called Follow Friday (also known as #FF), in which many users choose to mention 5 or 6 other Twitter members. An example would be a post that reads: #ff @craft @GibbsRules @kzooerica @knitpurlgurl. If someone menti0ns you in a #FF post, it is courtesy to thank them and perhaps return the favor.
Twitter Lists
There are also Twitter lists, which are groupings of people who generally blog about the same thing. If you see a list on someone's Twitter profile that looks interesting, you can choose to follow that grouping of people without actually following them individually. This is helpful if you have already reached your follow limit for the day.
Search Function
With a simple Twitter search for your craft phrase, you'll find others who share your interests. You can search within other people's tweets (for keywords) or you can search for people with that phrase in their user name. You can further refine your search by finding people near you or searching only tweets with links.
Use the # (or hashtag) followed by a keyword to find others who've posted a similar topic. For example, I might look for today's craft giveaways by typing in "craft #giveaway" (notice only giveaway has the hashtag) in the Twitter search field. I might also follow people who post a lot of giveaways if I'm interested in promoting my business. I'd like to see what they do and how effective it is, and eventually maybe we can partner together on a promotion.
Notifications
If you haven't changed any of your account settings, you'll probably receive lots of e-mails from Twitter. Choose if you'd like to be notified every time someone sends you a direct message on Twitter, or each time you have a new follower. You can change this preference in your Settings.
Some people like to set up automatic direct messages to thank their new followers. This has become an overused and ineffective marketing tool, simply because it is overdone. Some people consider this to be spam in their inbox and don't even check direct messages. Our advice: don't do it.
Tools for Better Tweeting
I've found the following Twitter tools to be very helpful when building my base of more than 2,000 Twitter followers. Here's a rundown of each, though you'll find countless other tools on the Web to help you tweet stronger and smarter.
We Follow and Twellow are two Twitter directories you can register your Twitter account with. Once you've registered, people can find you by typing in keywords like "craft blog" or "handmade business." Follow Twitter users with a similar slant, and see if they'll follow you back.
Networked Blogs is the program I use to send my blog updates to both Twitter and my Facebook page automatically. If you have a blog, Twitter and Facebook page that you'd like to be synced together, this is the tool I'd suggest. Otherwise, check out Twitterfeed. (I prefer Networked Blogs' formatting in Facebook feeds over other options.)
TwitPic is a place to go and share photos with your Twitter users. Upload a photo of what you are doing, and TwitPic will post a tiny link to your photo to your Twitter followers.
Friend or Follow is a website where you can log in and see who is following you that you are not following back (and the other way around). Very useful for clearing up the "junk" from your Twitter feed.
HootSuite is a dashboard from which you can login and manage multiple Twitter accounts (and even your Facebook pages) from one place. Tweet to several accounts at the same time, or schedule your Tweets in advance.
TweetBig is a powerful Twitter tool for growing your base of targeted followers (people who are into the same things you are). The video below explains a bit more about TweetBig's toolbox, which includes autofollow capability in your niche markets (such as vintage sheet quilters, beading junkies or Artfire sellers) and the follow timebomb, which sets a limit for how long Tweet Big will follow someone if they are not following you back.
https://www.youtube.com/watch?v=Y9huIYiBKvw
Do you use Twitter to promote your blog or handmade business? If so, what is your best tip for newbies?
Check out this week's giveaways on Craft Buds!
Subscribe to our site for more DIY and handmade business tips, weekly giveaways and more.