Morgan silver dollars derived their name from their designer George Thomas Morgan. The coins have a high percentage of silver (90%), making them valuable. Although the US mint minted 31,990,833 coins in 1888, many have met their end through melting.
Silver dollars are becoming increasingly collectible as more coins got melted for the silver. Which 1888 Morgan silver dollars are rare and more precious? Are there 1888 silver dollar errors that are in high demand by collectors?
This brief contains information you should know whether you are starting as a collector or looking to increase your coin collection.
Overview of the 1888 Silver Dollar
Year: 1888
Face Value: $1.00
Composition: 90% silver, 10% copper
Weight: 26.73 grams
Silver melt value: $16.06
Minted at Philadelphia, New Orleans, and San Francisco
Mintage: 31,990,833
| | | | |
| --- | --- | --- | --- |
| Location | Mint mark | Minted | Value |
| Philadelphia | None | 19,183,000 | $35+ |
| Philadelphia proof | None | 833 | $3,000 |
| New Orleans | O | 12,150,000 | $35+ |
| San Francisco | S | 657,000 | $220+ |
Related: 1880 S Morgan Silver Dollar Value – Expert Tips and Insights
History of the 1888 Silver Dollar
Morgan silver dollars are elegant, and they have a rich American history after being minted for several decades.
Interestingly, the minting of the Morgan silver dollars was not a result of economic demand, but it was due to political pressure.
The US mint produced 657 million Morgan silver coins between 1871 and 1921 when the peace dollar appeared. In 1888 Carson City mint did not produce any Morgan silver coins, so only Philadelphia, New Orleans, and San Francisco mints produced them.
Related: The 1922 Liberty Dollar Value, History, Mintage, & Error List
The 1888 Silver dollar coins have a sleek and appealing design. On the reverse side, the coin has an eagle at the center, its wings spread, and a wreath surrounds it. It also has the words United States of America, in God we trust, and one dollar. If the coin has a mint mark, it will be below the wreath.
On the obverse side, the coin has a portrait of Lady Liberty, wearing a cap and a small crown. The text reads Liberty E Pluribus Unum and has the year of mintage (in this case, 1888).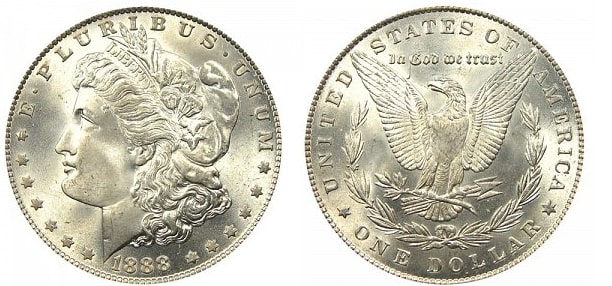 How Much is an 1888 Silver Dollar Worth Today?
An 1888 silver dollar is worth around $35 for the most available silver dollars to over $3,000 for rare coins.
However, the rare coins should also be in good condition to fetch a good price. Philadelphia-proof coins and rare errors go for thousands of dollars as collectors struggle to obtain these rare, fine specimens.
E Pluribus Unum Silver Dollar Value
E Pluribus Unum silver dollars are any silver coins the US minted after 1873. These dollars are worth over $20 for the value of the silver, and some can go up to several thousand dollars.
The value of E Pluribus Unum silver dollars depends on the condition and rarity of the coins. If you have any coins made in this period, you can have them graded to know how much you can get for them.
1888 Silver Dollar Value no Mint Mark
Philadelphia mint produced the biggest share of coins in 1888. Therefore these coins are the easiest to find and, thus, the cheapest. Although they are not rare and thus not collectible, you can still get over $30 or the value of the silver used to make them.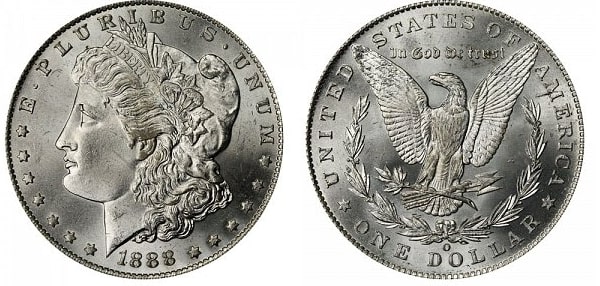 Related: 1972 Silver Dollar Value
Factors That Affect the Value of 1888 Silver Dollars
The value of 1888 Morgan Silver dollars fluctuates occasionally. However, the price depends on the demand, grade, condition of the coin, and rarity.
If there is a higher demand for 1888 silver dollar coins, the higher the price they will fetch. Collectors have high demands for coins that are not easily available because they know their prices keep rising.
Additionally, collectors are proud to have highly sought-after Morgan dollars in their collection. That is why rare coins are sold for high prices, primarily at auctions, as collectors try to outbid each other.
Coins worn out due to being in circulation for a long time are not worth as much as high-grade coins such as uncirculated ones. There are various ways to gauge if coins have been in circulation for a long time, such as the sheen of the coin or Liberty's features.
Coin grading is an important part of numismatics, and unless you have the experience, you may need to seek the services of professional graders. Once the graders analyze and grade your 1888 silver dollar, they will offer a graded assessment. This is a good idea because it is easier to negotiate a better price when selling your coins if you know the grade.
Uncirculated coins that retain their luster are more costly than circulated coins that are worn out and, thus, have lost some appeal.
Rare coins are highly collectible because the rarer they get, the higher their price. Millions of coins were minted in Philadelphia and New Orleans, making them easier to obtain, which is why they are cheaper.
However, only 657,000 coins were minted in San Francisco, making the "S" mint mark coins rare and more expensive.
Related: 1889 Morgan Silver Dollar Value – Mint Mark, No Mint, City
1888 Silver Dollar Errors
Silver dollars with errors are the rarest, and coin collectors hunt for them, so they are ready to pay a high price. The most common 1888 silver dollar errors are the VAM series, an acronym for the three experts (Van, Allen, Mallis) who researched and documented these errors.
The Scarface or the 1888 O Silver Dollar Double Die Obverse
The scarface error resulted from a die fracture, and these coins are extremely rare.
The scar is a visible raised line over liberty's left cheek. The line makes Liberty look like she has a scar on her cheek, which is why this error is known as the scarface.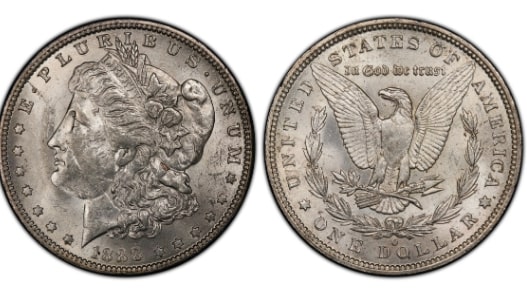 Related: 1882 Silver Dollar Value
1888 O Silver Dollar Hot Lips
This coin error occurred due to a double die during the mintage stage. Due to the double die, it makes Liberty's portrait appear to have enlarged lips. You may also notice double chins, lips, and noses on the portrait due to the die and disordered strikes.
A hot lips 1888 O silver dollar in good condition is worth a good price, so if you have it in your collection, take precautions to preserve it.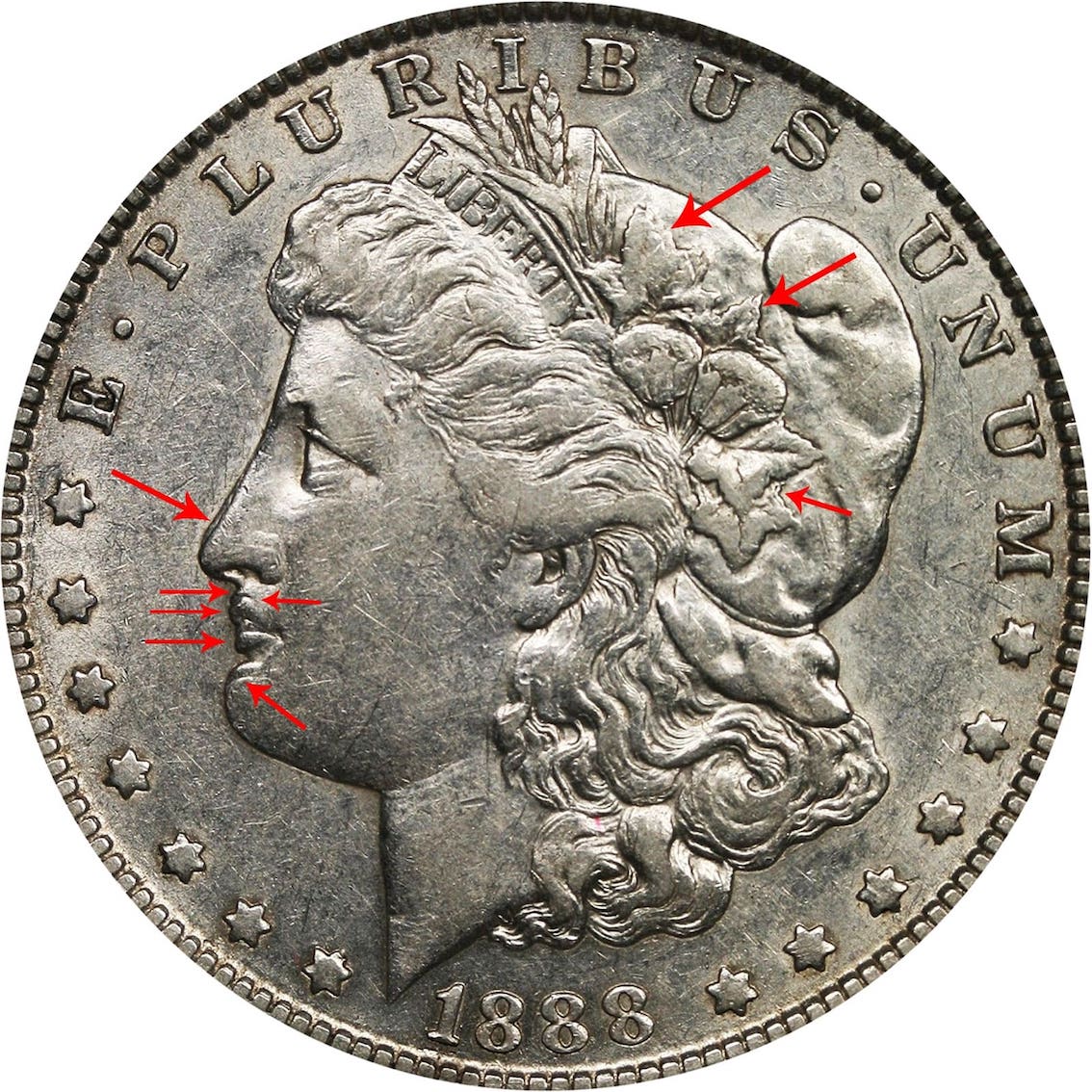 1888 Silver Dollars Weight
1888 Morgan silver dollars weigh 26.73 grams. That means before you buy a silver dollar, you should weigh it; if it is heavier or lighter, it is probably fake. It is also important to look at other features, especially in rare coins, and most times, it is in your best interest to seek the opinion of experts.
Related: Bicentennial 1776 to 1976 Half Dollar Value – A Complete Guide
Places to Buy and Sell 1888 Silver Dollars
It takes a long time and effort to have an impressive coin collection. So you deserve fair compensation for your collection. It is essential to conduct thorough research on marketplaces and sell your coins to those that offer a reasonable price.
Here are our recommendations:
Selling 1888 silver dollars online is straightforward. All you need to do is create an account or visit the marketplace site, post your coins, and wait for the offers. You can pick the best offer or choose an interested buyer and negotiate for a higher price for rare coins.
You can try selling or buying silver dollar coins on eBay and Amazon online marketplaces. Ensure you are careful because although you will get genuine offers, cons may pose as buyers. Only part with your coins after ensuring you receive the agreed amount.
Auctions are another great way of getting top dollar for your Morgan silver dollars. This is a good idea, especially if you have rare coins, as collectors attend auctions. You may get better offers if you sell your 1888 Morgan silver dollars at auctions than through other places.
1888 Silver Dollar Value FAQs
How can I tell if my 1888 silver dollar is real?
You can use a magnet on the coins. Morgan silver dollars are not magnetic. Another way is to measure the diameter; it should be 1.5 inches.
How can you tell if your dollar coins have silver?
View the edge of the coin. If it has a solid silver stripe, it has a large percentage of silver. However, if it has a subdued silver stripe with traces of copper, it is likely 40% silver.
Final Thoughts
Silver dollar coins remind us of American history when coin minting peaked. Most of those coins were melted; therefore, few are available today, so they are collectible.
So if you come across an 1888 Morgan silver dollar in good condition, you can keep it safe. If it is a rare coin, for example, if it belongs to any 1888 silver dollar errors we discussed here, it might fetch good money in an auction.
Keep increasing your coin collection. When it is time to sell it, ensure you sell through reputable buyers like the abovementioned ones. That is how you get a good deal and a substantial amount for your 1888-silver-dollar collection.
References