The 1889 Morgan Silver Dollar is a coin minted by the United States Mint. The coin is named after its designer, George T. Morgan, and is made of 90% silver and 10% copper. .
Key Takeaways
1889 Morgan silver dollars were minted in Philadelphia, Carson City, and New Orleans.

The Carson City(CC) morgan silver coins are the rarest and most valuable, followed by New Orleans(O), San Francisco(S), and lastly, Philadelphia, which has no mint mark.

Look for marks and discoloration to spot fake mintmarks.
The 1889 Morgan Silver Dollar is a relatively common coin and minted in large quantities. It is, therefore, not considered particularly rare. The value of a 1889 Morgan Silver Dollar can vary depending on the coin's condition, rarity, and demand. These coins are generally worth more than their silver content due to their historical significance and collectibility.
Circulated examples of the 1889 Morgan Silver Dollar can be worth around $30 to $40. Uncirculated or "mint condition" 1889 Morgan Silver Dollar can be worth around $50 to $100 or more.
However, the value of an 1889 Morgan Silver Dollar can be significantly higher if the coin is rare or in particularly good condition or if it's a specific variety. Let's dive in.
Related: 1972 Silver Dollar Value
1889 Silver Dollar Mint Marks
Four mint branches produced the Morgan silver dollars: 
Philadelphia

New Orleans

Carson City

San Francisco
The main mint was in Philadelphia, and their 1889 Morgan silver dollar does not have a mintmark. The New Orleans Morgan silver dollar has an "O" mintmark. Those from San Francisco contain an "S," while those from Carson City contain "CC."
Related: 1888 Silver Dollar Value – What's it Worth Today? 
Remember that the mintmark can be affected by tear and wear. The more your Morgan silver dollar wears, the less visible the mintmarks become. Make sure you store your Morgan Silver dollar coins well to preserve their original look and retain their value.
"S" silver dollars are also a good catch. You can take home $70 for coins in fine condition and $85 for coins in excellent condition. If you have grades MS 60 and 65, you will take home $275 and $1350, respectively.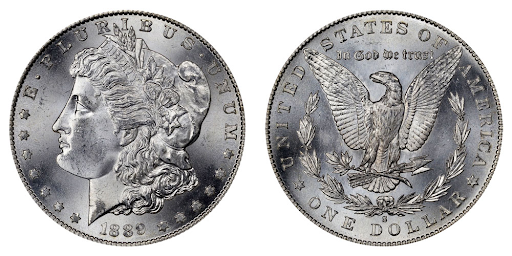 Related: 2021 Quarter Errors – An Illustrated Guide
1889 Silver Dollar Value No Mint Mark
Mintmarks are among the contributing factors to the value of your 1889 silver dollar. The Philadelphia mint was the first and the largest in the USA; thus, the no-mint mark Morgan silver dollar coins had more numbers in circulation than those with mintmarks.
That is why the no-mint mark silver dollars have the lowest value in the market. No-mint mark coins in excellent condition can fetch $42, while those in perfect condition go for about $45 if you have the uncirculated no-mint coins, $60 for MS 60 grade and $250 for MS 65 grade.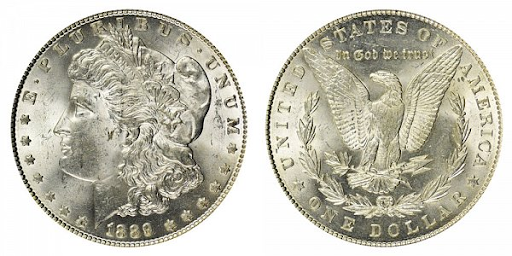 Related: 1964 Quarter Value – Mints, Errors And Worth
How to Tell if 1889 Silver Dollar Is CC
As mentioned above, Carson City Morgan silver dollar coins are rare and extremely valuable. The mint mark is below the wreath and above the DO in "DOLLAR." If you see it, then the silver coins you have originated from the Carson City mints.
It's important to note that the coins may also be fake. Spotting counterfeit CC Morgan dollars is the easy part. We cannot say the same about the added mintmarks. 
Here is how you can tell if the mintmark was added:
Check for unusual details on the dollar coins
Look for discoloration at the mint marks or near the date
You can also look for tool marks near the date and mintmarks 
Related: 1880 S Morgan Silver Dollar Value – Expert Tips and Insights
Morgan silver coins that don't have a mint mark are less valuable than CC coins. Make sure you don't buy plain Morgan silver dollars with a fake mintmark. Study the coins carefully to ensure you get authentic CC, S, or O morgan silver dollars.
The Carson City "CC" coins are the rarest, making them the most valuable. You can pocket $1500 if the coins are in good condition and $3600 if the coins are in perfect condition. Uncirculated CC Morgan silver dollars are hard to come by, so they fetch a lot of money, especially if you sell them in an auction.
 If you have uncirculated CC Morgan silver coins with an MS 60 grade, you can get $23000 and around $300000 for MS grade 65.
Related: Bicentennial Half Dollar Value – A Complete Guide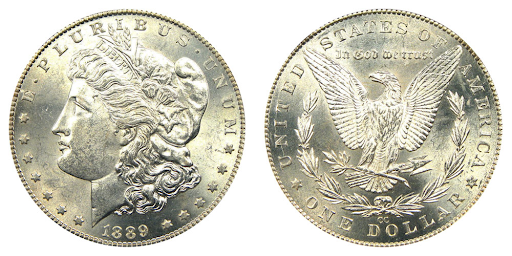 Where Is the Mint Mark on an 1889 Morgan Silver Dollar?
If your Morgan silver dollar coins are in good condition, you can quickly locate the mintmark. It is on the coin's reverse side below the wreath (mintmark tells you the branch mint for the coins). That is on the reverse side of the Morgan silver dollar.
However, if there is no mint mark on them, the mint mark may have disappeared over time if they were in circulation. Additionally, they could be Philadhepia Morgan silver with no mint mark.
If you notice any unique thing about your Morgan silver coins, they may have minting errors. As discussed below, mint errors make Morgan silver coins more valuable.
Related: 1921 S Morgan Silver Dollar Value – A Complete Guide
1889 Silver Dollar O
Mined in New Orleans, the Silver dollar O coins are not as rare as the CC dollars, but they are not worthless.
The O Morgan silver coins are second on the value list after CC. For good condition, you pocket $42, and $45 for excellent condition. For uncirculated grade MS 60 O silver coins, you get $400, and if they have grade MS 65, you can pocket $1500.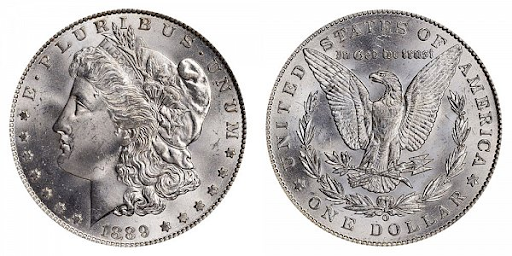 Related: 1974 Half Dollar – Value, Rarity And Condition
1889-O Morgan Silver Dollar Error
Errors are bad things, right? Wrong. With precious coins that collectors can't get enough of, errors increase the interest and make the coins more desirable and valuable. The coins that have errors are more precious than those that don't.
The 1889-O Morgan silver dollars error coins the "micro O," the smaller rounder micro O, the mintmark for New Orleans. This error makes the Morgan silver coin more valuable than other mintmarks. Therefore, if you have this Morgan silver dollar in your coins collection, it can fetch you good money, especially in auctions.
Related: 1922 Silver Dollar Value – Complete Guide
Conclusion
1889 dollar silver coins are rare and precious. The good news is that their value keeps growing each year. If you are a collector, you can hold on to your 1889 no-mint mark, CC, and O Morgan silver dollars because they will be worth good money one day.
Remember to take good care of them and avoid cleaning them, so they retain their distinguishing marks. The older they are, their value increases. So don't sell your Morgan silver dollar just yet.
Attention all numismatics experts!
If you have a passion for collecting and studying coins, we want to hear from you! Craftbuds seeks knowledgeable numismatic experts to contribute their expertise to our content.
Writing new articles
Reviewing and fact-checking existing articles
This is a paid opportunity!! Apply Here