The five-cent coin's evolution in the U.S. began in 1794 with silver half-dimes, which continued until 1866. With a shift to nickel and copper composition, these coins soon became popularly known as 'nickels.' Initially adorned with Lady Liberty and an eagle until 1837, a wreath then graced the coin's reverse until 1913.
The period from 1913 to 1938 witnessed the iconic U.S. Buffalo Nickel, or Indian Head Nickel, with its distinct portrayal of a Native American on one side and a bison on the other. The 1935 nickel is a part of this series. In 1938, the U.S. Mint transitioned to the Jefferson nickel, focusing on the third president and his associated landmarks, a theme still present today.
Today, we focus on the 1935 Buffalo nickel, exploring its design, value, and unique features.
The 1935 Buffalo Nickel Design & Composition
Obverse Side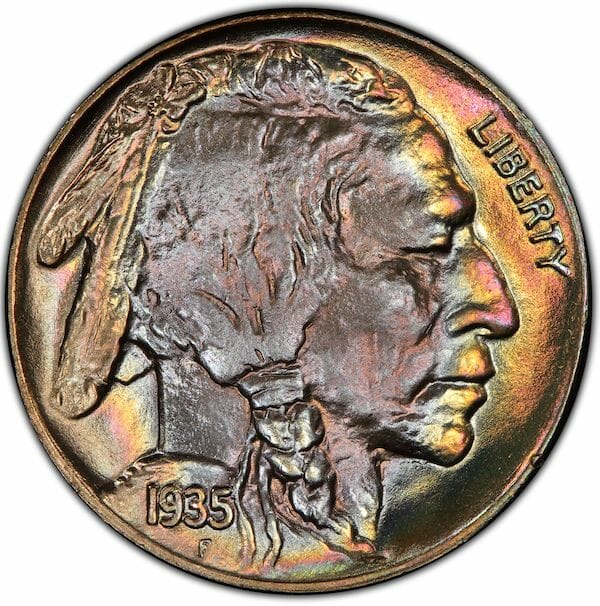 The 1935 nickel's obverse prominently features a right-facing Native American portrait. Designed by James Earle Fraser, this depiction wasn't based on a single individual but drew inspiration from multiple sources. Aside from the central figure, the word "LIBERTY" adorns the upper right corner, with the year "1935" inscribed at the coin's base.
Reverse Side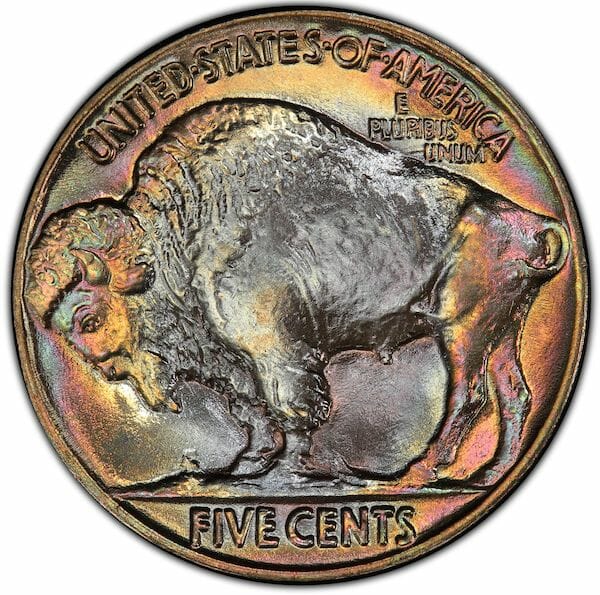 The 1935 nickel's reverse is elegantly designed with customary elements. At the top, the inscription reads "UNITED STATES OF AMERICA," immediately followed by the U.S. motto, "E PLURIBUS UNUM." The coin's denomination is gracefully positioned at its base.
Dominating the reverse's central motif is a majestic bison, symbolizing both strength and its significant role in Native American heritage. Fraser's inspiration for this iconic image stemmed from a buffalo he observed at a New York Zoo.
Where is the mint mark on a 1935 Buffalo nickel?
If a Buffalo nickel from 1935 was minted in Philadelphia it doesn't have a mint mark. If it was produced in the Denver or San Francisco facility, the D or S mint mark will be located right below the denomination at the bottom of the nickel.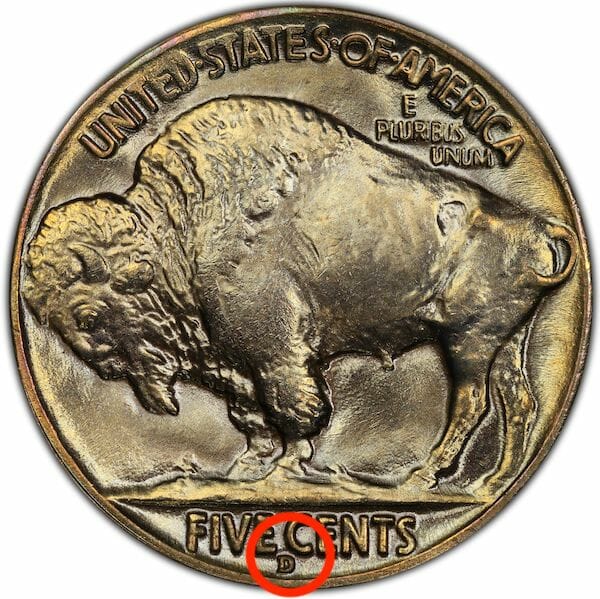 Look at the coin's reverse side, which features a standing buffalo.
Directly below the buffalo, on the ground upon which it stands, you will see a raised area.
If there is a mint mark, it will be located on that raised area.
1935 Buffalo Nickel Composition & Dimensions
A nickel minted in 1935 contains 75% copper and 25% nickel. Nickel provides a silvery appearance, typically lost if the coin has significant damage or wear and tear. This is why many of the nickels from this period will have either reddish or brownish color instead.  The coin weighs 5 grams or 0.17 ounces. It is 21.2 millimeters or 0.8 inches in diameter.
The 1935 Buffalo Nickel Value
The value of a 1935 Buffalo nickel varies widely: the 1935-D nickel ranges from $1 to $100, the rarer 1935-S can reach $15,275, while the more common Philadelphia-minted nickel goes up to $50. Notably, this year's double-die reverse error nickel sold for $104,650 in 2007.
1935 D Buffalo nickel
A Buffalo nickel marked with the letter D comes from the Denver branch. There were a total of 12 092 000 coins produced in this facility.
1935 D Buffalo nickel value
A 1935-D nickel is worth up to a dollar in poor condition. If it is uncirculated, the price rises to $20 – $100. Those specimens that are well-preserved and have a grade of 60 or more fetch the price of thousands of dollars at auctions.
1935 S Buffalo nickel
If you see a Buffalo nickel from 1935 with the letter S on the bottom of the reverse, that coin comes from San Francisco. This facility minted a total of 10 300 000 nickels in 1935.
1935 S Buffalo nickel value
Of the three varieties, nickels from the San Francisco mint tend to be the most valuable, largely because of their relative rarity. In 1935, the San Francisco branch produced the fewest five-cent pieces.
While a Buffalo nickel bearing the 'S' mint mark can often be acquired for a mere one or two dollars, pristine, lustrous specimens can fetch substantial sums. In fact, the most anyone has paid for such a coin at auction reached a staggering $15,275.
1935 F Buffalo nickel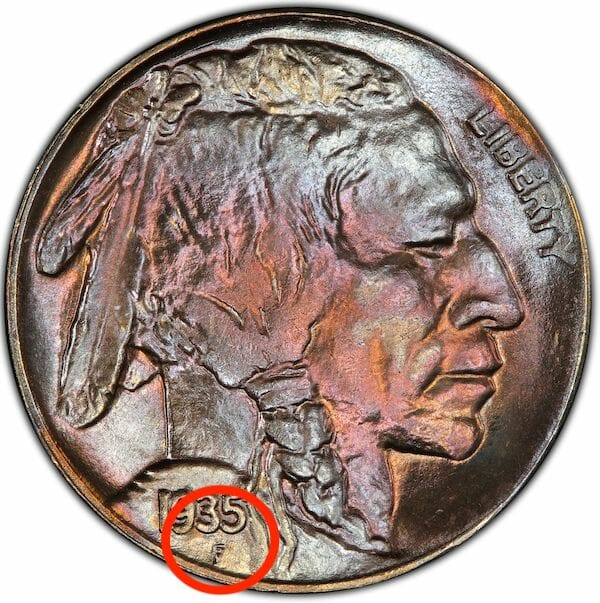 Every 1935 nickel features the letter 'F' representing the designer Fraser's initials. This shouldn't be mistaken for a mint mark, as it appears on all coins from that year, regardless of the minting facility.
1935 Buffalo nickel No Mint Mark
In the past, the Philadelphia Mint did not employ mint marks. As a result, 1935 nickels produced there bear no letter indicating their place of origin. That year, the primary facility produced a substantial 58,264,000 five-cent coins.
1935 Buffalo nickel No Mint Mark value
Since Philadelphia minted almost five times more nickels in 1935 than the other two mints, they are the least valuable out of the three varieties. In general, you can sell specimens in poor condition for a dollar or two, and uncirculated ones are worth $10 to $50. Coins graded MS65+ are always highly valuable, so you can consider yourself lucky if you have one.
1935 Buffalo Nickel Value Chart (Value by Mint, Grade & Error)
| | | | | |
| --- | --- | --- | --- | --- |
| | 1935 Buffalo nickel no mint mark | 1935-D Buffalo nickel | 1935-S Buffalo nickel | 1935 Buffalo nickel DDR |
| Good | Around $1 | $1 – $2 | $1 – $2 | $50 – $100 |
| Fine | $1 – $3 | $2 – $20 | $2 – $10 | $100 – $1 000 |
| Uncirculated (60) | $10 – $20 | $20 – $100 | $10 – $50 | $1 000 – $10 000 |
| Mint State (65+) | $20 – $50 000+ | $100 – $30 000+ | $50 – $15 000+ | $10 000 + |
The 1935 Buffalo Nickel Error List
Errors can significantly enhance the value of any coin. These minting anomalies can render a coin rarer, more captivating, and highly desirable. To verify such errors, consulting professional coin grading services like PCGS and NGC is advisable. Many of these discrepancies might elude the untrained eye, so there's a chance you're carrying a hidden treasure in your pocket!
The Double Die Reverse Error
The double die reverse is the most famous error in 1935 Buffalo nickels. It is extremely valuable, with one errored coin selling for $ 104,650 at an auction in 2007.
1935 buffalo nickel double-die reverse – How to Tell?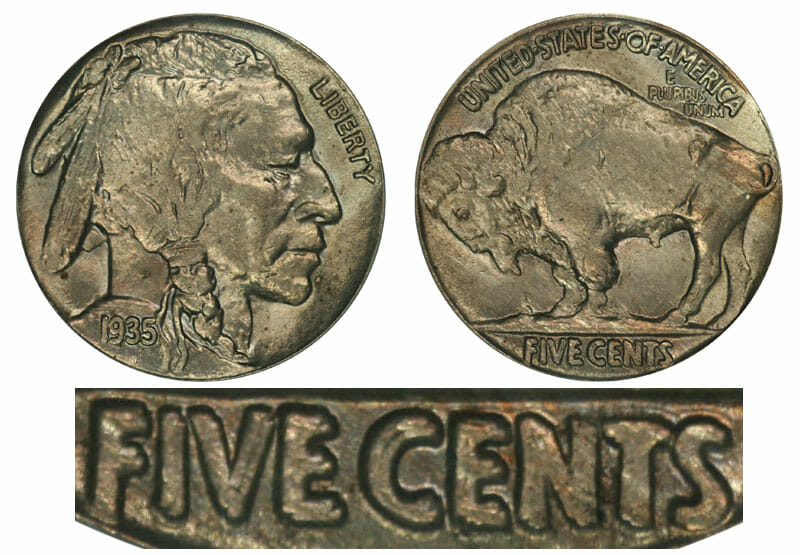 The term "double-die" refers to a coin showing evidence of being struck by a die with an unintended duplicated design. In the case of the 1935 Buffalo nickel with a double-die reverse, visible abnormalities will be on the reverse side of the coin.
Here's how you can identify a 1935 Buffalo nickel with a double-die reverse:
Magnification: Use a magnifying glass or a jeweler's loupe to get a clear and enlarged view of the coin's details. A minimum of 5x to 10x magnification is recommended.
Examine the Lettering and Design: On a double-die reverse, you should look for:

Doubling in the lettering. For instance, the words "FIVE CENTS" might appear slightly offset or doubled.
The buffalo itself might show signs of doubling, especially around its features, like the hump, horns, or legs.

Look for Other Indicators: Sometimes, a double-die will manifest as a clear repetition or "shadow" of a design element, making it appear as if it's been stamped twice, slightly offset.
Comparison: If possible, have another standard 1935 Buffalo nickel at hand for comparison. This can make spotting the differences easier.
Professional Authentication: If you believe you have a 1935 Buffalo nickel with a double-die reverse, getting it authenticated by professional coin grading services such as PCGS or NGC is crucial. They can confirm the authenticity and grade of the coin, which will be vital for determining its value.
Other Notable Errors and Their Associated Values
Some other errors you may come across in 1935 Buffalo nickels are double die obverse, lamination errors, and die cracks. These are more common and less valuable than the double-die reverse.
Conclusion
Given its broad spectrum of values, the 1935 Buffalo nickel is a prized asset for coin enthusiasts. While some can be acquired for as little as a dollar, seasoned collectors might willingly invest thousands for pristine specimens.
Among the variations of the 1935 nickel, spotting errors can be intriguing. However, the true gem is the elusive double-die reverse, standing out as the most sought-after. Best wishes on your collecting journey!
Sources and References