The 1945 wheat penny is also known as the 1945 Lincoln penny. Due to their abundance, they are among the most prominent coins ever produced by the US Mint. David Victor Brenner designed the penny. Their value appreciates inherently since they are no longer in production. The 1945 wheat penny has an insignificant face value, but its age makes it desirable to coin collectors.
Key Takeaways
The 1945 Wheat penny integrates Abraham Lincoln's portrait on the obverse and wheat on the penny's reverse.
The 1945 Lincoln penny has an estimated value of $0.02 in average condition and $1 in mint condition.
A 1945 wheat penny is valued regarding grade, mint error, and mintmark.
Common rarities on the 1945 wheat penny include off-center strike and double die errors.
The 1945 Wheat penny has an exciting history as it marked the end of World War II. It features Abraham Lincoln on the obverse and wheat on the reverse side. A 1945 Wheat penny has an estimated value of 15 cents up to $1 for an uncirculated coin.
The comprehensive guide below will have a glance on aspects such as factors affecting the coin's value, notable errors, and grading conditions. According to the USA Coin Book, the estimated Value of the 1945 Lincoln Wheat Penny is worth $0.02 in circulated condition. In contrast, an uncirculated (MS+) Mint Condition can be worth $0.79 up to $1 or more.
Related: 1944 Wheat Penny Value – A Complete Guide
Let's dive in!
What is a 1945 Wheat Penny Worth Today?
The 1945 Wheat penny estimated value is 15 cents in average condition, while in mint condition (MS+) it could be worth around $3. Graded 1945 Lincoln penny can fetch several dollars depending on coin condition. See below:
| | |
| --- | --- |
| Grade | Price Range |
| Grade MS64 | $19-$31 |
| Grade MS65 | $23-$38 |
| Grade MS66 | $24-$40 |
| Grade MS67 | $188-$313 |
The 1945 wheat penny mintage took place at the time that World War II was ending. Thus, it attracts lots of collectors and historians.
Related: 1943 Steel Penny Value – Complete Guide
Factors Affecting Pricing of the 1945 Wheat Penny
While determining the value of a 1945 Wheat penny, the worth can be influenced by the following:
Type of coin: There were three varying types of 1945 Lincoln pennies produced in different mints and quantities. The coin type with less abundance can have a higher value.
Coin condition: The condition of the 1945 wheat coin is vital because the better the coin condition, the more valuable it is.
Unique qualities: Lincoln pennies can have certain elements that either promote or demote their value.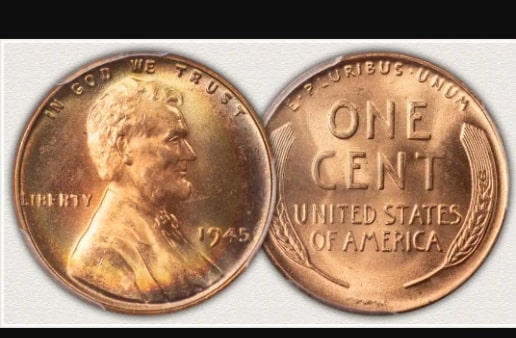 Grading the 1945 Wheat Penny
Coin collectors are usually interested in the 1945 Lincoln penny, which has been graded. Grading the coins entails a professional description of the condition of the coin. Here is a grading video for further comprehension.
Determination of coin condition can be categorized in grades such as:
Uncirculated: An uncirculated grade means the coin has never been on the open market, plus there is a complete absence of wear to the surface. Uncirculated coins were never used on daily transactions; hence they will be in flawless condition without any scratches on the surface.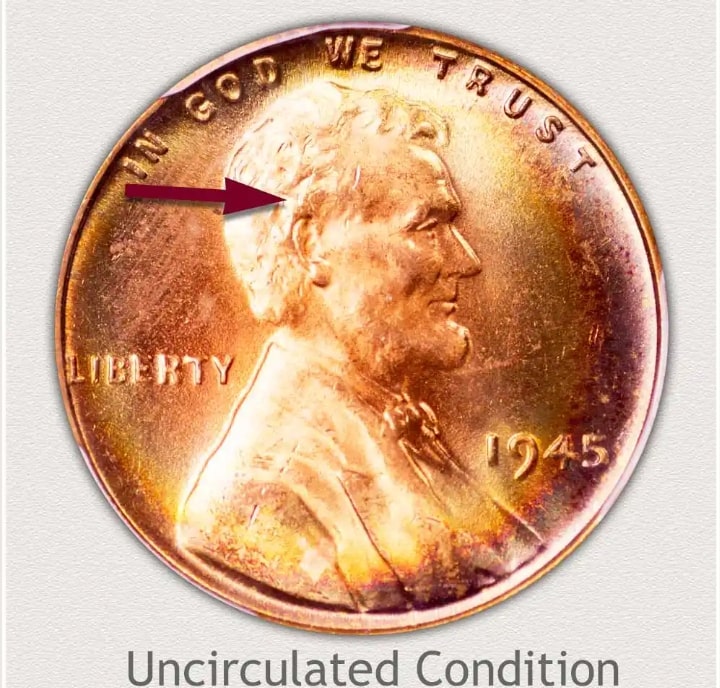 Uncirculated grades are favorites among collectors. Bright and un-toned luster adds value to the penny. An uncirculated M62 grade 1945 wheat penny is worth around $10, whereas MS64 and MS65 grades can fetch $20 and $45, respectively. A graded MS68 1945 penny values around $3,700 up to $4,300.
Extremely fine: An extremely fine 1945 Lincoln penny means the coin is in perfect condition. It might have one or two scratches, but they appear to be primarily pristine.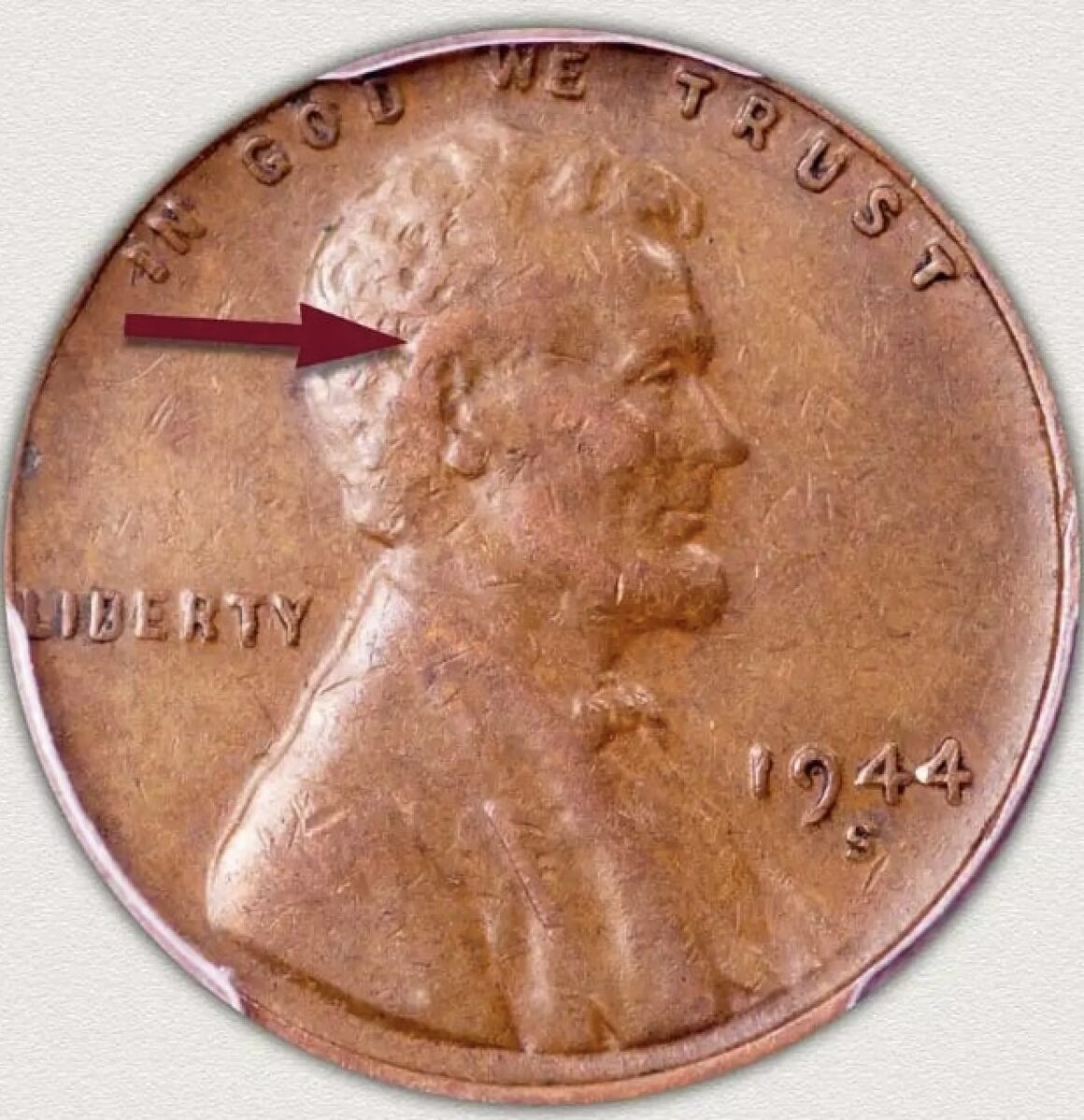 Fine: A fine-grade coin is likely to have been circulated, but it is still in decent shape. Due to the extent of circulation and age, you will notice some normal wear and tear elements, such as smoothing and light scratching. The imagery and lettering aspects will still be intact and easily deciphered.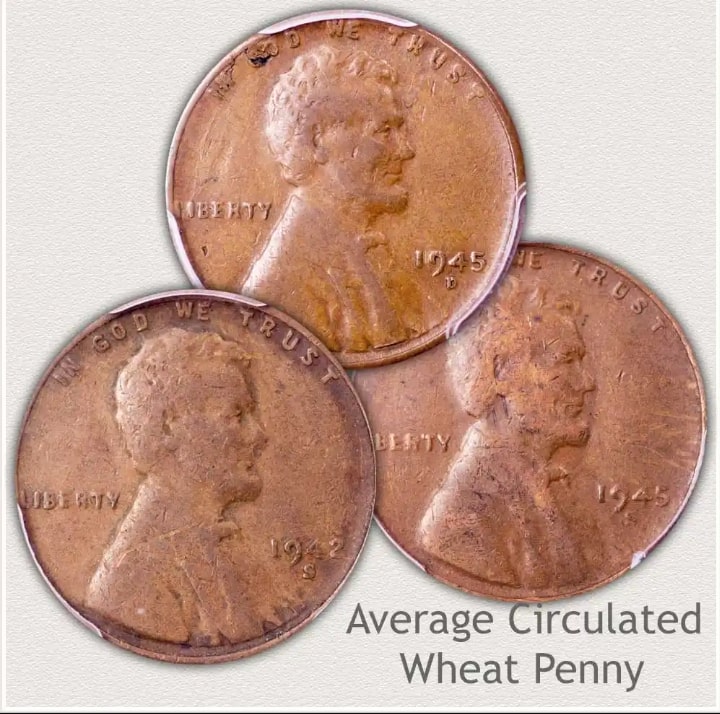 Good: It is the worst grade a coin can receive. A good-grade coin means that the piece has been heavily circulated. You will notice deep scratching and complete wear of the raised aspects of the images and letters. In addition, the color has changed, and the coin has lost its luster. Despite the wear and tear elements, they are still desirable among coin collectors.
Related: The 1959 Penny Value in 2023
What is the 1945 Wheat Penny Error?
Coin mintage is prone to errors while being struck. The 1945 wheat penny is no different, as it incorporates errors visible on the obverse and the rim of the penny. Click the video to see possible rarities.
Some 1945 wheat penny integrated errors such as;
Off Center Strikes
This is a highly visual error whereby the coins were misaligned during striking, leading the coin engravement to deviate from the center. The coins feature a blank area to the sides.
There were approximately 15% to 20% off-center 1945-S wheat penny in circulation. The error was quickly spotted and seized. Coins with such errors have a higher value in the coinage market.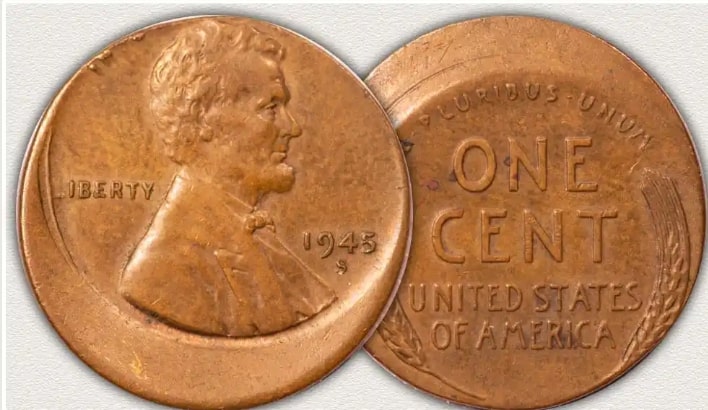 Double Punching
Doubling of design during the preparation of working dies causes doubling dies error. The double die error forms an image with double lines. Such an error is visible on the obverse side of the 1945 penny. The letter 'i' on the word "Liberty" portrays a double die error.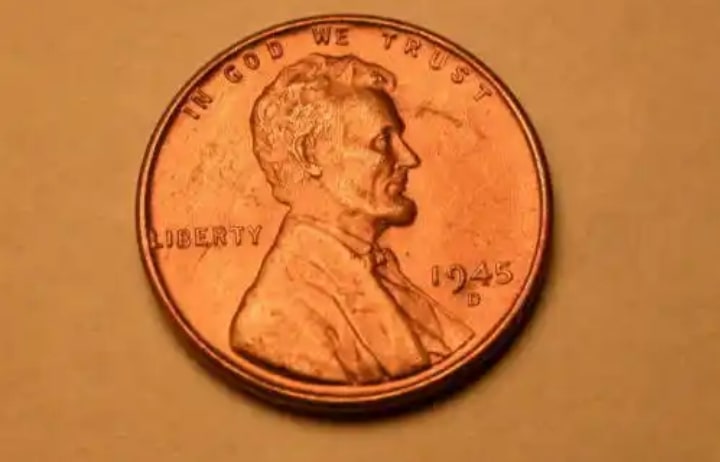 A 1945 wheat penny with a double die error will have an estimated value of $500 in MS65 red, whereas it can be worth $100 at MS63. You might require using a magnifying glass or a jeweler's loupe to spot the double-die errors.
Weight Error
This is another rarity you can consider, especially if you have a larger or chunkier penny. Most 1945 wheat pennies weigh 3.11 grams, but there are variations in some coins. Some can weigh heavier, up to 3.2 grams. Scale your Lincoln coin to check on weight error.
Clipped Planchet
Clipped planchets are common types of rarities. Coins are struck on round discs called planchets. If the metal is misfed during the blanking process, it can lead to clipped planchets.
For instance, a 1945 clipped penny was graded and sold for $92 on auction.
1945 Wheat Penny Value Chart
The 1945 wheat penny can be pretty abundant; hence its value isn't a significant addition to your collection. The three US Mints (Denver, Philadelphia, and San Francisco) produced a varying number of the 1945 coins, thus playing a role in value determination.
Philadelphia mint produced the No mint mark penny. San Francisco had the 1945-S wheat penny, whereas the Denver mint produced the "D" Lincoln penny. The Philadelphia mint produced more coins than San Francisco and Denver mints combined.
The better the coin condition, the higher the value. For instance, a 1945 penny was sold in 2015, garnering $4 465. The 1945 Lincoln penny featured pristine condition without any scratches, wear, or visible damage. Compared to other 1945 wheat pennies, the 1945-S wheat penny has a higher value, as shown below:
| | | | | |
| --- | --- | --- | --- | --- |
| Date | Good Condition | Fine Condition | Extremely Fine Condition | Uncirculated Condition |
| 1945 Wheat Penny (No Mark) | $0.02 | $0.02 | $0.04 | $0.99 |
| 1945 'D' Wheat Penny | $0.02 | $0.02 | $0.04 | $0.79 |
| 1945 'S' Wheat Penny | $0.03 | $0.03 | $0.05 | $0.99 |
1945 No Mint mark Wheat Penny Value
Did you know the Lincoln cent was the first penny to feature an American President? The 1945 No mint mark Wheat penny has an estimated value of 15 cents up to $2 in mint condition. The 1945 wheat pennies are abundant because the Philadelphia mint produced approximately 1,040,515,000 Lincoln (wheat) pennies.
Due to their large numbers and existence in Mint state condition, the collectors favor pennies with no faded original red color.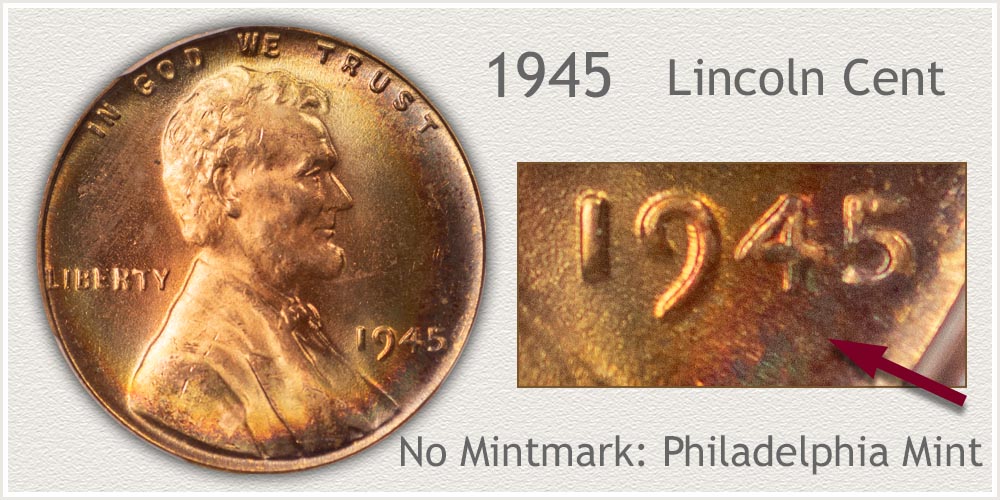 1945 Wheat Penny D
The 1945-D wheat penny is a Denver mint coin. The "D" is located under the date. The 1945-D Lincoln pennies are abundant and are mostly graded in excellent grades. The pennies have an estimated value of 15 cents up to $1.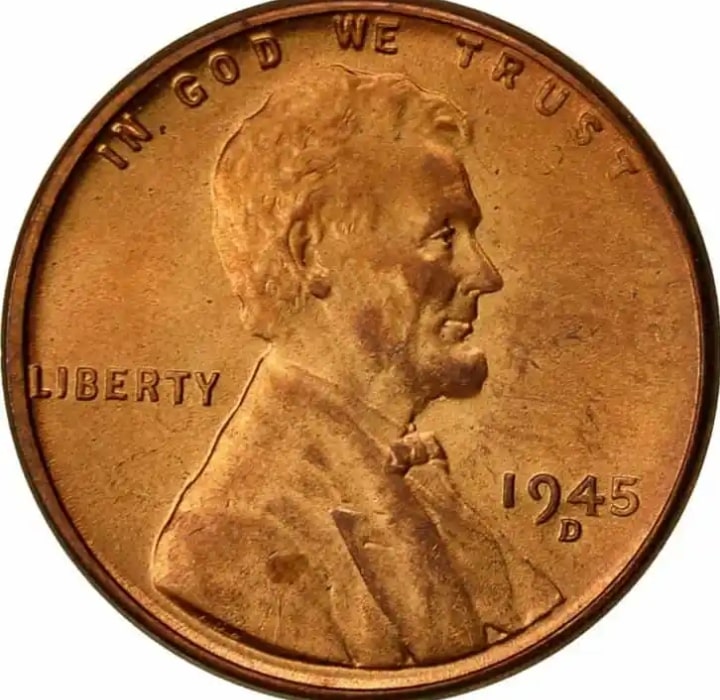 The Denver mint produced approximately 266,260,000 1945-D Lincoln coins. Collectors seek lightly worn coins without dark and light areas. Coins with even coloration have a higher appeal/ worth.
1945 Wheat Penny Worth a Million Dollars
The Lincoln cents were in production between 1908-1958. Among the Lincoln wheat penny series, a 1943-S wheat penny was sold for $1 Million. The sale occurred in New Jersey in September 2012, where collector Bob R. Simpson paid for the rare wheat cent on a bronze planchet.
1945 Penny Worth $85,000
The highest recorded price tag of a 1945 Lincoln penny was a 1945-D wheat cent in mint state. Heritage Auctions sold the penny for $14,400 in 2019. Another version of the Lincoln cents, such as the 1943 copper penny, is valued at $85,000 if it's in mint condition.
Conclusion
The 1945 wheat penny is quite popular because it was in circulation through two World Wars. Such historical marks make the 1945 Lincoln coin an essential addition to your collection. The coins with minimal wear and tear are more valuable to collectors. Collectors value a coin depending on its date, mintmark, and grade.
Considering the aforementioned factors, a 1945 wheat penny is worth more than its face value (15 cents up to $1 in the mint state). Lincoln pennies with mint errors are scarce and can fetch thousands of dollars. We hope you can now better comprehend your 1945 Wheat penny's worth.
Resources
Attention all numismatics experts!
If you have a passion for collecting and studying coins, we want to hear from you! Craftbuds seeks knowledgeable numismatic experts to contribute their expertise to our content.
Writing new articles
Reviewing and fact-checking existing articles
This is a paid opportunity!! Apply Here