The 1966 quarter is part of the Washington Quarters series, initially introduced in 1932 and conceived by sculptor John Flanagan. This series succeeded the 14-year run of the Standing Liberty quarters, masterfully designed by Hermon A. MacNeil. Notably, 1966 marked the second year after the U.S. Mint transitioned the quarter's material from silver to a copper-nickel alloy.
Join us as we delve into the intricate details of this coin, exploring its value, distinctive design elements, mintage statistics, and collectible errors.
The 1966 Quarter Design & Composition
The US coins often depict the nation's treasured historical figures. One such coin is the Washington Quarter, issued as a way to commemorate the ex-president's 200th birthday.
The 1966 Quarter Design
George Washington was a Founding Father and the United States' first president. He is considered one of the most influential figures in the country's history, which is why the Mint honored him on the bicentennial of his birthday in 1932. The Washington Quarter is one of the longest-running obverse designs since it's been circulating for over 90 years.
The 1966 Quarter Obverse Side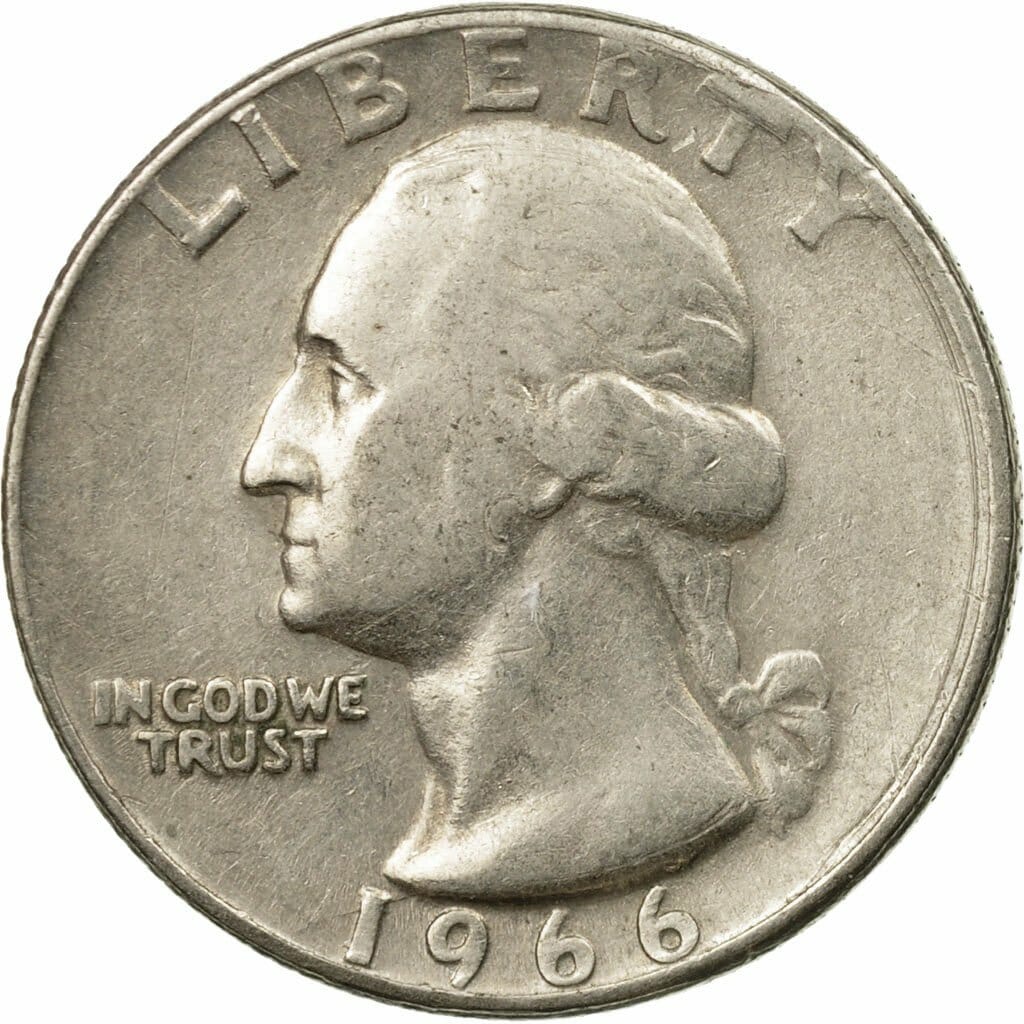 The obverse face of the 1966 quarter features a finely crafted, left-facing portrait of George Washington, the work of sculptor John Flanagan. Flanagan's design was ultimately selected over the initially planned artwork by Laura Gardin Fraser. Emblazoned above the portrait is the word "LIBERTY," while the phrase "IN GOD WE TRUST" graces Washington's left. The year 1966 is prominently displayed at the coin's base.
The 1966 Quarter Reverse Side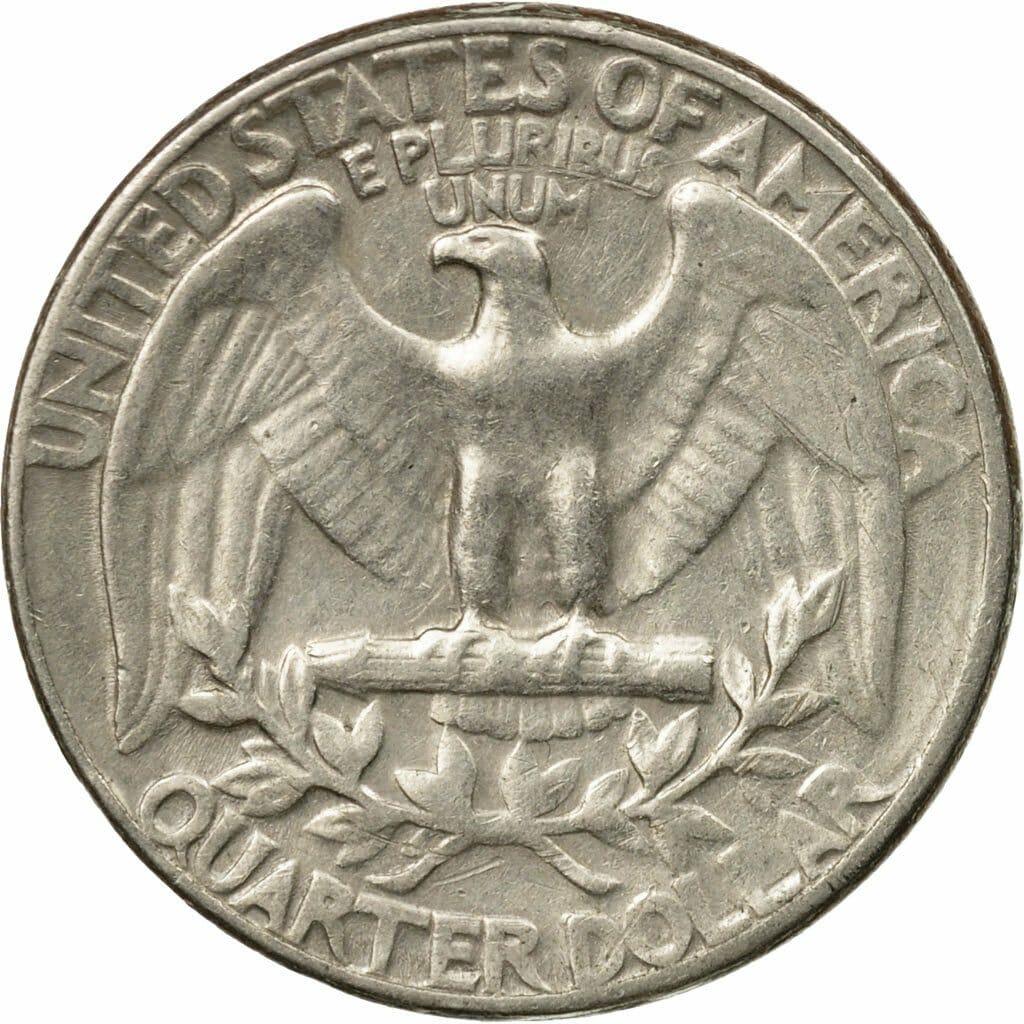 The reverse side of the Washington quarter boasts one of the most captivating designs in the annals of American coinage. Dominating the center is a majestic bald eagle with outstretched wings, perched atop a sheaf of arrows flanked by two olive branches. These symbolic elements respectively epitomize freedom, strength, and peace.
Above this compelling imagery, the inscription "UNITED STATES OF AMERICA" arcs across the top. The Latin motto "ET PLURIBUS UNUM" appears beneath, translating to "out of many, one," a nod to the unity of the nation's states. The coin's denomination is tastefully positioned at the bottom.
The 1966 Quarter Composition & Size
The 1966 quarter comprises a core of 91.67% copper, encased in an 8.33% nickel coating, imparting a lustrous, silver-like sheen. The coin is substantial and compact, weighing 5.670 grams (or approximately 0.2 ounces) and has a diameter of just over 24 millimeters (roughly 0.9 inches). Its edge features a reeded texture and measures 1.75 millimeters (around 0.06 inches) in thickness.
The 1966 Quarter Mintage
A staggering 84,363,083 Washington quarters were produced in 1966, yet intriguingly, none bear a mint mark, making it nearly impossible to identify their origin. This absence of mint marks stems from a fascinating period in U.S. coinage history.
During the early 1960s, a silver price surge led to widespread coin hoarding, exacerbating a coin shortage. Additionally, collectors drove up the value of certain quarters if they were produced in fewer numbers at one mint than another. In response, the U.S. Mint opted to forgo mint marks for several years.
It's important to highlight that the San Francisco Mint crafted 2,261,583 quarters specifically for a Special Mint Set. These coins, distinguished by their radiant, satin finish, have come to command a premium in today's market, far surpassing the value of their regular-issue counterparts.
The 1966 Quarter Value
Quarters struck prior to 1965 generally hold a value of at least a few dollars based on their melt value, given their silver content. In contrast, quarters minted after the shift in composition usually retain only their nominal face value.
How much is a 1966 quarter worth?
A 1966 quarter is generally worth only its face value of 25 cents unless it's in about-uncirculated or better condition; the highest-ever selling price for a 1966 quarter was $21,000 for an MS68+ graded specimen.
Just like most quarters from this period, a 1966 quarter rarely sells for more than $0.25. If a coin doesn't feature a rare or interesting error, it is very unlikely to be worth more than its face value.
1966 quarter no mint mark
The absence of a mint mark distinguishes the singular variant of the 1966 quarter. Uniquely, this doesn't automatically indicate a Philadelphia origin, leaving the coin's provenance a mystery.
If you possess a 1966 quarter in poor, good, or even fine condition, it's worth noting that selling it for more than a dollar would be a challenging endeavor. However, quarters in about-uncirculated condition can command prices ranging from $2 to $10, while those graded as mint state 60 or higher are exponentially more valuable.
The most valuable 1966 quarter
The pinnacle of 1966 quarter sales occurred in July 2023, when an exceptional specimen graded MS68+ fetched a staggering $21,000 at a Heritage auction. Over the past five years, six other quarters with an MS68 grade have sold, garnering prices ranging from $900 to $11,750. This demonstrates that even a top-grade coin doesn't guarantee a high selling price.
Value in the coin market is a complex interplay of factors, with demand being a significant variable. A coin that fetches thousands one year may struggle to sell for even a fraction of that sum soon thereafter.
Generally speaking, if your quarter is in mint condition, it holds intrinsic value. If you find it challenging to locate a buyer willing to meet your price expectations, patience may be key; consider holding onto the coin for several more months or years until the right opportunity presents itself.
The 1966 Quarter Error List & Associated Value
One significant factor that can dramatically influence the worth of your 1966 quarter is the presence of any minting errors. These flaws occur during the intricate production process and are highly coveted by collectors and enthusiasts.
If you suspect your coin may contain an error, it's prudent to have it assessed by a reputable coin grading service. Given that authentication can significantly enhance a coin's market value, the cost of professional grading is a worthwhile investment.
Below are some errors you might encounter in a 1966 quarter.
Struck-through error
A struck-through error happens when a foreign object comes between the dies and the planchet during minting. This leaves a picture of that object behind.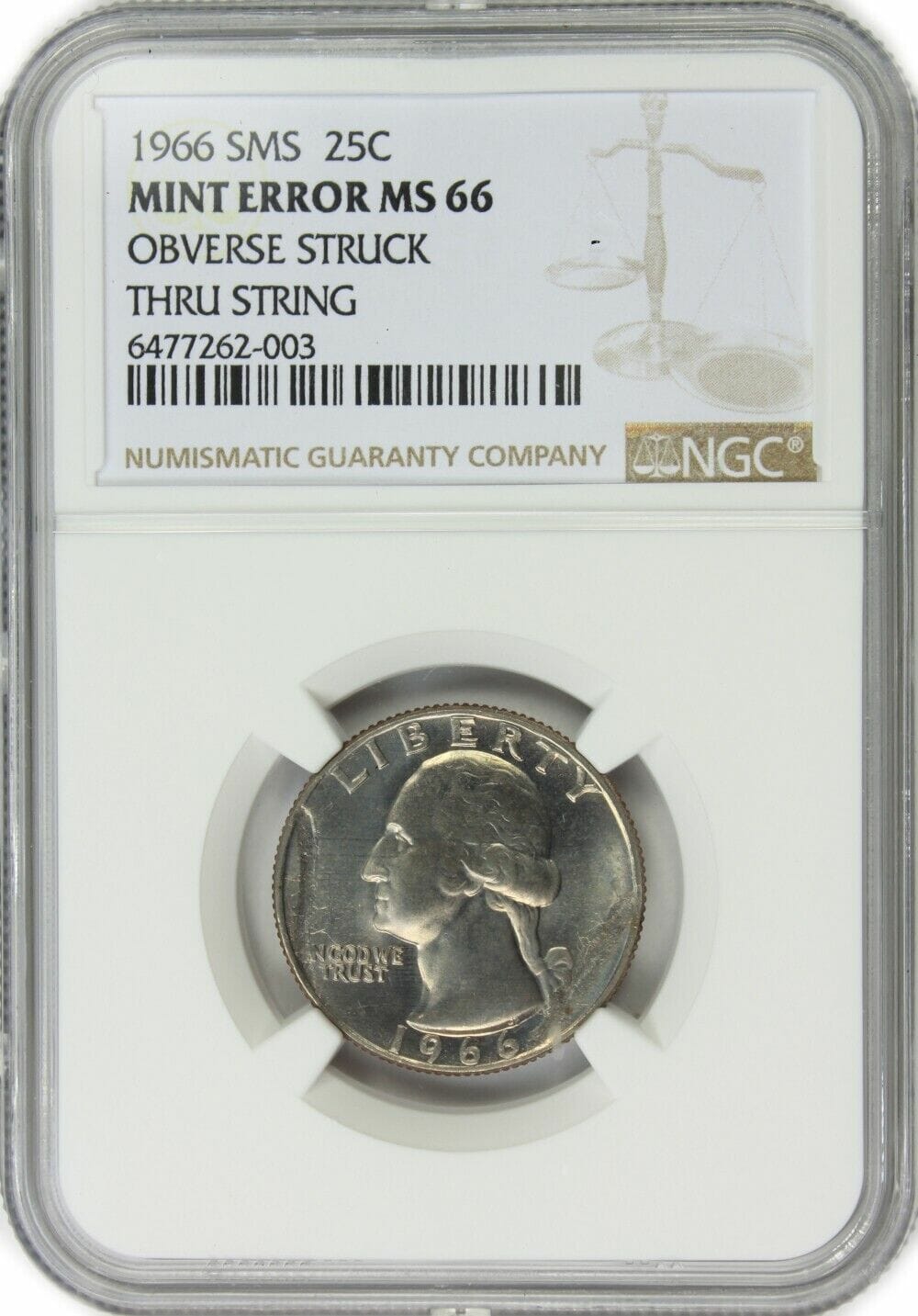 A quarter with this mistake can cost anywhere between $5 and several hundred dollars. It depends on the error's severity and the coin's condition.
Off-center error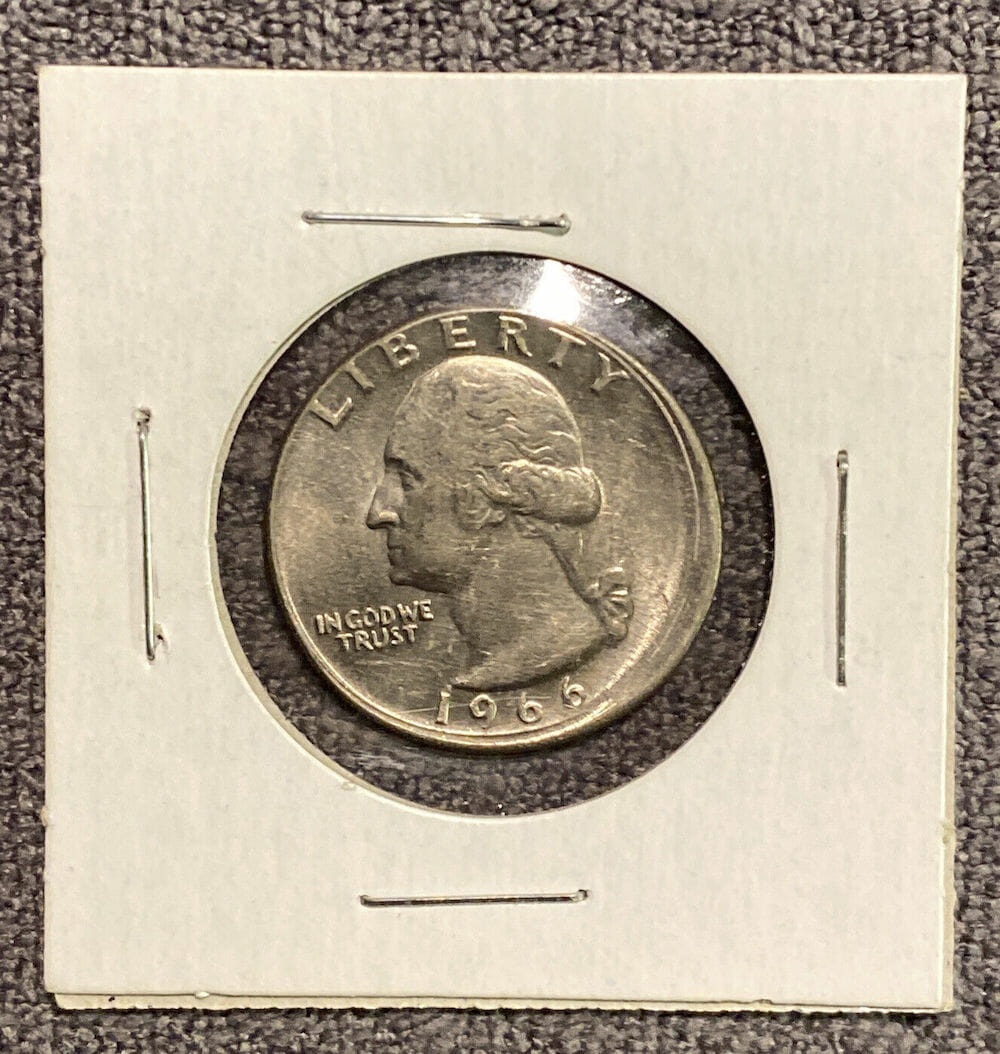 This error happens when the dies strike the design on a misaligned planchet, resulting in the off-center picture. It is an exciting mistake and can increase the coin's value by $5 to $50 on average.
Double die error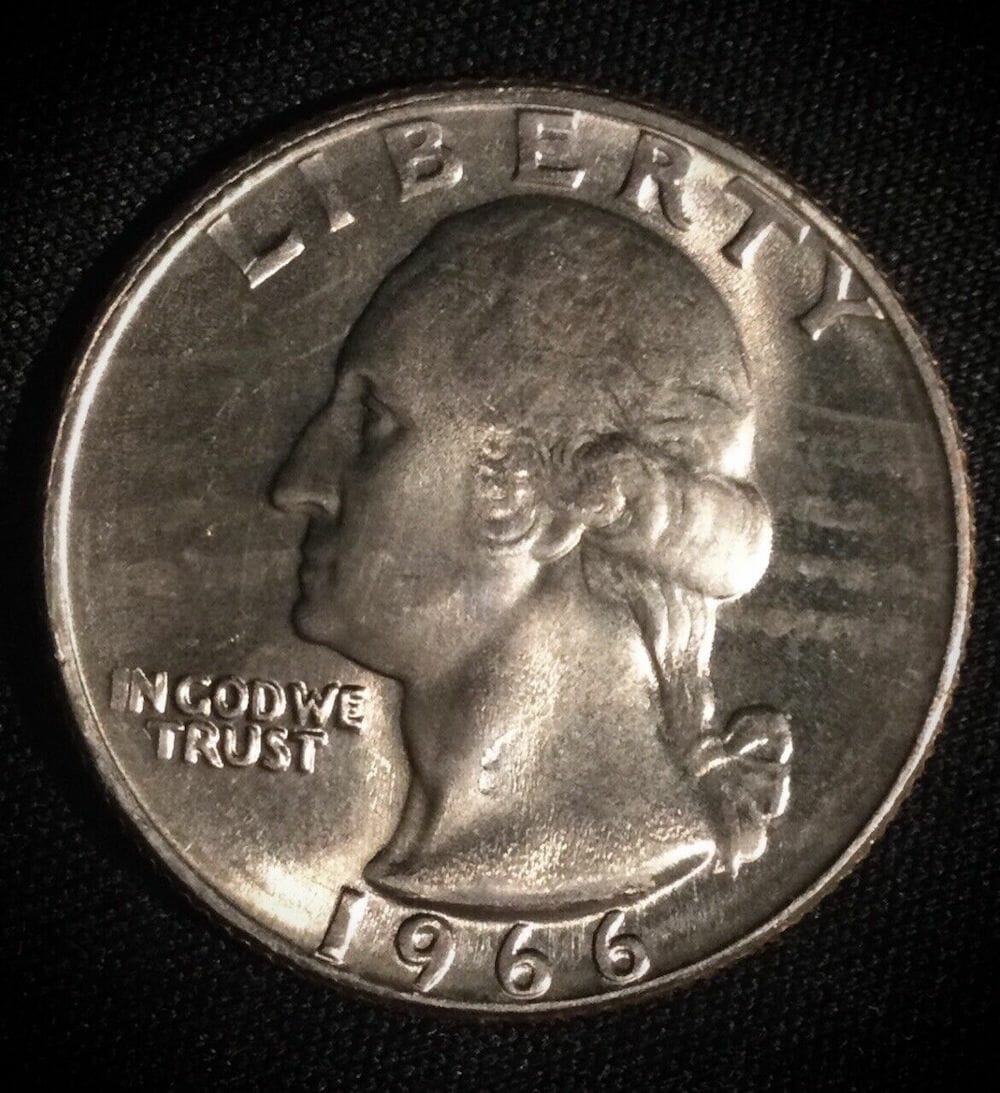 The double-die error arises when the coin dies inadvertently imprints the design twice, resulting in a doubled image. Only a portion of the design is occasionally affected, making the error subtle and challenging to detect unless you're highly knowledgeable. A 1966 quarter with this specific flaw can vary in value from just a few dollars to several hundred, depending on its condition.
Conclusion
For several reasons, a 1966 quarter is an invaluable addition to any numismatic collection. Not only does it mark the second year after the U.S. Mint transitioned from silver to a copper-nickel alloy, but it also stands out for its lack of a mint mark, an anomaly not exclusive to coins produced in Philadelphia.
While a 1966 quarter generally won't command a high price unless it features a rare mint error or is in exceptional condition, those that do meet these criteria can achieve remarkable values. If you're in possession of such a coin, it's advisable to consult an expert coin grading service for an accurate valuation; you might discover a hidden error that elevates its worth even further.
Sources & References