The penny, a cornerstone of currency in the United States, has a history steeped in tradition and evolution. From its early days as a fundamental unit of American currency to its various transformations in terms of design, composition, and production, the penny holds a special place in American financial history. Among the array of pennies that have graced the American monetary landscape, the 1969 penny emerges as a captivating piece of numismatic history that beckons exploration.
This article delves into the intricate facets of the 1969 penny, encompassing its historical origins, its intricate design and composition, mintage statistics, the diverse spectrum of its value, and an intriguing array of errors that have added mystique to the elusive 1969 penny.
The 1969 Penny Series And Place in History
As a denomination, the penny has been an intrinsic part of American currency since the nation's earliest days. The penny has undergone metamorphoses throughout its journey, reflecting technological advancements, cultural shifts, and economic fluctuations. It was introduced to the United States shortly after the country's emergence as an independent entity, with the penny replacing the "halfpenny," a denomination that had prevailed prior to the American Revolution.
The 1969 penny is one of notable significance and a key member of the Lincoln Memorial Cent series, which was initiated in 1959. This series departed from the iconic Wheat Penny design, which had been in circulation since 1909. The introduction of the Lincoln Memorial Cent series was emblematic of a grand occasion—the commemoration of Abraham Lincoln's 150th birth anniversary. This series proudly sported a novel reverse design featuring the distinguished Lincoln Memorial.
Related: Rare & Valuable Pennies – Find Out Which Pennies Are Worth Money
The 1969 Penny Design & Composition
The 1969 Penny Design
The design of the 1969 penny embarked on a distinctive trajectory from its predecessor, the Wheat Penny. Its most noticeable difference being the addition of Abraham Lincoln's portrait. This depiction, a creation by artist Victor David Brenner, first came to light in 1909 and has since entrenched itself as an iconic fixture of the penny.
Obverse Side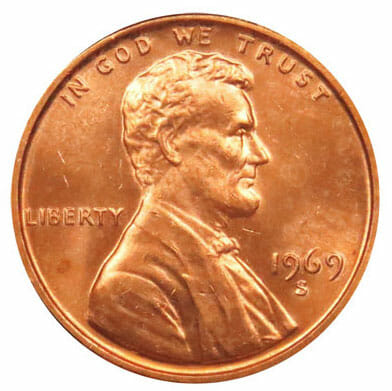 The obverse side of the 1969 penny depicts an enduring likeness of Abraham Lincoln, immortalizing the legacy of one of America's most esteemed presidents. This visage reveres Lincoln and serves as a poignant reminder of his instrumental role during a period of profound turbulence in the nation's history.
Reverse Side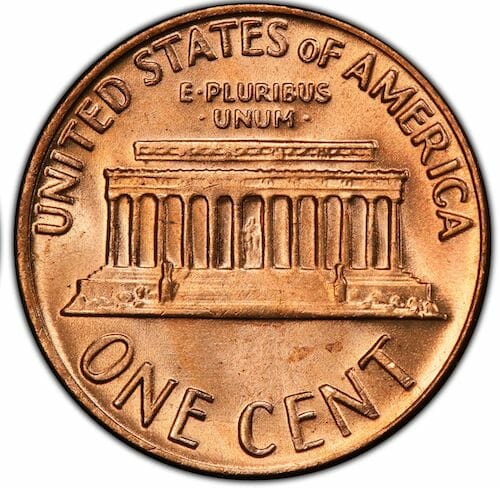 On the reverse side, the 1969 penny presents a rendition of the Lincoln Memorial, a neo-classical monument standing resolute in Washington, D.C. This monument is an emblem of unity and strength, a tribute to Abraham Lincoln's pivotal contributions. Crafted by Frank Gasparro, the reverse design is a paragon of numismatic artistry and remains one of the most universally recognizable coins yet.
The 1969 Penny Composition & Size
An inherent alteration in composition distinguishes the 1969 penny from its predecessors. Prior to 1969, pennies were constituted primarily of copper, with a composition of 95% copper and 5% zinc. However, in response to escalating copper prices, a shift in composition occurred.
The 1969 penny comprises an exterior layer of 95% copper, 5% zinc, and additional zinc—a fusion that evokes the familiar "bronze" hue. Dimensions-wise, the penny is quite small, with a diameter of 0.75 inches (19.05 mm) and a thickness of 1.52 mm, but it didn't let its size stop it from being a prolific artefact of monetary history.
The 1969 Penny Mintage
The mintage for the 1969 penny uncovers a narrative rich in diversity and significance. The year 1969 witnessed the minting of pennies across three distinct locations: Philadelphia (marked by the absence of a mint mark), Denver (indicated by the "D" mint mark), and San Francisco (denoted by the "S" mint mark). The cumulative mintage across these three mints escalated into the billions, attesting to the penny's presence as an emblem of everyday commerce.
The 1969 Penny Value
How much is a 1969 Penny worth?
The value of a 1969 penny is a multifaceted realm, influenced by an array of variables, including condition, mint mark, and potential errors.
Most 1969 pennies are worth only their face value up to about $10-$30 and are not particularly rare or valuable. However, the most expensive 1969 penny ever sold was a 1969-S Lincoln Penny with a doubled die obverse, fetching an astonishing $126,500 at auction. 
Commonly encountered 1969 pennies, particularly those traversing the realm of circulated currency, generally retain face value. Nonetheless, within this trove of pennies lies a subcategory adorned with rare variations and errors, bestowing upon them a lustrous allure appreciated by collectors with a discerning eye.
1969 Penny Value Chart
| | | | | |
| --- | --- | --- | --- | --- |
| Mint mark | Good | Fine | Extra Fine | Uncirculated |
| 1969 no mint mark | Approx 1 USD | Approx 6 USD | Approx 20 USD | Approx 575 USD |
| 1969 D Penny | Approx 2 USD | Approx 10 USD | Approx 40 USD | Approx 8,000 USD |
| 1969 S Penny | Approx 2 USD | Approx 10 USD | Approx 40 USD | Approx 10,000 USD |
| 1969 S Penny- with errors | Approx 30,000 USD | Approx 125,000 USD | Approx 600,000 USD | |
Sources: PCGS, GreySheet, NGC
1969 Penny Value by Mint
The evaluation of a 1969 penny is intrinsically linked to its mint mark, a mark of its origin.
There appears to be a prevailing trend for pennies minted in San Francisco ("S" mint mark). These coins often embody lower mintages and thus exert a pull on collectors.
1969 Penny no mint mark Value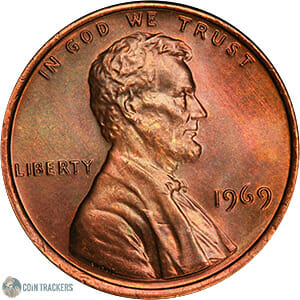 The wide array of 1969 pennies bereft of mint marks—products of Philadelphia's minting—appear to encompass the most exciting variety.
These pennies generally do not transcend face value, particularly within the realm of circulation. However, coins that have been spared the wear and tear of circulation and remain in high-grade conditions may hold a measure of allure for collectors, thereby increasing their value.
According to the USA Coin Book, the estimated value of a 1969 Lincoln Memorial Penny is at least $1.16 when in uncirculated, mint-plus (MS+) condition.
1969 D Penny Value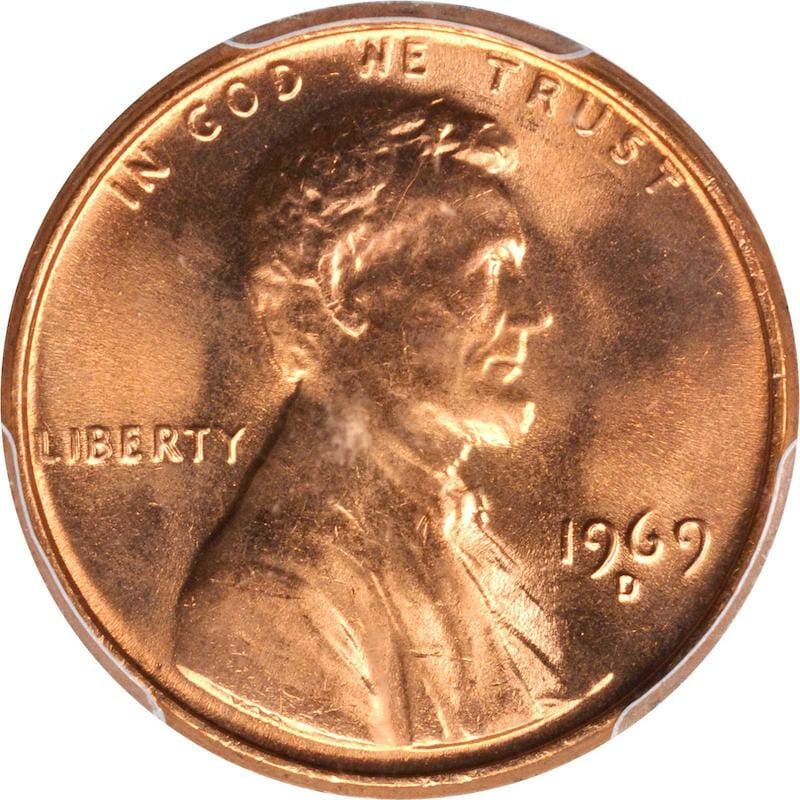 The 1969-D penny, minted in Denver—is another denomination that tends to hold its face value with common, used coins. However, the scales of collector interest may tip slightly in favor of uncirculated or meticulously preserved coins.
The coin retains its face value of approximately 1 cent in an average circulated condition. However, if certified in mint state (MS+) by a leading coin grading organization, it could fetch up to $12 at auction. It's important to note that these prices don't adhere to any standardized coin grading scale; "average circulated" refers to a coin in a condition comparable to others circulated in 1969.
1969 S Penny Value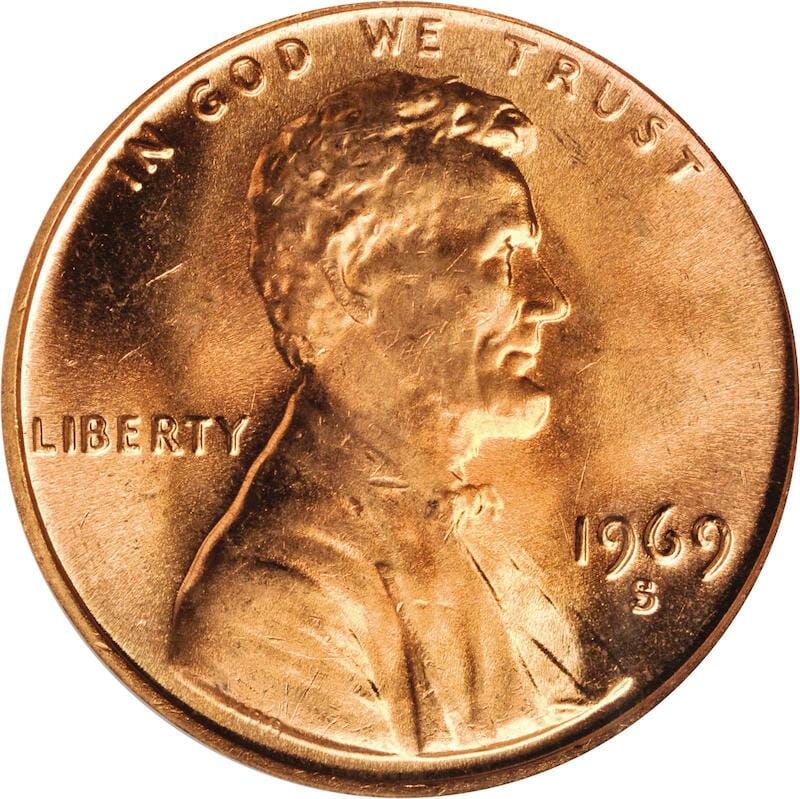 The 1969-S penny, bearing the stamp of San Francisco's minting process, emerges as a winner in the game of pennies with added value. The factor of its diminished mintage infuses it with a premium that outshines common value.
Pennies of this variety, albeit circulated, may command a modest premium over face value. Yet, uncirculated and high-grade specimens unfurl the potential for more substantial transactions within coin collectors' circles.
Related: Coin Grading & Appraisal: Assessing & Maximizing Coin Value
The 1969 Penny Error List and Associated Value
The evolution of coin production is not devoid of errors, and the 1969 penny is no exception. Embedded within its history is an intriguing list of error variations that serve as a beacon for collectors and enthusiasts drawn into the enigmatic world of numismatic anomalies.
1969 S Penny Errors
1969 S Penny Floating Roof
The "floating roof" anomaly assumes a central position within this universe of errors. A raised region perched atop the Lincoln Memorial imparts the illusion of levitation—an effect created due to a phenomenon known as die clash.
This phenomenon transpires when the reverse pass strikes the coin blank in the presence of the obverse die cast. The value attributed to a 1969-S penny bearing this anomaly rests its condition, leaning toward a higher valuation than the standard 1969-S penny. The spectrum of uncirculated exemplars within this error category commands a more pronounced elevation in value.
The "1969 S penny with a floating roof" typically has an average market value of around $5.85. However, the selling prices for this particular coin can vary dramatically, as evidenced by sold comparables. These have ranged from as low as $0.10 to as high as $150.00, reflecting factors like condition, rarity, and demand among collectors.
1969 S Penny Not Doubled Die Value
Coins are no stranger to the concept of "doubled die" errors, wherein a design element is engraved onto the coin surface twice, usually slightly skewed. The 1969-S penny asserts its distinctiveness within this arena, embracing a well-acknowledged doubled die variation.
The valuation of this error variation waxes and wanes in correspondence with its visibility and condition. Well-preserved coins are particularly esteemed within the realm of error enthusiasts and may consequently solicit heightened prices.
1969 S Penny True Doubled Die Value
The most expensive 1969 penny ever sold was a 1969-S Lincoln Penny with a doubled die obverse, fetching an astonishing $126,500 at auction.
1969 D Penny Error List
1969 D Penny Floating Roof
More coin error anomalies extend to the 1969-D penny, wherein the floating roof anomaly may manifest. Coins characterized by this peculiarity offer the viewer an ethereal yet captivating aspect. An aspect often embellished by uncirculated, pristine conditions and, consequently, finds favor among collectors and the possibility of increasing its face value.
1969-D Penny No FG Value
The realm of errors encompasses yet another facet within the domain of the 1969-D penny: the absence or faintness of the "FG" initials, emblematic of coin designer Frank Gasparro. An anomaly attributed to a filled die error, this variation imparts an added layer of rarity to the coin. The prevalence of this error within the coin's design further fuels its allure among collectors, culminating in a heightened valuation.
Related: The 1968 Penny Value, History, Mintage & Error List
Conclusion
In conclusion, the 1969 penny is a true entity rooted in the trajectory of American coinage. Offering an intriguing transformation tableau across design, composition, and production methodologies. 
Amidst the abundance of 1969 pennies adorned in commonality and tethered to face value, select exemplars and error-ridden coins emerge as beacons, casting a beguiling spell upon collectors and enthusiasts. The journey within the realm of numismatics unearths narratives that resonate with the essence of American currency and illuminate the complex journey of its evolution.
Sources & References