Hey there, crochet enthusiasts. Halter tops are a great addition to any closet, so let's add some halter tops to your summer collection for a fashionable twist. In this exciting collection, we have rounded up 15 fabulous easy-to-follow free crochet halter top patterns for any crochet level.
So many styles and options are available, and with these halter tops, you will be beach-ready tops to festival-chic designs; there is something here for everyone. So grab your hooks and yarn and dive into the wonderful world of crochet halter tops.
Crochet Halter Top: Beginner-Friendly Tutorial
Halter tops are quick projects, and the construction is easy, making them suitable for beginner crocheters. To crochet halter tops, you will need to know the basic stitches, and you can also crochet using granny stitches.
Supplies Needed To Crochet a Halter Top
Before we start with the tutorial, here are the supplies you are going to need
Crochet Hook: Grab a hook that matches the recommended size on your yarn label. Usually, a G or H hook works well.
Yarn: Choose a yarn that suits your style and comfort. Most designs will indicate the type of yarn and the quantity you need for your project.
Scissors: A trusty pair of scissors for cutting your yarn.
Darning Needle: This will help you weave loose ends neatly.
Measuring Tape: To ensure your halter top fits just right.
Related: What Do You Need to Crochet?
What Is the Best Yarn for Crochet Halter Tops?
Light to medium-weight yarn is suitable for crocheting halter tops. You can use yarn from any fiber, such as acrylic, acrylic blends, or bamboo; cotton yarn is best for a comfortable and stylish crochet halter top.
Yarn made from cotton or cotton blend is soft on the skin, perfect for warm weather, and affordable. You can choose vibrant colors, a mix of colors, or a classic look with neutrals.
How to Make a Crochet Halter Top Easily
This simple halter crochet pattern uses the half-double crochet stitch. If you do not know how to do this stitch, many tutorials online can teach you.
Related: How to Crochet a Top Step-by-Step Video Tutorial
You work the top from bottom to top, decreasing as you crochet each row, and the great thing is you do not have to know how to decrease. You have to skip the second stitch at the beginning and the end of the row after four rows to shape the halter top. Pay attention to your tension to make sure your top comes out neat.
Once you have the desired length, add the straps to tie around the neck and the back and adjust to your size. You can easily adapt this pattern to use any stitch and any size.
The video tutorial below has all the steps to crochet a simple halter top suitable for beginners.
More Crochet Tutorials
15 Gorgeous Free Crochet Halter Top Patterns
Crocheting a halter top is an opportunity to make a unique, one-of-a-kind piece of clothing that is a conversation starter. So, we have rounded up 15 free patterns of stylish halter tops to help you start your crochet halter top journey.
1. Granny Square Crochet Halter Top Pattern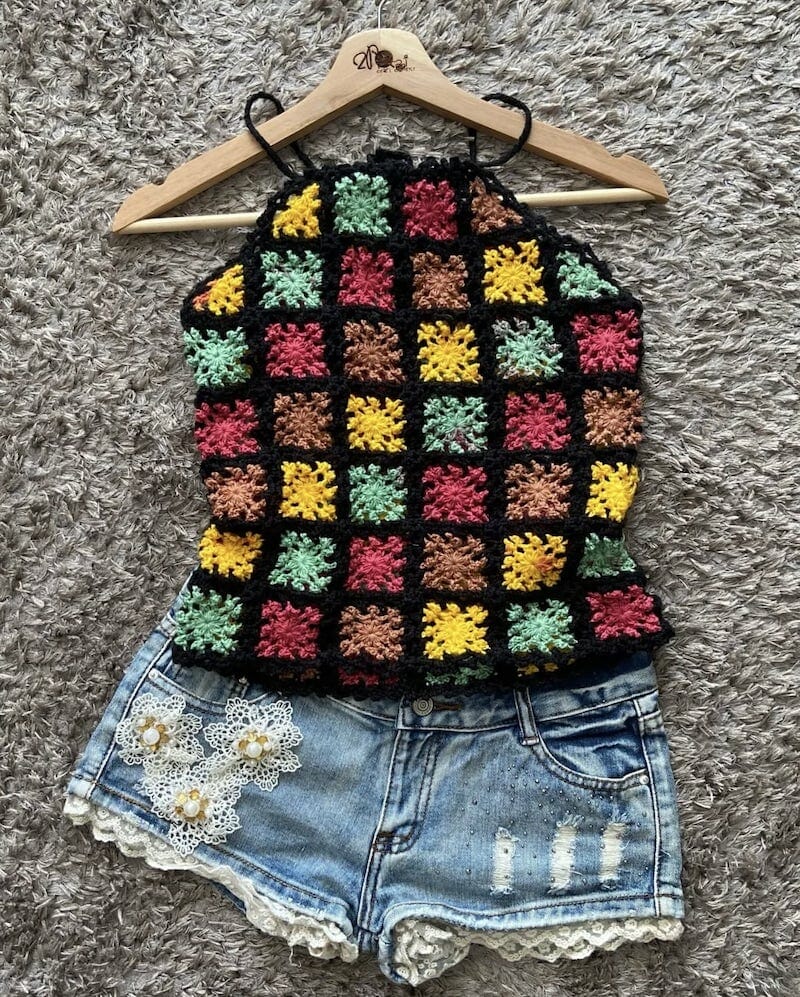 Granny squares are not just for making blankets but also for making this retro-inspired crochet halter top. Combining colorful granny squares will create a trendy and playful summer look and bring back the 70's look with this classic.
Check out the full free written tutorial here.
2. Crochet Halter Top with Fringe
This fun and flirting design features a playful fringe for that carefree, festival-ready style. Adding tassels to your top brings a touch of boho chic to a halter top.
Follow this link on how to make a halter top with a fringe.
3. Butterfly Crochet Halter Top Pattern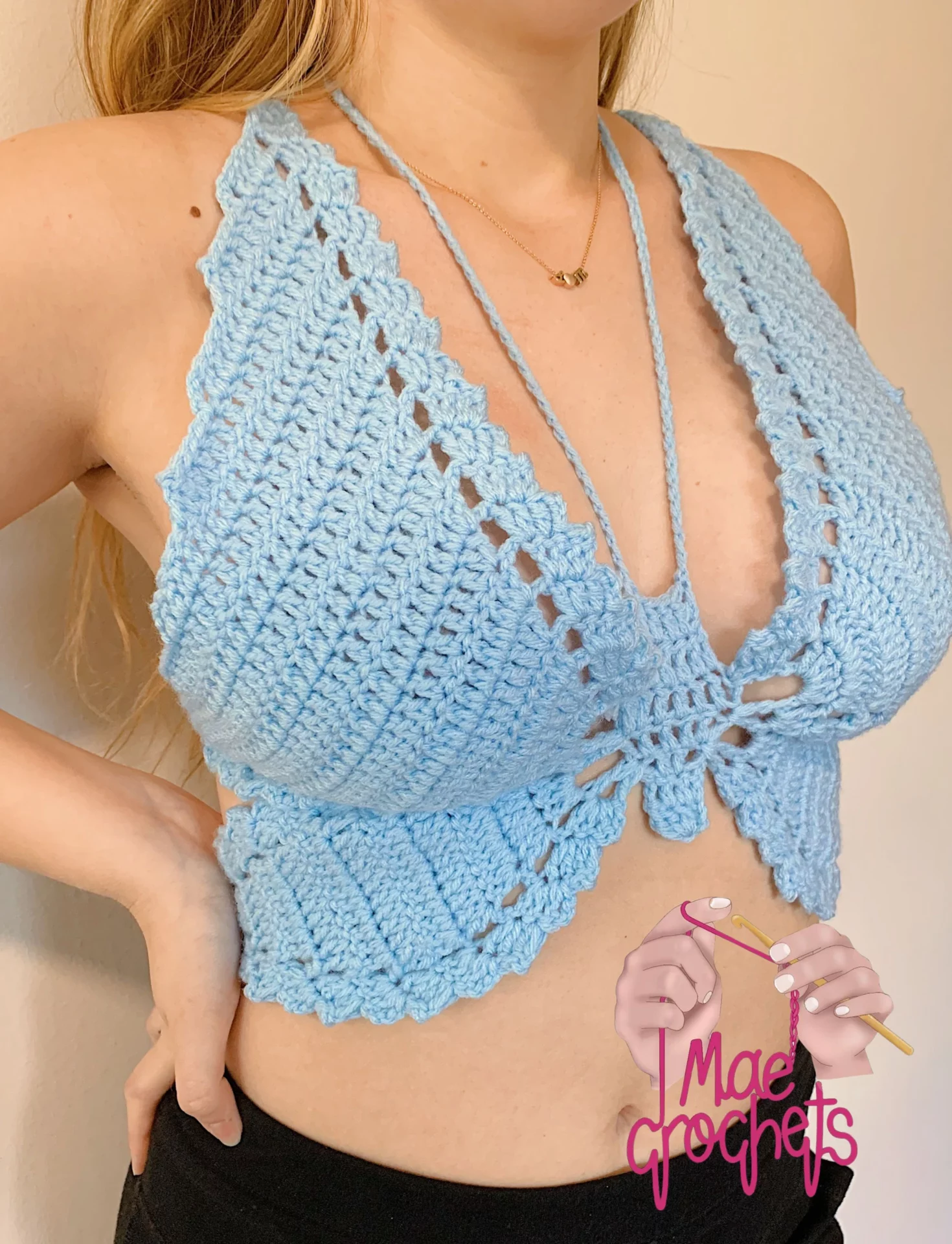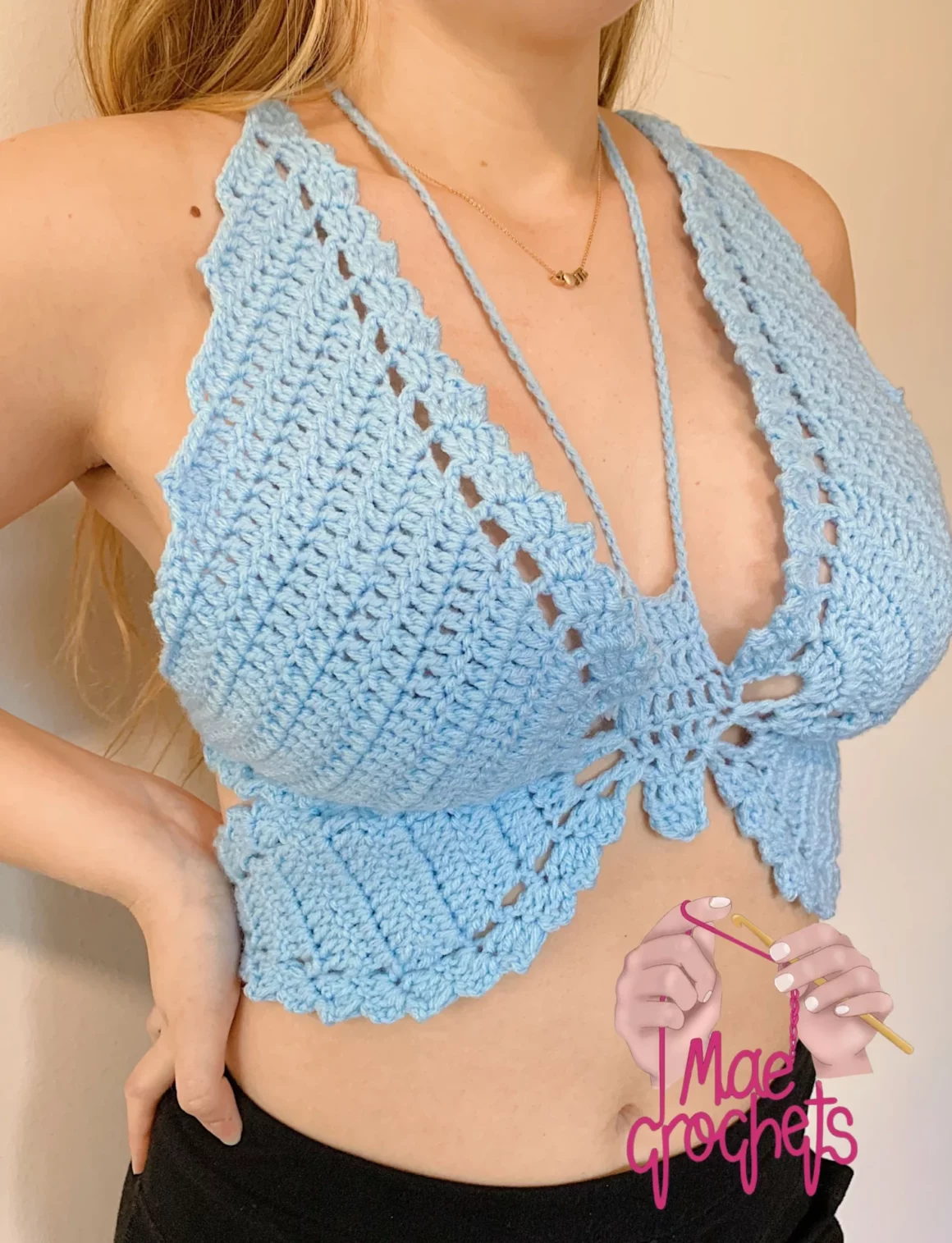 This pattern resembles the graceful and charming of a butterfly's gentle flutter. You can use two contrasting colors or variegated yarn to give your project a unique and lively look. It's a great way to make your clothing stand out and be one-of-a-kind.
Click here to get the full details of free written patterns.
4. Crochet Lacy Halter Top Pattern
The textured halter top combines basic stitches to create a beautiful, eye-catching pattern lacy effect. The top is also comfortable, thanks to its soft and lightweight fabric. The textured halter is a perfect mix of style and comfort; the top is perfect for sunny days.
The free written pattern is available here.
5. Rainbow Halter Crochet Top Pattern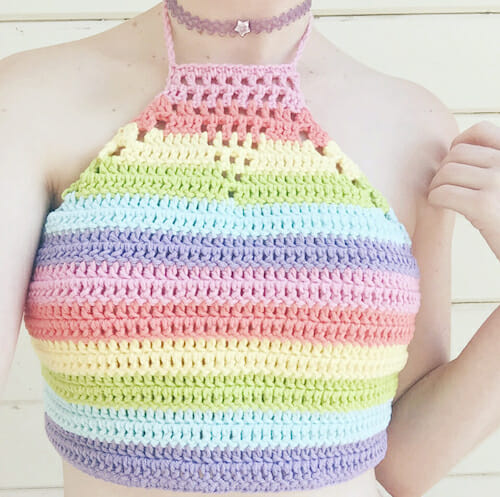 Inspired by the colors of the rainbow, this halter top radiates positivity and style. You can choose some neutral colors or any color combo for a twist to make yours. Visit this website to find the free written pattern.
6. Festival Crochet Halter Top Pattern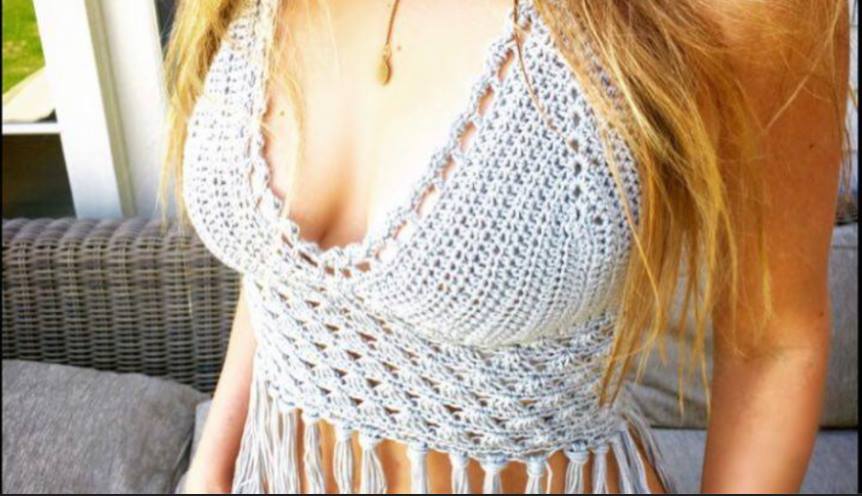 Get ready to dance to the rhythm in this festival halter top. It has a bohemian flair, depicting the free-spirited vibes of festivals, and will make you the show's star. Pair this with some shorts and some hoop earrings to finish the look.
You will find the free written pattern here.
7. Crochet Halter Top With A Hoodie
This combination is cozy and chic, perfect for breezy, warm, sunny afternoons and providing the comfort of a hoodie for cooler summer evenings.
Check out the video tutorial here.
8. Halter To Pattern For Absolute Beginners
This halter top is perfect for beginners; it is a rectangle with straps added to tie the top. This pattern is simple yet trendy in summer fashion. Choose any stitch or add embellishments for a different, stylish look.
Watch the step-by-step tutorial here.
9. Triangle Crochet Halter Top Pattern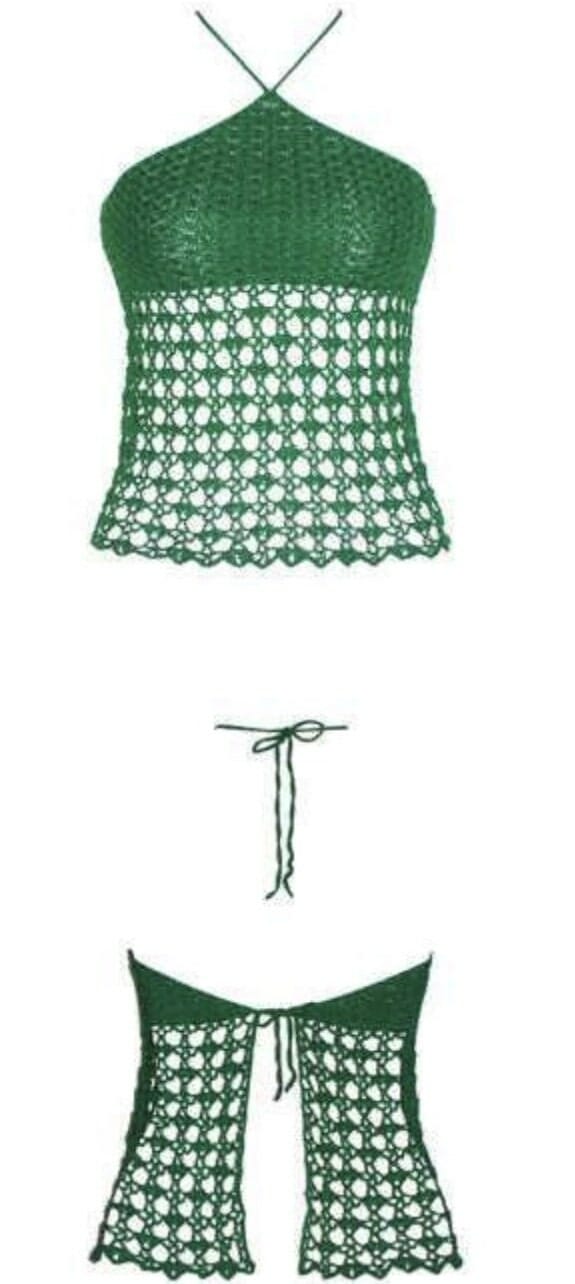 The halter top is a triangle made with a beautiful lace stitch using crochet thread and a 2.75mm hook. You can leave it cropped or crochet the lace that covers the midriff.
The free download is available here.
10. Pineapple Stitch Crochet Halter Top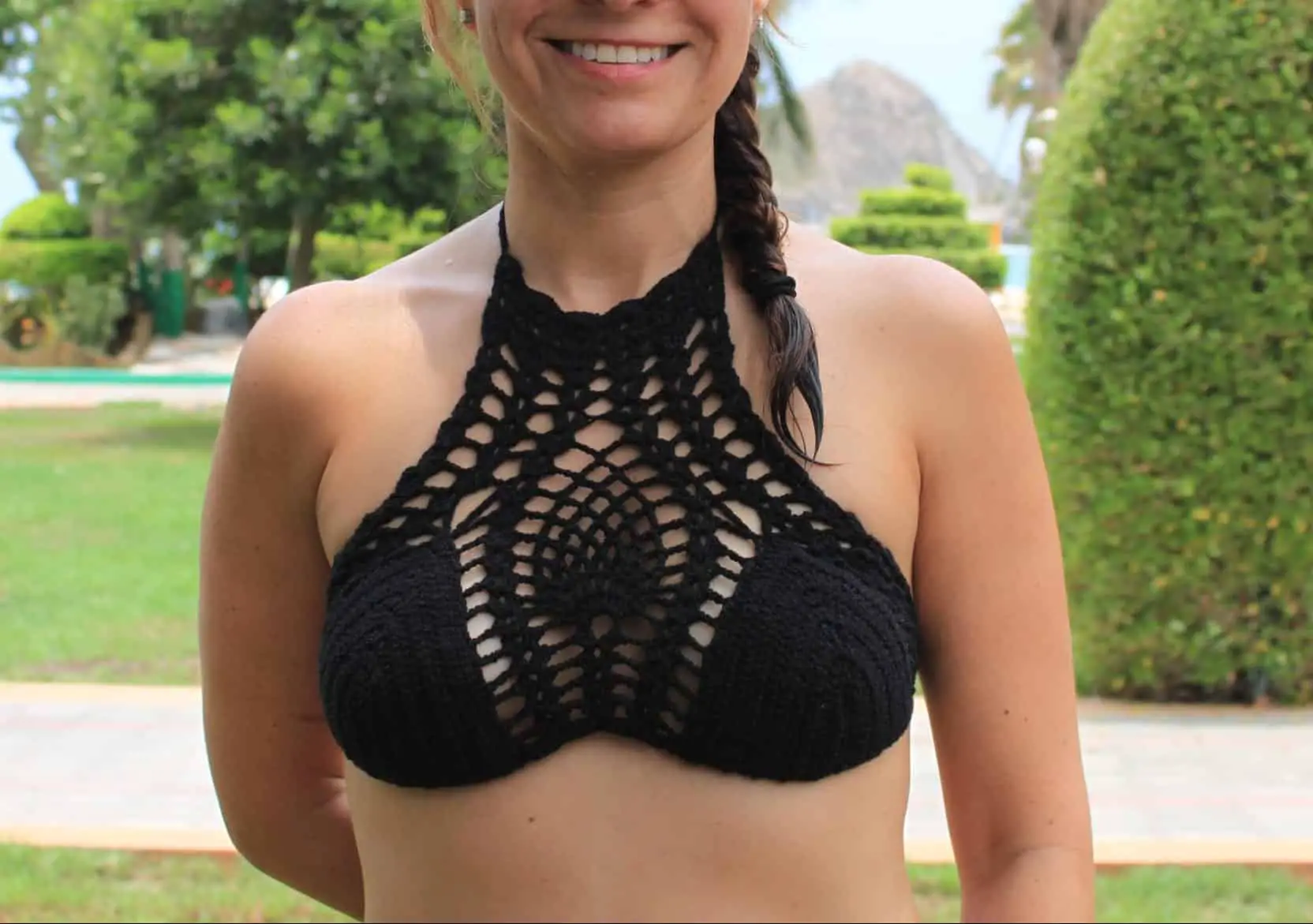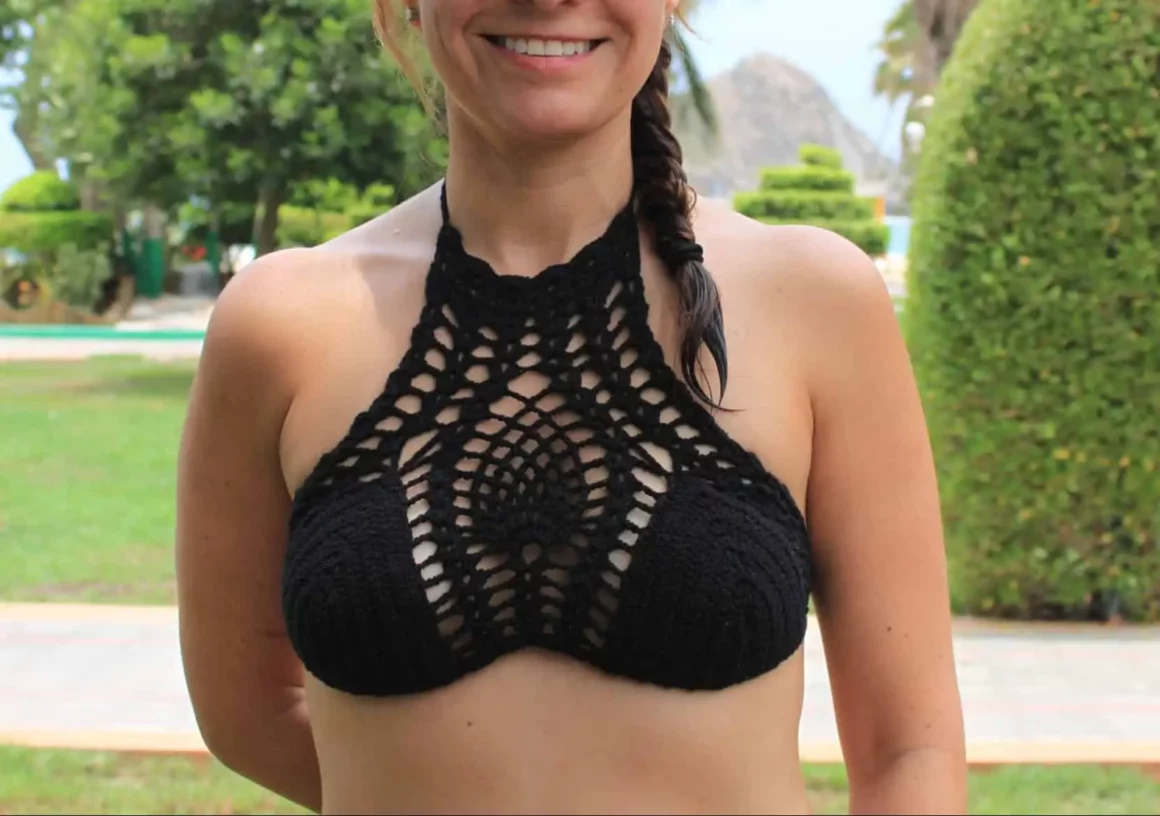 The pineapple stitch is one of the popular summer stitches depicting the pineapple fruit, which is why this tropical-inspired top adds a touch of fruity charm to your warm-weather wardrobe.
You can find the free pattern here.
11. Boho Granny Square Halter Top Pattern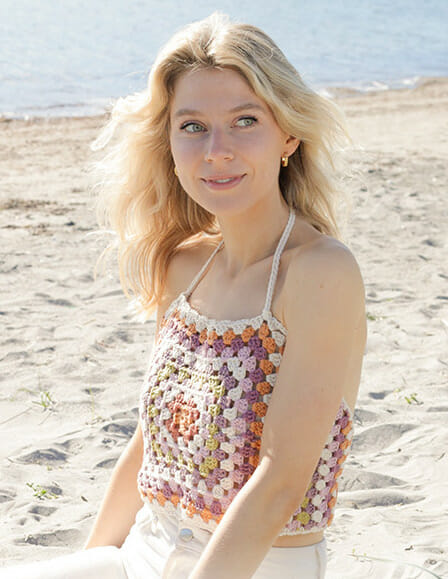 If you are new to granny squares, this pattern is a great way to test your skills. It is a granny square at the front, and granny stitches at the back with tie-backs bring the classic granny squares to life.
Follow this link for the free written pattern.
12. Halter Top Pattern with a Collar
This pattern offers something different: a collar to the halter top. It has an open back, and you will need a medium-weight yarn and matching hooks to make this. Play around with colors to make your own.
The video tutorial is available here.
13. Crochet Striped Halter Top
Show your stripes with this trendy crochet halter top, perfect to wear to the beach or just sitting in the park. The design has a tie at the front, which allows you to adjust it for the perfect fit and a touch of style.
The details of how to make the top are available here.
14. Crochet Two Tone Halter Top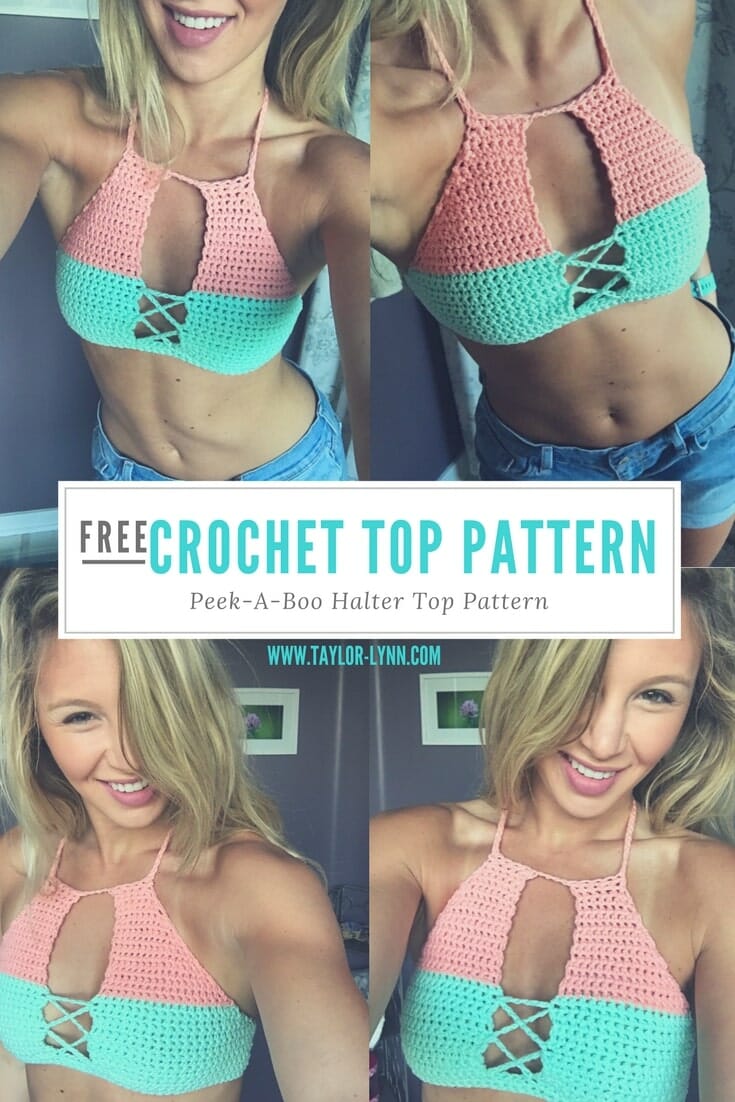 Use two favorite colors to make this halter top with a laced-up front. This top is cute and sexy, a great addition to any summer wardrobe.
Find the free pattern here.
15. Crochet Halter Top with Belt Pattern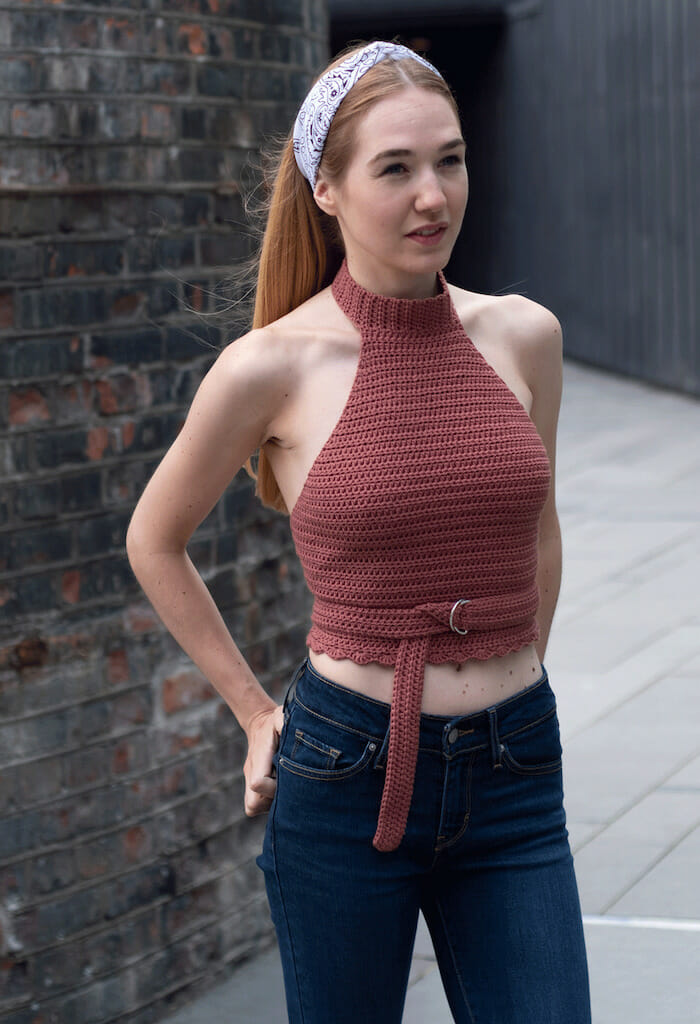 This halter top has a unique touch with a belt and snap buttons to close the collar. The halter top has an elegant look and with many styling possibilities.
The free-written pattern is available here.
More Free Crochet Patterns
Crochet Halter Top Patterns: FAQs
Q: How Much Yarn Do You Need to Make a Crochet Halter Top?
A: The amount of yarn you need depends on your size, the thickness, and the pattern. On average, you might need about 300-600 yards of yarn for a crochet halter top. If you are a beginner, having a bit extra is a good idea, just in case, so you don't want to run out in the middle of your project.
Q: What Is the Best Stitch for Crochet Straps?
A: Simple stitches like chains or single crochets work great for crochet straps on a halter top.
They are easy to make and give your straps the strength they need to hold up your top. If you
Want a fancier look? You can try a stitch like the half-double crochet or a decorative stitch like a picot stitch as a finishing touch.
Q: How to Wear a Crochet Halter Top?
A: Wearing a crochet halter top is easy. Most halters have cords, so you slip the halter over your head and tie the straps around your neck. You can adjust the tightness for a comfy fit. Pair it with high-waisted shorts, a skirt, or jeans, and finish with some jewelry to finish the look.
Q: What to Layer Under a Halter Top?
A: Wear a bandeau, bralette, or tank top under your crochet halter to keep you covered and comfortable. Choose a color that complements your halter top, or go for a contrast.
Conclusion
We hope we inspired you with these free and easy crochet halter top patterns to help you embark on a creative and stylish crochet journey.
We hope these versatile designs elevate your summer wardrobe and inspire you to make a halter top. So, grab your hooks and yarn, and let your crochet adventure begin. Stay chic and enjoy your crafting.