Jewelry making is a skill that needs precision at all levels. For those users who decide to make intricate jewelry pieces at home, the work is not easy. As the desire to create something beautiful is so strong, you must duly attend to all aspects. Fortunately, you will find that the availability of tools makes this creation process simple. One item that is often used by Jewelry makers is the flex shaft. A Flex shaft is just what you need at this time.
A multipurpose tool you can use for drilling, carving, cutting, and polishing jewelry items. An easy to operate item includes a motor, a flexible shaft, and a foot pedal. This pedal is useful to control the speed of the motor as per your need. The flexible shaft connects the handpiece to the motor. Small tools like drills, bits, burrs, discs, and brushes connect with the jawed chuck present in the handpiece.
Now when you get to the buying part, it is best to know that all these items usually come as a part of a kit. When you decide to choose one, you have to understand its components. You need to know the extent of jobs the flex shaft can accomplish for you. Next, go on to comprehend the various tools that you get with the product. Mostly the flex shaft as such is lightweight, so there is no need to worry about it being cumbersome. However, the extent of intricate jobs it will perform is worth understanding.
The flex shaft performs multiple tasks, and if you want to buy one, you must analyze the same. Here, I'm sharing with you the best flex shaft for Jewelry making. Go through each of the product features and decide which is most suitable for you. 
Top Flex Shaft USA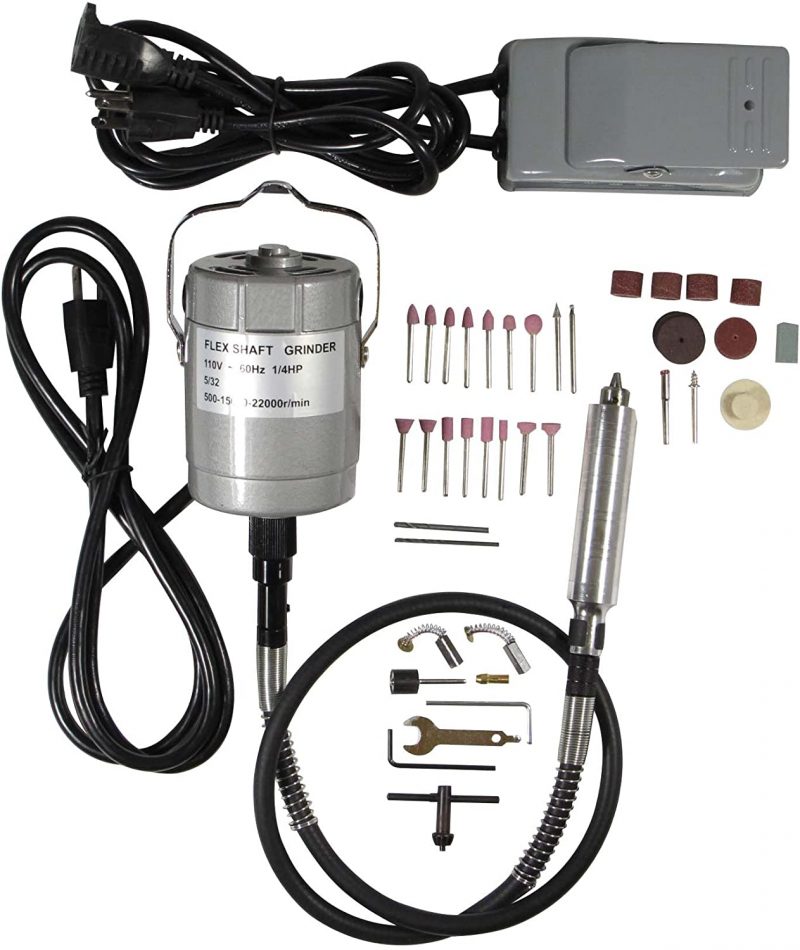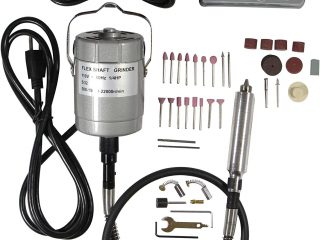 If you are looking for a tool that provides you with loads of features, you must consider this product. With 40 accessories, the product has a multitude of features to offer to you. Easily usable for carving, drilling, polishing, sanding, cutting, cleaning, grinding, the product is just multifaceted.

Just hang the motor overhead and proceed with using the flexible shaft around the piece created. There is a foot pedal given that helps in controlling the speed of the motor. The maximum you can attain through this Flex shaft is a 22,000 rpm, a decent figure.

[i2pc show_title="false" title="Pros & Cons" show_button="false" pros_title="Pros" cons_title="Cons" ][i2pros]Multi features
Can be used for loads of tasks
The foot pedal helps in controlling the speed
Coming with a strong case makes it easy to carry the item around
Useful for woodwork and model making
40 attachments provided
[/i2pros][i2cons]The pedal heats up relatively fast[/i2cons][/i2pc]

The entire product comes with a sturdy case. You may easily carry the same around in case you have to work outside. Apart from Jewelry, the product is also useful for model making, woodwork, and others. 


A powerful tool this product is a surprise, indeed. Its 110-volt Universal flexible shaft machine can move forward and reverse rotation and achieve 18000 rpm speeds. You can consider the product as the most powerful, reliable, and versatile amongst all. There is a motor bale provided that helps in hanging the product during use. There are a 39′ long key tip inner shaft and outer shaft that you may connect with 20 separate attachments. 

The FCT foot control monitors the speed at which the motor moves. Hence the chances of it working at a higher rate than required are less. The engine is 1/6 HP and is extremely powerful. It accomplishes all your tasks in the minimum time possible. 

[i2pc show_title="false" title="Pros & Cons" show_button="false" pros_title="Pros" cons_title="Cons" ][i2pros]Extremely powerful
Anti-skid pads underfoot pedal
Forward and reverse rotation possible
Motor bale to hang the product
Both left and right-handed users can use
[/i2pros][i2cons]Problems at high speed [/i2cons][/i2pc]

The foot control also has anti-skid pads on the bottom. These ensure a smooth movement of the pedal at all times. With forward and reverse direction, you can use the shaft for carving and symmetrical grinding.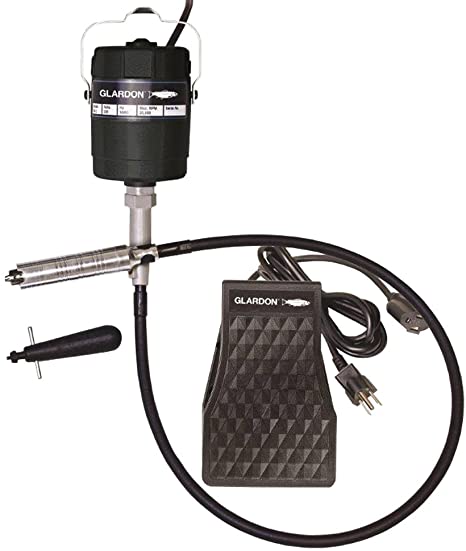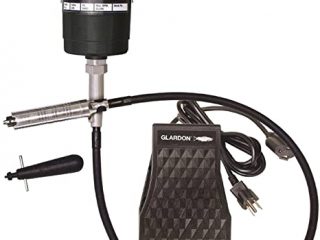 This flex shaft is comparatively easy to grasp, and even a novice may use the product. Setting up takes less time and comes with multiple tools and attachments. Apart from jewelry making, you may use the flex shaft for a variety of other tasks as well.

With so many attachments, the product can polish, grind, cut, drill, texture, carve, and do many other jobs for you. The motor is 1/8 hp and moves at 20000 rpm, making it quite powerful. There is a foot control pedal given which controls the speed.

[i2pc show_title="false" title="Pros & Cons" show_button="false" pros_title="Pros" cons_title="Cons" ][i2pros]Suitable for Jewelry and other jobs
Powerful motor
Foot control pedal to monitor the speed
Can polish, grind, drill, cut, and carve
The plastic housing on the foot pedal gives hands-free speed control
[/i2pros][i2cons]May not be eligible for returns or exchange[/i2cons][/i2pc]

The foot pedal has a plastic housing that grants hands-free speed control. There is also a key type chuck that may hold shanks till up to 4 mm in diameter.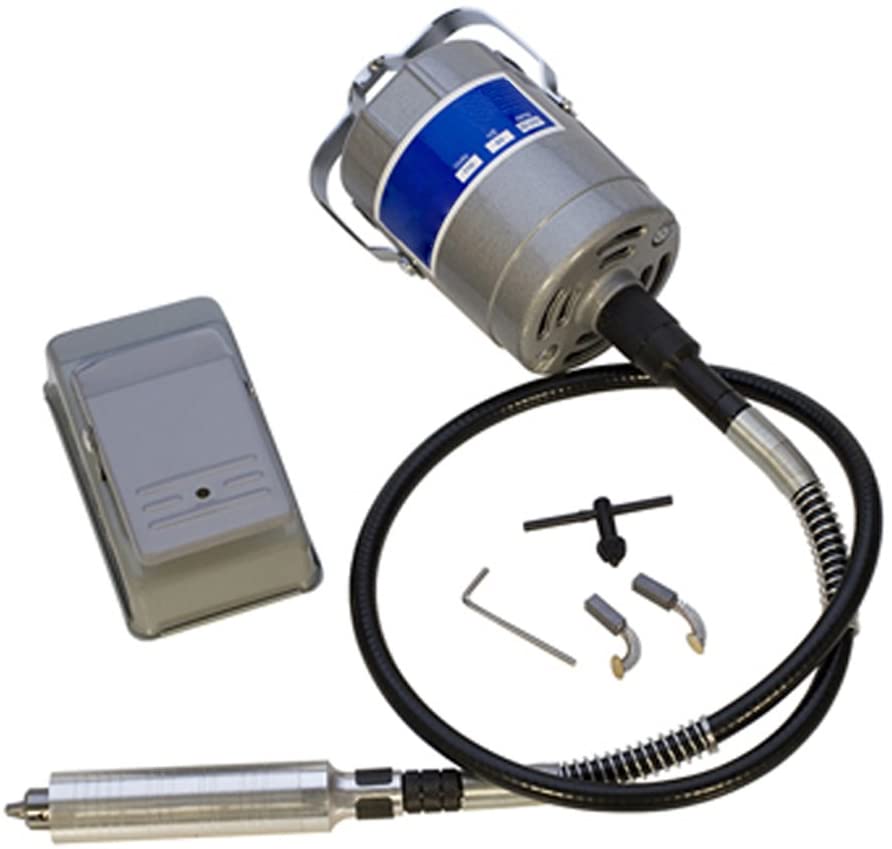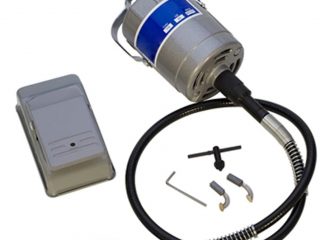 A product from PMC supplies this shaft machine is extremely flexible in use. It has a ¼ hp motor and can be efficiently used for various tasks like drilling, cleaning, polishing, and sanding. The unit is fully interchangeable, and you can modify it as per your need.

The speed of the motor can go up to 22000 pm, and you can keep altering it. Available in a sturdy hard case, you can carry the product around with ease. At 2.5 pounds, the product is lightweight and not a burden while using.

[i2pc show_title="false" title="Pros & Cons" show_button="false" pros_title="Pros" cons_title="Cons" ][i2pros]Very flexible in use
Can do a variety of jewelry based tasks.
The speed of the motor goes to 22000 rpm
Lightweight and comes in a hard box to take it around
Multiple attachments for different tasks
Easy to use
[/i2pros][i2cons]The heat generated makes it difficult to hold the product[/i2cons][/i2pc]

Its foot pedal feature helps you to modify the speed of the motor. There are multiple attachments given that assist you in do different style jobs at the same time.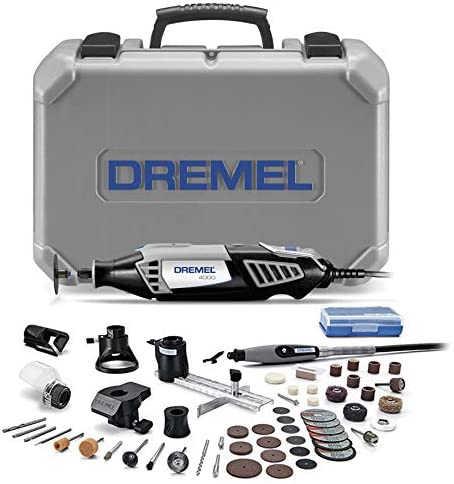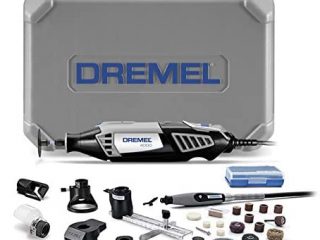 This is a rotary tool kit, and hence there are more features than other products. It includes a 4000 corded rotary tool with 6 attachments. Along with are 50 high-quality Dremel accessories so that you can do a multitude of jobs. 

The motor is a high performance and gives maximum performance and power. You can alter the speed between 5000-35000 rpm as per the kind of job you need to do. The electronic feedback circuitry means that you get superior performance even in the toughest of jobs.

[i2pc show_title="false" title="Pros & Cons" show_button="false" pros_title="Pros" cons_title="Cons" ][i2pros]Rotary tool kit assisting in various jobs
50 accessories for different types of job
High performance
Ergonomic body for a firm grip
On-off switch and speed dial to modify the speed
Ventilate system to avoid heating
[/i2pros][i2cons]Breaks down frequently[/i2cons][/i2pc]

There is a ventilation system so that the product does not heat up during the use. You will find a separate on-off switch and speed dial to get perfect speed each time. The 50 accessories provided help you tackle multiple tasks like sanding, grinding, carving, polishing, and drilling.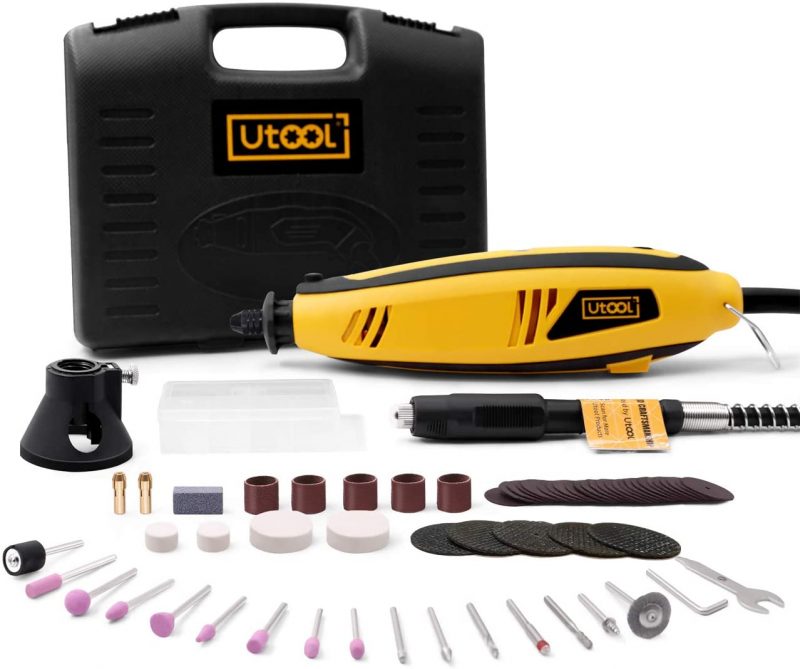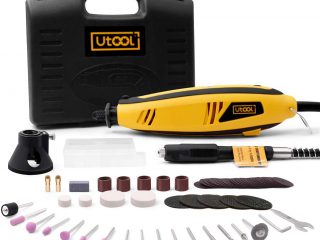 With 62 multifunctional accessories, the Rotary tool kit is a worthy purchase. It is priced low as compared to other products and hence is perfect for budgeted buys. Speed can be adjusted from 8000 to 30000 rpm, depending on the performance required.

The flex shaft provided helps you to reach even the toughest of places. It also reduces the burden that you may feel on your hand. There is a keyless chuck given that stops you from having to release the chuck again and again.

[i2pc show_title="false" title="Pros & Cons" show_button="false" pros_title="Pros" cons_title="Cons" ][i2pros]In reasonable price
Flex shaft reduces burden hon hand
Ergonomic design gives a firm grip
High-quality motor reduces noise created
Easy to understand and operate
Ventilation cover to stop overheating
[/i2pros][i2cons]Not suitable for heavy-duty work[/i2cons][/i2pc]

The rubber-coated and ergonomic design reduces fatigue on hand and provides a firm grip. A high-quality motor ensures the noise generated is minimum. The ventilation cover designed clears any heated air and removes the dust.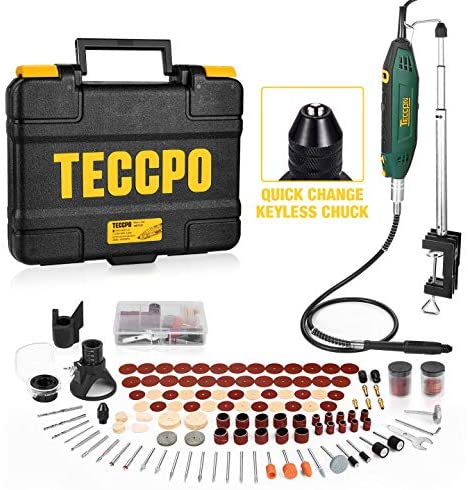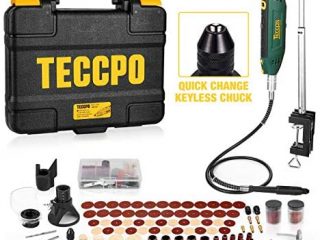 If style and design are top of your mind, then you may choose the TECCPO rotary tool. The universal chuck provided is fixed on the flexible shaft. A 200 W motor ensures that you accomplish the work efficiently. You save your time, gain depth, and the outcome is high quality.

The multi-use rotary tool has the 6-speed mode to choose from. Provided with the 5+ MAX mode, you may increase the speed till 40000 rpm. You may adjust the speed between 10,000 to 40,000 as per the kind of task you want to finish.

[i2pc show_title="false" title="Pros & Cons" show_button="false" pros_title="Pros" cons_title="Cons" ][i2pros]Strong and robust build
Ergonomic design provides comfort to the hand
Easy to operate
Potent motor
The flexible shaft reaches challenging places
Hard box for easy storage
[/i2pros][i2cons]Sometimes the quality is compromised[/i2cons][/i2pc]

The Flexible shaft given is helpful or use in difficult-to-reach places. There is a protective cover given that can keep you safe from the debris and any sparks flying. Soft ergonomic rubber grip reduces the vibration, and you can complete your work without disturbance.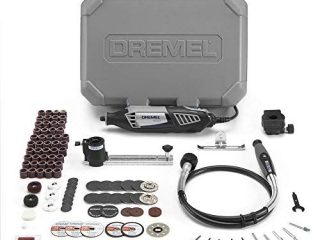 This product coming from Dremel is straightforward to use. The speed of the motor is variable and can change from 5000 to 35000 rpm. The speed dial given is relatively simple to comprehend for any user.

[i2pc show_title="false" title="Pros & Cons" show_button="false" pros_title="Pros" cons_title="Cons" ][i2pros]Straight forward design easy to use
Motor speed varies from 5000 to 35000 rpm
30 accessories for more variety
Flex shaft grants flexibility in operation
Comfortable handpiece
Lightweight and easy to work with
[/i2pros][i2cons]Product made in China[/i2cons][/i2pc]

Along with the package come 30 accessories that you may use for various jobs. You also get two Dremel attachments to use. The handpiece is comfortable, and you do not experience any pain while using the product. Its Flex shaft reaches even the problematic places and helps in completing the task.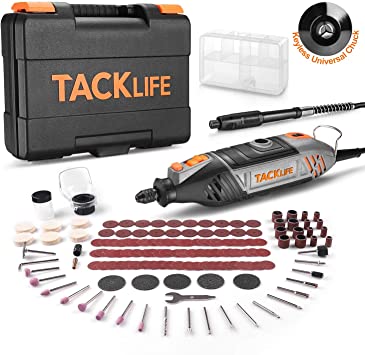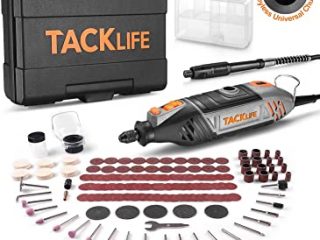 This rotary tool with a Flex shaft is primarily targeted for Jewelry and crafting tasks. It comes with 60 accessories to give you variety in the jobs. The motor is 135 W and comes with six adjustable rotation speed. You can take the rate from 10,000 rpm to 30,000 rpm as you want.

[i2pc show_title="false" title="Pros & Cons" show_button="false" pros_title="Pros" cons_title="Cons" ][i2pros]Soft and Comfortable grip
60 accessories to handle multiple tasks
Strong motor
Six adjustable rotation speeds
Flex shaft gives the flexibility you need
[/i2pros][i2cons]A lot of vibration experienced while using[/i2cons][/i2pc]

With a streamlined ergonomic design, the product is comfortable to hold and steer around. You can do many tasks, like sanding, cutting, carving, polishing, and engraving. The flex shaft given provides the flexibility you need to steer the tool around. 
How to Choose Flex shaft for Jewelry Making USA
After reading the reviews, do not make the mistake of rushing and making a purchase. You must understand on what basis we have reviewed the products. There are a lot of aspects that we have paid attention to.
Since the product is slightly on the expensive side, we do not want you to make an error of judgment. Here we share with you the main pointers on which we did the reviews. After shortlisting the products, go through these and see which of your choicest products matches the same.
Motor power
This is probably the first thing that you need to see. On average, the products each of them have varying motor powers. You will decide what kind of performance you are looking for. If the work is challenging and extensive, pick up a motor of high hp. On the other hand, you need to do some basic tasks; then even a regular hp motor should be fine.
Motor speed and adjustment
The speed of the motor, in most cases, ranges from 10000 rpm to 40000 rpm. You will have to figure out whether you want an engine with high rpm or low rpm. Even if you pick up an average motor speed product, remember that most of them have the option of modifying the speed. Once you start the motor, you can alter the speed using the dial in the product. Apart from that, you can also maintain the product at a uniform speed, if you know what kind of work you have to finish.
Flex shaft flexibility
You also should see how flexible the flex shaft is. Generally, for most of the products we have mentioned, there is no problem with the same. All products have kept this in mind, and the shaft moves even into the otherwise unreachable places. You are easily pick up any of the consequences if the flexibility is what you were looking for in the first place.
Type of accessories
The products that we have mentioned come with various accessories. Most of them have 30-60 accessories depending on the price point. This means that you may use the product for a lot of other jobs as well. If your work is detailed and requires too much effort, we suggest you buy a product with many accessories. However, if you are doing only one kind of work, then even one with a few additions would be sufficient.
Comfortable design
A strong-bodied product is going to last you for a long time. Also, products like Upgraded Rotary Tool TECCPO 200W have a superior quality ergonomic design. This means there would be a little strain on your arm while using it. If comfort is an essential aspect of your choice, then you might choose this product for yourself. Mostly if you are working for long hours, the convenience cannot be ignored as overuse might be tough on your hands.
Ventilation
Some users complain that these products heat up and cause problems while working. But the U Tool Rotary Tool Kit with Flex Shaft has a ventilation cover with it. This reduces the chances of any heat generated and makes operating a convenient process. There are other products also which have this feature. If you think heating up will bother, you should pick up a product that takes care of this feature.
Price
Price is an important consideration too. The rotary tools are mostly expensive, as they have many attachments. You can decide how much you are willing to spend. However, remember that cost does not signify quality. Go for an expensive product only if the reviews justify its price. If most users say that the cost is unnecessarily high, it would be better to look for a different product.
FAQs
Will the flex shaft need maintenance? How can we make it work smoothly for a longer duration?
Yes, the flex shaft does need maintenance. If you do not take care of that part, the shaft may stop working after some time. To avoid that, read the instructions provided with the provided. You may also see online videos on how to handle the same.
Are the speed controller and pedal different? Kindly explain
When we talk about the speed controller, we are talking about the foot pedal. The foot pedal is used to control the speed of the motor of the product. They are the same thing. 
Can I use the product for other jobs like woodworking and stone shaping? 
Yes, if you read the instructions, you will realize that this product is multifaceted. There is a multitude of things you can accomplish, depending on your need. 
Can this help in polishing silver?
You can use the buffing tool for polishing silver. However, when doing so, remember to press the foot pedal slowly and keep the speed at a minimum.
Conclusion
You have read the reviews of each product that falls in the flex shaft category. It is purely up to your requirement which product you should choose. If you want sole purpose is to look for a flex shaft for jewelry, then TACKLIFE Rotary Tool with Flex Shaft would be the best bet.
If you are looking for a budgeted purchase, select the Utool Rotary Tool Kit with Flex Shaft. After reading the descriptions and features, it is easy to pick up the product you require. Some brands do have their reputation working in their favor.
Dremel is trusted by many, and you may choose its flex shafts without much thought. Customer service is impeccable, so you won't regret the choice you made. There are other products too which have excelled in the kind of product created.
To avoid feeling trapped with the wrong product, read online reviews carefully. If someone has experienced a problem with the product, you will also have to endure it. Please do not ignore the negative points given in such reviews as they help stop you from making wrong decisions.