Taking a break from our sewing/crafting book reviews to focus on something else many of us love, ice cream!! Jeni's ice cream has a special place in my heart because my family stops at one of her shops in central Ohio around Columbus whenever we drive through that area. Her ice creams are intensely flavored and have a wonderful creamy texture. Jeni's carries normal flavors like chocolate and vanilla but there are always seasonal specials with unusual flavors.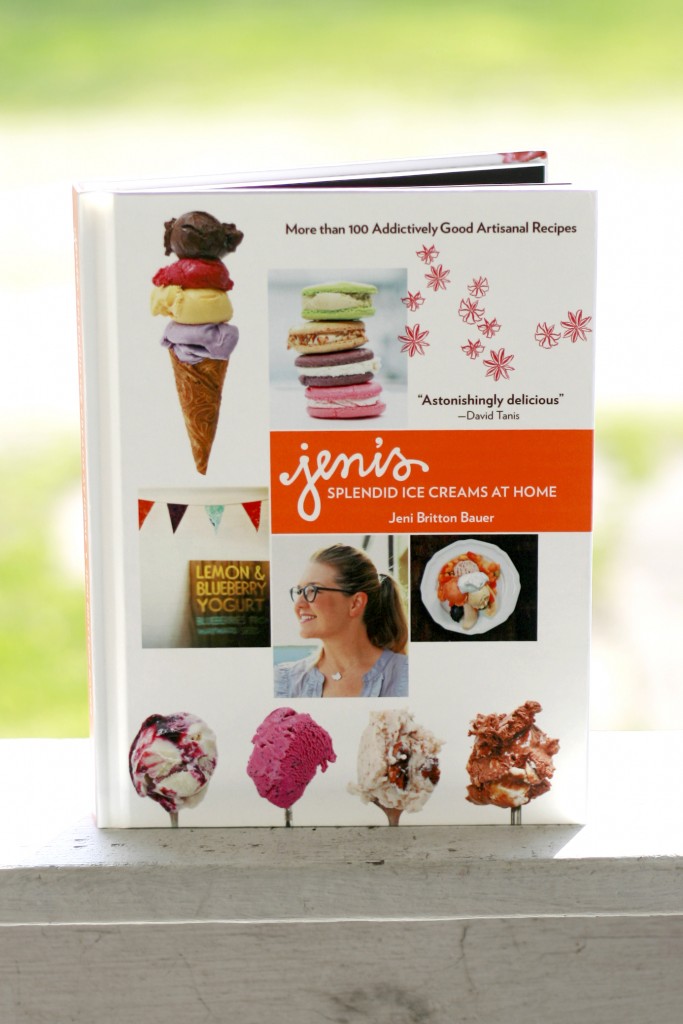 When Jeni came out with this cookbook I made sure to get a copy. I'm pleased to report that the recipes don't disappoint! I dusted off our ice cream maker and started cooking up recipes. In the past, our homemade ice cream has always been good but not quite as good as a specialty ice cream shop. With these recipes I'm making incredible flavors and textures that we're loving! The Lemon and Blueberry Frozen Yogurt was a perfect balance of sweet and tart, the Vanilla Bean doesn't seem like "plain" ice cream anymore, and the Salty Caramel can be addictive. The recipes can be a bit involved but once you get used to making the standard base they become faster and easier.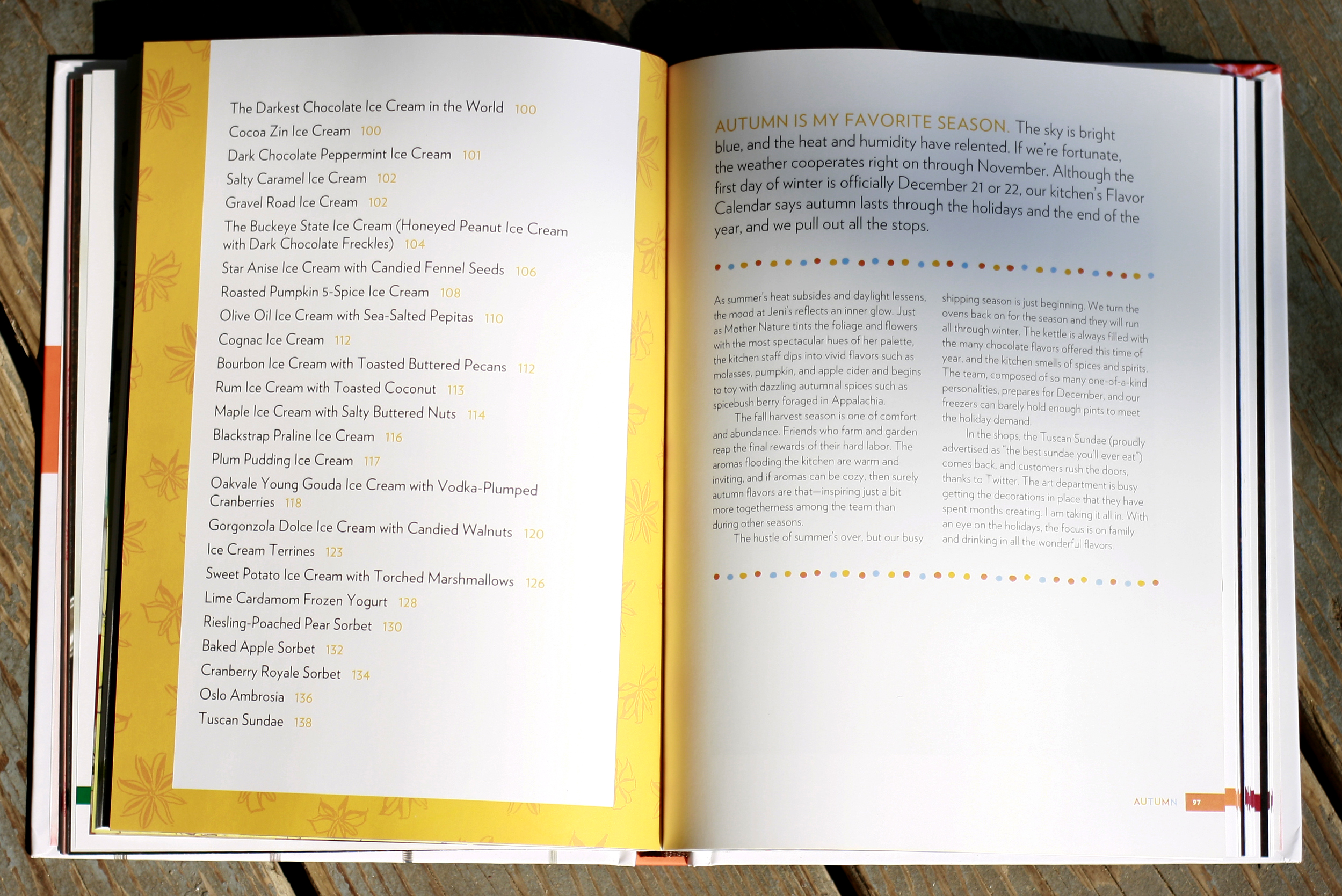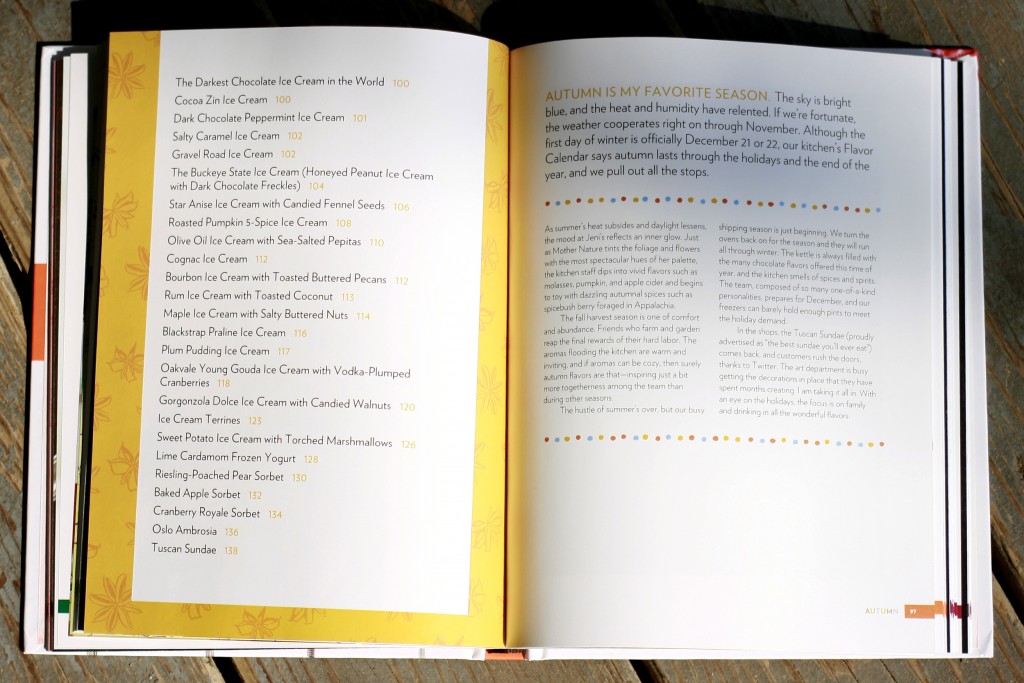 The book is divided up by season depending on what ingredients are used. There are over 80 recipes total for ice cream, yogurt and sorbets. Here's just a few samples of what ice cream recipes you can expect:
Spring: Roasted Strawberry and Buttermilk, Pineapple Sorbet, Baked Rhubarb, Savannah Buttermint
Summer: Sweet Corn and Black Raspberry, Goat Cheese with Roasted Red Cherries, Kona Stout, Cucumber Honeydew and Cayenne Frozen Yogurt
Fall: The Darkest Chocolate Ice Cream, Roasted Pumpkin, Maple with Buttered Pecans, Riesling-Poached Pear Sorbet, Rum with Toasted Coconut
Winter: Wild Berry Lavender, Banana with Carmelized White Chocolate, Gooey Butter Cake, Black Coffee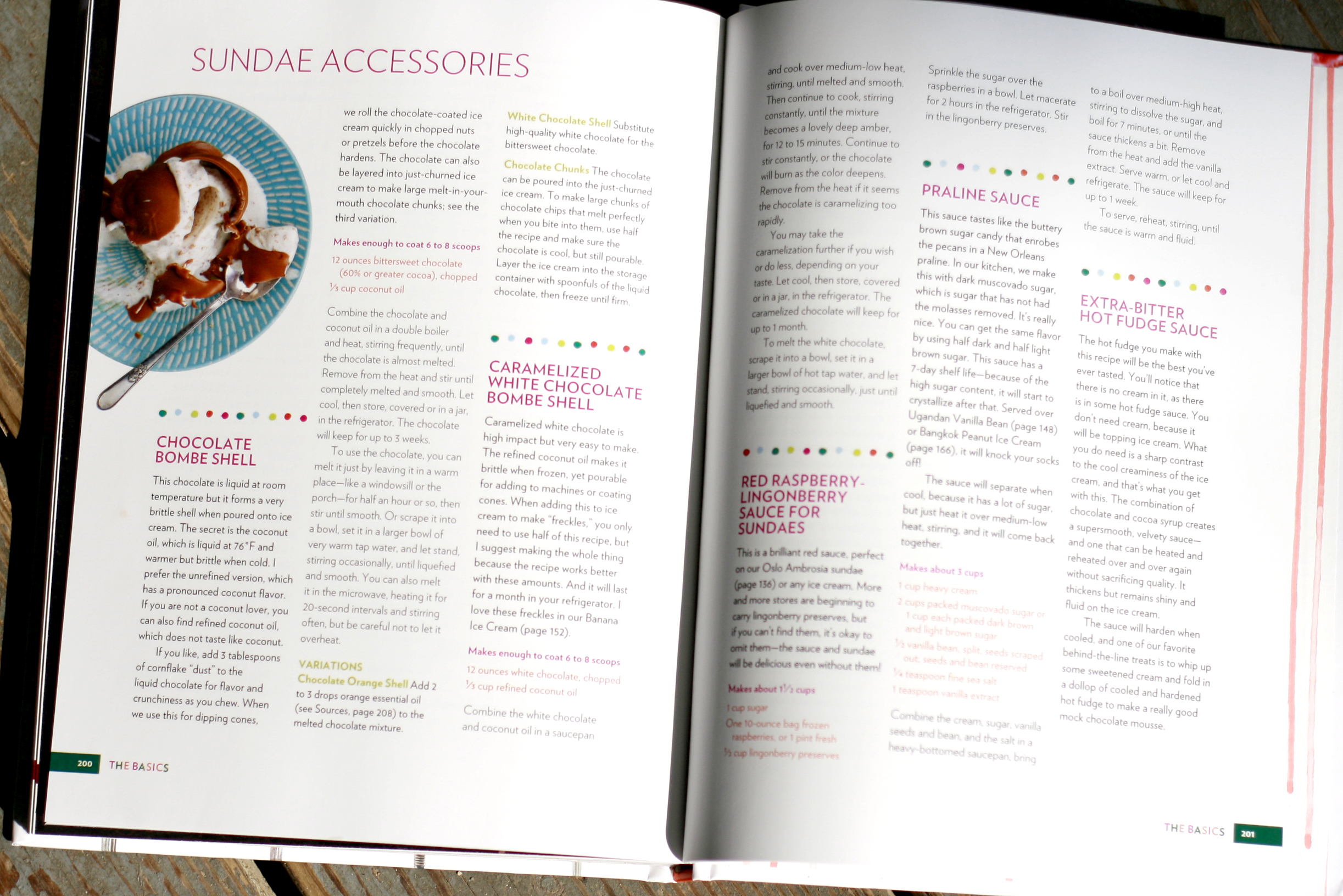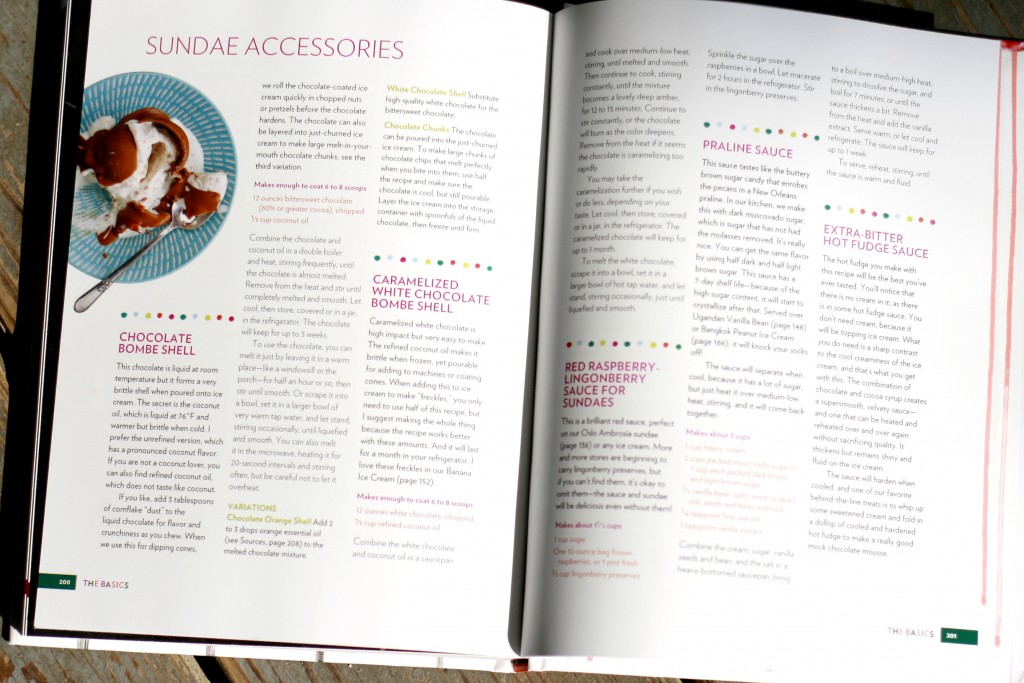 Also included is information on Jeni's background and on equipment and ingredients. In the back there's are extra chapters on fillings and toppings such as:
Nuts and Dried Fruits: Things like Honey Nut Pralines, Sugar-plumped Fruit, and Cognac Fig Sauce
Variegates and Fruits for Ice Creams: Roasted Cherries, Blueberry Sauce, etc.
Baked Goods and Candies: Vanilla Bean Marshmallows, Almond Brittle, Crisp Streusel, etc.
Sundae Accessories: Carmelized White Chocolate Bombe Shell, Honey Butterscotch Sauce, Whipped Cream, etc.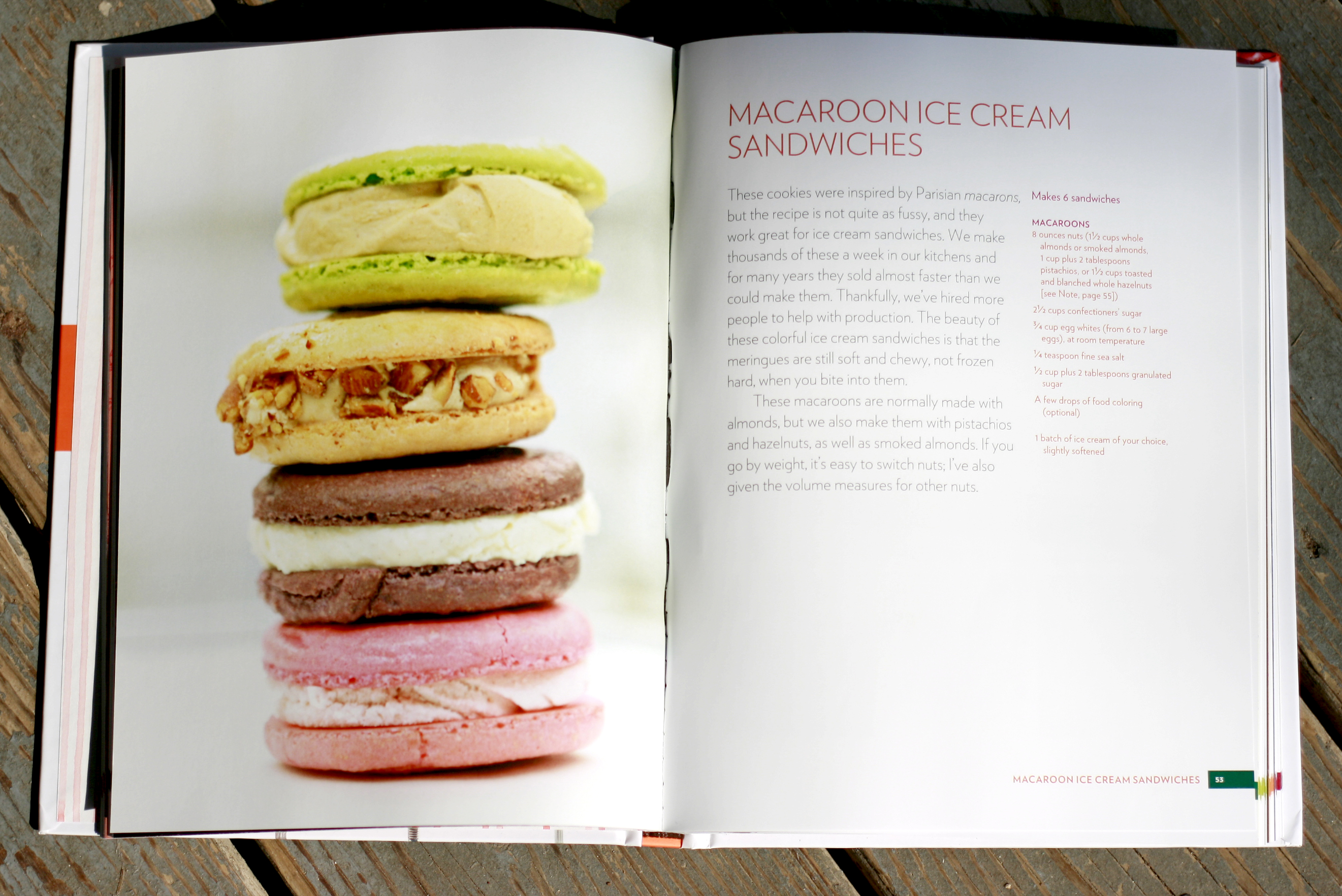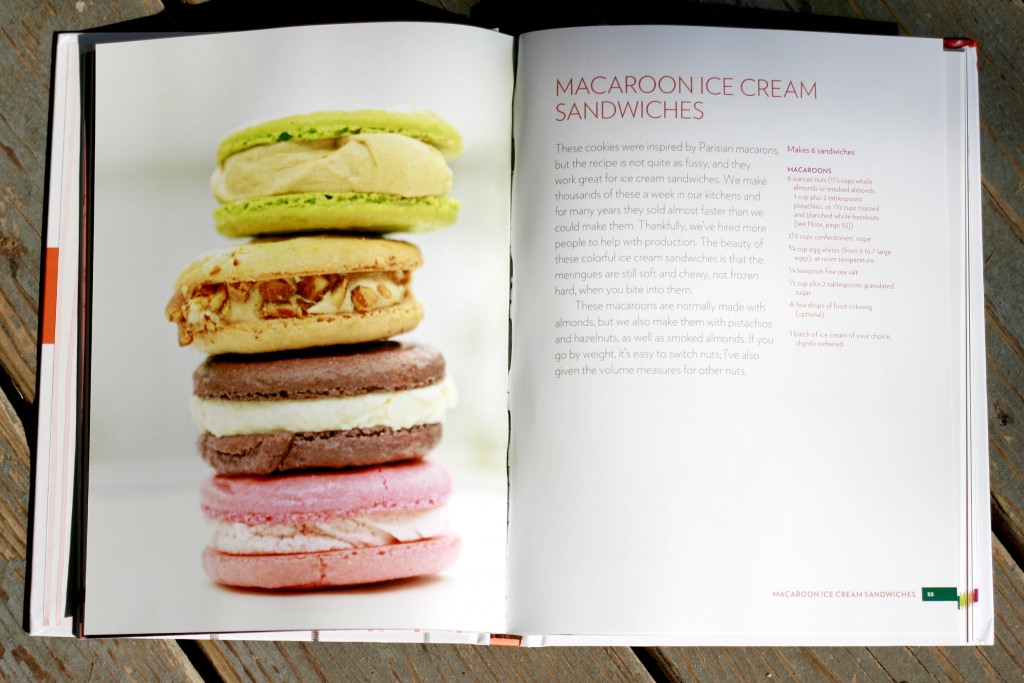 Also included in the book you'll find information making your own ice cream cones or macaroom ice cream sandwiches.
The recipes recommend making the ice cream and then putting it in the freezer to harden before serving. When it comes out you'll have perfect scoops. Basically, if you want to make ice cream you'll want to get this book. You'll be turning out amazing results and there are recipes and combinations to please everyone. You can look inside the book and see some of the recipes on Amazon and the recipe for Lemon and Blueberry Frozen Yogurt is available on the Splendid Table. You'll see that the photos in the book are amazing and my photos don't do it justice.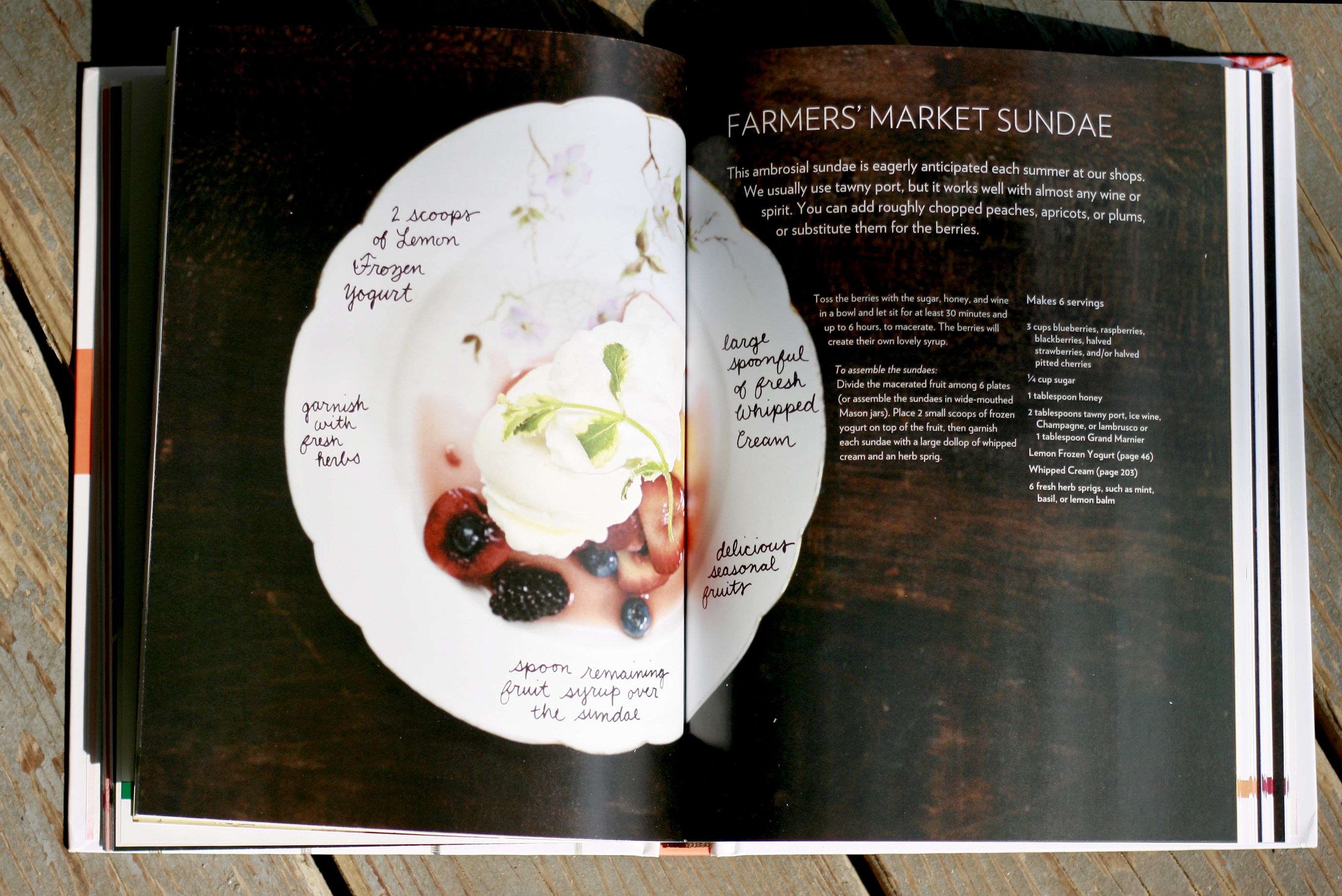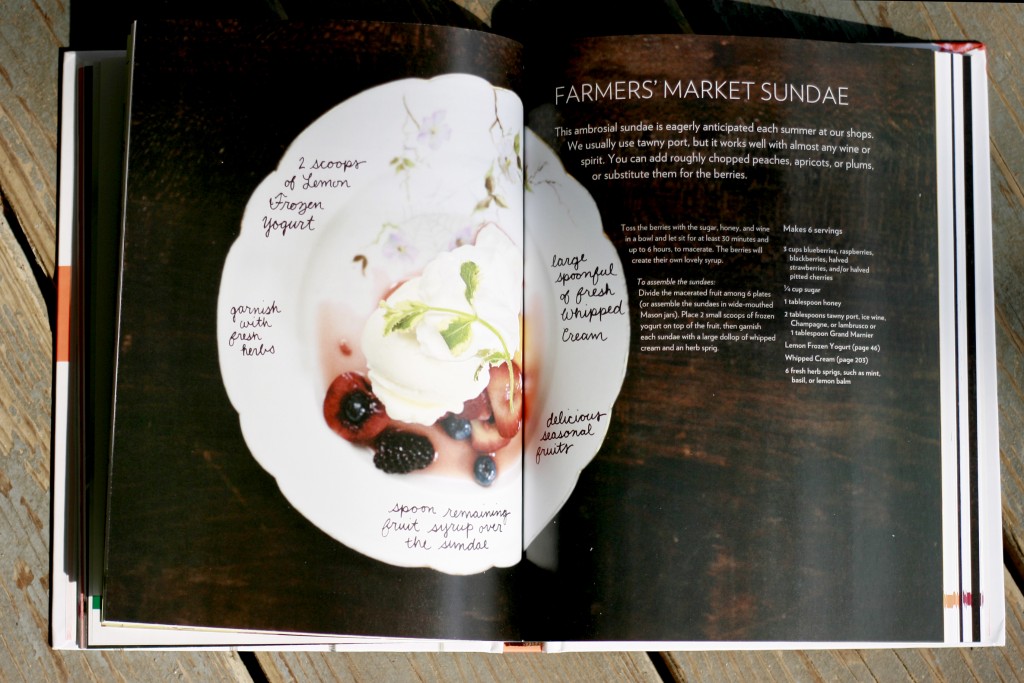 If you check out Amazon, you'll notice a few people in the reviews mention two typos in the original printing of the book. These have been corrected for the edition that's currently available. Also, to get the smooth and creamy ice cream texture you find at premium shops, the recipes include a small amount of corn starch and corn syrup (although she mentions you can substitute tapioca syrup). Just a warning in case that bothers you!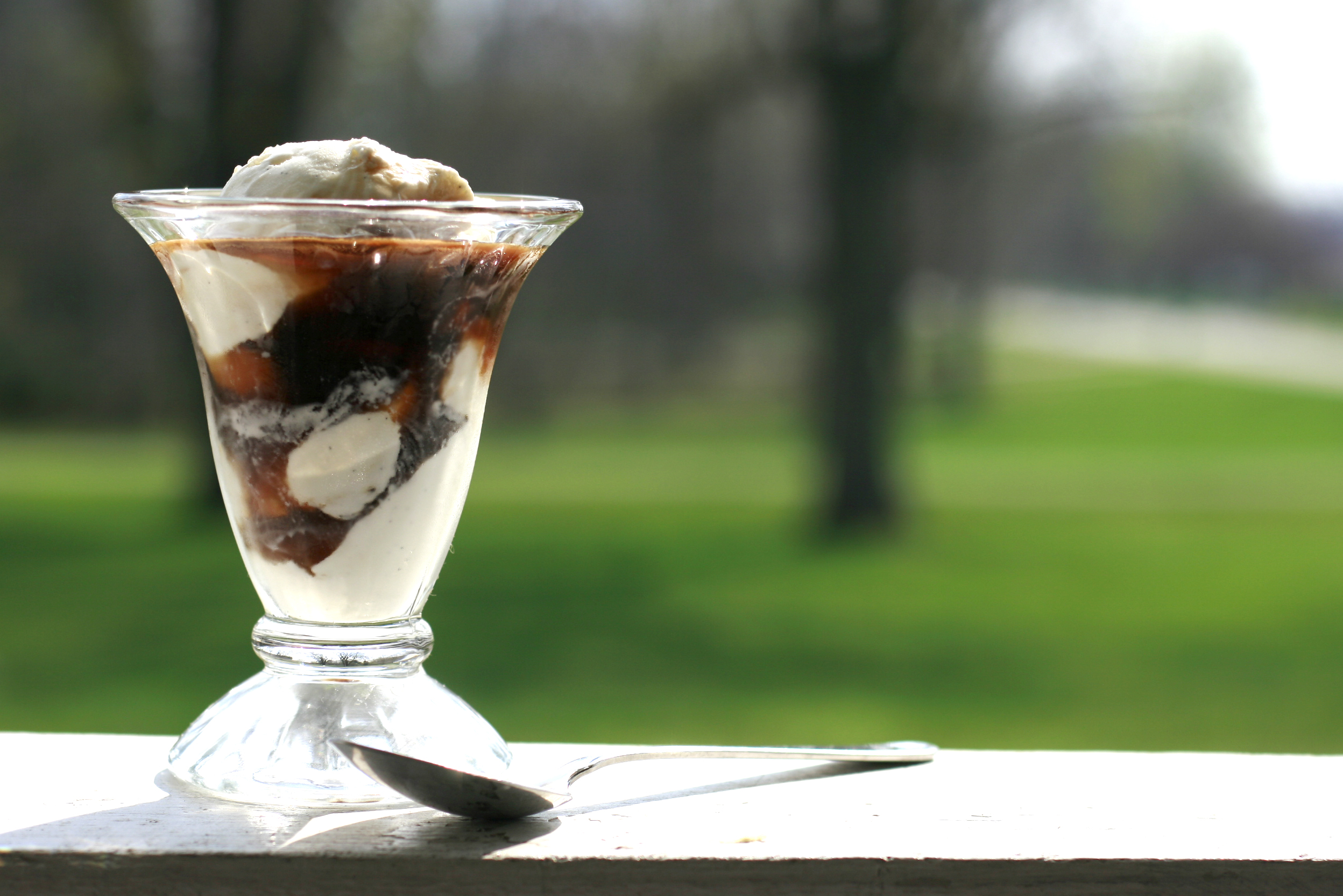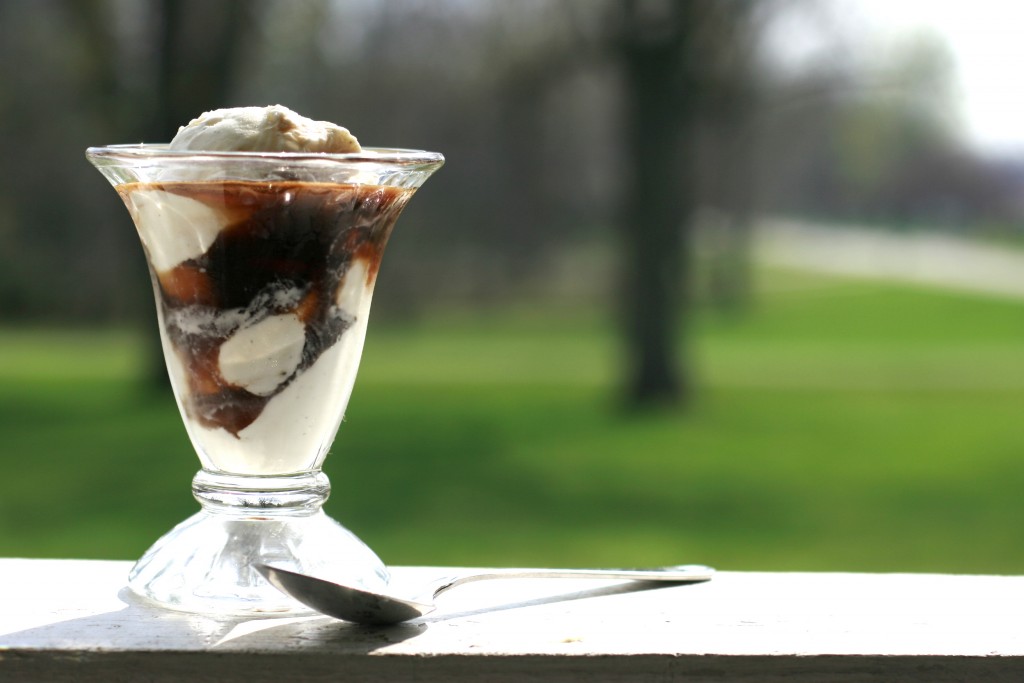 And here's my homemade vanilla bean ice cream paired with homemade root beer from a local shop. Doesn't get much better than this!
Recipe: The Darkest Chocolate Ice Cream in the World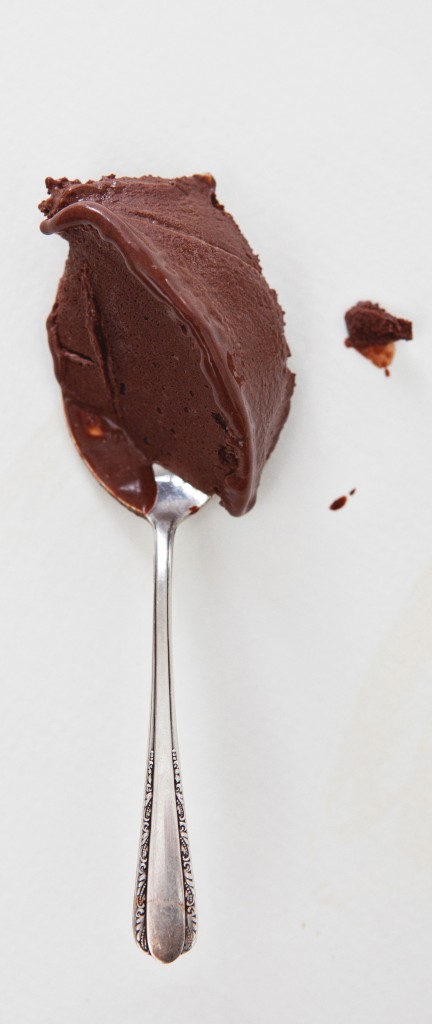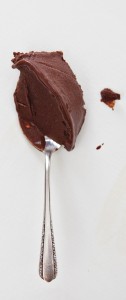 Excerpted from Jeni's Splendid Ice Creams at Home by Jeni Britton Bauer (Artisan Books). Copyright 2011. Photographs by Stacy Newgent.
Makes a generous 1 quart
This recipe is a result of a career-long quest: packing as much chocolate into ice cream without taking away the ice-creaminess. It is rich, bittersweet, and dense, and the texture is slightly chewy, with extreme chocolate flavor. Folks often say it tastes like the inside of a chocolate truffle.
Always use the best ingredients available, especially when making an ice cream with one singular flavor. Use the best-quality chocolate you can get your hands on. A high-cacao, full-bodied, fruity chocolate will cut through the cream, and the flavor will be more dramatic.
Chocolate Syrup
1/2 cup unsweetened cocoa powder
1/2 cup brewed coffee
1/2 cup sugar
1 1/2 ounces bittersweet chocolate
(55% to 70% cacao), finely chopped
Ice Cream Base
2 cups whole milk
1 tablespoon plus 1 teaspoon cornstarch
1 1/2 ounces (3 tablespoons) cream cheese, softened
1/8 teaspoon fine sea salt
1 cup heavy cream
1/2 cup sugar
2 tablespoons light corn syrup
Pairs well with: Absolutely every flavor in this book and just about anything else you can imagine.
Prep
For the chocolate syrup: Combine the cocoa, coffee, and sugar in a small saucepan, bring to a boil over medium heat, stirring to dissolve the sugar, and boil for 30 seconds. Remove from the heat, add the chocolate, and let stand for 5 minutes.
Stir the syrup until smooth. Set aside.
For the ice cream base: Mix about 2 tablespoons of the milk with the cornstarch in a small bowl to make a smooth slurry. Whisk the cream cheese, warm chocolate syrup, and salt in a medium bowl until smooth. Fill a large bowl with ice and water.
Cook
Combine the remaining milk, the cream, sugar, and corn syrup in a 4-quart saucepan, bring to a rolling boil over medium-high heat, and boil for 4 minutes. Remove from the heat and gradually whisk in the cornstarch slurry. Bring the mixture back to a boil over medium-high heat and cook, stirring with a heatproof spatula, until slightly thickened, about 1 minute. Remove from the heat.
Chill
Gradually whisk the hot milk mixture into the cream cheese mixture until smooth. Pour the mixture into a 1-gallon Ziploc freezer bag and submerge the sealed bag in the ice bath. Let stand, adding more ice as necessary, until cold, about 30 minutes.
Freeze
Pour the ice cream base into the frozen canister and spin until thick and creamy.
Pack the ice cream into a storage container, press a sheet of parchment directly against the surface, and seal with an airtight lid. Freeze in the coldest part of your freezer until firm, at least 4 hours.
Giveaway
Artisan Books has generously agreed to give away a copy of this book to one of our lucky U.S. readers! Just leave a comment below (one comment per person please) telling us your favorite ice cream flavor, or one you'd like to try from Jeni's book. The giveaway will be open through next Friday, March 30 at Midnight EST and the winner will be chosen by random.org and announced on this post. Congratulations to comment #14, Cynthia!