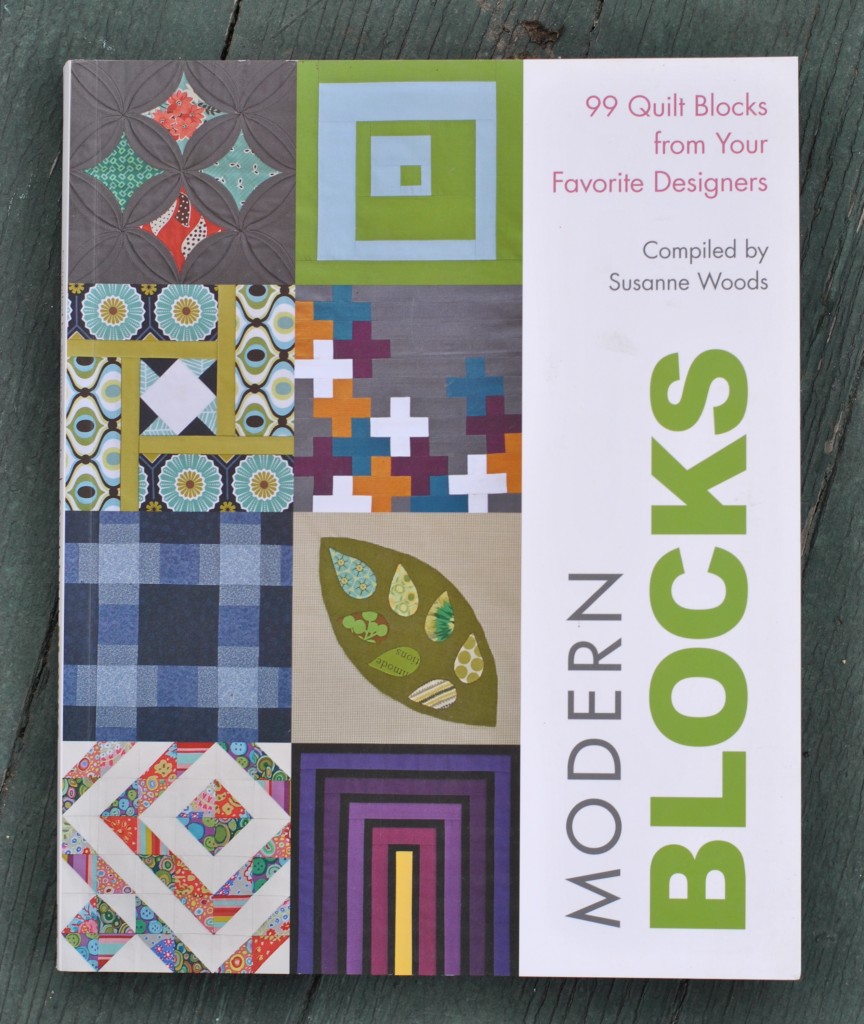 Over the last few months, I've had the chance to really dig into a modern quilt block compilation from C&T Publishing: Modern Blocks: 99 Quilt Blocks from Your Favorite Designers compiled by Susanne Woods.
This book was at the top of my Christmas wishlist, and has moved with me from sewing room to every other room in the house while I figure out which block to make. After all, there are 99 blocks to choose from! The blocks represent a wide variety of styles, from patchwork to paper-pieced, appliqued and embroidered. Each block in the book is an original design or a fresh take on a traditional block.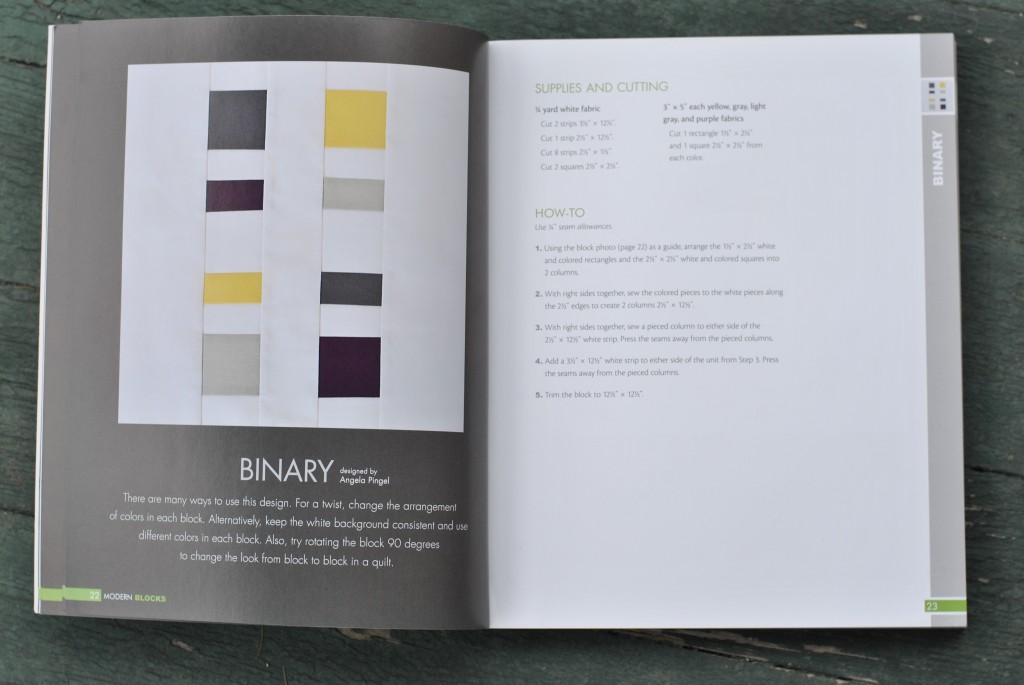 Some of my favorite blocks in the book, including "Binary" (above) and "It's a Stretch" (on the cover), were designed by the very talented Angela Pingel of Cut to Pieces. Angela was the winner of the recent Moda Bake Shop SLICED competition, and you might have seen winning project, an adorable owl backpack.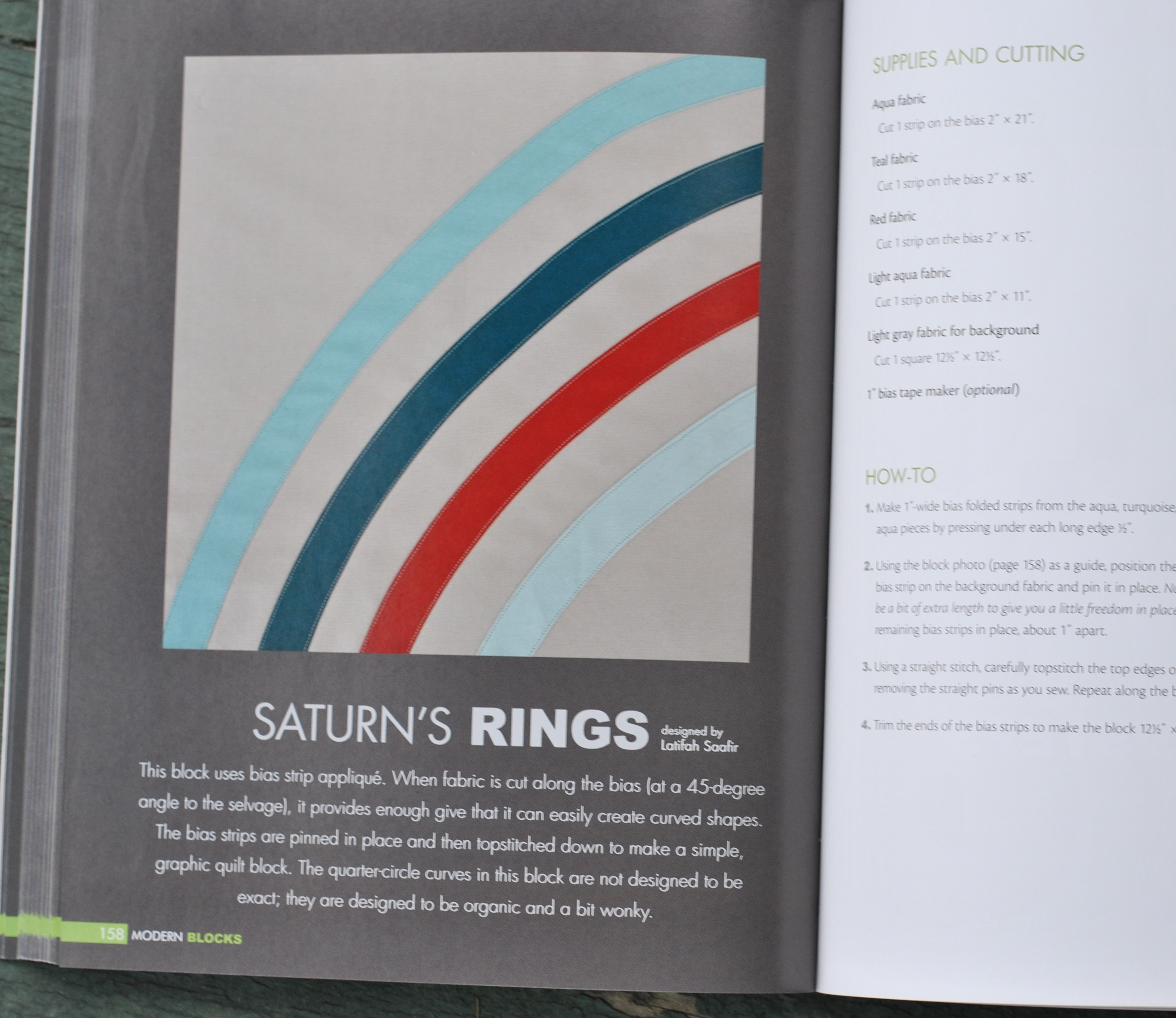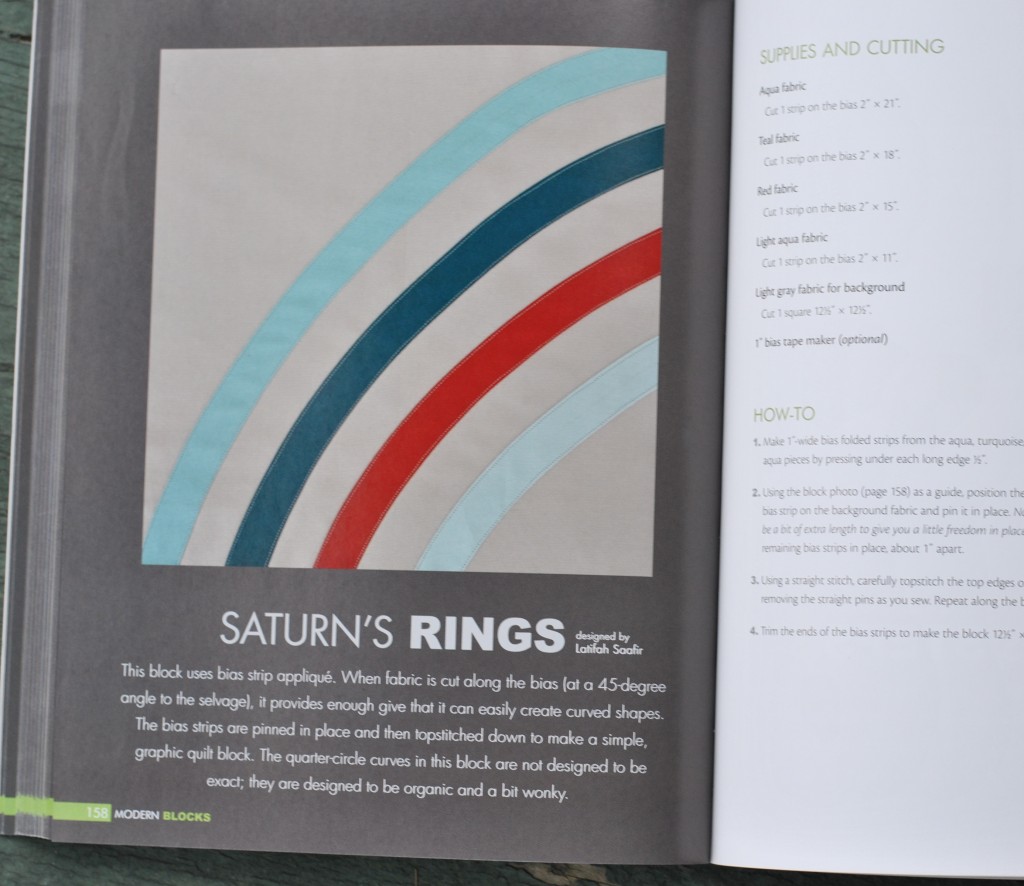 "Saturn's Rings," designed by Latifah Saafir of The Quilt Engineer, uses bias-cut strips appliqued to a base block. The bold colors really pop and it's easy to imagine a whole quilt made from this simple yet stunning block.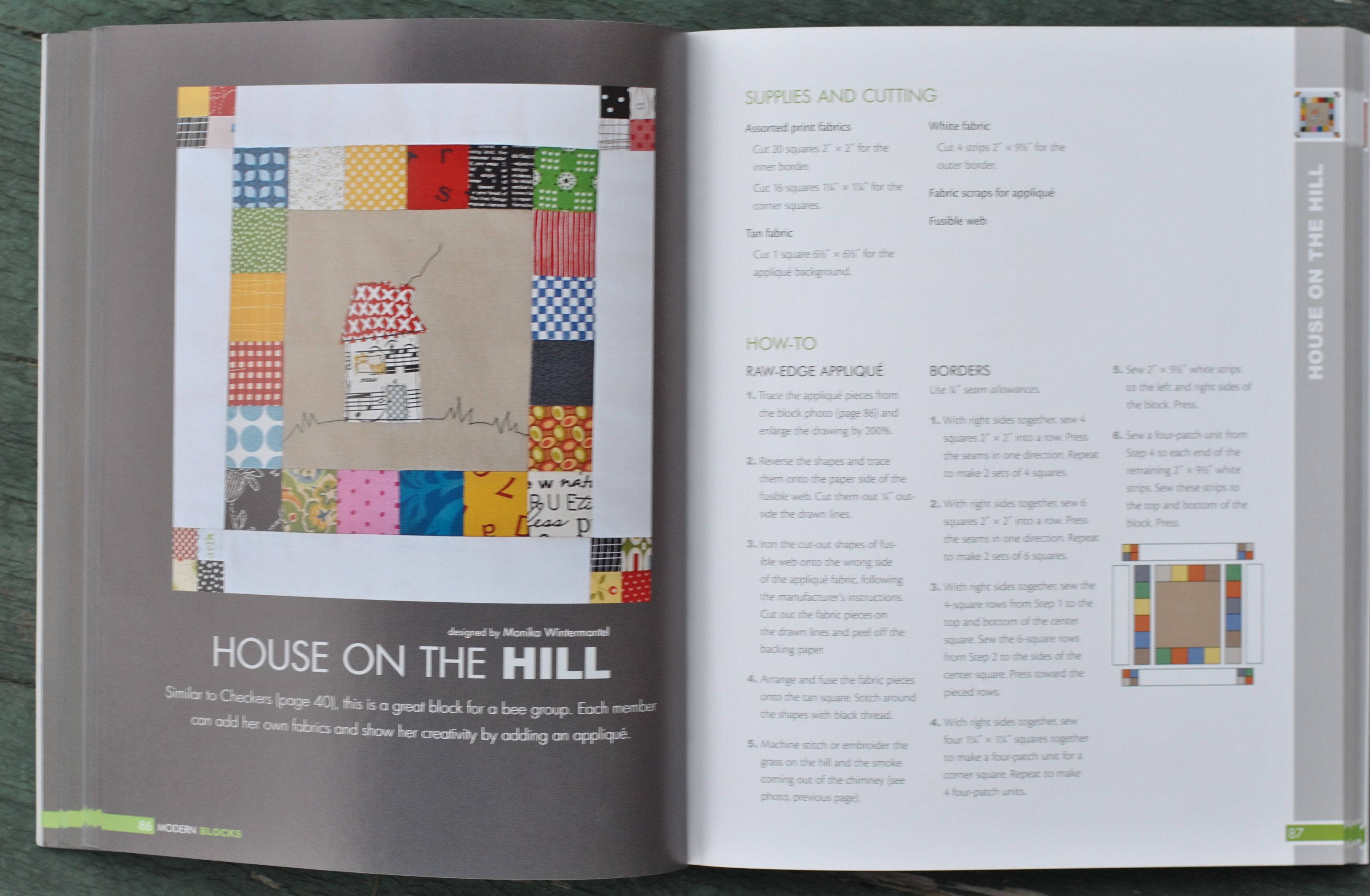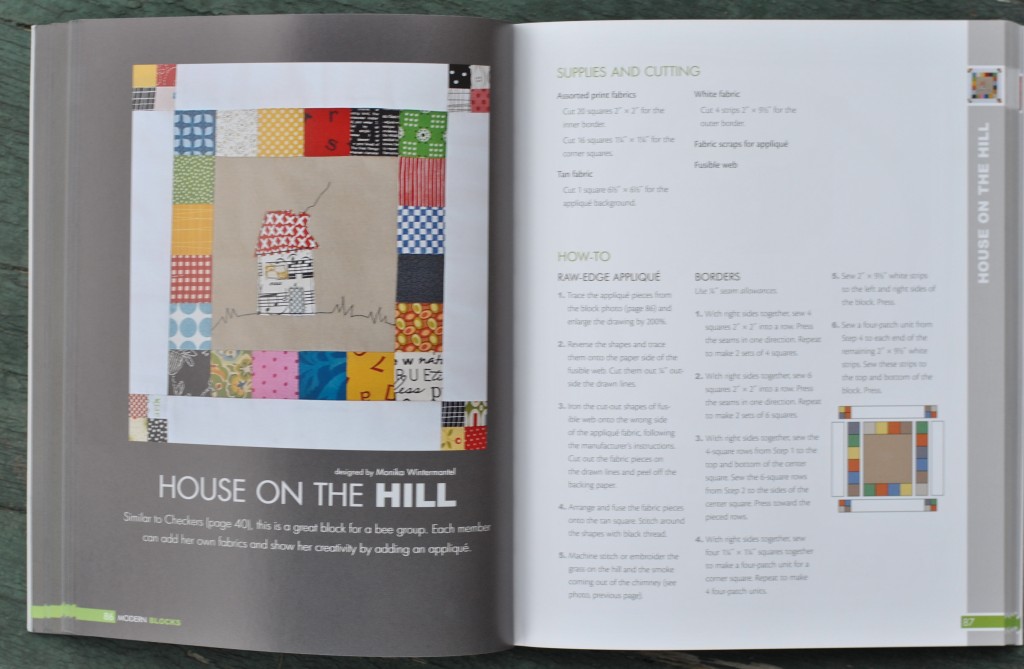 "House on the Hill" pairs patchwork with applique and creative machine-embroidery. It's designed by Monika Wintermantel. There are so many blocks in the book that I want to make when I find the time, and they range from beginner to advanced skill levels.
There is also a Flickr group dedicated to this book, so you can go there to add your blocks or see the blocks that others have sewn up in a variety of fabrics! Here are some recent blocks from that group (photos by Seamed Up).
As you can see, the book has a staggering variety of blocks! So how did I ever choose which one to make first?
My Blocks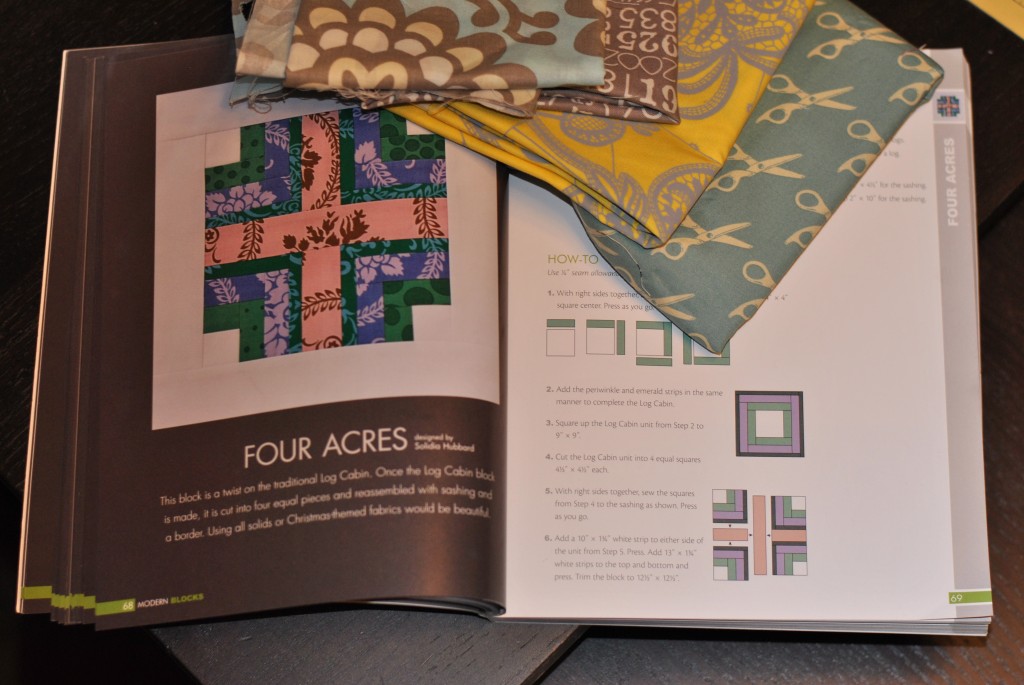 As part of an online quilting bee I participate in, I'm always looking for a good 12.5″ square block to make in a variety of colors. I whipped up these blocks (plus one more) from the "Four Acres" pattern above, designed by Solidia Hubbard. The book gives specific measurements for each cut, so there is no guesswork, and I was happy to be able to pre-cut all of my fabric one night, and sew the blocks the next day following the block assembly instructions.
Although I've been known to spend as long as 6 hours designing blocks for this bee, I'm happy to report that this book helped me shave 2 hours off of my production time! Whether you are part of a quilting bee or just looking for a way to build your quilting skills, Modern Blocks is an excellent resource for your quilting library.
Have you checked out Modern Blocks yet? If so, what blocks really caught your eye?