Today we are excited to have special guest Emily Neuburger, author of the book Show Me a Story: 40 Craft Projects and Activities to Spark Children's Storytelling. Emily is joining us to talk about her kids craft book as well as the writing process for her book. At the end of this post, you can also enter to win a copy of her book!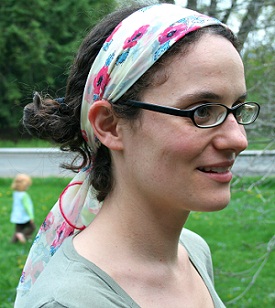 Welcome to Craft Book Month, Emily! Can you tell me what you love about telling stories, and why it's important?
I love making crafts that facilitate storytelling because it offers children (and adults) the chance to drift into imaginary worlds where anything is possible. I have always been a daydreamer – where twigs and dirt often became mountains and trees – and I am a firm believer in nurturing children's natural inclination to spend time with their imaginations. Storytelling is so healthy and good for children – it helps them practice communicating, it expands their emotional awareness, and it is often a way for them to experiment with problem solving. And, um, it is also super fun!
This is a very unique book concept. How did you go about conveying your concept to a publisher and what did you learn?
I actually submitted a book proposal where storytelling crafts was only one of the chapters in the proposed book. The editor who I was working with suggested that I elaborate on just the storytelling chapter since it was so unique and vibrant. The process of uncovering the heart and soul of my book served as a reminder to be willing to experiment with shifting the focus of a project.
When it came time to write the book, what did your timeline look like, and how did you interact with the publisher?
The process was definitely lengthy with lots of different, distinct steps along the way. After signing on with Storey Publishing, I was given six months to write my manuscript. I checked in with my editor from time to time, but I mostly just curled up in my cozy chair and wrote. Once the manuscript was turned in, I shifted my focus to craft styling – and more craft styling and more craft styling. Then, there was the photo shoot, copy edits, proof edits, more proof edits, and then four months to wait before I saw my first printed and bound copy. The time frame from the time I wrote my proposal to the release date was approximately 3 years. I found the whole process rewarding and interesting.
And, now, I am excitedly preparing for my book tour! Hooray! In the coming months, I'll be visiting book shops, craft spaces, and museums to share projects from the book. I'm really looking forward to connecting with children and adults as they create; it will be fun and beautiful, and I can't wait.
How would you compare the process of blogging about crafts on your blog Red Bird Crafts and actually compiling a book?
Honestly, writing blog posts and book chapters feels extremely satisfying and exciting for me! In the end, the two writing processes felt very similar because I approach my writing as an educator and an artist. I love to inspire people to be creative and to encourage them to have confidence in their art; both forms of writing offer me the chance to do just that.
Thanks for your insights into the book writing process! What's next for you, Emily?
Thanks for asking! I have lots of exciting new projects and ideas coming together right now. I'll still be blogging at Red Bird Crafts, but in a few weeks I'll also have a new website at EmilyNeuburger.com. The new site will showcase more of what I offer as a teacher – library and school visits, curriculum guides, and my local classes. I'm very excited for launch day!
Giveaway!
Storey Publishing is giving one lucky Craft Buds reader a copy of Emily's new book, Show Me a Story. To enter the giveaway, just leave a comment on this post telling us something you learned from our Q&A with Emily. One random winner will be chosen in a week. Entries limited to North America.
Have you been hopping with us this week?
Sunday 9/9: Sweet Diesel Designs / missknitta's studio
Monday 9/10: Sew Tara / Clover and Violet
Tuesday 9/11: Sew Fantastic / amylouwho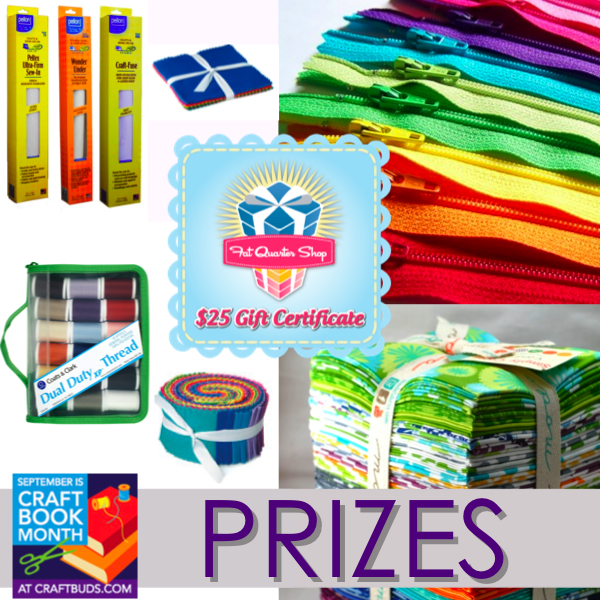 Show us your craft book project from Sept 23-30 and win prizes!