Sewing is a valuable skill that can be both fun and practical for children to learn. Not only does it help with creativity and self-expression, it also teaches children essential life skills such as problem-solving, patience, and attention to detail.
With so many types of sewing machines available on the market, it can be challenging to figure out which is best for children. This article will take a detailed look at the best sewing machines for kids, considering factors such as ease of use, safety features, and versatility.
We'll explore the features and benefits of different models and provide helpful tips for parents looking to purchase a sewing machine for their child.
Whether your child is just starting to learn to sew or has some experience under their belt, we hope this article will help you find the perfect machine for their needs.
Top 5 Kids' Sewing Machines To Check Out
Now that you know all the features that make up a sewing machine for kids, let's look at the five top-selling models.
What Features To Look For While Purchasing A Sewing Machine For Kids?
Here are a few features you should consider while purchasing a sewing machine for your kid.
The sewing machine you wish to purchase for your kid must have effortless operation. To know which machine will be easier to use for your kid, take a look at its features.
If it's the first time your kid is trying their hands at sewing, you need not look for a fancy machine with high-end features a beginner won't require. Instead, a basic machine is a steal deal.
So, prioritize the ease of usage while buying your kid a sewing machine.
For kids, a lightweight and portable machine is undoubtedly the best option, considering they may take the sewing machine to different places, say, sewing classes.
However, be careful while picking lightweight machines, as some machines are entirely made up of low-quality plastic and, thus, are not long-lasting.
Choosing a machine with at least a heavy-duty metal frame is advisable. Such machines are light in weight and more durable than plastic-based ones.
Mechanical Or Computerized
Sewing machines are available in mechanical and computerized options. And you must understand the difference between the two to make a better purchase.
Mechanical models need regular maintenance and have fewer knobs and buttons, making them fussy to use.
On the other hand, computerized machines are convenient to use at a click of a button and need occasional servicing only.
But mechanical machines handle thicker fabric better than computerized machines, and that too at the same price.
So, the choice is yours. Ultimately, it'll come down to your budget and preference.
While searching for the best sewing machine for your kid, you'll find machines with various stitch options. You might get tempted by this aspect but remember that your child will never need or use all those fancy stitches, especially at this stage.
So, check for the basic stitching options such as the back, straight, and zigzag. These will be more than enough for most of your child's work.
The presser foot is an essential part of any sewing machine that helps feed the fabric through the machine. Most machines are fastened by either screwing them or snapping on.
In machines with snap-on presser feet, ensure that the feet snap on tightly. Otherwise, it can be risky for your little one since the needle might break.
Coming to the "screwed" presser feet models, it takes a bit longer to change the presser foot. Moreover, your child must get the screw on tight enough to avoid mid-sew fall-off.
The next feature to look for is the bobbins. They are either plastic-based or metal-based. Bobbins are further classified depending on whether they are front-loading or drop-in.
For kids, drop-in bobbins are recommended as they are easier to load and use. However, you can pick according to your child's convenience.
Automatic Needle Threader
If there's one feature I recommend for all sewing machines, whether designed for adults or kids, it's an automatic needle threader.
For me, it's a sort of mandatory feature and is time-saving. No more manual needle threading now!
Not all machines feature an adjustable sewing speed dial. Its primary function is to adjust the machine's speed and make it easier for kids to sew.
However, it isn't mandatory, and you can teach your child to sew even without it.
Almost every sewing machine has accessories, though they vary from brand to brand.
So, keep an eye on them while making a purchase. Some necessary accessories you can't ignore include the machine cover, spare needles, cleaning tools, some feet, instructional DVDs/manuals, etc.
Best Overall Sewing Machine For Kids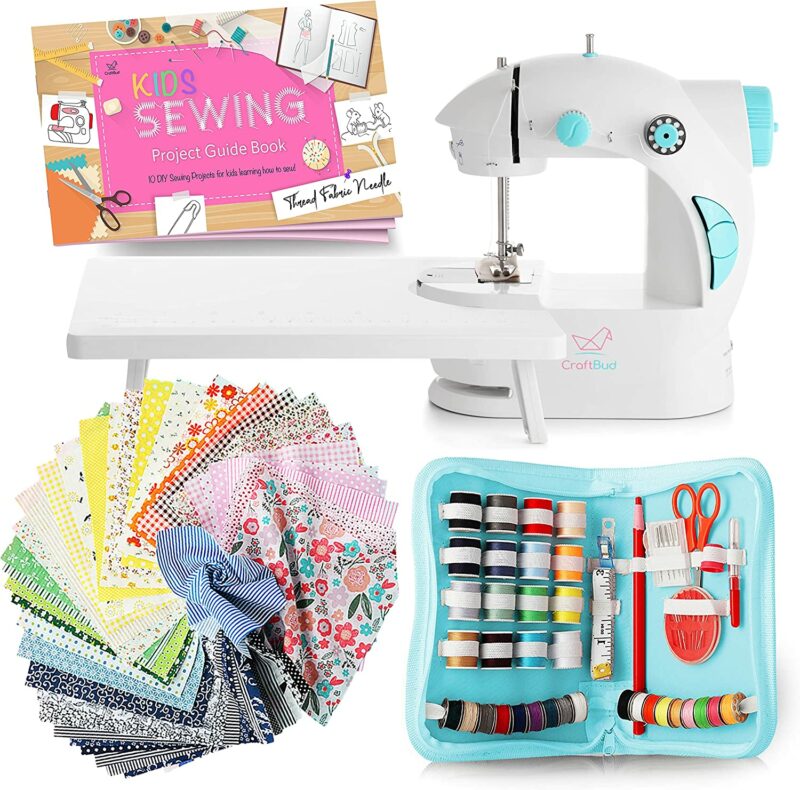 The CraftBud Mini sewing machine is my top preference for all kids in the 8-12 age bracket.
This product is a complete 122-piece sewing kit comprising a lightweight sewing machine, sewing guidebook, 10″ x 10″ patterned fabric (50 pieces), and colorful spools of thread. Hence, you won't need to spend on these items individually.
With the definitive guidebook, your kids can adequately understand every detail of sewing a project and what goes into sewing a marvelous piece. To further boost their knowledge, the guide offers excellent tips & tricks as well!
If any project requires more workspace, you just need to attach the foldable extension table to the machine to extend the workspace. Use the included clips to keep your fabric in place.
The machine fully justifies the term "mini" in its name as it just weighs 2 pounds.
Additionally, it has a decent warranty period of 3 years. If your kid faces any problem with the machine, you can contact CraftBud's customer support.
Pros
Super light and easy to carry

Fast working mechanism

Less noisy operation

High build quality
Cons
Average safety guard

Flimsy foot pedal
Check the CraftBud Mini sewing machine's latest prices on Amazon
Best Sewing Machine For Beginner Kids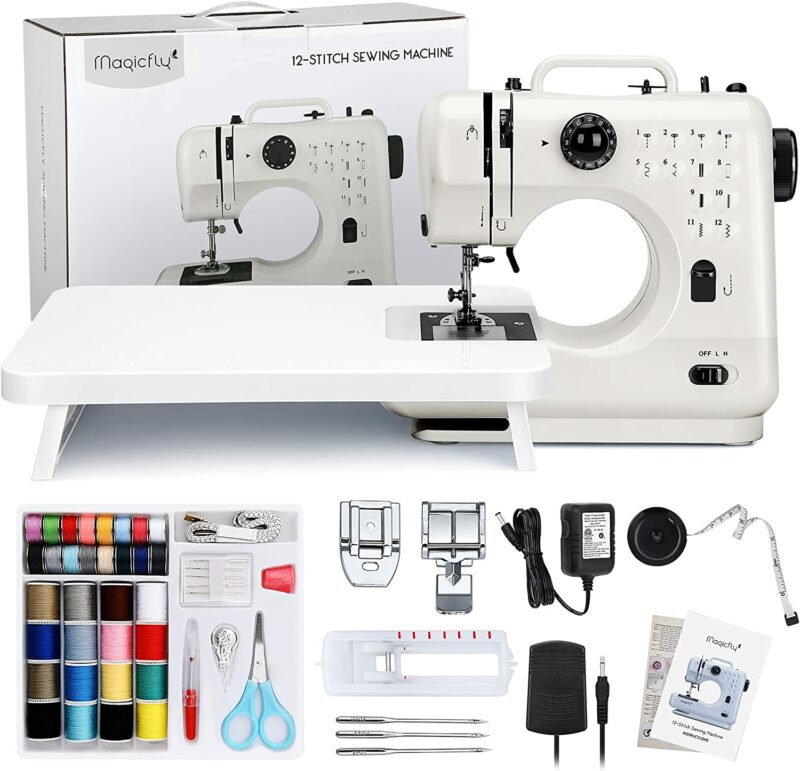 Are you looking for the best sewing machine for your 10-year-old kid? Then check out the Magicfly portable sewing machine with "back stitching" capability.
Another lightweight and portable option for kids, this machine features 12 built-in stitches, which are also suitable for quilting and mending. So, your kid can also practice quilting on the side.
The machine's other highlights include the multi-use accessory set, replaceable presser foot, and three-size needle.
It also has an expansion table convenient for your child's large fabric sewing projects.
Magicfly sewing machine is furnished with three different thread types for fabrics of different thicknesses – size 80/11 on lightweight fabrics, size 90/14 on medium-weight fabrics, and size 100/16 for heavyweight fabrics.
While the 80/11 & 90/14 thread types can be used for stitching kids' clothing and pillow covers, I recommend the 100/16 thread type for jackets, cases, etc.
Unlike other machines, the Magicfly sewing machine's body is printed with a threading guide, further simplifying its operation for beginners.
Last but not least, you can even run the machine on a battery. So, no more confinement indoors to use the sewing machine.
Pros
Suitable for sewing outdoors, being battery powered

Works with all types of fabrics

High-quality needle guard

No workspace illumination
Cons
No storage bag

Poor speed control
Check the Magicfly sewing machine's latest prices on Amazon
Best Sewing Machine for Advanced Kids Sewists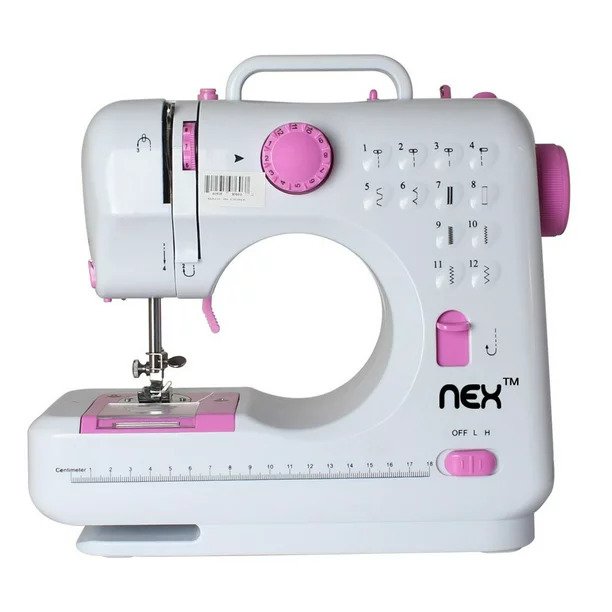 If it's been a while since your child started sewing, I recommend this multi-purpose NEX sewing machine with an adjustable threading system.
With this machine, you get the standard variable speed control knob that lets your kid alter the sewing speed accordingly. This feature comes in handy while altering clothing, quilting, crafting home decor, and more.
Note: Make sure the direction of the winding and the needle are correct before sewing.
Moreover, it's lightweight, portable, and space-saving. The company has fitted an LED bulb for workspace illumination for little crafters who sew at night. All these make this NEX sewing machine a decent purchase for all kinds of sewing projects.
Pros
Runs on both 6V DC and battery

Adjustable foot pedal

Robust needle quality for thick fabrics

Multiple colors to choose from
Cons
No automatic needle threader

The threading mechanism could be better
Check the Nex Sewing Machine's latest prices on Amazon
Best Premium Sewing Machine For Kids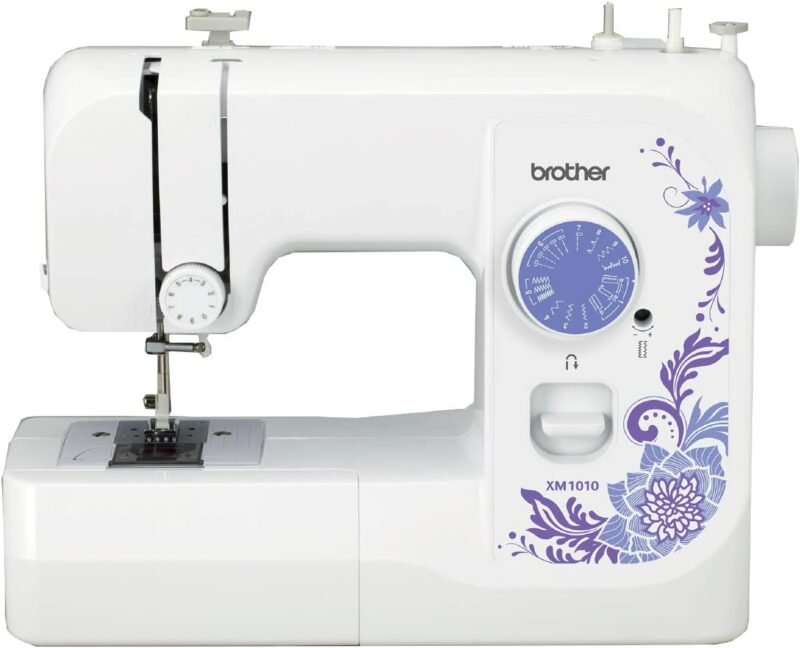 If you were so far thinking that Brother doesn't manufacture kids' sewing machines, the Brother XM1010 would change your mind.
A versatile, affordable, and durable solution for every kid's sewing aspirations, Brother XM1010 includes the most famous stitches for regular sewing and mending.
For instance, it has ten unique built-in stitches, including zigzag and stretch stitches, a blind hem, and a four-step buttonholer.
The XM1010 also includes a jam-resistant drop-in top bobbin, an automatic bobbin winder, and more. The easy stitch selector lets kids choose from buttonholes, decorative stitches, utility stitches, and stretch stitches.
If your child loves sewing cuffs and sleeves, the machine's free arms feature is what they need. And did you know even beginners can use this machine, courtesy of the instructional DVD and a bilingual manual?
Brother XM1010 has a 25-year limited warranty as well.
Pros
Ideal for beginners and advanced sewists

Supports light quilting

Decent stitch quality

Built-in dial for selecting stitches
Cons
Not for heavy fabrics

Stitches don't regulate well
Check the Brother XM1010's latest prices on Amazon
Best Toy Sewing Machine For Kids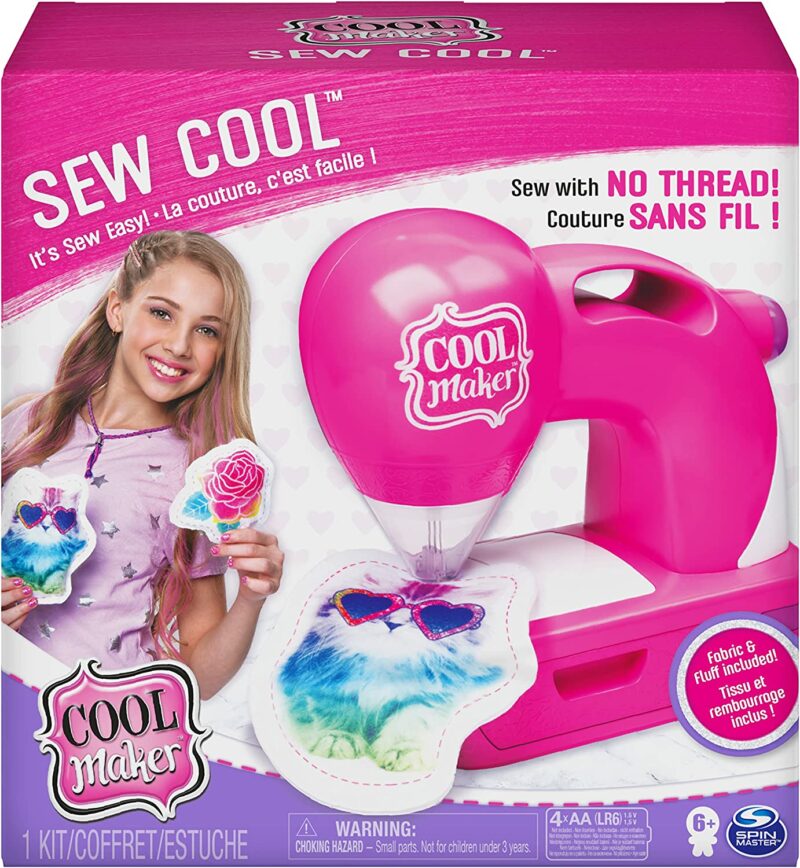 How would you react if I told you that this Cool Maker sew cool sewing machine sews without thread, foot pedals, bobbins, or needles? I'm sure you wouldn't believe it, but it's true.
In my opinion, this particular machine is the safest option to make the next theme party's Barbie dresses.
Starting with the performance – the machine performs very well. It has everything your child needs to create awesome projects, such as a stylish pouch, nifty keychain, rainbow marker holder, a pretty stuffed rose, and an adorable stuffed kitten character. And all these projects are pre-cut!
Moreover, it's battery-operated, which makes it super easy to use.
Each piece of Cool Maker fabric you get with this toy sewing machine features printed markings. These markings assist your kids in understanding where to start and stop sewing, what direction to sew in, where to spot stitch, and where to fold. Isn't this great?
Pros
No difficult-to-use components, such as needles or thread

Silent working mechanism

Very compact and lightweight

Works with any felt
Cons
Insufficient working area

Made with plastic
Check the Cool Maker sew cool's latest prices on Amazon
Best Sewing Machine for Kids FAQs
What Is The Best Sewing Machine For A Child?
Ans: The Brother XM1010 is the best sewing machine for kids. It's as functional as it's easy to use, which is the perfect balance you would want if you want your kids to learn sewing while having fun.
What Age Can A Child Use A Sewing Machine?
Ans: If your child is interested in sewing and is mature enough, you can teach them how to use a sewing machine as early as four or six. However, you will need to supervise them.
Can A 7-Year-Old Use A Sewing Machine?
Ans: Yes, they can. But at seven, they should be monitored and well-guided to avoid mishaps.
Ans: Yes, you can let your child start basic sewing using a sewing kit as early as four years old, but the recommended age is about eight years for a sewing machine.
How Is A Kids Sewing Machine Different From A Regular Sewing Machine?
Ans: Kids' sewing machines differ from regular sewing machines in terms of safety features, ease of operation, size, and more. All kids' sewing machines feature a "safety guard," which prevents their fingers from being pricked with the needle or, worse, being sewn in.
Also, threadless models are available in kids' sewing machines, removing the stress of threading the needle.
Kids' machines mainly consist of plastic or any other lightweight material instead of steel, making them lighter than any regular sewing machine.
Conclusion
Here you go. Sewing is an art and a necessity both. Introducing sewing to your children at a young age can be life-saving later in their life. It's normal for you to feel skeptical while exposing them to sewing machines.
But with the kids-friendly sewing machine available on the market, it has become easy to begin sewing even at four. Various kids' sewing machine options exist, but you must consider certain factors before purchasing.
Related: Sewing Classes In Chicago: Top 10 Schools And Classes