Do you love craft books? During the month of September, we are happy to host our 2nd Annual Craft Book Month featuring expert Q&As, a crafty contest, free patterns and lots of prizes!

This is going to be a *huge celebration* all things craft books. In fact, just look at the awesome guest bloggers who will be sharing their craft book projects in an inspirational blog hop all month long!
Blog Hop
Week One
Sunday 9/2: Hopeful Threads / The Jolly Jabber
Monday 9/3: Stitchery Dickory Dock / Me Sew Crazy
Tuesday 9/4: Olive & Ollie / Sew Sweetness
Wednesday 9/5: Fabric Seeds / The Busy Bean
Thursday 9/6: CraftFoxes / Stitched In Color
Friday 9/7: Katie's Korner / A Prairie Sunrise
Week Two
Sunday 9/9: Sweet Diesel Designs / missknitta's studio
Monday 9/10: Sew Tara / Clover and Violet
Tuesday 9/11: Sew Fantastic / amylouwho
Wednesday 9/12: Projektownia Jednoiglec / Two More Seconds
Thursday 9/13: Ellison Lane Quilts / Don't Call Me Betsy
Friday 9/14: Live a Colorful Life / LRstitched
Week Three
Sunday 9/16: Fairy Face Designs / Canoe Ridge Creations
Monday 9/17: Inspire Me Grey / Freshly Pieced
Tuesday 9/18: Lindsay Sews / The Cute Life
Wednesday 9/19: The Littlest Thistle / Sew Crafty Jess
Thursday 9/20: Urban Stitches / imagine gnats
Friday 9/21: Sew Bittersweet Designs / The Plaid Scottie
Week Four
Link up your craft book project at
Craft Buds
from
Sept 23-30
from your blog or Flickr account, and enter to win prizes. Winners will be announced on Monday, October, 1!
To participate in the month-long contest, just link up any project you've made from a pattern in a craft book. That easy! You'll tell us a little about the book, the project, how you personalized it, etc.
Rules:
1) One entry per person.
2) Your craft book project must have been completed in 2012.
3) Create a new blog post or Flickr photo (dated September 1, 2012 or later) and link back to Craft Buds/Craft Book Month in your post or photo description.
No time to create a project? This month, just follow the Craft Buds blog and Comment to Win some new craft books and lots of giveaways! We'll also have expert Q-and-As to show you what it takes to write a craft book, from the initial idea to the layout, photography and the actual printed product. We cannot wait to get this party started!
Prizes:
Visit Craft Buds and link up your craft book project during the window of Sept 23-30 and you'll automatically be entered to win some fantastic prizes from our Craft Book Month sponsors! Click here for the full run-down of prizes and sponsors.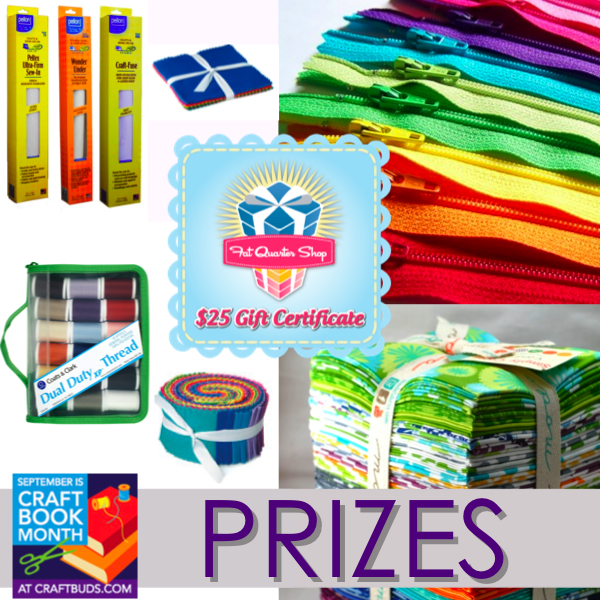 Kickoff Giveaway!
To help kick off the Craft Book Month contest in style, Fat Quarter Shop is helping us celebrate with a big giveaway! One winner will take home a $100 gift certificate to shop for some new fabric, craft books and notions.
Ten winners will get a new craft book to help work out that creativity! This is the perfect excuse to make that project you've had your eye one, but haven't carved out the time for.
Fat Quarter Shop is giving away 1 copy each of Quilts from the House of Tula Pink by Tula Pink, Sewing ModKid Style by Patty Young, Skip the Borders by Julie Herman, Stop Go Quilt Sew by Angela Yosten and Sunday Morning Quilts by Amanda Jean Nyberg and Cheryl Arkison.
Craft Buds is giving away 1 copy each of Modern Basics by Amy Ellis, Reinvention by Maya Donenfeld, We Make Dolls! by Jenny Doh, New Dimensions in Bead and Wire Jewelry by Margot Potter and More Teach Yourself VISUALLY Jewelry Making by Chris Franchetti Michaels.
Fill out the Rafflecopter form below for your chance to win! The kickoff giveaway ends Wednesday, 9/5 at 11:59 ET, when we'll randomly choose 11 winners. Good luck!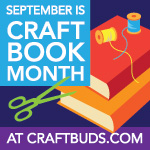 Sponsors: Amanda Murphy Design / Angela Yosten Patterns / Coats & Clark / Fabric Seeds / Fat Quarter Shop / FreeSpirit Fabrics / Martingale & Co. / Moda United Notions / OLFA / Pellon / Riley Blake / Stash Books / Storey / SUCH Designs / Wiley / Workman / Zipit