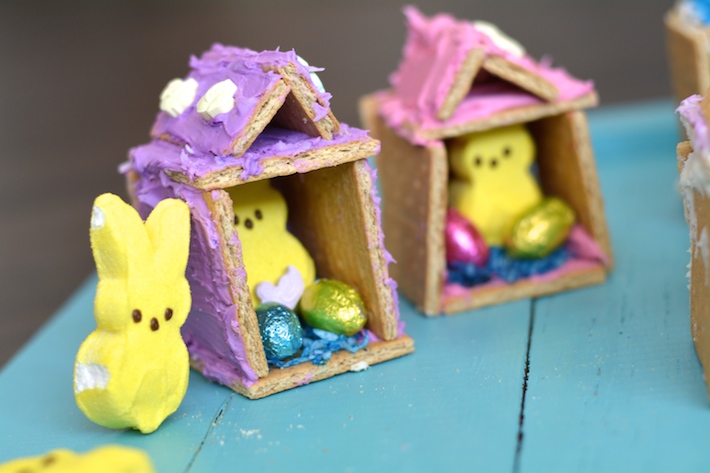 Looking for a fun, Easter-themed STEM (science, technology, engineering, and math) activity? Make a graham cracker Peeps house! This fun and edible craft will get your kids thinking like little engineers as they discover which structures are the most sturdy.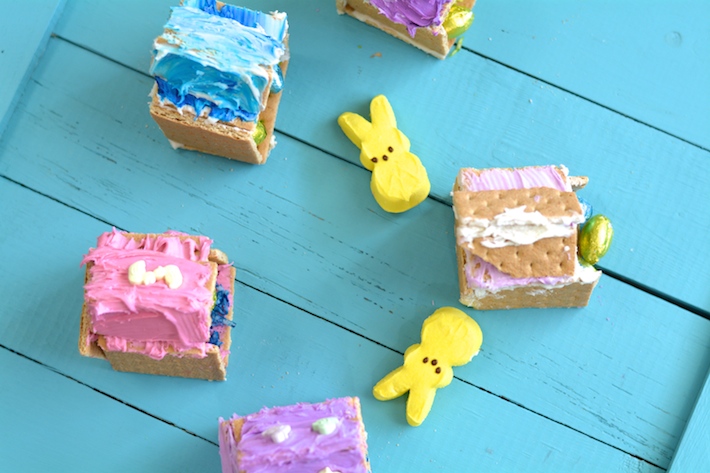 You'll Need:
Graham crackers
Icing
Food coloring
Marshmallow Peeps and other candies for decorating
Coconut (for grass)
Cookie sheets
Sharp knife to break graham crackers evenly (parent help required!)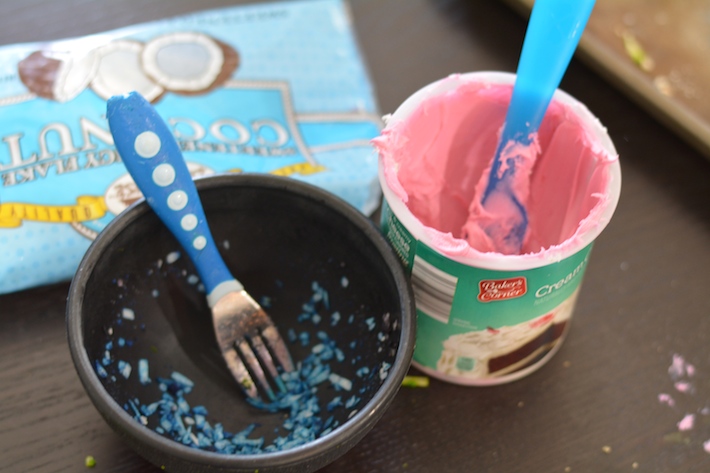 Use food coloring to dye the shredded coconut and icing if desired. We started with green coconut and then tried blue. It was my son's idea to dye the frosting (a little bit at a time, so we could do different colors), and I think it turned out great!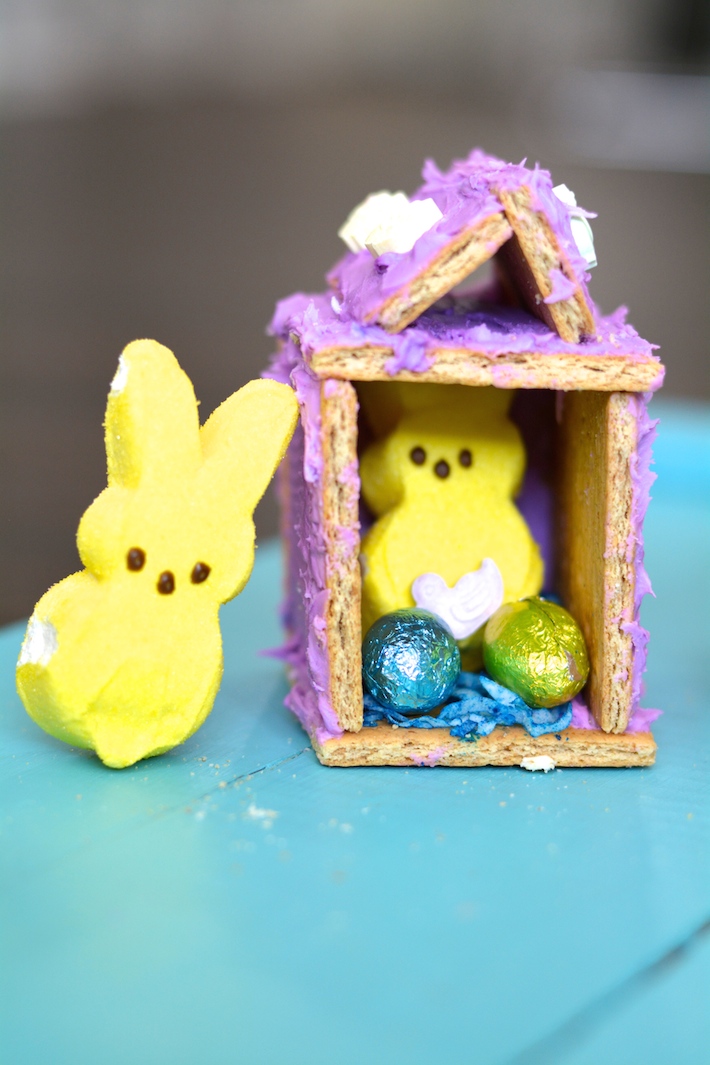 Don't be afraid to use a lot of icing when attaching the graham crackers. You can let your kids choose the design, and assist them with attaching the pieces. You can also use a hot glue gun, unless you want it to be completely edible. We just used frosting and chose a box-like shape for the base, adding on small roof pieces to the top. This meant we'd have to cut off the top of the bunny's ears sometimes, but I let my son decide which structure was his favorite, and he chose the sturdiest!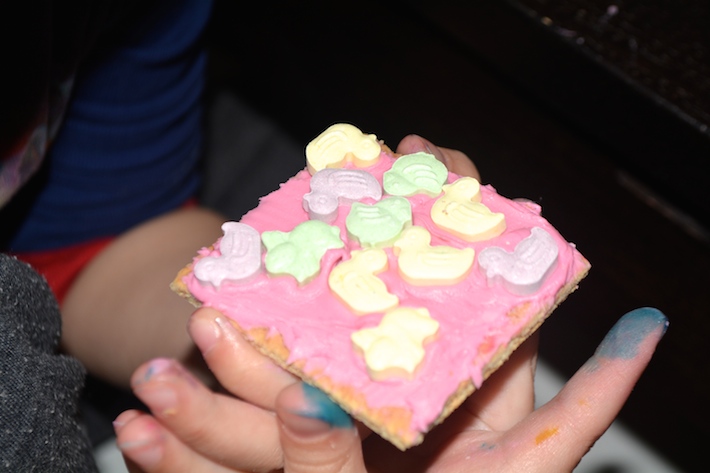 You can frost and decorate the graham crackers before building, or after. It's up to you!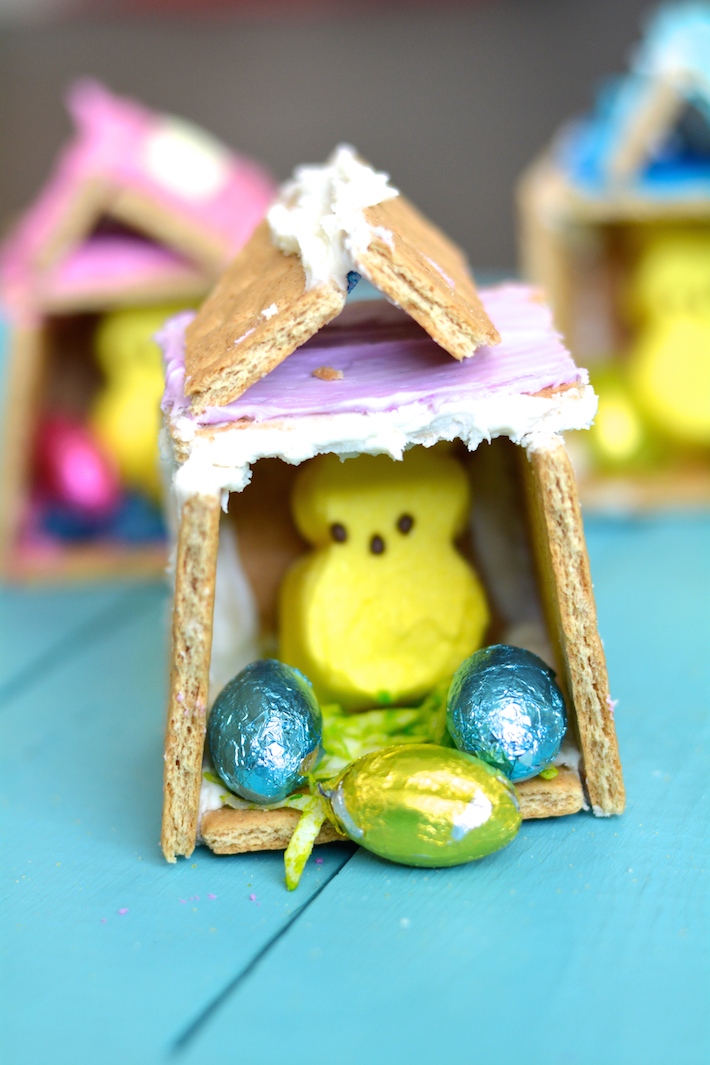 After getting the structure together, you can let your child fill the inside with a Peeps chick or bunny, jelly beans, chocolate eggs, coconut grass, or anything else you'd like. I think these turned out pretty cute for our first time! We even walked one over to our neighbor as a thank you gift for helping with some yard work.
Do you have any fun Easter traditions you like to try with your kids? Check out our other Easter crafts like how to dye Easter eggs with shaving cream and how to make bunny no-bake cookies!