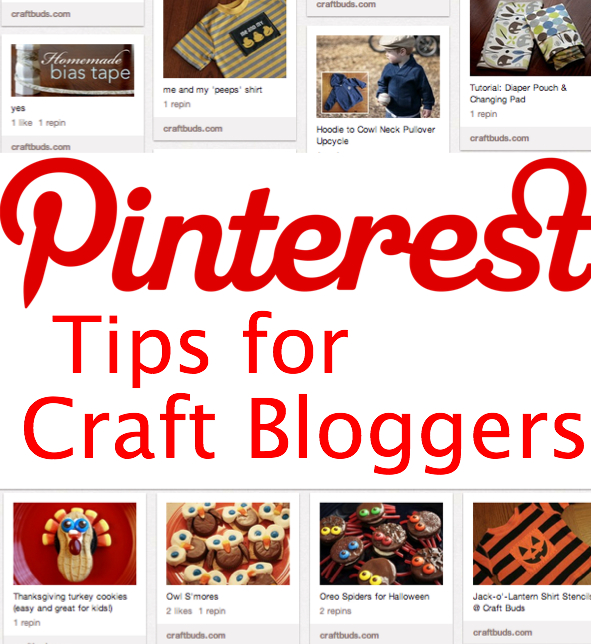 Like Flickr, Pinterest has become a creative playground for those seeking DIY inspiration, recipe ideas and images that can help inspire their personal style. If you have a personal Pinterest account, you are probably already aware of this tool and how it can help you grow your handmade business or craft blog.
According to Cision, though Pinterest has only 7% of the users that Twitter has, it produces about the same amount of referral traffic (i.e. visits to your blog or handmade business site from Pinterest). This is huge, especially for crafters who are a key market for this visually inspiring social network!
If you'd like to learn to use Pinterest to help promote your handmade business or creative blog, here are some simple tips gathered from around the Web, as well as some general social media advice you may not have thought of.
Add a Pin It Button to your website and individual posts.
You may have added a Pin It Button to your personal Internet browser, so you can pin content while surfing the Web. The Pin It Button for websites is a little bit different than this. It's a handy little tool that you can add to your blog's home page as well as each post. If you use Blogger, check out this handy tutorial from BloggerSentral on how to add the Pin It Button to each of your blog posts automatically. There's also a counter to show you how many times a reader has pinned your page. WordPress bloggers can download a plug-in to achieve the same result.
Add eye-catching free templates from Canva
If you'd rather not spend hours creating your own Pinterest graphics, check out Canva! This is a free resource for creating pin-worthy Pinterest graphics. Canva features an extensive library of pre-designed Pinterest templates that are also highly-customizable through an innovative drag-and-drop interface.
Describe your images.
This may seem self explanatory, but the search engines will not automatically see a photo of your quilt and know what it is. So instead of labeling your photo "My first one," make a practice of using descriptive keywords for each image that you pin from your site. You might say, "Baby booties sewn with felt scraps" or "Cashmere sweater with mohair," for instance.
Pinterest Tip: If you run an Etsy shop or other online business, it might even help to list the price for the items you pin from your shop, like "Designer fabric fat quarters, $2 each or $10 for six at [Shop Name and URL]."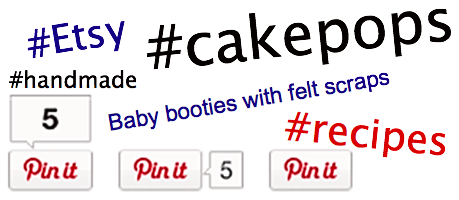 Use hashtags.
If you read our Twitter Tips for Crafters, you know that hashtags (#craft, #sewing, #recipes) are keywords that can help others find your posts. In the same way, keywords with hashtags can help Pinterest users to find you. For instance, if you search for the term "cake pops" in Pinterest, you'll come up with several boards and businesses that sell cake pops. But the easiest way to find cake pop tutorials is to search for #cakepops.
Pinterest Tip: Try a few searches for craft tutorials or handmade products, and see what you find out. If you notice a lot of search results coming up on the top of the page, see what method those crafters use in their descriptions.
Describe yourself and your crafts.
Add descriptions to your About section, and use specific keywords in your Pinterest board names. For instance, a general board like "Crafts" will not be as specific as "Paper Crafts" or "Handmade Wedding Invitations." Target your keywords to the reader you'd like to find you, and don't be afraid to create a larger number of more specified boards.
Make friends and interact.
As a craft blogger or handmade business owner, it's important yet humbling to realize that the whole world does not revolve around you and your pins. There are millions of creative people who have talented content to share (much of it for free!) and if you are genuine and supportive, leaving comments on other people's pins, people tend to respond by being support of you as well. This is true with any type of social media! If you are only in it to support yourself, it ceases to become "social."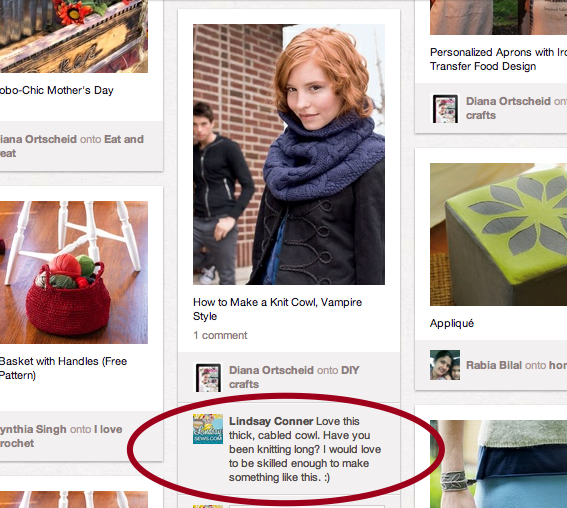 Try something new.
Once you've established a presence on Pinterest and found a group of other users to interact with, try one or more of these ideas to grow your reach.
– Link your Pinterest profile to a Facebook or Twitter account, for automatic sharing of your pins.
– Start a user-generated pinboard, where others can add pins to projects they've made from your tutorials.
– Create a video gallery and promote videos related to your niche, whether that's jewelry making or DIY desserts.
– Host a Pinterest contest, following these tips from Command Partners.
– Track your traffic generated by Pinterest with these tips from Mashable.
– If you are running Pinterest for your company or organization, create a more personal feel by creating a pinboard for "office life" where you show the events you attend, projects you're working on, and more. This gives a more personal feel and can help bring more of an actual face to your brand, which is especially important when it comes to handmade businesses.
Play by the rules.
It's common Pinterest etiquette to always check the source of pins before repinning, which will help you avoid copyright infringement. For instance, if a pin links back to the direct image of an URL (an otherwise blank page), the owner of the photo is not getting credit. Also, if you pin an image from a crafty round-up, the owner of the image is also probably not getting credit. To be on the safe side, always go to the original post on which the image appears before pinning.
Many bloggers will let you know if they are "Pinterest friendly" or if they'd prefer for you not to pin images from their blog. When pinning items from an Etsy shop or online seller, do not pin an item to your board of things you'd like "To Make." It's better to pin a free tutorial for a related project than to tell a seller you'd rather make than purchase their handmade items.
Enjoy these Pinterest tips, and please let us know in the comments if you have any questions or tips of your own!