When you think about paper mache – an old and simple paper craft technique, what's the first thing that strikes your mind? Old newspaper strips, dipping mixture, design, or something else?
Let me tell you; it's nothing among these! Yes, you heard that right.
It's the paper mache's drying time.
When using the technique, you must dampen the paper with any adhesive or conventional "paper mache paste." This will then take some time to dry before you start the paint job and other things.
But how long does paper mache take to dry? What factors influence the drying time? Is there any way to speed up the drying time?
In this article, I'll explain everything related to how long paper mache takes to dry. Please continue reading to figure it out.
How Many Layers of Paper Mache?
The quick answer is that it depends on the scope of your project. Usually, 3 to 4 layers of paper mache are sufficient to support the structure.
However, many variables influence how many layers of paper mache you must use for your work. For example, the size and form of what you're making, the amount of free time, the strength of the adhesive, and more.
If you recall the paper mache process, you'd remember that when the first layer of paper strips dries, you must only spread the second layer and allow it to dry entirely. Continue until you get the desired appearance.
Note: I recommend about 10-12 layers if you wish to create something more extensive and sophisticated, such as a paper mache mask. This will enhance durability and support the paint and other accessories, such as ears, nose, etc.
In the following section, I'll discuss some variables influencing drying time.
Depending on the type of project:
If your basic project is likely to be used frequently, such as a case for glasses or an organizer for keys, I recommend adding a few additional layers to fortify the craft and keep it living for longer.

Add extra layers if you use paper mache to hold things together. I would suggest 7 to 8 layers based on the amount it contains.
Note: If you're merely smoothing out the surface of your object with paper mache, you won't need to have more than 2 or 3 layers.
Depending on the glue:
If you're using water-based glue to make Paper Mache, you'll need to apply more layers since the layers would never be completely firm.

However, using a resin-based adhesive won't require as many layers since the paper mache will cure exceedingly firm.
Depending on the paper:
The type of paper you use is also essential. If you only employ old newspapers and need robust barriers, you must use many layers, approximately 12 to 15. It's essential to allow the coats to dry in between.
Let's now understand how long paper mache takes to dry.

How Long Does Paper Mache Take To Dry?
It takes roughly 24 hours (or sometimes more) to dry a paper mache piece completely. This is for two reasons.
First, you must let the last layer dry correctly before coloring. The initial layers can take up to 8 hours or more to dry, and the outermost layer needs at least 6 hours.
This is because the paper mache employed has a significant molecular weight and hence, requires a longer time to dry thoroughly than other materials like clay or Plaster of Paris.
So, you'll need a few days (typically 1-2) to finish your model. But don't be concerned! It's not difficult to work with.
Allowing the first layers to dry uninterrupted for at least 4 hours (and not painting until then) will help your finished product be much more robust.
Second, the work method is another critical reason behind paper mache drying time. Paper mache is formed by melting paper pulp in water and spreading the liquid onto an initially made form or mold.
So, if you think you must coat your complete figure with paper mache as promptly as possible, it's probably not going to happen!
How To Speed Up Paper Mache Drying?
If you're looking for a strategy to speed up the drying time of paper mache, you should consider using a regular hair dryer.
While this is among the quickest ways to dry mache, it can also generate a lot of soot and fumes.
Most crafters don't have an issue with this, but if you want to achieve the most remarkable outcomes possible, you should avoid it. I also don't endorse the use of hair dryers.
However, you could get a paper machine gun to pair with a hairdryer. These electrical gadgets are fantastic for accelerating the drying time, but paper mache still needs to air dry before you can fold it up and store it properly.
Clean air is another option for drying your paper mache if the temperature is warm and sunny. If the outside air is moist, your work may dry quicker indoors in an air-conditioned setting or a dehumidifier-equipped room.
Place the paper mache outside, particularly in a location with light winds and sunlight. If a balloon-based paper mache craft is left outside to dry, it may fracture; the air inside the balloon may expand and shrink as the balloon's temperature fluctuates.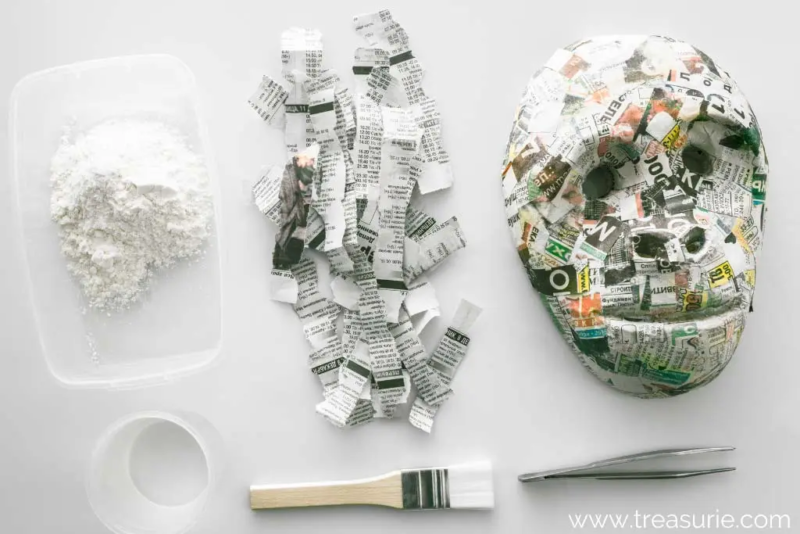 Do You Let Paper Mache Dry Between Layers?
Yes, you must let paper mache dry between layers. However, you shouldn't wait for every single layer to dry. Allowing it to dry after every 4th or 5th layer is sufficient before applying more layers.
There are a few reasons why you should let it dry in between every fourth or fifth coating.
One factor is your project's framework. If you add many layers at once, your project may distort since your first surfaces will still be moldable when you apply further layers on top of these. Even if there isn't much weight, the increased weight can bend your paper mache's typical structure. So, if you leave the layers dry in between, the paper mache can become firm. The solidified layers serve as an excellent foundation for additional layers.

The time it takes to dry is another factor. This may sound strange, but if you allow your layers to dry between each third layer, your product will dry properly and quickly. However, if you add 20 layers and then let it cure, it can take several days to dry entirely to the core.
To comprehend how much time paper mache takes to dry, you must first know the components that influence this process. A variety of factors influence how fast your paper mache piece dries.
The first factor is the water content of the material, which you may change by adding various chemicals. Generally, a high-porosity paper will dry quicker than a low-porosity paper, but you must consider additional aspects.

The second aspect is humidity. The greater the humidity, the longer it will take for your artwork to dry since water particles do not evaporate as quickly from the exterior of your product.

The third aspect is temperature. You'll notice more absorption of the workpiece's top if you're operating in hot weather or a sunny, dry location (such as an art space).
The drying times vary substantially depending on the three parameters stated previously.
How To Dry Paper Mache In A Microwave?
Did you know you can also dry paper mache in the microwave?
A low-temperature microwave, such as 175 degrees Fahrenheit, aids in the drying period of little paper mache crafts.
Before placing the paper mache work in the oven, lay it on a baking tray.
This approach is unsuitable for paper mache over balloons since they may swell or burst inside the microwave. Only employ the microwave if the substrate beneath the paper mache is heat resistant.
Note: You should never use plastic and foam in the oven; cardboard and paper are acceptable.
While the paper mache is baking, check on it every 30 minutes. Take it out if it appears to be catching fire.
How Long Does Paper Mache Take To Dry (FAQs)
How Long Does Each Layer Of Paper Mache Take To Dry?
Ans: Various variables affect the drying process, including temperature, humidity, and air velocity. A layer may dry entirely in as little as 30 minutes on a sunny summer day.
But if it's chilly or moist outside, it may take longer than 24 hours. Typically, if you're sitting outside in the summertime, you may anticipate that a coating will take 2 to 3 hours to dry.
Can I Use A Hair Dryer To Dry Paper Mache?
Ans: How effectively you use the hairdryer and how much the paper mache is allowed to dry will determine how it turns out.
Ensure that the paper mache pieces or container you buy are made for drying with a hair dryer since if the mache is very moist, it will take much more time to dry.
]
How Long Does It Take For Paper Mache To Dry With Flour And Water?
Ans: Although it takes glue a little longer to dry than flour and water, it should be dry in approximately 24 hours. Feel the bottom to verify this.
It requires extra time if it is still moist and feels chilly or soft. Given that the bottom of the artwork would remain wet for a considerably more extended period than the top, you might even leave it for at least a week to dry.
How Many Layers Of Paper Mache For A Pinata?
Ans: For a piñata, at least 3 layers of paper mache are often required. Painting or tissue paper covering is unnecessary if the colored paper (such as black for a vampire or orange for a pumpkin) is used as the upper layer.
Conclusion
So, here you go. How long do you have to allow the paper mache to dry? About 1 to 2 days, or longer, if you want it to get stronger!
You will be able to keep mold away from your artwork this way. When the entire surface is unyielding, you're ready to go!
Although there is no absolute waiting time, I hope you now know how long it takes for paper mache to dry. Follow all the directions correctly for a beautiful paper mache project!