Thanks to modern electronic die-cutting devices like Cricut and ready-to-print illustrations, you need not spend big bucks on customized stickers. Instead, you can implement your DIY skills and eye-catching craft stickers at home. And you don't need much stuff for this!
A few compatible sticker sheets/papers and a printer are good to go!
But before jumping into sticker making, it's essential to understand that not all sticker papers are made similarly. All sticker papers online have different properties, printer requirements, finishes, purposes, and more. 
Thus, you can't choose any random sticker paper for this fun activity. 
But don't fret!   
After extensive research and experimentation, I've compiled a list of the top five sticker papers for Cricut (and other printers). 
But before that, let's understand what features to look for when choosing sticker paper for Cricut. 
Related: How to Engrave with Cricut Maker? Acrylic, Wood, Metal
What Are The Specific Features To Look For When Choosing Sticker Paper For Cricut? 
As aforementioned, there are a lot of sticker paper assortments to pick from. But if you're a newbie, making the right choice can be challenging. 
To make the best choice, look for the given features. 
The topmost rule to follow is to look for sticker paper compatible with your home printer. For instance, you cannot utilize sticker paper appropriate for an inkjet printer on a laser printer. Talking about Cricut, you must check whether the paper's material is compatible.  
Note: Measurements of the sticker paper also need to be considered, as every paper size will not work well in all printers for Cricut
Easy-to-cut sticker sheets provide cleanly cut and sharp-edged stickers without much effort. Thus, check how smoothly the paper cuts to save yourself the time and energy that goes into cutting stickers manually using scissors.
Not all sticker papers are suitable for all applications. So, paying attention to the requirement and purpose, you'll be using the paper for is essential. For instance, thin sticker papers work best as labels on boxes but can't be used on books or cups as stickers.
If you want your stickers to stand long and not rip off easily, you must focus on the paper's tear resistance. I suggest vinyl sticker papers here. 
This is because these sheets have a durable plastic overcoat, thus making it difficult to rip the sticker. 
Related: Best Laptop For Cricut Maker – 5 Top Picks Reviewed
Although they cost a bit more than regular papers, waterproof sticker papers are worth investing in. They mostly have a separate waterproof coating that keeps water splashes at bay. As a result, you need not worry about your sticker getting wet.
How nicely the sticker paper sticks on the target item and easily rips off when peeled is another thing to note while shopping for sticker paper. Of course, you wouldn't want to apply any adhesive manually! 
Do you want glossy stickers or matte ones? It would help if you had an answer to this question. 
Glossy sticker papers have a shiny finish that exhibits a professional look. Additionally, stickers printed on glossy sheets look more vibrant and appealing. On the other hand, matte sticker papers have the regular appearance of typing paper. Their surface has no gloss at all. 
If you want to make plain stickers, go for matte sheets. Otherwise, glossy sheets are worth it for shiny stickers that attract everyone's eyes. 
Note: Matte and glossy sticker papers do have price differences between them. Typically, glossy sticker papers are relatively expensive. 
Related: How To Unweld On Cricut – Follow These Quick Steps
5 Best Sticker Papers For Cricut – Reviewed
Here is a list of the best sticker papers I've personally used for my DIY stickers. These papers are fantastic and suitable for all commonly used printers (including all Cricut models)! 
Let's check each out in detail so you can make an informed decision.  
Related: Best Printer For Cricut – 5 Excellent Printers in 2023
Best Sticker Papers For Cricut For Selling Stickers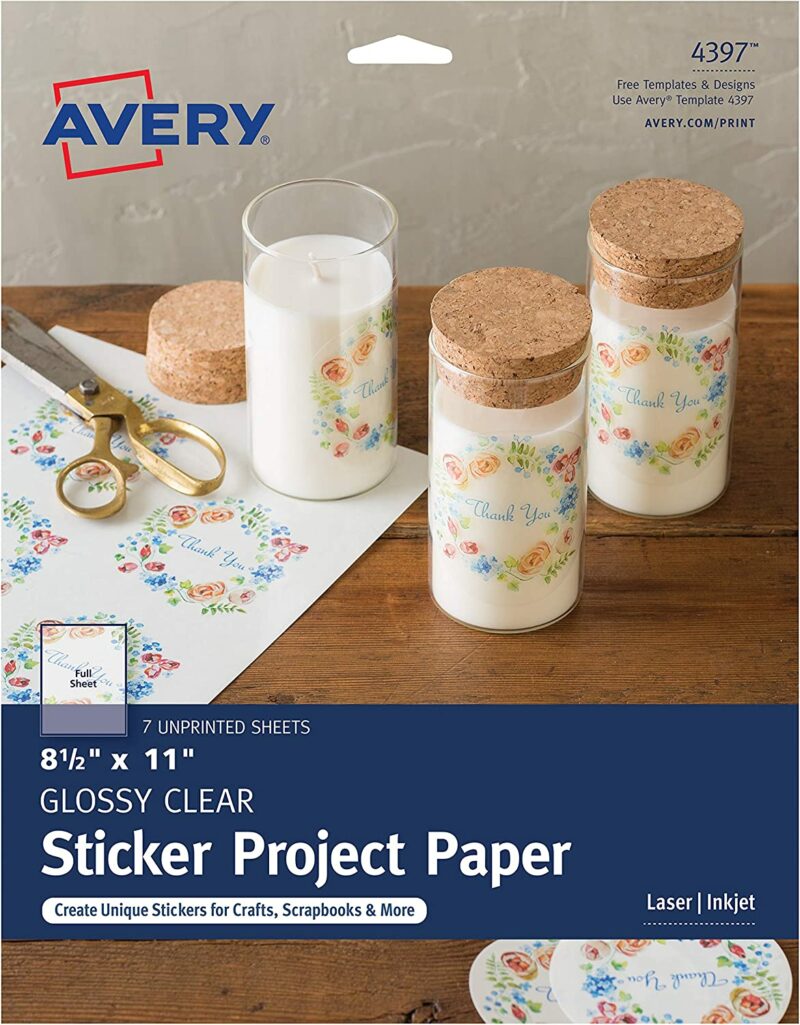 The Avery Printable Sticker Papers are perfect if you want to start a home-based sticker business. These durable paper sheets allow you to design stickers of any shape and size per the requirements. 
In the pack, you get 7 transparent and glossy sheets of paper with excellent adhesive quality. Thus, the stickers will easily stick on any surface, such as glass, metal, plastic, or paper. 
Note: These sticker sheets are best for Christmas crafts, scrapbooking, wedding favors, planner stickers, DIY gifts, and more. 
Moreover, the brand provides you with customizable templates for every order. These sticky papers are also very safe to use and acid-free and lignin-free. So, don't worry if your kids insist on joining you.  
These sticker paper sheets work well with inkjet printers. 
Pros

 
Durable paper quality

Permanent adhesive for all types of surfaces

Compatible with all electronic die-cutting machines 

Safe for kids
Cons
Leaves traces of the ink

Non-waterproof
Check Avery's latest prices on Amazon
Best Sticker Paper For Cricut Maker 3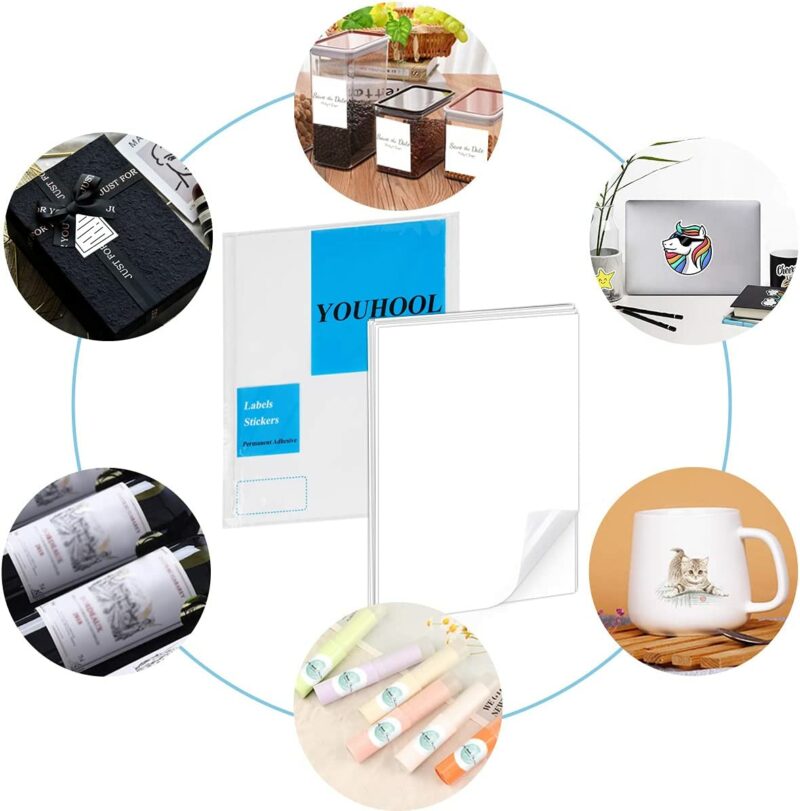 The Youhool Vinyl Sticker Paper is my favorite for Cricut machines, especially Cricut Maker 3. These printable sticker papers provide clean color performance without any smears. 
They measure 8.5″-11″, and you can use each matte white finish sheet for one big sticker or multiple small stickers, making the product an excellent match for all your project requirements. 
Tip: Print on the chalky side of these sheets to avoid mistakes while printing. 
These sticker papers can be used for various indoor and outdoor purposes. However, be mindful of T-shirts or other silky surfaces. 
The best aspect of these long-lasting vinyl sticker sheets is their waterproof feature. Rest assured of your cool stickers withstanding water splashes. 
Pros
The matte finish of non-glossy prints 

Holds ink well 

Easy to peel off 

Tear and scratch-resistant 
Cons
Not suitable for silky or soft surface

The sheets are a bit thinner 
Check Youhool paper's latest prices on Amazon
Best Sticker Paper For Cricut Explore Air 2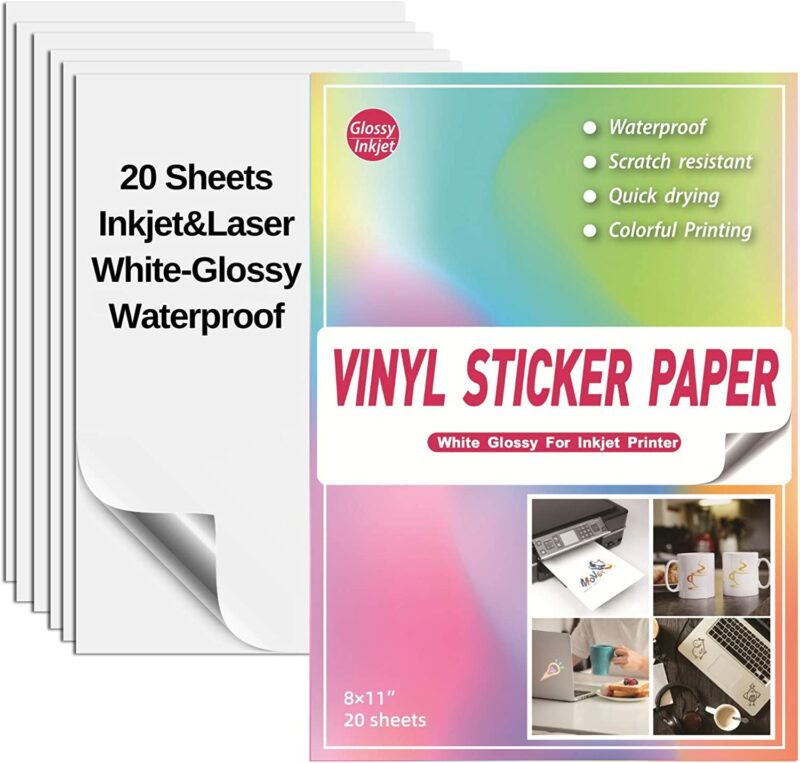 These sticker paper sheets are compatible with most inkjet and laser printers and are made of top-quality PVC self-adhesive waterproof material. You can purchase these for Cricut Explore Air 2 as well. The thing I like best about the paper is its quick ink absorption. 
Thus, the ink dries up pretty fast, and the application is super effortless and smooth. Also, the papers stick well on all surfaces and don't roll up when pasted.  
Also, the paper won't leave any residual glue when torn off from the surface. These glossy printable sticker papers look fantastic and can be employed as a striking mural, bumper sticker, sticker for cars, laptop sticker, and more.
If the paper's quality is unsatisfactory, you can contact the manufacturer for a full refund. 
Pros

 
Waterproof 

Tear and scratch-resistant 

Suitable for indoor and outdoor use 

 Easy to cut manually 
Cons
Stickers end up being frosted

The adhesive doesn't work well on slippery surfaces
Check the glossy paper's latest prices on Amazon
Best Waterproof Sticker Paper For Cricut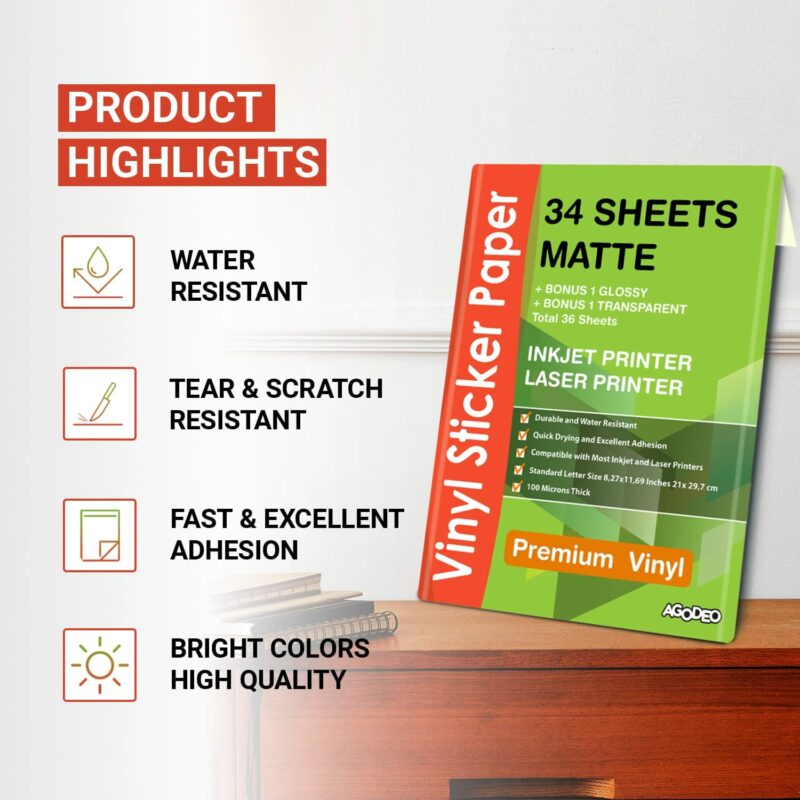 The next option on the list is this AgoDeo Store Premium Printable Vinyl Sticker Paper. Here, you get 34 matte-finish paper sheets, more than the other products on the list. 
These multi-purpose sheets are waterproof, making them resistant to water splashes or moisture. It doesn't have compatibility issues because it is compatible with all laser printers, inkjet printers, and Cricut machines.
Additionally, the adhesive helps the stickers adhere to all hard and smooth surfaces. Not to forget, you can manually cut through the sheets with a regular scissor.  
Tip: To improve your stickers' waterproof quality, seal them using a UV sealer spray. 
To sum up, these sheets are a steal if you're looking for a long-lasting, tear & scratch-resistant sheet for your craftwork.  
Pros
Tear and scratch-resistant 

Outstanding sticking quality 

Quick drying 

More sheets under the same price 
Cons
The thickness of the sheets could be more

Ink bleeds
Check the Agodeo paper's latest prices on Amazon
Best Sticker Paper For Inkjet Printer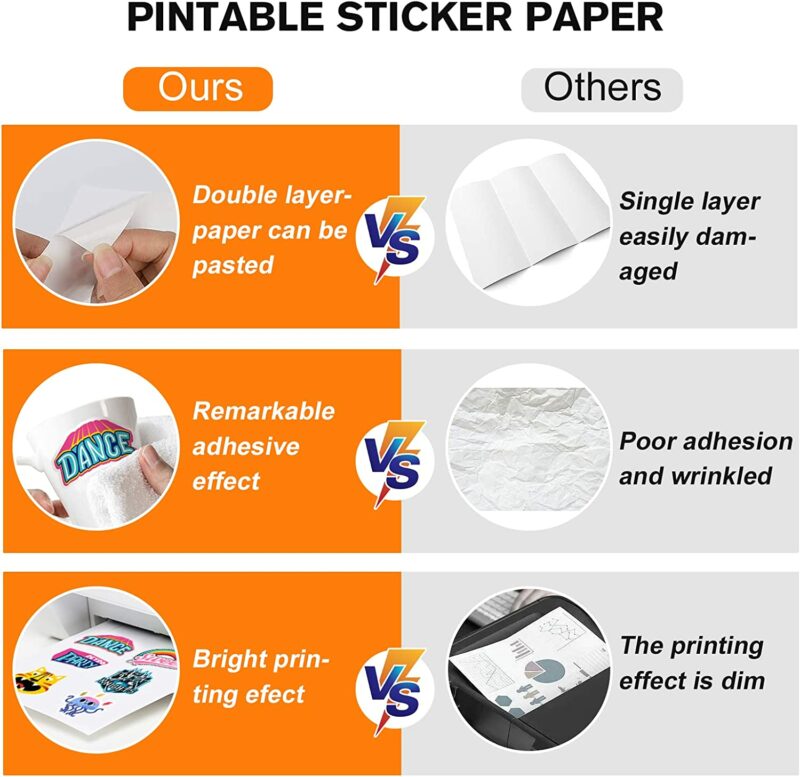 Available in a wide range, for example, glossy white, matte white, glossy gold, glossy silver, clear rainbow, etc., this pack of Gotega Vinyl Sticker Paper is suitable for all kinds of inkjet printers. 
Designed keeping in mind that your kids might love to design their stickers, the sticker paper is easy to handle and cut (if done manually.) Just set the sticker paper into your inkjet printer, choose the pattern you like to print, and hit the print button to see your stickers come to life. 
When peeled off, the paper doesn't leave any sticky residue, thus keeping the surface clean. 
An interesting thing I miss in other sticker papers is their adjustability to minor changes. But that's not the case here. These papers have a removable glue that enables you to make even small adjustments if you paste the sticker in the wrong direction or position.
Pros
Water resistant sheets

Wide range of vivid base colors to choose from 

Sticks to all surfaces 

Double layer for extra durability 
Cons
The papers' finish could be better

It takes time to dry
Check the Gotega paper's latest prices on Amazon
How Can I Print My Stickers At Home? 
Now that you've shopped for your sticker paper for Cricut, let's understand how to print some unique stickers.  
Just follow the following guide to get started. 
Open The Cricut Design Space
When making stickers using Cricut, you must create a new canvas on the Cricut Design Space. Either use a ready-to-use template from Cricut Access or upload your design. 
Note: If using your design, flatten the picture before moving on to the next step. 
Create a 6.75″ x 9.25″ square and fit your sticker images. Then, arrange your stickers accordingly, and when satisfied with the filled area, delete the square. 
Now, highlight the pictures and choose the "Print Then Cut" option in the operation section on the upper bar. While the pictures are highlighted, select attach in the layers panel, which will hold them in position for the next step.  
Related: What Can I Make With A Cricut Machine? 15 Ideas For All Levels
Once your stickers are in place, select your printer machine from the menu and select the "Make It" button. A lined black colored box will wrap your design. 
This box will be printed, and the Cricut detectors will examine it so the device knows precisely where to clip. 
Next, click "Continue" so it is sent to your printer. Also, choose the "Add Bleed" functionality so the ink is expanded a little outside the image's frame. This eliminates the white margin when the sticker is cut. 
However, if you like your sticker with a white margin, turn off this functionality. You can also turn on "System Dialog" to access your printer settings. 
This will allow you to change the settings for the finest print quality. 
Related: How To Make Business Cards On Cricut? The Complete Guide
This step is possible only with an inkjet printer. Load the printer, add your preferred printable material to the feed, and select "Print."
When your sheet is printed, add it to the mat, arranged in the upper left-hand corner. Even if your machine can use smart materials, you must use a mat. 
Select Your Material And Scan It
On the Cricut Design Space, set the type of material. If you are preparing to create Cricut stickers regularly, click the star next to this material to add it to "Favorite." This will save you a lot of time instead of searching through the materials every time. 
Next, line up your mat and select "Go." The device will calculate the mat size and utilize the sensors to check the black lines before trimming around a particular sticker. 
That is it. Your stickers will be prepared to peel off and used wherever you want.
Related: Sublimation vs. Vinyl: The Ultimate Printing Showdown
Best Sticker Papers For Cricut FAQs
What Material Is Used For Stickers?
Ans: Vinyl is the most commonly used sticker material. It comes in a white and transparent sheet that works on all applications. Plus, vinyl is waterproof, thus, perfect for outdoor applications. 
Is Label Paper The Same As Sticker Paper?
Ans: They are pretty much the same. Only one factor differentiates between the two. 
While label paper displays a sticky paper providing some information, sticker paper doesn't. Instead, the latter is just any regular sticky paper with a visual or text.
Can Regular Printers Print On Sticker Paper?
Ans: Yes, regular inkjet and laser printers can print sticker paper. Just be mindful of using "sticker paper" instead of the regular "printing paper."  
Can You Make Homemade Stickers?
Ans: Yes, you can make homemade stickers, provided you have the following supplies. 
Any Cricut machine

Printer

Printable sticker paper sheets

Scissors
Conclusion
Here you go. Sticker printing can look like a highly technical or skilled-based activity. Even I used to think so. However, with the perfect skill set and the right tools, even your kids can print their stickers at home and have limitless fun with them! 
However, you can't go wrong with the essential supply of sticker paper printing, the sticker paper. 
As discussed above, you must consider many variables before buying one. From the ease of cutting to printer compatibility, they have every parameter covered to get the best paper for stickers that leave your friends asking, "Did you make these?"