A fun pair of Hoop Earrings is the perfect finishing to any outfit, hoop earrings are a girl's favorite. They are fashionable and perfect for various outfits. In this tutorial, you will learn how to make simple Bohemian Hoop Earrings with beads.
Materials needed
Round shape mandrel
Seed beads of your favorite color are preferable.
90 mm or 20 mm gauge wire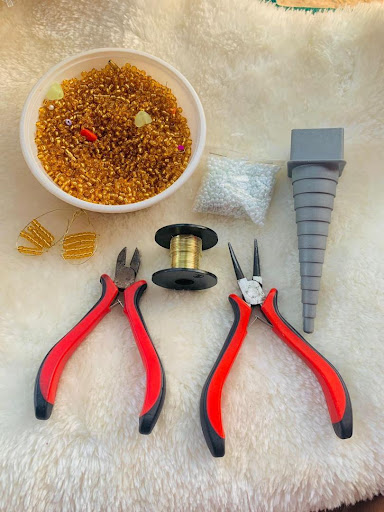 What kind of wire will you need?
An important step in making an oval-shaped beaded hoop earring is selecting the wire. Selecting a thicker wire implies that you will experience difficulties in obtaining beads that can fit into your wire hoops comfortably. Selecting a thinner wire will also not go well with your project, because it will be very difficult for the wire to retain your desired shape. Here I will be using a 90mm thick wire for the jump rings and a 20 mm wire for the oval-shaped Hoop.
STEP 1 MAKING THE OVAL HOOP SHAPE
Use oval-shaped plastic mandrels for your hoop shape. They are very affordable and can help you get your desired shape effortlessly. If you can't get those, you can use a round object with a smooth shape. Wrap your wire around your mandrel firmly. Do not do this more than once.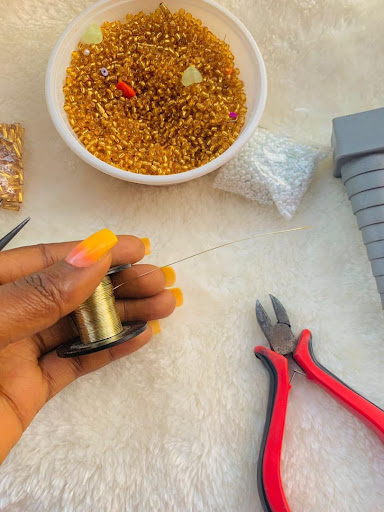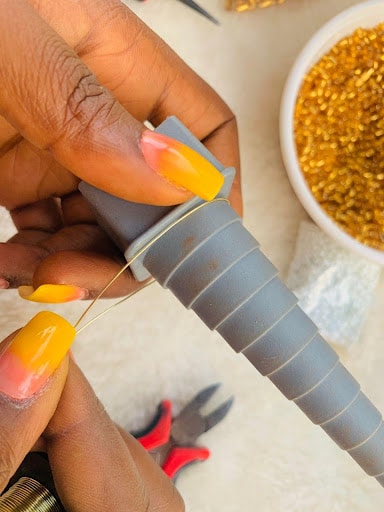 STEP 2 CUTTING YOUR WIRES
After placing your wire around your mandrel, cut your wire as shown in the picture below. You want the end of your wire to overlap with ¼ inch. Ensure your cutter is sharp enough to cut your wire smoothly. After cutting your wires, make sure they are of the same length. This stage is important because if you trim badly, the wires will not align and the difference in sizes will be noticeable.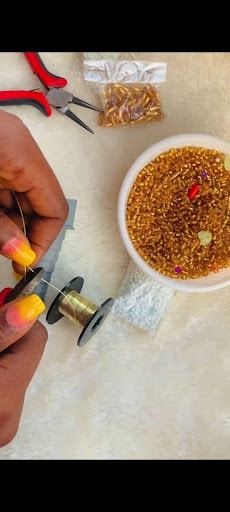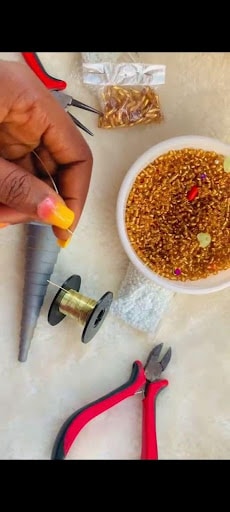 STEP 3 MAKING LOOPS
Using the round nose plier, make loops at the end of the wire and ensure the two interlock. Open your jump ring, or you can make one as shown in the video. Open the hoop by twisting the sides apart, make sure the loop faces the back of the earring when it is hanging and not the front.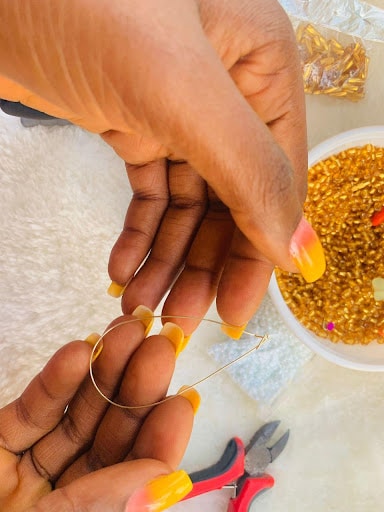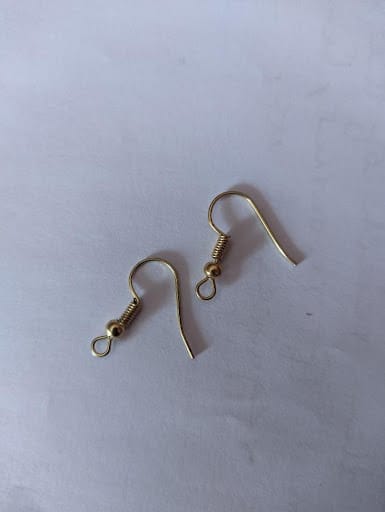 STEP 4 ADDING BEADS
Cut a fresh wire at the bottom of your hoop earring, place the wire across your hoop earring. Make a small loop on one end of the wire so that it interlocks your hoop earrings on one side. Put 6 seed beads in the wire holding it firmly, allow the wire to touch the other end of the hoop as shown in the picture below. Cut it with ½ inches extra, repeat the process of making a loop around your hoop.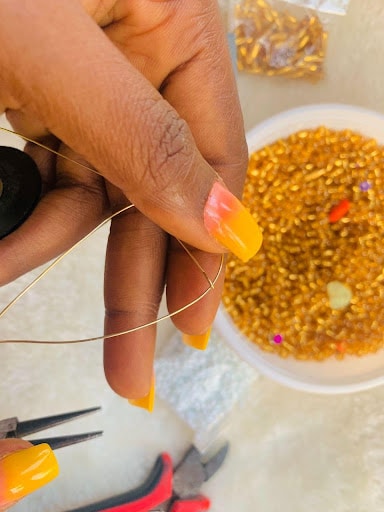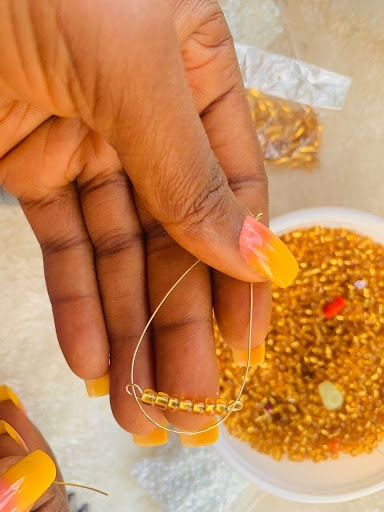 Step 5. Repeat the same process 3 more times adding 1 seed bead to each level as it goes higher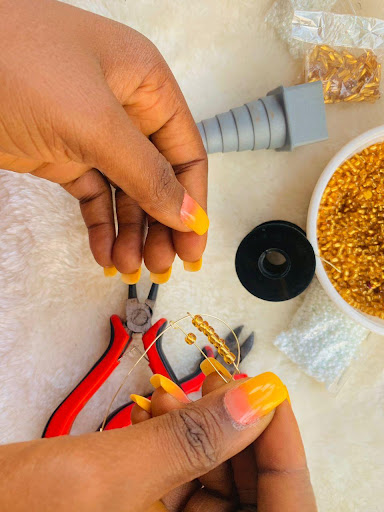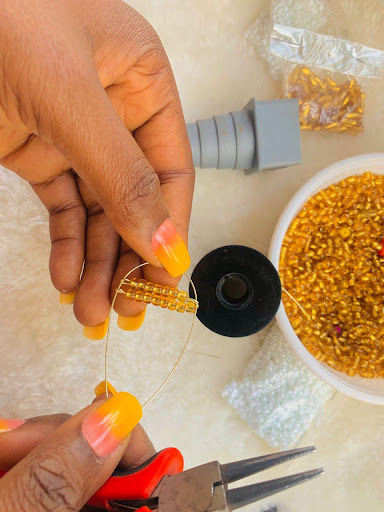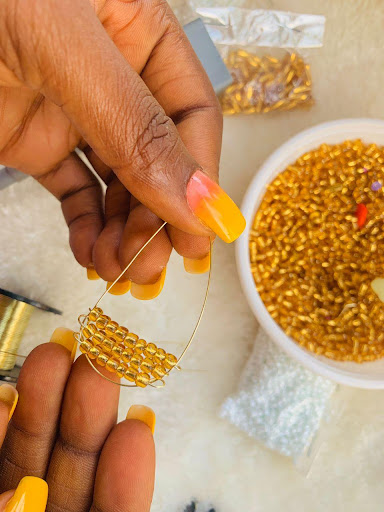 MAKING YOUR JUMP RING
As stated earlier, you can attach already made jump rings to your hoop earrings. I prefer to make mine. In making yours, cut a fresh wire, make a loop at one end but do not close the loop. Pick up your already made hoop and attach it to the loop you just made and close the loop.  4 inches above your already made loop place your wire across your round nose plier and bend downwards then cut, you have your jump rings.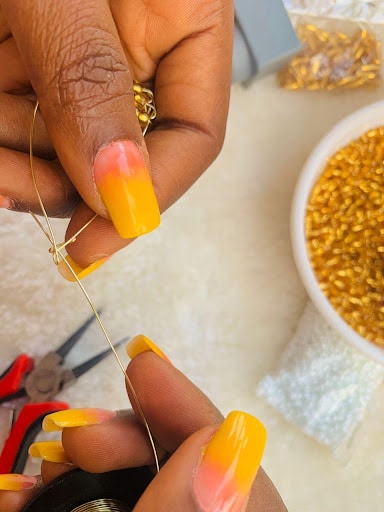 Hoop earrings are fashionable and never grow out of style, the right pairs of earrings can do no wrong.