Earlier this year, I decided to turn some of my nicer photos of my son into canvas wall art. I had invested in a 50mm prime lens and taken the time to learn how to use my DSLR, so I wanted to make sure those images weren't destined to live only on my computer. Now I have 6 canvas prints of Elliot at different ages and seasons all around the dining room. It's a really nice way to remember his first year!
Most of the time, I only have my camera phone with me. Since those images are smaller and not really suitable for printing or framing, they exist only on Instagram. But they include some of my very favorite memories, like first time Elliot pet a kangaroo… and the one where he made that grumpy old man face… and that time with the chocolate pudding.
Then I discovered a really cool service called Postrgram! This site allows you to instantly (in 5 minutes!) import photos from your instagram feed or from a specific hashtag and turn them into a canvas-worthy print. Here's how it works: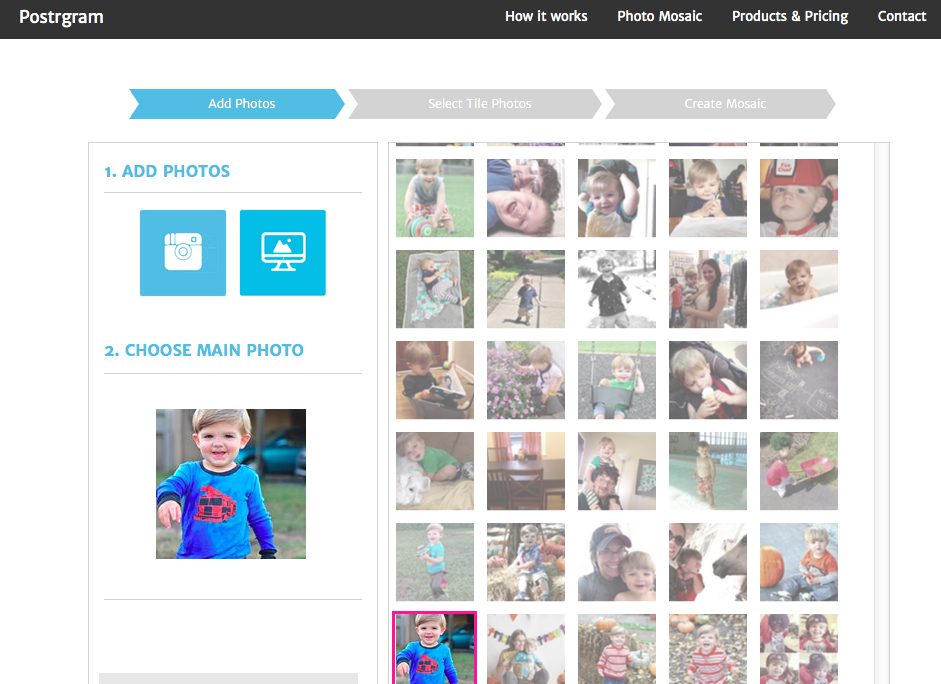 Postrgram asks you to select your photos (50 to 250) from a specific username or hashtag. I chose the hashtag I use for my son, so all of the appropriate photos showed up. From that, you can choose one image to be your "Main Photo."
In the next step, you can select all or just some of the specific photos which will be included in the tile mosaic. Pick your print size (I went with the 20″ x 20″ canvas, but you can also order many sizes, or even a hi-res digital image). A great feature is the little slider that lets you adjust the image transparency. This way, you can decide how much you want to be able to decipher all of the mini images, or if you'd rather they just blend in.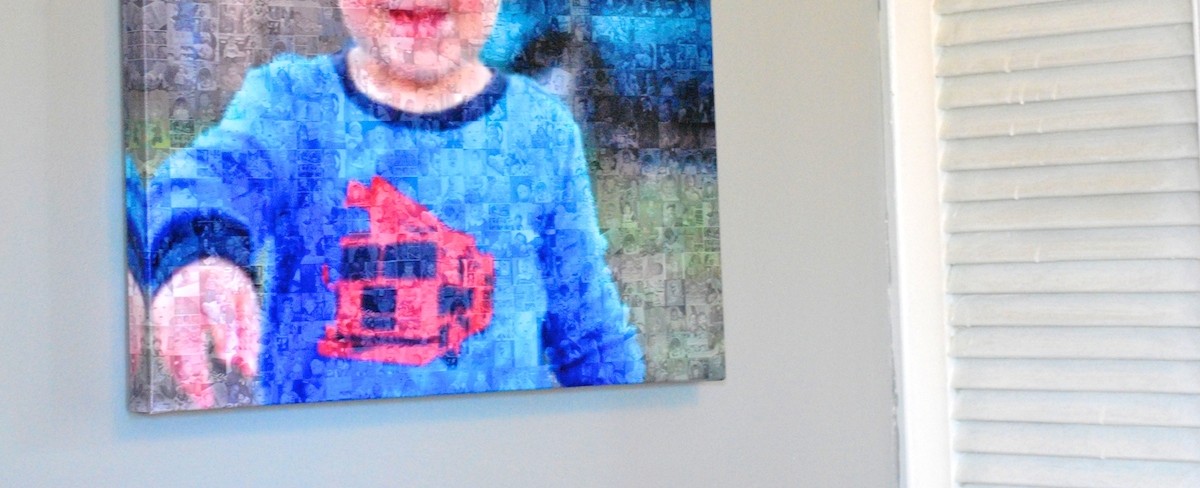 This is how my 20″ x 20″ canvas print from Postrgram turned out. I have to say, it's a really high-quality print! And the square format is really unique and perfect for Instagram photo cropping. My print is definitely on par with the other canvas prints I've ordered from my DSLR photos… I never would have guessed looking at this that the pics were pulled from my Instagram feed!
I'd say the one feature that could improve Postrgram would be the ability to swap out a couple of tiles with others. For instance, in both of the Main Images I tried, my son's nose slightly disappeared. I realize this is just one of the quirks of a photo mosaic, but I wonder if I'd swapped a couple of tiles if it would have made a difference.
All in all, I'm so happy with the way this Postrgram photo mosaic turned out, and I'd definitely recommend the service. The canvas print arrived in a protective plastic and cardboard wrap, and came with hardware installed so it was ready to hang!
If you are looking for a creative, last-minute holiday, birthday or anniversary gift, check out Postrgram and start building your own custom photo mosaic in just minutes! It's a really fun and unique way to print Instagram photos.
Disclaimer: I received a free product in exchange for my review, but was not otherwise compensated for this post. All opinions are my own.