Embark on a captivating journey through the top 7 collectible gold bars, where unique designs and characteristics set them apart, discovering a world that stands out with its captivating features and precious metals allure. And find the appeal and craftsmanship of various mints as they unveil their unparalleled creations, each narrating an exquisite and remarkable story.
Collectible gold bars are refined metallic gold of any shape made by a bar producer meeting standard conditions of manufacture, labeling, and record keeping. Investors, collectors, and enthusiasts who admire the worth and elegance of gold often trade, horde, or accumulate them. In this handpicked list of the best seven collectible gold bars, we'll examine what makes each mint's product so remarkable.
Each submission, from the classic beauty of PAMP Suisse's Lady Fortuna to the inventive shapes of Geiger Edelmetalle's Square Gold Bars, demonstrates the inherent worth of gold and the ingenuity that mints deliver into their exquisite masterpieces. Join us as we unveil the captivating charm of these extraordinary gold bars.
1. Geiger Edelmetalle Square Gold Bars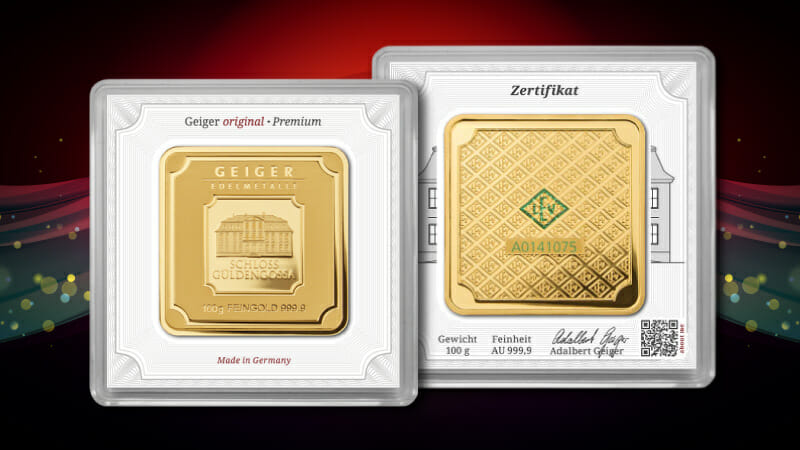 Geiger Edelmetalle Square gold bars, crafted by Germany's esteemed Geiger Edelmetalle refinery, captivate with their unique square shape and design, setting them apart.
With roots tracing back to 1218, Geiger Edelmetalle boasts a rich and revered history as a pioneer in Germany's silver trade. Their revolutionary silver trade, which began in Leipzig, quickly gained global recognition. Presently, Geiger's operations are centered around the majestic Schloss Güldengossa castle, and their production hub thrives within a refurbished 1930s factory.
Geiger has maintained its prestigious reputation as an enduring symbol of brilliance in precious metals over the centuries. With origins tracing back, these gold bars showcase exceptional craftsmanship and security features.
Key features include:
99.99% pure gold (999.9 parts per thousand).
Sizes range from 1 to 1000 grams.
The front displays Geiger Edelmetalle's logo, Schloss Güldengossa, with weight and fineness.
The back features a smooth surface, UV security coating, and a serial number.
Unique aesthetics: pearl-finish front, reverse embossing, high relief, fluted edge.
Can be verified via Veriscan security for authenticity using a smartphone app.
It is a sought-after choice for investors, collectors, and enthusiasts who treasure gold's value and allure. Available in various forms, including multicards, tubes, and capsules.
Geiger Edelmetalle employs the "LEV" Mintmark, symbolizing Leipziger Edelmetallverarbeitung GmbH, their sister company. This hallmark is featured on certain products. However, it's important to note that some Geiger Edelmetalle items have no mint mark or hallmark.
2. PAMP Suisse Lady Fortuna Gold Bars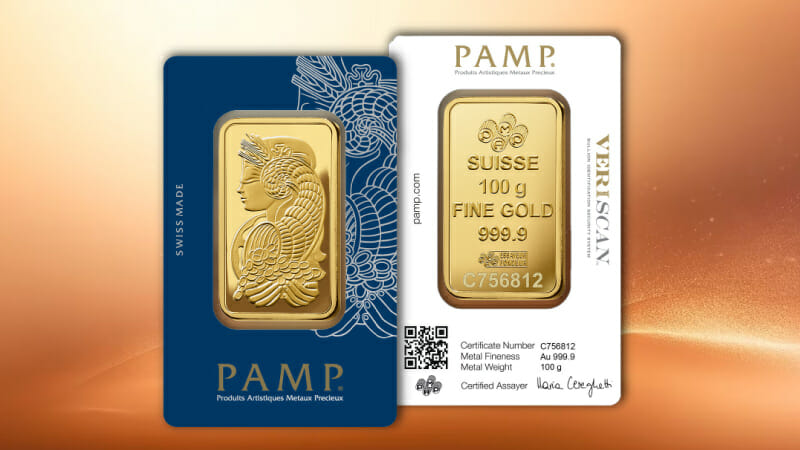 PAMP Suisse, a top Swiss refiner and mint within MKS PAMP Group, crafts premier bullion with innovative design and security. Notably, Lady Fortuna gold bars, spanning 1g to 10oz, gained global trust.
Why do collectors value the PAMP Lady Fortuna gold bars?
The PAMP Suisse Lady Fortuna gold bars showcase a unique design featuring Lady Fortuna, the Roman goddess of luck.
Lady Fortuna is depicted blindfolded, signifying the uncertainty of fate, while holding a cornucopia that symbolizes wealth and abundance.
The design beautifully showcases intricate components such as a floral wreath, pearls, and wheat braids in Lady Fortuna's hair, highlighting the divine origin of prosperity in a truly captivating way.
The reverse side of the bar provides essential information such as weight, purity, a distinct serial number, and the PAMP logo.
Weight and purity are indicated in grams and fineness, with the example "100g FINE GOLD 999.9" for a 100-gram bar.
The PAMP logo, consisting of stacked bars with the letters P, A, M, and P, reinforces authenticity.
The PAMP Suisse Lady Fortuna gold bar is renowned globally and marries artistic elegance, top-notch security features, and wide popularity.
This enticing design includes gold and embraces silver, platinum, palladium, and rhodium bars.
These bars suit Precious Metals IRAs, each secured by a tamper-evident assay card affirming genuineness. They are validated using microscopic topography and QR codes and are enhanced with Veriscan® technology. Lady Fortuna bars stand out as valuable assets with .9999 fine gold purity and varying thicknesses, for instance, 1 oz at 1.71 mm.
3. Germania Mint Gold Cast Bar – New Released 2023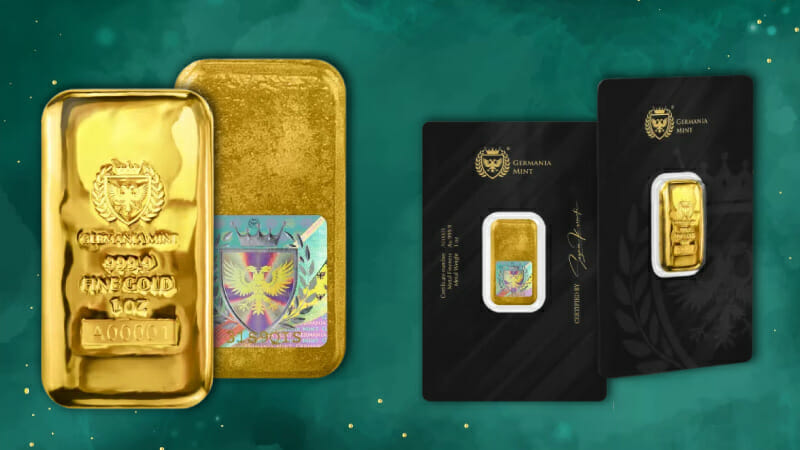 Germania Mint gold cast bars blend classic investment with modern collectibles. Each bar is made with modern technology, and its unique form is admired worldwide. They come with serial numbers and holograms verified through the Germania Mint database and sourced from top-quality, LBMA-certified origins.
Preservation is ensured with vacuum-sealed packaging. Germania Mint Safepack is a fusion of safety and aesthetics and holds gold bars with matching serial numbers.
Germania Mint's 2023 new release gold 1 oz Germania Cast Bar is quality.
Its key features are:
Crafted to the highest standards of craftsmanship.
Made from LBMA-certified .9999 fine gold for exceptional purity.
Engraved serial number enhances security and authenticity.
Hologram protection and scratch foil ensure preservation.
Dimensions: 13.44mm x 25.03mm x 5.85mm.
The compact size allows easy stacking for collectors.
Founded by Szymon Kurowski in 2018, Germania Mint is a leading modern collectible manufacturer that crafts fine silver and gold products known for unique design, top-tier craftsmanship, and inventive packaging.
As one of the world's fastest-growing mints, it pushes boundaries in the numismatic industry. The mint's name reflects its roots in the ancient land of diverse tribes, forebearers of Europe's nations. Its bicephalous eagle, shield, and laurel wreath emblem signifies innovation and excellence.
Embrace German excellence and add confidence to your numismatic portfolio.
4. Argor Heraeus Refinery Gold Bars (Hologram – Kinebar)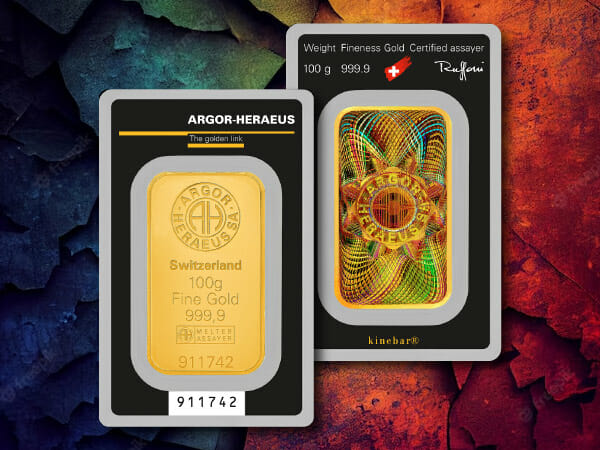 Argor Heraeus Refinery's gold bars stand out with their unique Kinebar hologram technology, a laser-engraved hologram on the bar's reverse side displaying a shifting image. This new feature reduces the possibility of the bar being counterfeited and boosts its value.
Established for 70+ years, Argor Heraeus is a reputable Swiss refiner, renowned globally as an LBMA good-delivery brand. Their diverse gold bar lineup, including the Kinebar series, ranges from 1 to 100 grams. Trusted and favored, Argor Heraeus ensures authenticity and quality.
One of their main selling points to buyers of precious metals is how easily they stack.
For more specifics, let's take a look at what the Argor-Heraeus Gold Kinebar 100 gram Bar (In Assay) has to offer:
Each bar contains 100g of .9999 gold and features the Argor-Heraeus logo, weight, purity, and a unique serial number.
Bars are securely packaged in blister packs with assay cards detailing specifications and matching serial numbers.
The bar's reverse showcases a distinctive Kinebar holographic technology.
Shifting angles reveal color variations and intricate patterns, serving as an anti-counterfeiting measure and a visually appealing element.
The center displays the Argor-Heraeus logo against a background blending oscilloscope and kaleidoscope patterns.
5. The Royal Mint Britannia Gold Bars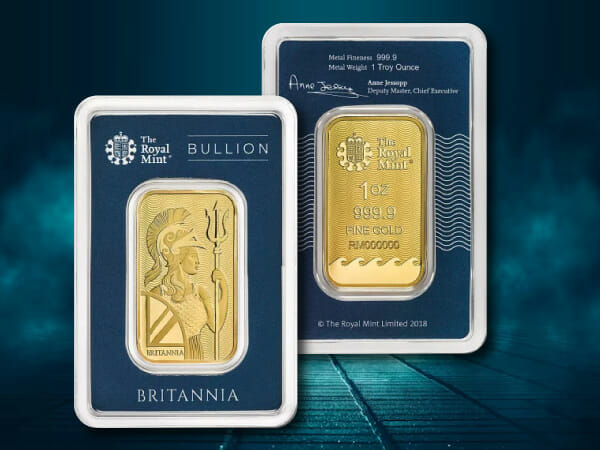 The Royal Mint Britannia gold bars are a distinct form of gold bullion, showcasing the renowned emblem of Britannia – the embodiment of Britain's essence. Britannia stands for the relentless British ethos and represents resilience and assurance for those investing in bullion.
For instance, let's explore the incredible Britannia 1 oz Gold Bullion Minted Bar!
The Britannia 1 oz Gold Bullion Minted Bar is a product of the Royal Mint, the official UK mint.
It features Britannia, representing Britain, on one side.
The bar contains 1 troy oz of .9999 fine gold and has a unique serial number.
The obverse side displays mighty Britannia with a trident and shield; the reverse side shows the Royal Mint logo.
Secure blister packaging with an Assay card accompanies the bar.
Highly regarded by collectors and investors valuing Royal Mint's reputation and Britannia's symbolism.
The British Royal Mint, a historic institution founded in 886 AD, stands as the official mint of the UK and a global leader. It skillfully produces coins, medals, and iconic bullion products like the highly sought-after gold and silver Britannia bars.
Responsible for UK coin creation and distribution, it also provides blanks and official medals, showcasing a rich legacy of craftsmanship and historical significance.
6. Royal Canadian Mint (RCM) Gold Bars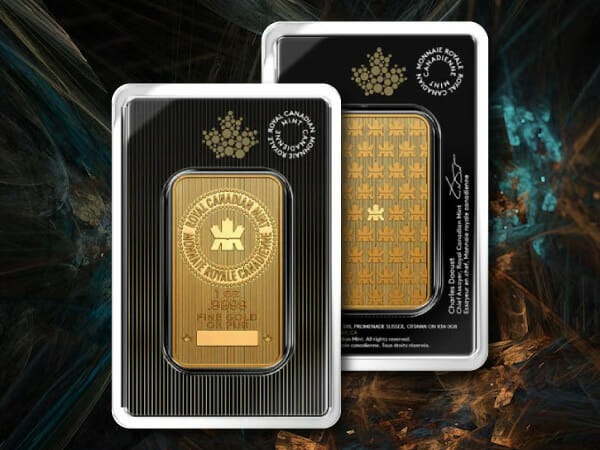 From the Canadian Mint, RCM gold bars shine with .9999 purity, sleek design, and robust security features. Sizes vary (1g to 400 oz), showcasing a maple leaf, weight, and unique serial number.
Assay-certified packaging includes a color-shifting hologram. Backed by a century of excellence, RCM's bars are embraced worldwide.
Discover this RCM 1 oz Gold Bar: a Royal Canadian Mint creation:
It comes in secure assay packaging and includes 1 troy oz of .9999 pure gold.
Obverse displays RCM seal, unique serial number, weight, and purity.
The reverse features a repeating RCM logo pattern.
Contemporary design with uniform line pattern on both sides for security.
Laser-engraved maple leaf marks with magnification-revealed production year.
Secure packaging mimics line patterns, enhancing presentation and protection.
Line pattern serves a dual purpose: aesthetics and advanced security.
Micro-engraved "23" confirms authenticity under magnification.
Mintage is not limited, providing investment flexibility.
The Royal Canadian Mint, established in 1908, is responsible for crafting Canada's coins, bars, and collector pieces. It stands apart with innovative designs, operating as a Crown corporation. With Ottawa and Winnipeg sites, it's acclaimed for gold and silver Maple Leaf bullion coins.
The mint is dedicated to delivering premium services in metals. Under the Royal Canadian Mint Act, it reports to the Minister of Finance. A hub of creativity and craftsmanship, it symbolizes Canada's numismatic expertise.
7. Scottsdale Mint Lion Gold Bars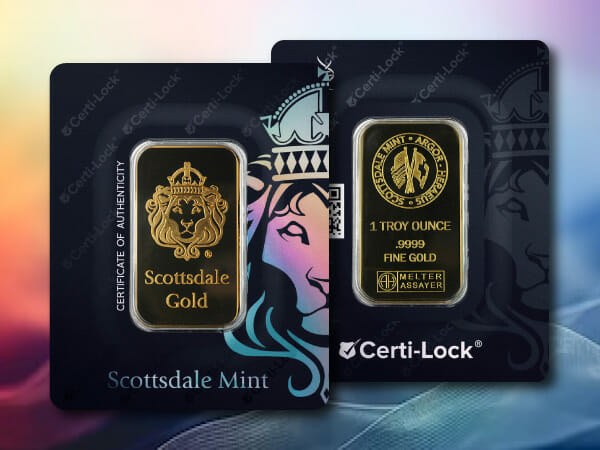 Scottsdale Mint Lion gold bars are favored by quality-conscious gold collectors, boasting distinctive design and secure packaging. In partnership with Argor-Heraeus, the renowned Scottsdale Mint presents the impressive Scottsdale Lion 1 oz Gold Bar, proudly featuring the iconic Scottsdale Lion emblem.
Features of Scottsdale Lion 1 oz Gold Bar:
Scottsdale Mint collaborates with Argor-Heraeus to present the Lion 1 oz gold bar.
Each bar contains 1 troy oz of .9999 pure gold and features the Scottsdale Marquee Lion design on the obverse.
Obverse features "Scottsdale Gold 1 Troy Oz .9999 Gold" inscriptions for authenticity.
The reverse showcases the logo of the Scottsdale and Argor-Heraeus partnership, along with weight, purity, and the assayer's mark.
Comes in certi-lock assay packaging, with a unique serial number, assayer's mark, weight, and purity details.
A stunning blend of artistry and quality, making it a coveted collector's item.
Scottsdale Mint is a US-based company that crafts premium bullion items with distinct designs and secure packaging. It has earned the moniker "Benz of Bullion" and is well known worldwide.
Collaborating with Swiss refinery Heraeus, they create gold bars adorned with the prestigious Scottsdale Mint lion hallmark, symbolizing quality and purity.
This mint produces legal tender coins for 25+ nations and offers collectibles with diverse themes and finishes. Renowned series encompass- Silver Stackers, Egyptian Relic, Silverback Gorilla, EC-8 series, and Biblical Collection.
Final Words
Collectible gold bars offer a fantastic opportunity to invest in gold while enjoying the beauty of their exquisite creations. In addition to monetary benefits, these bars beautifully highlight the boundless imagination of humanity and the irresistible allure of gold. These exceptional pieces exude intrinsic and aesthetically pleasing value, enhancing collections and portfolios.
In the precious metals sector, these top 7 collectible gold bars showcase a fascinating blend of heritage and significance, captivating investors and collectors alike.
Each bar is made by a highly skilled mint with tons of fresh concepts and superb craftsmanship, making it clear that they are incredibly significant in the world of gold. Gold's everlasting allure is highlighted in its dual roles as an investment and an artistic medium.