Minted between 1916 and 1945, the Mercury dime bears witness to a tumultuous era of change in the US and the world. Amidst the backdrop of World War I, the Roaring Twenties, the Great Depression, and World War II, each coin offers a captivating glimpse into the political, social, and cultural landscape that shaped the nation in the early 20th century.
Beyond its historical importance, the Mercury dime boasts one of the most alluring designs ever minted in the US. Its intricate artwork weaves a tale of a country that cherishes freedom of thought, unity, and peace above all else. For many collectors, this coin holds a special place in their hearts, symbolizing the essence of a bygone era.
Even after nearly eighty years since its discontinuation, the Mercury dime continues to captivate the nation, remaining popular among collectors and enthusiasts alike. In this article, dive into its rich history, mesmerizing design, notable errors, unique composition, and more. Discover everything you need to know about this fascinating and cherished piece of American numismatic heritage.
The Mercury Dime Design, Composition, and Symbolism
Mercury Dime Design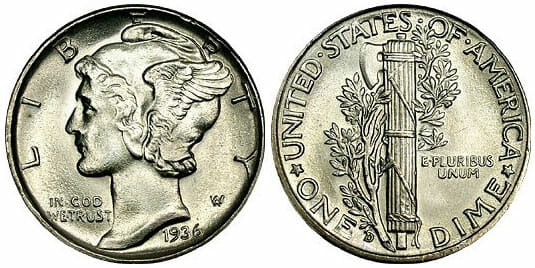 The design of the Mercury dime is widely considered a masterpiece of numismatic art. It was crafted by Adolph Alexander Weinman, a German-American sculptor who designed other distinguished pieces too, such as the Walking Liberty half-dollar and American Silver Eagle bullion coin. He won a competition in 1916 when it was time to replace the famous Barber dime.
Related: Dimes Worth Money – The Small Coins with Big Value
Artistic Features of a Mercury Dime
Weinman's nonpareil skills are distinctly exhibited through the lifelike depiction of Lady Liberty and in the intricacy of details on the back of the coin. The features on this small metal piece of art manage to perfectly embody the values, strength, and principles that the US holds, making the Mercury dime an invaluable piece of numismatic history.
Symbolism Behind the Design
Delving into the intricacies of the Mercury dime's design reveals a treasure trove of profound significance.
The obverse side features Lady Liberty, an iconic representation of freedom herself. Adorned with a Phrygian cap, a poignant symbol once worn by emancipated slaves, she stands as a powerful emblem of liberation from oppression.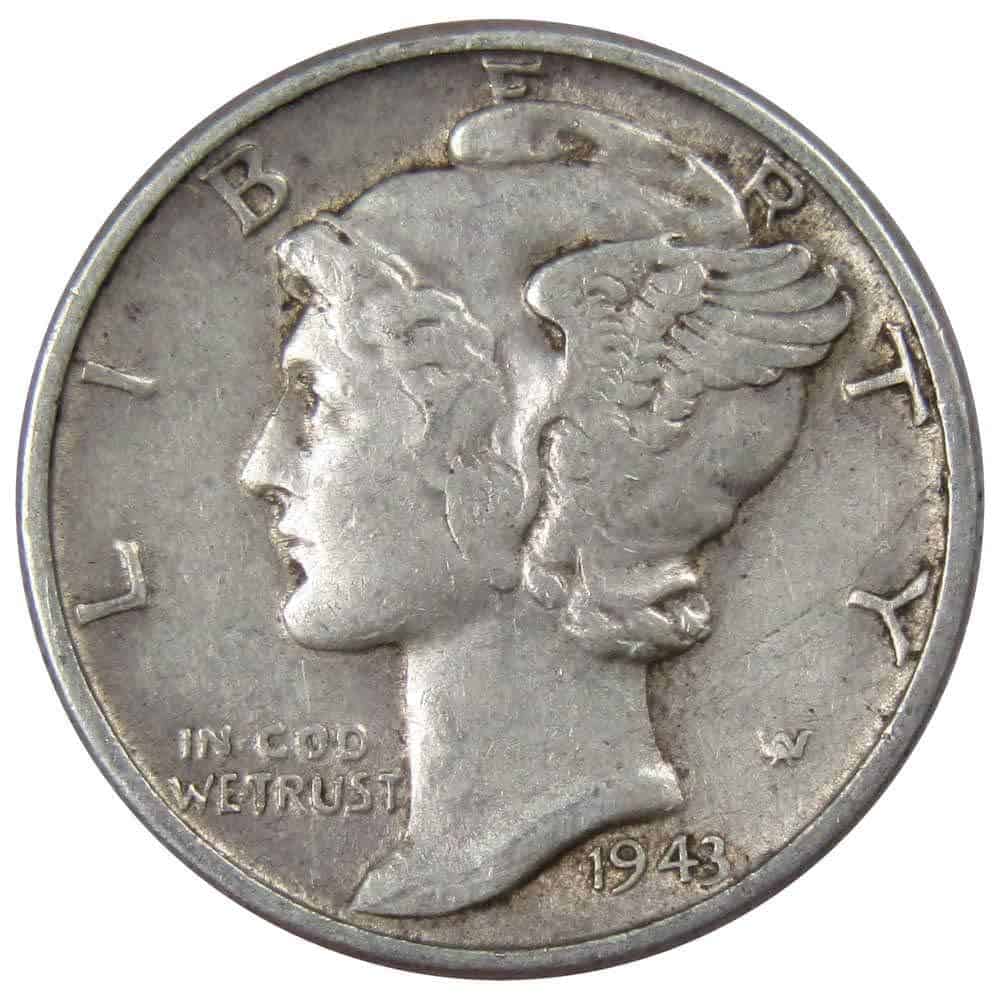 Turning to the reverse side, the fasces takes the spotlight, a symbol synonymous with strength and authority, underscoring the unity and might of the nation. Accompanying it are the graceful olive branches, epitomizing the collective pursuit of peace and harmony.
In every intricate detail lies a story of resilience, empowerment, and the enduring human desire for freedom and peace. The Mercury dime transcends its monetary worth to become a timeless emblem of cherished values, paying homage to the indomitable spirit that defines a nation.
The then-director of Mint, Robert Wolley, commented on the design as follows:
"The design of the dime, owing to the smallness of the coin, has been held quite simple. The obverse shows a head of Liberty with winged cap. The head is simple and firm in form, the profile forceful. The reverse shows a design of the bundle of rods, with battle-ax, known as "Fasces", and symbolical of unity, wherein lies the nation's strength. Surrounding the fasces is a full-foliaged branch of olive, symbolical of peace."
Evolution of the Design Elements
The Mercury dime didn't undergo any changes to the design elements throughout its lifespan. It is preceded by the Barber dime and replaced by the Roosevelt dime in 1946.
Where is the mint mark on a Mercury Dime?
You can find the mint mark on the tails of a Mercury dime. It is adjacent to the fasces on the bottom left corner by the rim of the coin. Mercury dime was minted in Philadelphia, Denver, and San Francisco. Since Philadelphia didn't use marks, the coins minted there don't have a letter indicating their origin.
If your Mercury dime is marked with the letter D, it was produced in Denver, and if you see the letter S, your coin comes from San Francisco.
Mercury Dime Size
Mercury dime is 17.91 millimeters (0.7 inches) in diameter. It weighs 2.5 grams (0.08 ounces) and is reeded with 118 reeds.
Mercury Dime Composition
A Mercury dime is composed of 10% copper and 90% silver, giving it a striking lustrous appearance. The high silver content is another factor contributing to this coin's popularity among collectors and enthusiasts.
How much silver is in a Mercury Dime?
There are approximately 2.25 grams (0.07 ounces) of silver in each Mercury dime.
Mercury Dime Minting and Production
Production Statistics and Mintage Years
From 1916 to 1945, the minting of Mercury dimes spanned nearly three decades, with mintage figures fluctuating significantly due to the prevailing economic instability.
In the initial years, production remained relatively consistent, with the US minting between 25 to over 80 million dimes annually across three mints. However, in 1921, the output plummeted to just a few million ten-cent coins. The following year, in 1922, production came to a complete halt – the first time since 1826 that dime minting ceased for an entire year.
The mintage numbers saw stability for the next seven years after 1923. However, in 1930 and 1931, the Mint produced only around 15 million dimes combined, leading to another two-year pause in dime minting. The economic situation improved in 1932, allowing for steady and increasing mintage figures until the design change in 1945.
The Creation Process of Mercury Dimes
The inception of Mercury dimes can be traced back to 1915 when plans to create new dimes, quarters, and half-dollars were set in motion. Charles E. Barber, the Chief Engraver at that time, presented his artistic proposal, only to have it rejected. Subsequently, the Commission of Fine Arts appointed three independent sculptors to submit their designs, and among them, Adolph Alexander Weinman emerged triumphant, chosen to craft two of the three new coins.
While Weinman's designs received approval in February, the first dimes were not struck until October 2016, facing delays caused by unforeseen illness and challenges arising from Barber's uncooperative and disdainful demeanor. Reluctant to collaborate in making the dies for replacing his own designs, Barber posed additional obstacles.
Nonetheless, with determination and perseverance, everyone involved surmounted these hurdles, successfully bringing the Mercury dimes into circulation, cementing their place as timeless and cherished pieces of American coinage.
The Mercury Dime Value
Determining the value of a Mercury dime involves considering multiple key factors, including its rarity, potential errors, demand among collectors, and overall condition. These elements collectively influence the coin's worth, ranging anywhere from a few cents to astonishing figures in the hundreds or even thousands of dollars.
Let's embark on a journey to explore the intricate details that contribute to the captivating and fluctuating value of this remarkable coin.
How Much is a Mercury Dime Worth?
Mercury dimes are worth a minimum of $1.75 (their melting price) but can vary greatly based on mint year and condition. Some, like the 1916 Denver minted dime, reach hundreds of thousands of dollars in mint state, while others, like the 1945 dimes, are generally worth less than ten dollars, with rare high-grade specimens fetching significant prices, such as the 1943 dime sold for $19,550 in 2010.
Key Dates and Varieties
Some dates and mint marks of the Mercury dime's production are more sought-after than others due to their historical significance and scarce mintage figures. Learning about those key dates and varieties is crucial for anyone interested in collecting Mercury dimes.
Rare and Valuable Dates
The most valuable Mercury dimes are generally those minted in the early production years, between 1916 and 1921. Those produced right before the Roosevelt dime took over, between 1941 and 1945, during World War II, can also fetch significantly high prices at auctions.
Keep in mind that only the date when the coin was minted doesn't mean everything. Your coin needs to be in good condition with a grade of 60 and more to command a premium.
What is the most valuable Mercury Dime?
Among all the Mercury dimes minted, the most valuable and sought-after are those produced in Denver during the inaugural year, 1916. In pristine condition, these coins can command prices in the thousands, while those graded 60 or higher have been known to fetch tens of thousands of dollars. The pinnacle of this remarkable coin's value was reached in 2010 when a fortunate collector paid an astounding $207,000 for one.
If you happen to possess a 1916 dime adorned with the letter "D," consider yourself exceptionally fortunate, as this prized gem represents a true numismatic treasure.
Mercury Dime Error List and Associated Value
The coining process is very elaborate. It involves hundreds of people and complex machines, so naturally, mistakes happen. Those mint errors can notably increase the value of a coin so you should be on the lookout for them if you want to buy or sell a Mercury dime.
Mercury Dime 1942/41 Error
This is one of the most recognizable and valuable errors in the Mercury dime series. It occurred when the Mint accidentally struck the year 1942 over already-engraved 1941 coins. The mistake is easily noticeable on both Philadelphia and Denver dimes. If you have one of these coins in good to average condition, you can get $300 to $1000. If your errored dime is in mint state, it can reach the price of $20 000 and sometimes even more.
1945-S Mercury Dime Micro S Error
Mint marks on coins are typically uniform in size and shape, but there's an intriguing exception. In the case of the 1945 San Francisco Mercury dime, the letter "S" may appear smaller and thinner than usual, deviating from the norm. While these coins with the mint mark anomaly are not exceedingly rare, their value can fluctuate significantly.
Depending on their condition, they have been known to fetch prices ranging from $10 to thousands of dollars for those in excellent state. Keep an eye out for this captivating error, as it can add an unexpected twist to your numismatic pursuits.
Other Mercury dime errors
In the realm of Mercury dimes, you may encounter a diverse array of errors that add uniqueness to these cherished coins. Some of these captivating variations include the clipped planchet, lamination error, double die obverse or reverse, and off-center mistakes, among others. While not as valuable as the previously mentioned anomalies, they still hold significance and are worth considering for grading and authentication.
Though these errors may not fetch astronomical prices, they do enhance the value of your coin by several dollars, which, when compared to the face value of a dime, is certainly noteworthy. Moreover, having these distinct variations in your collection adds an extra touch of fascination and delight for numismatic enthusiasts.
Understanding Mint Marks and Their Importance
Mint marks are a way to indicate where the coin was produced. For a long time, there was no need for mint marks as the Philadelphia Mint was the only one making coins. This changed in 1838 when the US opened new branches. The new facilities specified the location of the coin, while Philadelphia continued not to do so.
The first coins with the P mint mark were produced from 1942 to 1945. After a break of several decades, the Philadelphia Mint continued using mint marks from 1979 to this day for all coins except for the cent.
1916 Mercury Dime
1916 Mercury Dime Value
The first year of the Mercury dime production was 1916, so the coins with this date have predominantly historical and sentimental value. The monetary value of dimes with no mint mark from 1916 depends on the condition of a coin. Philadelphia minted over 22 million dimes during this year so they are not scarce and therefore, usually not worth a lot.
Those in good and fine condition can be worth anywhere between $2 and $30 while the dimes in mint state can reach the price of hundreds of dollars. The auction in 2020 saw one such specimen sell for a staggering $20 400! The coin was evaluated to be in perfect condition with a grade of 68.
1916-D Mercury Dime Value
The Denver Mint made only 264 000 dimes in 1916, making them extremely rare, precious, and sought-after. Even the specimens in the poorest condition are worth thousands of dollars, while those in the mint state can command the price of hundreds of thousands of dollars. As mentioned, this is the most valuable variety of Mercury dimes.
1916-S Mercury Dime Value
Mercury dimes produced in San Francisco in 1916 are typically worth only several dollars if they are circulated. The coins in mint state with the grade of 60-65 can reach the price of up to $500 but those in an even better condition sell for several thousand dollars. The highest price at auctions for this variety was $23 000 in 2001.
1917 Mercury Dime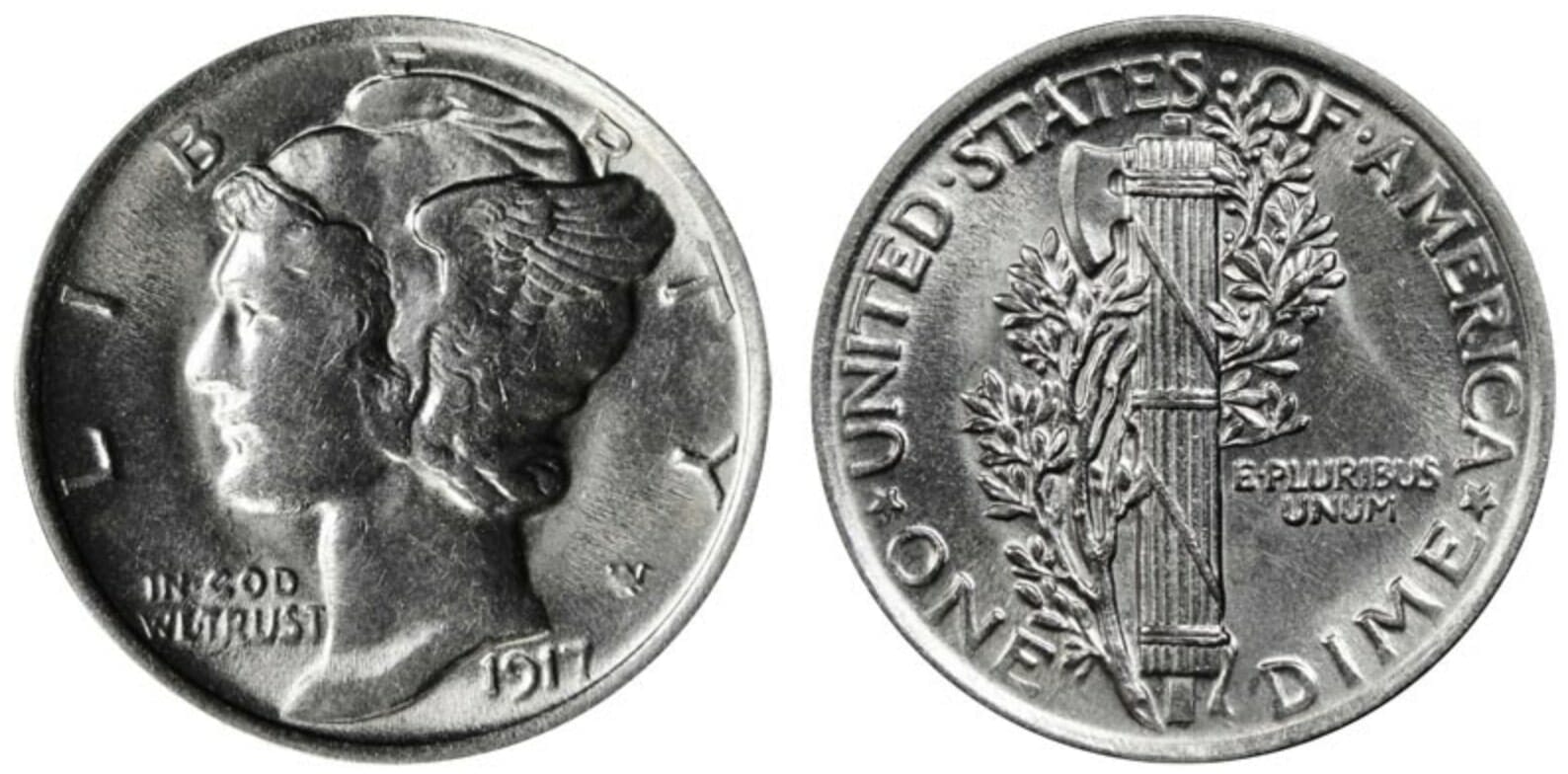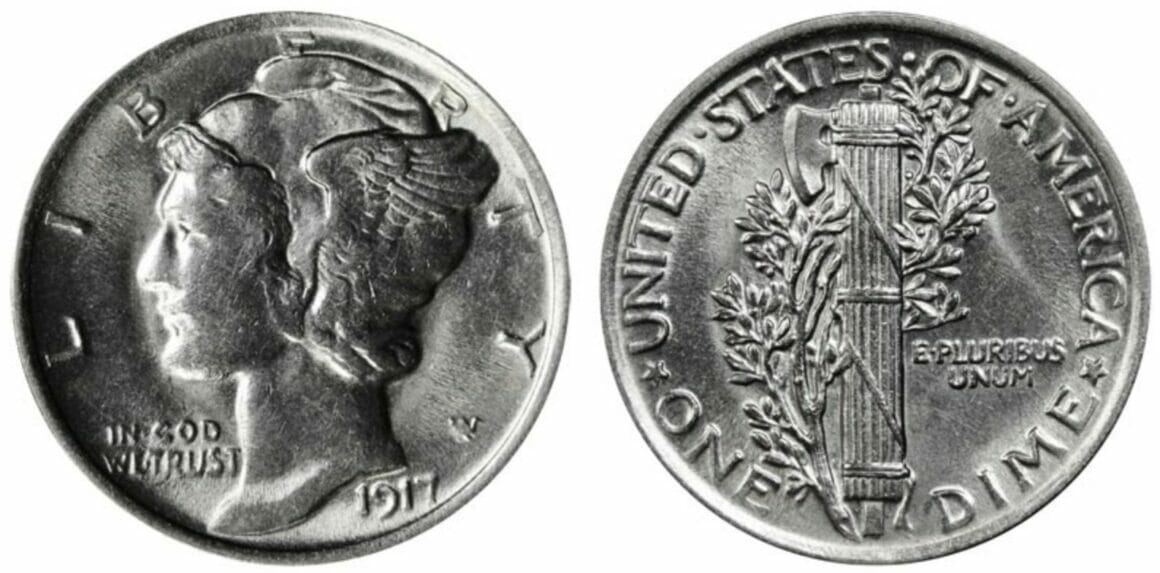 1917 Mercury Dime Value
Mercury dimes were produced in large quantities in 1917. Namely, Philadelphia minted more than 50 million, San Francisco over 20 million, and Denver almost nine and a half million specimens. The ten-cent coins with no mark are worth between $2 and $300. Those marked with the letter S typically sell for up to around $500.
The dimes with the D mint mark are the most valuable variety out of the three with uncirculated coins going for $1 000+ at auctions.
1936 Mercury Dime
1936 Mercury Dime Value
The US Mint was highly productive in 1936 concerning the mintage of dimes as the three branches put over 150 000 000 ten-cent coins into circulation. Most of these are nowadays worth only several dollars. However, the proof coins and those in the mint state can command premiums. At an auction in 2015, one such coin was sold for $29 375.
1941 Mercury Dime
1941 Mercury Dime Value
There were nearly 264 000 000 dimes minted in 1941, making them widely available for collectors and coin enthusiasts. Consequently, their value reflects their abundance. The ten-cent coins are usually worth $2 to $50 if they are in a circulated state. The specimens that are graded over 65 can sell for as much as over $17 000.
1942 Mercury Dime
1942 Mercury Dime Value
The three facilities of the US Mint produced over 300 000 000 dimes in 1942. Since there is a plethora of these ten-cent coins still going around, their monetary value is not particularly significant. They are worth $2-$5 for dimes in poor condition and $50-$100 for the best-preserved specimens. The exceptions to this are the dimes with double dates we previously talked about.
1943 Mercury Dime
1943 Mercury Dime Value
The US Mint produced more than 300 million ten-cent pieces in 1943. Nowadays, these dimes are typically worth $2 to $50. Those that are graded 60-67 can reach the price of several hundred dollars. The value considerably increases if a coin has a grade of 68 or higher. The most expensive Mercury dime from 1943 was sold at an auction for $19 550 in 2010.
1944 Mercury Dime
1944 Mercury Dime Value
The mintage figures of dimes in 1944 were similar to those from the year before. Therefore, today's prices are similar too. If you are looking to sell your ten-cent piece from this year, you can expect to get anywhere between $2 and $50, unless your specimen is in perfect condition.
In case your dime has a grade of 68 or higher, you can get a small fortune for it. The highest price achieved at an auction was $25 300 in 2009.
1945 Mercury Dime
1945 Mercury Dime Value
The year 1945 was the last one of the Mercury dimes production before they were replaced with the Roosevelt edition. This year marked the end of World War II, another reason these coins are momentous. Apart from historical significance, the dimes from 1945 don't bear notable monetary value.
Most of them are worth less than ten dollars and those that are in mint state can fetch the price of up to $50. The rare exceptions are specimens graded 65+. In 2018, a dime with a grade of 67 achieved the price of $96 000.
Grading and Authentication of Mercury Dime
Whether you are a novice or a professional in numismatics, you shouldn't dismiss the importance of grading and authenticating your coins. The best options for this service are third-party coin graders, such as PCGS (Professional Coin Grading Service), NGC (Numismatic Guaranty Corporation), and ANACS (American Numismatic Association Certification Service). These have been proven to be the most reliable and reputable.
When it comes to buying or selling coins, grading plays a pivotal role in establishing trust and determining value. Purchasing an ungraded specimen can leave you uncertain about the coin's authenticity and true worth. To ensure a secure and honest transaction, it is essential to opt for professionally graded coins.
The Importance of Grading
If you intend to sell a coin, having it professionally graded can expedite the process significantly. While there may be a small cost involved, a graded coin provides peace of mind and safeguards against uncertainties, especially for high-value coins. Investing in grading ensures both buyers and sellers can have confidence in the accuracy of a coin's condition and value, fostering a reliable and smooth transaction experience.
Key Grading Systems for Mercury Dimes
The most commonly used grading system for Mercury dimes is the Sheldon grading scale developed in 1949. A coin can get a grade from 1 to 70 depending on its appearance, damage level, marks, usage traces, and finish. The coins graded 1-60 are circulated while those with higher grades are uncirculated or in mint state.
The higher the grade the higher the value of the coin, so even if your Mercury dime was produced in large quantities, it can command a premium if it is in superb condition. 
Authentication and Counterfeit Detection
Another key argument for professionally grading coins is counterfeit detection. Over history, there have been numerous instances of successfully forged numismatic specimens. You may come across a valuable coin and pay a lot of money for it only to find out it is fake.
On the other hand, you may be in possession of a highly valuable coin but no one would want to buy it from you if it is not properly authenticated. It is extremely difficult for non-experts to detect fake coins, so always play safe and utilize the services intended to protect both buyers and sellers.
Notable Mercury Dime collections and Sales
Almost eighty years have passed since their discontinuation and Mercury dimes are still in high demand among coin collectors. They are a perfect choice for someone just starting their coin-collecting journey since a lot of them are affordable and easy to find. Conversely, certain Mercury dime dates and errors can be tough to get a hold of, so they present a fun challenge for seasoned collectors too.
Famous Collections Featuring Mercury Dimes
If you want the complete collection of all Mercury dime dates and varieties, you would need to collect 80 coins. These include regular issues and notable errors, such as "42 over 41" and "micro S". Whilst it is more interesting collecting them one by one and carefully choosing each coin, you can take a shortcut and buy a whole set at once.
Mercury Dime Record-Breaking Sales and Auctions
The highest price paid for a Mercury dime was $364 250 at an auction held in 2019 in Las Vegas by Legend Rare Coin Auctions. The specimen that achieved the record-breaking price was minted in 1938 and had a grade of 68. 
The second-highest price was a 1931 Mercury dime minted in San Francisco. This auction was also held by Legend Rare Coin Auctions and the coin fetched the price of $270 250. The ten-cent piece was graded MS67+.
The third highest price was $207 000 for a 1916-D Mercury dime. The sale was held by Heritage Auctions and the remarkable specimen had a grade of MS67.
Mercury Dime Impact and Legacy
Mercury dime left a lasting impact and legacy in the artistic world and numismatics. It also marked a period of significant changes and turbulent events in US history so it serves as a witness and a reminder of distressing times from the past.
Influence on Future Coin Designs
Weinman's design for the Mercury dime is considered one of the most beautiful creations in numismatic history. His artistic excellence encouraged future sculptors and medalists to strive for that level of mastery, giving us many more beautiful coins in the past eight decades.
Enduring Collectible Status
The artistic appeal, historical significance, and scarcity of certain varieties have earned Mercury dimes an enduring collectible status. These beloved coins are still very popular in numismatic circles and are expected to remain so for decades.
Historical and Cultural Significance Of The Mercury Dime
Although discontinued 78 years ago, Mercury dimes are still historically and culturally significant. Their production spanned across multiple nation-changing events, such as World War I, World War II, and the Great Depression. The intricate design on both sides of the coin represents the nation's values during these tough times. As such, Mercury dimes are a powerful educational tool as they can teach us about art, history, economy, and numismatics all at once.
Conclusion 
Mercury dimes were ten-cent coins minted between 1916 and 1945 across three minting facilities – Philadelphia, Denver, and San Francisco. They are considered one of the most appealing coins in US history, courtesy of Adolph Alexander Weinman.
There are eighty varieties of Mercury dimes in total. Some of them are easy to obtain while others are extremely rare and expensive. This makes it challenging to assemble the whole collection but it is certainly fun trying to do so! 
Most of the Mercury dimes in existence nowadays are in poor condition. They are typically worth only their melting value of around $2. However, some specimens are in mint state and sell for thousands of dollars. The six-figure prices are reserved only for the best and rarest coins, usually graded 67 or more or having a rare mint error.
Overall, Mercury dimes are a valuable possession for any collector or enthusiast. They have transcended their monetary purpose to become a beloved symbol of American culture, history, and identity, showcasing the true nation's principles during the tough times – unity, freedom, and strength.
References & Sources