Crochet sweaters are the perfect solution to add a touch of modernity and chicness to any look. With the current trend of crochet fashion, making your very own stylish sweater has never been more accessible. This article compiles 32 designs and free tutorials carefully curated to inspire and guide you on your creative journey.
Whether you're a seasoned pro or a beginner in the world of crochet, these patterns cater to all skill levels. From trendy summer pullovers to cozy winter garments, there's a design for every season and style. You don't need to be an expert to create a stunning piece; the step-by-step tutorials ensure that even beginners can achieve impressive results.
So, no need to wait any longer. Let's dive right in and unlock the world of crochet sweaters, where you can craft your own fashion statement with ease and flair.
Can a Beginner Crochet a Sweater?
Yes, beginners can crochet a sweater. It may require some practice and patience, but it's an achievable goal.
In the list below, you'll find multiple crochet sweater patterns that are beginner-friendly and require minimal effort.
What Is the Easiest Crochet Sweater?
If you're a newbie, there are several options you can try to develop your skills and confidence. One of the easiest crochet patterns to start with would be the basic top-down raglan style.
This is similar to an everyday top but with sleeves. The right way is to make it top-down, meaning you start with the neckline and gradually knit down to the hem. The crochet sweater design requires minimum shaping, and you can customize it based on your preferred length and fit.
A simple pullover with a round neck or a plain cardigan is another great option to start with.
As a new crocheter, you should look for patterns that require basic stitches and have no complicated details.
How Long Does It Take for a Beginner to Crochet a Sweater?
The time that takes to crochet a sweater may vary for everyone depending on factors like individual crocheting speed and the complexity of the pattern.
But generally, finishing a sweater with an easy pattern shouldn't take more than 40 hours. Experienced crocheters may even finish it under 25 to 30 hours. So, it depends on your skills and speed.
What Is the Best Crochet Stitch for a Sweater?
Some of the best crochet stitches for sweaters are single crochet, half double crochet, moss stitch, linked crochet stitches, extended stitches, etc.
Designs like the single and half double crochet are beginner friendly, while others may require some experience.
This question has different opinions because choosing the best stitch is purely based on the sweater's desired look, texture, and fit.
What Supplies Do You Need to Crochet a Sweater?
Here is a list of essential supplies you need to gather before starting to crochet your sweater:
Which Yarn Should You Choose?
When choosing the best yarn type for a crochet sweater, it's essential to consider the season to ensure maximum comfort and suitability. Here are some recommended yarn types based on the different seasons:
Spring and Summer:
Cotton: Cotton yarn is highly breathable and lightweight, making it perfect for warmer seasons. It keeps you cool and comfortable during hot weather, making it an excellent choice for crochet summer sweaters.
Bamboo: Bamboo yarn has similar properties to cotton, offering breathability and a soft, luxurious feel. It's an eco-friendly option and ideal for creating lightweight, flowy sweaters for spring and summer.
Linen: Linen yarn is known for its crisp texture and excellent breathability. It becomes softer and more comfortable with each wear, making it a great choice for crochet sweaters in warmer weather.
Fall and Winter:
Wool: Wool yarn is popular for colder seasons as it provides excellent insulation and warmth. Various types of wool, from soft merino to cozy alpaca, allow you to choose based on your preferences and climate.
Acrylic: Acrylic yarn is budget-friendly and easy to care for. It can mimic the warmth of wool and is a good option for those with wool allergies. Acrylic blends with wool can offer a balance of warmth and affordability.
Cashmere: Cashmere yarn is the go-to choice for a luxurious, ultra-soft sweater. It provides exceptional warmth, making it perfect for cozy winter garments.
Mohair: Mohair yarn offers a fluffy and fuzzy texture, providing warmth and insulation in colder months. It adds a touch of luxury to your crochet sweater projects.
Remember to consider the sensitivity of the wearer's skin and any potential allergies when selecting the yarn type. With the right yarn choice, you can create a comfortable and stylish crochet sweater that suits the season perfectly.
Crochet Hook(s): Try to get a range of hook sizes to achieve the correct tension and stitch.
Stitch Markers: You need them to keep track of stitch counts, pattern repeats, and shaping the sweater.
Measuring Tape: To take accurate body measurements.
Tapestry Needle: To weave yarn ends and seaming pieces together.
Stitch Holders or Safety Pins: To hold stitches for later use.
What Crochet Hook to Use for a Sweater?
The crochet hook you'll need for a sweater depends on the yarn weight and the gauge specified in the sweater pattern you want to make.
Crocheters commonly use a 4mm to 5.5mm hook for medium-weight yarn like worsted. The general rule of thumb is bulkier yarn needs bigger hooks, and lighter varieties need smaller hooks.
Please note that using the recommended hook for a specific pattern is not mandatory. Changing the hook size to achieve your desired tension and pattern is totally fine.
More Free Crochet Patterns
33 Free Crochet Sweater Patterns
Check out the following stylish crochet sweater patterns that are beginner friendly and super fun to make:
1. Short Sleeve Crochet Pullover Pattern
The basic crochet pullover features a classic design with crew neckline ribbed cuffs. It's perfect for beginners looking for a simple crochet project to begin with. The lightweight sweater is best to throw on for a windy evening or while sitting by the fire.
Check out the full tutorial here.
2. Granny Square Sweater Pattern
This cozy granny square crochet sweater has a bohemian vibe and looks chic. The flowers add a pop of color, and the fringe detailing is something everyone loves. You can style it in various ways. I like to keep it simple by pairing the sweater with plain jeans and a pair of sneakers.
Want to see the full tutorial? Click here.
3. V-Neck Crochet Sweater Vest Pattern
This sweater vest showcases a textured stitch pattern and a flattering silhouette. You can layer it over a shirt or dress to add a touch of sophistication to your outfit.
Get the detailed pattern here.
4. Everyday Crochet Cardigan Pattern
This cozy crochet cardigan is versatile and easy to make. It has an open front and relaxed fit, making it a stylish addition to your wardrobe. The cardigan is best for transitional seasons when it's chilly but not too cold for thick sweaters.
Check out the detailed guide here.
5. Chunky Cocoon Crochet Cardigan Pattern
Cardigans are so in style, so I couldn't resist adding another to the list. You can develop the design from a basic rectangle. Use thicker yarn to achieve a relaxed fit look, and pair it with your denim shorts or throw it over a dress for a stylish look.
Check out the complete pattern here.
6. Classic Pullover Crochet Sweater Pattern
The classic pullover sweater features a timeless design with a wide neck and ribbed detailing. The free patterns used here give it a fitted appearance. Wear it with fitted jeans or trousers for a semi-casual look.
Click here for the complete guide.
7. Bell Sleeved Crop Sweater Pattern
This trendy bell-sleeved crop sweater offers a modern and stylish look. It would be a fun project for those looking to create a stylish garment. These sweaters are best for windy seasons when you need a layer to keep you warm.
You can get the full pattern here.
8. Top Down Chunky Sweater Pattern
Top-down crochet sweaters are easy to make as they don't require stitching. This chunky piece is perfect for keeping you cozy and fashionable during the colder days.
Want the full tutorial? Click here.
9. Simple Textured Crochet Sweater Pattern
This particular design is for women who love an oversized, long, relaxed-fit sweater. The sweater is made from single crochet columns, which is a beginner-friendly pattern.
Click here for the full tutorial.
10. Off-Shoulder Crochet Sweater
This off-shoulder sweater has a slightly longer back, a relaxed shoulder, and an oversized fit. This sweater is made from half-double crochet stitches and will keep you warm while it's chilly outside.
Check out the full tutorial here.
11. Ruffle Crochet Jumper Pattern
This feminine ruffle jumper features basic stitches and requires simple construction. This project would be perfect for crocheters who have mastered basic construction and are open to exploring new designs.
Click here to check the full tutorial.
12. V-Neck Button-Down Crochet Cardigan
Want to try your first button-down crochet sweater? This simple V-neck cardigan is the perfect pattern to start with. You can make the cardigan using linen stitch or moss stitch, which is made of single crochet.
Click here for the step-by-step guide.
13. Button Shoulder Crochet Sweater Pattern
If you love a cozy, snug woolen sweater, this button-shoulder crochet sweater would be perfect for you. I recommend using a thick woolen yarn to achieve the bulky texture and keep you warm.
You can make the buttons functional or add them just for decoration by simply stitching them once the sweater is complete.
Check out the full pattern here.
14. Rainier Crochet Sweater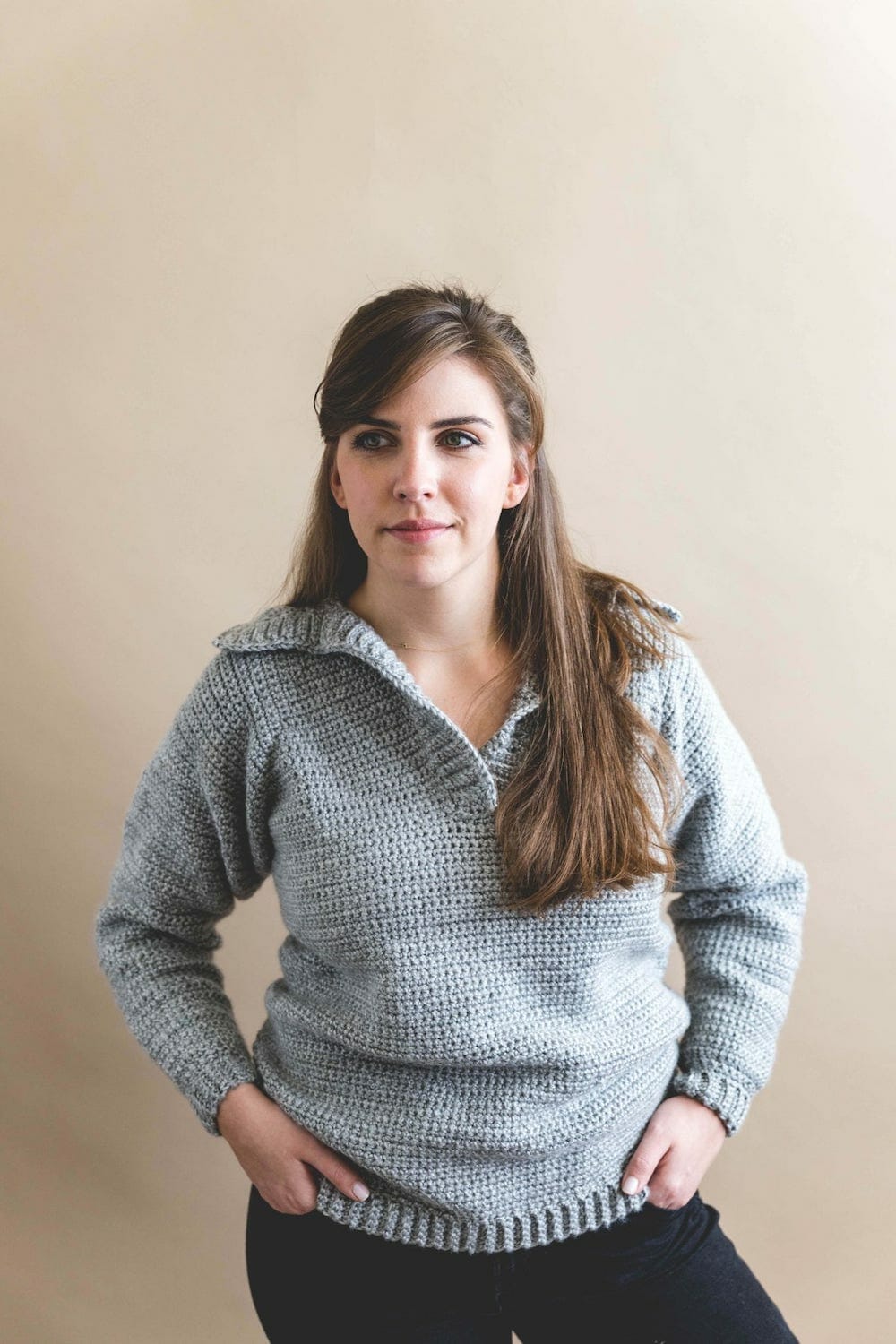 As the name says, the rainier sweater is perfect for the rainy season when the weather is not too cold or warm. It's made from mostly single crochet, making it a perfect project for beginners.
Click here to check out the full tutorial.
15. Crochet Campfire Cardigan Pattern
You can design this amazing campfire cardigan with a hoodie and simple granny square hexagons. The cardigan looks chic when paired with denim pants or trousers.
Want the full tutorial? Click here.
16. Blushing Autumn Crochet Sweater
This playful, blushing autumn sweater has a beautiful necklace design and 3/4th sleeves. It has identical front and back panels that require a quick seam. The light texture of the sweater is perfect for the transition season.
Click here and get the complete tutorial.
17. Knit Look Crochet Sweater
Who does not love a classic ribbed sweater, right? Well, you can make a similar one by crocheting as well. These sweaters are timeless and are perfect for everyday wear. Pair them with a maxi skirt or your favorite trousers, or wear with it a pair of denim pants, and you're all set for a casual evening look.
Click here to get the free pattern.
18. Color Blocked Crochet Sweater Pattern
This eye-catching color-blocked sweater combines different hues to create a bold and modern design. The combination of distinct colors is perfect for those who don't mind adding vibrant outfits to their wardrobe.
Check the complete crochet pattern here.
19. Crochet Hoodie Pattern
Try your hands at this oversized crochet lightweight hoodie. The light, comfortable fit, and the drawstring hood offer a cool look. It's the perfect piece of clothing to wear during those lazy, laid-back lounging days.
Want to check the full tutorial? Click here.
20. Light Touch Crochet Pullover Pattern
This light and airy pullover is best to keep you warm during windy days. The design features a wide neck, and slightly loose sleeves, offering a touch of elegance. The project is unsuitable for beginners since the lacy petal stitch pattern requires some expertise.
You can get the complete pattern here.
21. Striped Crochet Pullover Pattern
The striped pullover is one of the best crocheting projects for beginners, as the design requires no seaming. You must work it top-down and add rows of stripes around the chest. You can increase or decrease the volume of stripes as per your preference or keep it solid as well.
Click here for the full tutorial.
22. Snowflakes Crochet Pattern Sweater
The snowflake crochet sweater pattern showcases intricate snowflake motifs around the check and hem area. You can achieve the pattern by combining single, double, and single crochet in the back loop and by working in rounds.
Want the full tutorial? Here are the free instructions.
23. Colorful Crochet Granny Square Cardigan
Granny square crochet sweaters are so much in style I couldn't help adding another to the list. You can make this colorful sweater by combining single and double crochets and adding as many colors as you like. The granny cardigan paired with denim makes the perfect brunch outfit.
Click here for the full tutorial.
24. Crochet Crawl Neck Poncho
The crawl neck crochet poncho is a versatile garment that combines the comfort of a poncho with the cozy elegance of a crawl neck. It provides a relaxed fit, draped beautifully around the shoulders, enhancing the overall silhouette. The sweater is perfect for layering, adding warmth, and giving a touch of sophistication to your outfit.
Click here and get the complete pattern.
25. Crochet Pullover with Rainbow Stripes Pattern
The rainbow-striped crochet pullover combines a standard pullover style with a colorful twist. The vibrant rainbow stripes adorning the sleeves add a playful touch to any outfit. The sweater looks perfect when made with lighter yarns like cotton or acrylic and is perfect for the transition season.
Click here for the complete tutorial.
26. Bell Sleeve Crochet Sweater
The crochet bell sleeve sweater is another easy pattern beginners would love trying their hands on. All you need to do is make two identical rectangles and join them together with a simple seam. Use a basic lace stitch to make the bell sleeves as it retains the shape while giving the perfect flowy look.
Get the complete tutorial here.
27. Crochet Jumper Pattern
This beautiful crochet jumper is versatile for any occasion and goes well with different bottom designs. The design features long sleeves, drop shoulders, and a loose fit.
Get the full pattern here.
28. Polar Swoncho Pattern
Swoncho is made by combining the design of a poncho and a sweater. This comfy garment has been trending for quite some time. It keeps you warm enough during the colder days. Layer it with a leather or denim jacket, and finish off the look with jeans and boots.
Check out the complete Swoncho crochet sweater guide here.
29. Pebble Crochet Pullover Pattern
As the name says, this pullover design features small pebble-like designs throughout the sweater. The pattern is beginner-friendly and requires no stitching.
You can check out the detailed guide here.
30. Pastel Turtle Neck Crochet Sweater Pattern
Who says fall is only for dark grey shades? Light pastel shades are trending this season, like this pastel blue turtle neck crochet sweater. It's super fashionable, looks great on all body types, and instantly elevates any look.
Check out the full pattern here.
31. Crochet Penny Poncho
This penny crochet poncho is best for layering. It will keep you warm on those windy, chilly days while making you look stylish. Besides, the pattern is easy for beginners to replicate.
Want to see the whole pattern? Click here.
32. Insolence Crochet Poncho Sweater Pattern
Ending this list of trendy crochet sweater patterns with the insolence poncho sweater. The design is too good not to try your hands on. It has a lace pattern with stripped decorative holes and is the perfect garment to layer up over your plain sweaters or turtle necks.
Check out the complete guide here.
Related: 21 Free Crochet Tank Top Patterns with Tutorials
Crochet Sweater & Cardigan Patterns: FAQs
Is a Crochet Cardigan Easy?
A: Crocheting a cardigan has different difficulty ranges. For instance, some patterns are easy and beginner-friendly, while others may be more intricate and advanced. But these can still be done with a few trial and error sessions.
Is Knitting or Crocheting a Sweater Faster?
A: Crocheting is actually much faster than knitting. Crocheting is easier to learn and requires one hook instead of two needles. This allows one to finish a crochet sweater much faster.
Can You Crochet a Baby Cardigan?
A: Yes, you can crochet a baby cardigan or any type of garment you want. But don't forget to take proper measurements so that it fits perfectly.
How Much Yarn is Needed for a Sweater?
A: A basic adult sweater may need 3000 to 3500 yards of yarn. A sweater with more detailing would need more.
Conclusion
I hope you have enough choices to start making a crochet sweater. Make sure to take proper measurements, follow the patterns correctly, and have the tools ready to create an amazing piece.
Let me know if you have any other queries and which design was your favorite in the comments!