When you love a particular color scheme, you know it is not enough to bring out the `WOW!` effect until you complement it with other colors. If your other color choices crash with your theme, it might even bring out the worst look. That is why it is vital to be knowledgeable about complementing colors to any color theme.
Complementing colors in your house or on any occasion creates an accent in the space. Some years back, decorations were not a thing considered necessary. Many homes have been practical, like sanctuaries creating an environment of stress and anxiety. You can change this environment into an exciting one that's relaxing and restful.
Have you thought about bringing this vibe to your home? Go with me through the expert guide below on how to complement colors on any occasion.
Sage green is considered a neutral color. Several colors complement it well: Brown, blue, white, gray, purple, and gold. This makes it versatile to use in different places on different occasions.
Related: Edgecomb Gray Complementary Colors Guide
Colors That Goes With Sage Green in a Living Room
The mood of your living room is an essential thing you should consider. There are small decorations people think are unnecessary but bring out excellent results after applying.
The colors you use are critical to the aesthetic value of your living room. People using it will be able to relax, and visitors may even consider it as a meeting venue because of its ambiance.
Redecorate your living room today by complimenting the sage green color with the five colors below.
Sage Green + White
Sage Green and white color is considered a classic combo. The complementary color makes you feel clean and fresh and influences the sterile scheme. There are different ways of using these colors. You can decide to apply white paint to the door post. Also, you can apply color to the wall to invite architectural flair and contrast.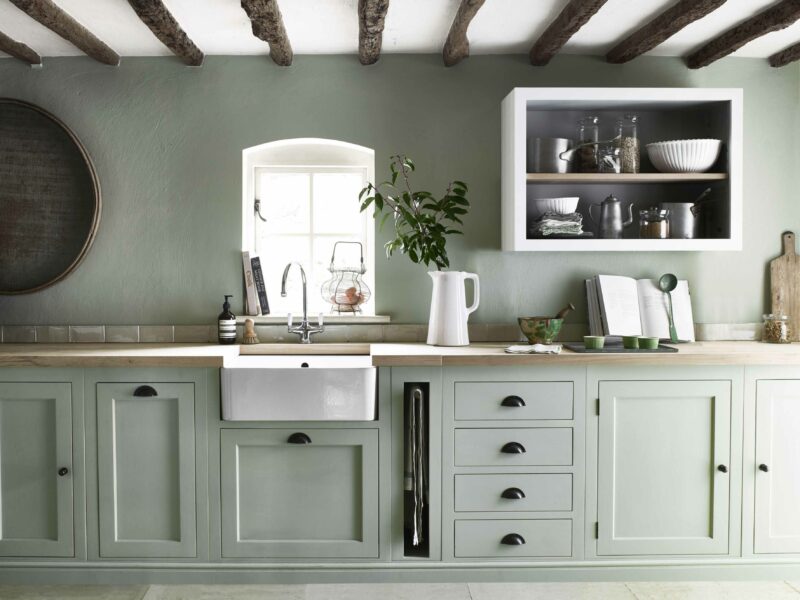 The best way is to use green on the furniture in the living room and white paint on the walls and utensils on the table.
Sage Green and Purple
The purple color looks beautiful. Green and purple balance each other. Apply the botanical hues on the window or soft furnishings with floral prints. During application, you can use rule 60-30-10.
Do you want a feminine living room? These are the refreshing colors mixed in your house. Also, an easy way is to add an aromatic flower bouquet from the garden. The color complement allows other colors in the same room, like pink.
Sage Green and Gold
Are you fuddled about the color of furniture to use in your living room with green color? Upholster your furniture with gold art. The colors provide a good backdrop when you use lighting fixtures or mirrors.
The color combination doesn't limit you to only these colors; you can combine them with other colors in the living room. For example, accentuate the living room with a bright white on the upper part of the room.
Sage Green and Charcoal Gray
The best color complementary is charcoal gray, which enhances the contrast to the freshness of sage green.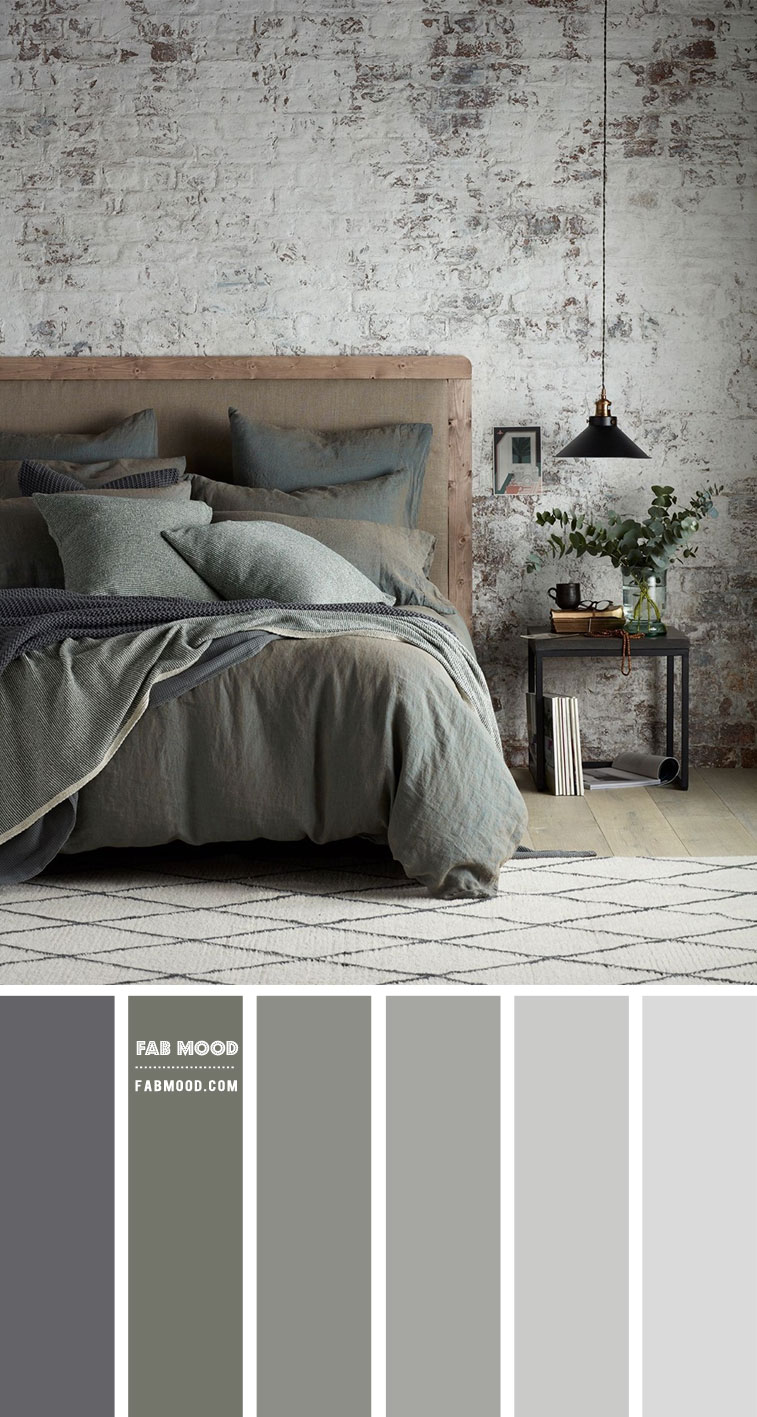 To achieve the contrast, use gray furniture and green pillows. The sage green livens up the gray room and pops against a brick wall.
Sage Green and Brown
Many people think that brown color is' blah' when combined with green. When you use the color correctly, the room becomes worth spending time in. Also, you can stay longer in the room as the colors do not bore you.
The accent pieces of these colors make the room attractive, especially during a chilly day. Have you noticed there are cold rooms even on a sunny day? If you want a warm living room, sage, red and brown colors provide a sense of warmth.
Colors That Go With Sage Green for a Wedding
Sage green color is a classic neutral color for weddings today. When we say the best colors, some people think of the dresses only. The beauty of a wedding, if possible, is decorating everything in the wedding arena. Sage green is the best color to introduce your wedding if you love nature. Follow my guide to know the best sage combinations of colors for your wedding.
Dusty Blue and Sage Green
Do you have a hint on gold makeup without colors? Dusty blue with sage green is one of the best colors to use. People will never forget your wedding decorations.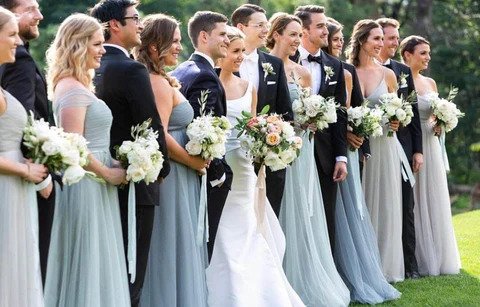 There will be many compliments on the look, and they will admire it. The tabletop look plays a vital role in the beauty of your wedding. The color combination gives a refreshing, tender, and aesthetic grandeur.
Blush and Sage Green
Create a classy and timeless color by pairing blush tones with sage green. Grooms should wear sage green bow ties or ties.
The bridesmaid can wear blush dresses and sage robes.
She will need every bride's perfect accessory; a beautiful bouquet. Use these color combinations on the bouquet to give a perfect reflection of your wedding color theme.
The way you decorate your wedding also matters a lot. To attract your guest's attention to your occasion, use blush and sage green to decorate the reception tables.
Sage Green and Terracotta
If you plan to hold your wedding in the fall, even in 2023, the best choice is this palette. Are you wondering how to get romantic autumn? Consider looking for a contemporary color combo that will play a role in bouquets and centerpieces.
The color type is synonymous with joy, happy vibes, comfort, and spontaneity. Nowadays, people love nature, and these colors are related to nature.
Also, the colors provide warmth and versatility, which many people love. Do you need an idea of how to go about this? Prepare brighter and medium shades of hues by blending with blush, marigold, and mauve.
Verdict
There have been many cases of confusion in complementing colors. But with this guide, it doesnt have to be complicated. The tips will help you maneuver through and feel beautiful in your room.
The knowledge can also help you earn money through decorations at weddings or any other occasion. Through decorating other people's environments, ensure to do so to yours.
Try the colors in your rooms today and enjoy the beauty of your house.