The question about the right length of your necklace can be tricky, especially if you're looking for perfection. An ideal necklace length has a perfect fit for yourself or someone you want to surprise with a chain.
Measure a necklace length using a string, tape measure, or a ruler. Place the string on a necklace you own, then place it on a ruler. The string method is the easiest way to measure a necklace's length.
Whether it's a pendant, a charm, or a choker, it looks awkward if the measurements are incorrect. Here's a practical guide on measuring a necklace length and more on necklaces.
Related: How To Clean A Silver Necklace? 5 Trusted Diy Methods
How Do You Measure Necklace Length?
A necklace length measurement can be difficult if you've never done it before, but don't worry. We've made the process simple, listing steps. Necklace measurement tools depend on what you have at your disposal.
As we mentioned above, one way is to take the necklace and lay it flat on a surface. Then measure its length with a ruler or tape measure.
Another way is through the following steps.
Step 1] Is to take out the necklace and unclasp it open, then lay it on a flat surface. Ensure you pull both sides tight to get the proper measurements.
Step 2] Measure the necklace length using a tape measure or a ruler. Extend a tape measure or ruler from the end connector to the necklace clamp. Assume the pendant, though. Most necklace and jewelry pendants hang from 1″ to 2.5″ below the base of the necklace.
Step 3] Write down the length or jot it down. The measurement you get is the most likely length of your necklace. If you get a digit that's not full, round off to the next upper inch. This is the length you will use to purchase a new necklace.
Tips for Measuring the Correct Necklace Length
Here are a few of these tips:
Always measure your neck size first. You can measure by wrapping a tape measure around the neck. Then the length you get, add 2 to 4 inches to the measurement to get the minimum recommended necklace length.

Choosing a standard size if you can't customize the necklace. Choose the second size above your neck size as your minimum neck length.

Take height into consideration. If you're tall, you should consider a longer necklace rather than a short one to avoid losing it in your body and vice versa.

Choosing a necklace size that flatters your body. For example, a slimmer person would look great on a short, thin necklace, while a person with a fuller shape would look great on a longer, thicker necklace.

Balance necklace length with the face shape. For example, a choker necklace of around 10 and 16 inches will be great for heart-shaped faced people.
Do You Measure a Necklace Open or Closed?
You can measure a necklace's length when closed or open. The only difference is the results you get; if you count when closed, the measurements are likely to be inaccurate compared to open.
When closed, you can use a tape measure and wrap it around the necklace. This gives a specific measurement but mostly not the right one.
The standard correct way to measure a necklace length is when open. For the best measurements, open your chain, and use the above steps.
Does the Length of a Necklace Include the Clasp?
Before you purchase a necklace and get confused about why the given length is shorter than your home measurements, let's discuss the inclusion of the clasp. Most people, yourself included, measure the length of their necklace, excluding the clasp. In the jewelry industry, it's standard to have the necklace clasp.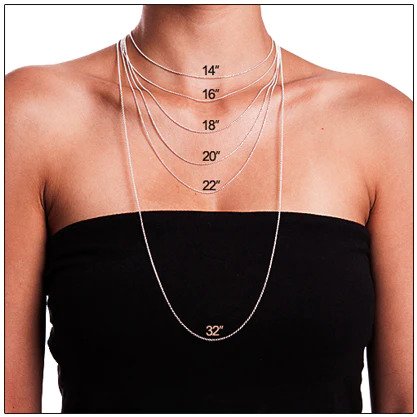 So, remember, the next time you're sold a necklace, the indicated length includes the clasp. Don't get worried that your seller has stolen from you. It's essential to include the clasp measurements because, for one, you can't wear your necklace without it. Another reason is that the clasp is added to the necklace and adds to the length.
Related: 5 Hemp Necklace Patterns: All Latest Designs
How to Measure Gold Chain Length
Imagine buying a gold necklace, and on getting home, you find that it's shorter or longer than you expected. Let us show you how to measure a gold chain's length.
Measure the Length of an Already Available Chain
As mentioned above, if you already have a necklace, you can use its measurements to determine the ideal necklace length you need. Use the steps above, including all the tips, for great results.
This is effective to use if you don't own another necklace. You simply wrap a ribbon, string or soft tape measure around your neck, but don't make it too tight.
Still remember that there are standard sizes set in the industry, and at times your length may not fit any size. In such cases, you pick the neck size above it.
This is another alternative to measuring your neck size. Height is essential to determine the necklace length that will falter your body perfectly. For example, people who measure a height of 5'7″ tall look great on any necklace length. Those who are 5′ 4″ tall look great in 16″-20″ necklaces. And those taller than 5′ 7″ look great on necklaces longer than 20″.
The tables below show different necklace length and their best-suited faces, styles, and necklines for both men and women.
Necklace measurement table for women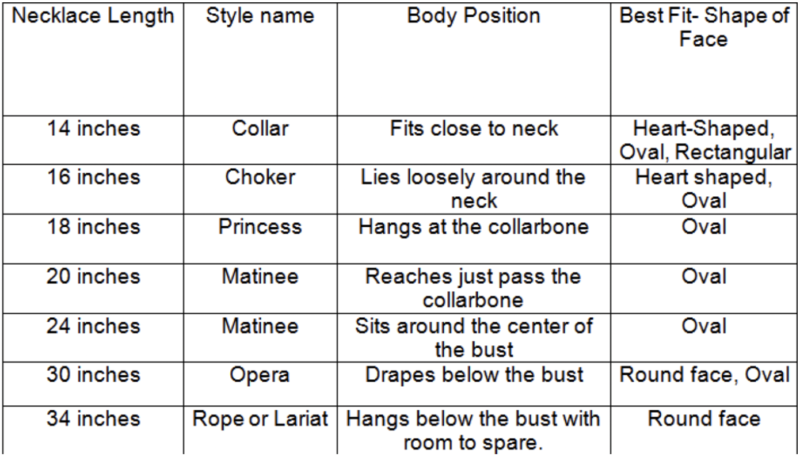 Average Necklace Length for a Woman (Inches and CM)
There are a few types of necklace lengths for women, the common ones being choker and princess. The others are uncommon, but you should still learn them. Here is a list of them:
Choker

. Its length is between 14-16 inches (36-41cm) and can be worn with almost any outfit.

Princess

. It is between 18 inches (46cm), mostly worn on the collarbone. This is the most popular necklace length for adult women.

Opera

. The opera length can be as short as 28 inches (71cm) and as long as 32 inches (81cm). It's worn from the top of the bust to a few inches below the bust bottom.

Matinee

. Its length ranges between 20 and 24 inches (51 and 61cm). You can wear it anywhere around the collarbone and bust.

Rope

. It's the longest, with more than 32 inches (81cm). It's worn from the bust down to the stomach.
Final Remarks
Have the right length for your necklace by getting the correct measurements. Proper necklace length measurements are easy to take and enhance your looks once you follow the above simple steps and tips.
If you're looking for a necklace and it's your first time purchasing, we recommend you start with your neck length measurements. If it's a second time or you just want to do it right, measure your current necklace carefully, including the clasp and extensions, if there are any.
How to Measure Necklace Length FAQs
How Long Does a 24-Inch Necklace Hang?
This depends on if it's a woman or a man. For instance, most women fall below any neckline, while for men, it reaches above the sternum.
How Long Is the 18 Inches Necklace?
An 18-inch necklace sits right at the base of the neck for women. For men, it will sit on a T-shirt collar.
What Is the Average Necklace Length for a Woman?
A woman's most common average necklace length is 45cm (17.7 inches). This size fits any average-sized adult woman.