It was Singer who first invented the commercial computerized sewing machine in 1994. The Quantum XL-1000 had a memory card that could store a few stitch and embroidery patterns. Since then, computerized units have come a long way.
Now it's almost impossible not to be overwhelmed by the sheer number of options available.
This article is for you if you've never bought or worked with a computerized sewing machine. Here I explain the difference between a computerized and mechanical sewing machine and what to look for when buying a computerized sewing unit.
Then, I'll list the 6 computerized sewing machines you can buy in 2023.
Regular vs. Computerized Sewing Machine: The Benefits and Drawbacks
There are two broad categories of sewing machines: mechanical or regular and computerized or digital. Mechanical sewing machines are the vintage look used since these machines were invented in France in 1830. Few sewists know that sewing machines were invented to mass produce uniforms for the French army.
Computerized sewing machines are the newer types that surfaced after the computer revolution. So why should you pick a computerized sewing machine over a mechanical one? Here are the top three reasons why I bought one for myself:
Computerized sewing machines are faster
One of the biggest perks of having a computerized machine is you can stitch faster. Most have half a dozen automated functionalities like the auto needle threader, tension adjustment lever, thread cutter, bobbin winder, etc. On top of that, digital sewing machines can operate at a speed of 1,000 stitches per minute or more.
Computerized machines are just more accurate. There's no competition from mechanical units unless you're a good sewist. Digital machines take the guesswork out of the equation and produce more consistent stitches. You have the LCD to control every step of it.
You have more stitch options
Mechanical sewing machines have limited in-built stitches to choose from. Even the most advanced machines have 20 to 30 options. Computerized machines, in comparison, have somewhere from 100 to 200 in-built stitch options. Many of them are decorative stitches.
But the digital sewing machines aren't all rosy. They have their share of problems.
There will be a learning curve, primarily if you've never used such a device. You must acquaint yourself with the buttons, hardware, and in-built software.
The second problem is that they aren't as sturdy as the mechanical ones. In other words, they aren't workhorses and aren't suited for heavy-duty purposes.
Last but not least is the price gap. Computerized machines can cost twice or even thrice as much as mechanical machines.
You should make a decision only after considering these things.
Related: Brother CS7000i Sewing & Quilting Machine: a Full Review
Best Computerized Sewing Machine Summary:
Electric vs Computerized Sewing Machine
Another distinction you need to make is between electric and computerized sewing machines. Many sewists switching to more advanced machines get confused between the two. I can tell you they're not the same, and you should know the differences before investing in either.
Electrical machines are more like their mechanical counterparts but with an added motor. This allows you to sew and stitch fabrics without manual effort like pedaling. Computerized machines also have this motorized unit. But in addition to that, they have a microprocessor.
The microprocessor grants the sewing machine its programmable capabilities. You won't find such capabilities in an electric sewing machine.
Another stark difference between an electric and computerized machine is the touchscreen. You will find an LCD touchscreen in a computerized unit but not in an electric sewing machine.
As such, computerized machines cost more than electric versions.
What to Look for When Buying a Computerized Sewing Machine?
If you're purchasing a computerized sewing machine, you should get the best one. Here are the things you need to look for when buying a computerized sewing machine:
Number of Built-in Stitches
Computerized sewing units vary by the number of built-in stitches. The number can be anywhere from 100 to 300 on average. As a rule of thumb, the more built-in stitches, the costlier the machine.
You don't necessarily need the machine with the most built-in stitches. Most are decorative and have a few buttonhole stitches, which you probably won't use. 100 is a fair figure, but you can invest in machines with 300-400 built-in stitches if needed.
Quilting and Embroidery Capabilities
Many computerized machines can also quilt and do embroidery, but not all of them. These additional capabilities affect their price range. Thus, you need to check if the computerized sewing unit has quilting and embroidery capabilities and if you need them.
Such machines are usually tagged as 'combo' machines. These can do both sewing and quilting or embroidery.
Related: Best Embroidery Machine For Home Business In 2023
You'd typically want a bigger working space in any sewing machine. It is the combined area to the right of the needle. This offers the flexibility to work on larger projects like quilts and duvets.
It's even better if the unit has an extension table and free arm feature. These make it more versatile and easy to work with.
Computerized sewing machines can connect to external sources like a computer or laptop. With this, you can import designs and even edit them. So when inspecting the machine, look at the connectivity options.
Most machines have a USB cable to allow you to connect to a PC. But some are Bluetooth- and WiFi-enabled. And as you might have guessed, these cost more.
Aside from the stitching functionalities, computerized sewing machines also have additional features.
One of the most recommended features is the automatic needle threader. It automatically passes the thread through the needle in less than a second, thus reducing laborious work. This feature is a must if you constantly struggle with passing thread through the needle head.
Similarly, other features a computerized sewing unit can have are:
Auto thread cutter

Lighting (LED lights on the underside of the arm)

Speed control knob

Hard protection cover
How Much Do Computerized Sewing Machines Cost?
Computerized sewing machines aren't the cheapest devices. You'd have to pay significantly more to get your hands on a computerized machine than a mechanical unit.
On average, computerized sewing machines cost anywhere between $150 to over $1,000. The more features a machine unit has, the costlier it will likely be.
With that said, here are the top 6 computerized sewing machines for every price range:
Best Overall Computerized Sewing Machine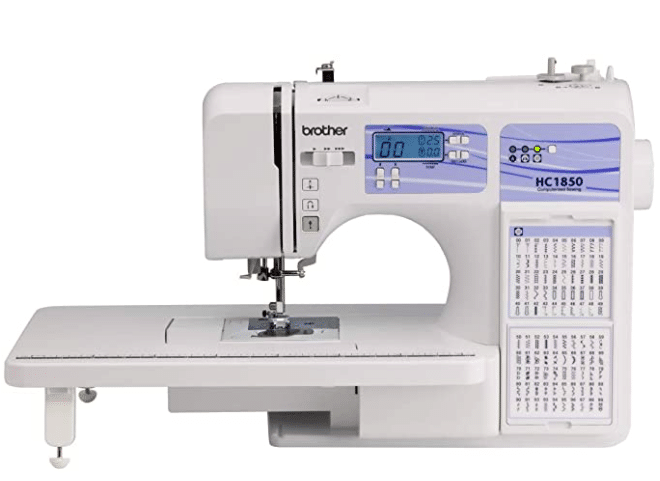 Specifications
Type – Computerized sewing and quilting machine

Dimension – 19.2 x 12.5 x 15.2 "

Weight – 10.14 lbs

Built-in stitches – 185

Stitching speed – 850 spm
The HC1850 is undoubtedly among the best computerized sewing machines that can also serve as a quilting machine. With ample working space and easy-to-use features, it will perfectly streamline your sewing experience.
The first factor that most computerized sewing machine buyers are concerned with is the number of built-in stitches. And this unit has got plenty of them; 185 built-in stitches, to be precise. This includes 8 auto-size one-step buttonholes and 55 alphanumeric stitches.
You can easily select the stitches on the LCD screen and experiment with the design.
The stitches produced by the machine are perfect, but it depends on your skill level. To help you with stitching, you have several features, like an automatic needle threader, drop-in top bobbin, 8 presser feet, and a detachable foot controller.
With the machine, you also get an extension table. On top of that, you can utilize the free arm by removing the accessories tray. This allows you to sew a wide range of fabrics of varying sizes.
Pros
It can be used for both sewing and quilting

Advanced automatic features to help you sew faster

Easy to use
Cons
It can't sew thick fabrics easily
Check the HC1850's latest prices on Amazon
Best Beginner Computerized Sewing Machine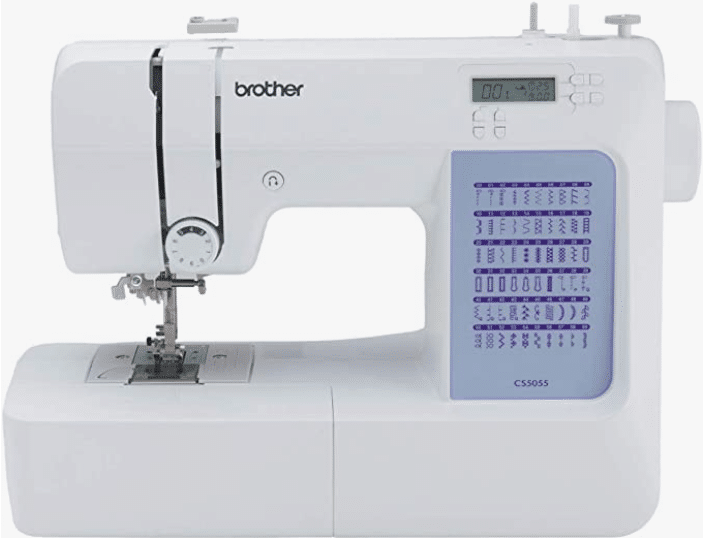 Specifications
Type – Computerized sewing machine

Dimension – 16.26 x 6.65 x 12.21 "

Weight – 10.5 lbs

Built-in stitches – 60

Stitching speed – 500 spm
CS5055 is arguably the best unit to learn sewing on a computerized machine if you've never used one before. At the same time, it has the key digital features to keep advanced sewists busy and happy.
Beginners often struggle with setting up computerized machines. Not with this one. You can select any of the 185 built-in stitches from the LCD screen. You have the tension settings highlighted and a label next to it suggesting which presser foot to employ for a particular stitch.
These features will sweep you off your feet within a few minutes. The fixed needle bar prevents the needle from shifting when sewing, thus making stitches much more precise.
Other helpful features you'll appreciate are the top-loading bobbin, automatic needle threader, and speed control knob.
The unit is small, and there's limited space to work with. But you can certainly use the free arm. This allows for the sewing of cylindrical items like cuffs and sleeves.
Pros
Easy to use and beginner-friendly

Excellent stitch quality

Free arm for sewing cuffs
Cons
Check the Brother CS5055's latest prices on Amazon
Best Advanced Computerized Sewing Machine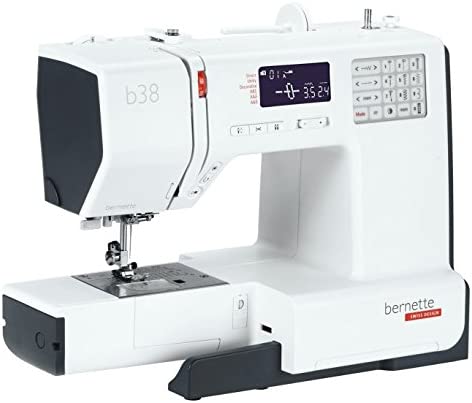 Specifications
Type – Computerized sewing machine

Dimension – 19 x 20 x 14 "

Weight – 22.2 lbs

Built-in stitches – 394

Stitching speed – 820 spm
Bernette 38 is perhaps the best model from the Bernette brand. A fully computerized sewing machine can stitch a wide range of fabrics at an impressive pace. So if you prioritize speed and are looking for a premium computerized sewing machine, Bernette 38 is what you need.
The machine has 394 built-in stitches, among the highest for a computerized sewing machine. You'll find eight one-step buttonhole stitches and three alphabets among these stitches. This allows you to unleash your creativity and experiment with different decorative stitches.
On top of that, you can add more designs by importing them from a PC via a USB connection.
What makes this unit more versatile is the high number of accessories. You get a 10-piece presser foot set, 20 needles, and 10 clear bobbins. Use these interchangeably to suit the material.
Other advanced features in the Bernette 38 are the auto thread cutter and adjustable speed dial. The former saves time, while the latter puts the control in your hand.
The machine is relatively easy to use, and most adjustments are made to the sizeable LCD screen. But if you need assistance, it comes with an easy-to-digest manual with clear instructions.
Pros
A high number of built-in stitches

Versatile and easy to use

Operates quietly and smoothly
Cons
Replacement parts tend to be expensive
Check the Bernette 38's latest prices on Amazon
Best Computerized Embroidery Machine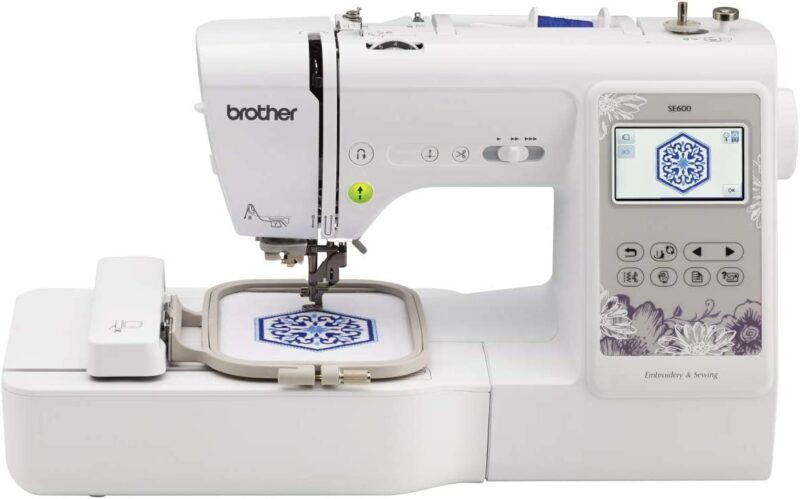 Specifications
Type – Computerized embroidery and sewing machine

Dimension – 21.18 x 15.51 x 16.54 "

Weight – 26.2 lbs

Built-in stitches – 103 stitches; 80 embroidery 

Stitching speed – 710 spm
A computerized embroidery machine can both sew and embroider within the same space. And the SE600 is designed for that purpose.
This versatile machine is an upgrade to the popular SE400, a combo unit. In the SE600, you have several enhancements, like a large 3.2″ LCD touchscreen, more in-built designs, USB stick connectivity, and faster sewing speed.
SE600 has 103 in-built stitches, including 10 auto-size buttonholes. In terms of embroidery, there are 80 in-built designs, which isn't a lot but enough to offer some variety.
There are 7 feet included with this machine that you can use interchangeably to suit the fabric. Besides that, there are a host of other accessories you'll find with this unit.
The hoop size of 4×4″ is decent and allows you to work on mid-size embroidery designs efficiently.
Overall, SE600 is arguably the best computerized embroidery sewing machine in the $400 price range.
Pros
Can both sew and embroider

Large LCD touchscreen for easier navigation

High-quality stitching
Cons
Check the Brother SE600's latest prices on Amazon
Best Quilting Computerized Sewing Machine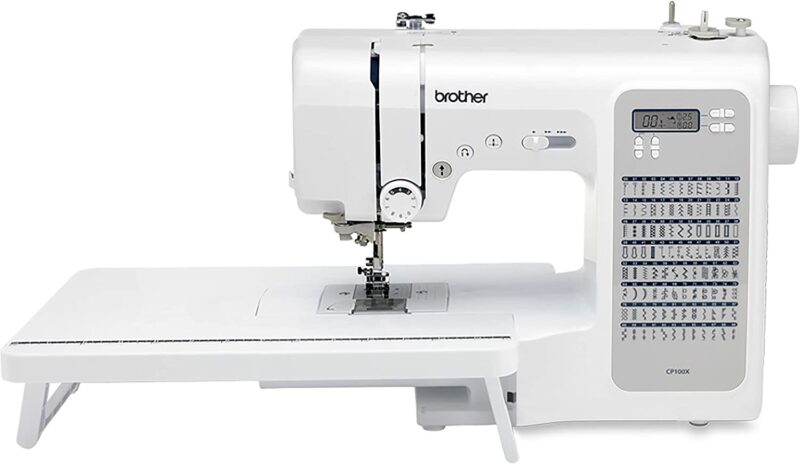 Specifications
Type – Computerized Sewing and Quilting Machine

Dimension – 19 x 20 x 14 "

Weight – 22.2 lbs

Built-in stitches – 100

Stitching speed – 820 spm
The CP100X is another reasonably-priced, feature-rich sewing machine from Brother. It's designed specifically for quilters, evident from the large and wide table. It allows you to sew quilts and garments with ease.
You'll find only 100 built-in stitches in CP100X. This is a lot less compared to other options. But what the sewing-cum-quilting machine promises is accuracy.
It has a fixed needle bar that permits the bar to stay in place while sewing. This reduces vibration and produces clean, even lines. Along with that, you benefit from the adjustable sewing speed control.
The built-in stitches also include 8 auto-size one-step buttonholes.
The wide table is detachable; you can keep it aside when not used. You also get access to the free arm when you remove the accessories box.
Last but not least, this machine is highly durable. With a full-frame body and a heavy-duty motor, expect it to keep functioning at its peak for decades.
Pros
Fixed needle bar for precise stitching

A large table included creating more working space

Sturdy
Cons
A limited number of built-in stitches
Check the Brother CP100X's latest prices on Amazon
Best Portable Computerized Sewing Machine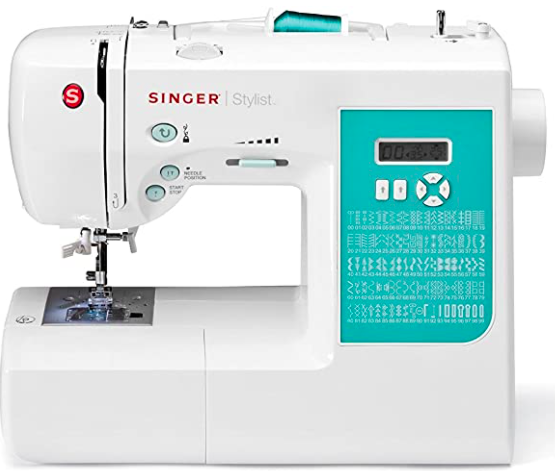 Specifications
Type – Computerized sewing and quilting machine

Dimension – 17.72 x 10.24 x 14.96 "

Weight – 14.6 lbs

Built-in stitches – 203

Stitching speed – 820 spm
If you need a computerized sewing machine that you can carry anywhere, the Singer 7258 is an ideal option. It weighs less than 15 pounds and has a compact design, which makes it highly portable. 
In terms of performance, this machine is a gem. You have over 200 built-in stitches, which allow full creative liberty. You get seven different types of presser feet. With this, you can personalize the sewing experience to suit the fabric.
The Singer 7258 has a balance of manual and automatic features. Thus, it suits both newbies and advanced sewists.
You have an automatic needle threader and auto stitch length and breadth adjuster among the automatic features. The former makes threading effortless, while the latter helps you override the stitch length and width to fine-tune the stitches.
Besides sewing, you can also employ the 7258 for quilting and embroidery projects. It can handle essential embroidery work, a bonus in a portable sewing machine.
If you're seriously considering buying this machine, I recommend purchasing a tote bag or hardcover. Since this is a portable unit, it will protect the unit from accidental falls.
Pros
Lightweight and portable

Beginner-friendly

Auto stitch length and width selection
Cons
No hard cover included for transportation
Check the Singer 7258's latest prices on Amazon
Conclusion
A computerized sewing machine is your best investment this year if you want to simplify the sewing process. But the overall experience would depend on the compatibility. Make sure you're buying as per your needs.
Buying a computerized sewing embroidery combo machine is better if you also do embroidery besides sewing. Likewise, if you quilt and need a bigger working space, go for the sewing and quilting combo unit.