The US Mint has a long history of honoring significant figures, but regrettably, the representation of women in US numismatic history has been remarkably scarce. It took two centuries after the Mint's establishment to feature a real-life woman on a coin, and until 2022, the count only reached five, with the iconic Lady Liberty included.
However, this issue is finally being addressed with the introduction of the American Women Quarters program in 2022. The program, scheduled to run from 2022 to 2025, exclusively showcases women on the reverse side, featuring five different women each year, like the Anna May Wong Quarter.
Among the remarkable women highlighted in this commemorative program is Wilma Mankiller, the first female Principal Chief of the Cherokee Nation. Her portrayal on the quarter marks the third release of 2022, following the quarters honoring Maya Angelou and Dr. Sally Ride.
Today, we will delve into the captivating life of Wilma Mankiller and explore the quarter's design, value, significance, and potential errors, all of which appropriately celebrate her enduring legacy.
2022 Wilma Mankiller Quarter Design, Composition, and Mintage
Each distinguished individual featured in the American Women Quarters program undergoes a meticulous selection process, with the Secretary of the Treasury collaborating closely with various museums and women's organizations. The inclusion of the remarkable Wilma Mankiller in this program garnered overwhelmingly positive feedback from the public.
Related: What Quarters Are Worth Money? List of Rare Quarters
The 2022 Wilma Mankiller Quarter Size And Composition
The Wilma Mankiller quarter comprises 8.33% nickel and the remaining 91.67% copper. It weighs 5.670 grams (0.2 ounces). The quarter is 24.26 millimeters (0.9 inches) in diameter and 1.75 millimeters (0.06 inches) thick. The coin is reeded with 119 reeds.
The 2022 Wilma Mankiller Quarter Design
The obverse of the Wilma Mankiller Quarter features Laura Gardin Fraser's rendition of George Washington, a design originally intended for the Washington Quarter in 1932 but later replaced by John Flanagan's version.
On the reverse side of this iconic coin, the design was crafted by Benjamin Sowards, a professor from Southern Utah University, while the sculptor responsible for bringing it to life is the renowned artist Phebe Hemphill from Pennsylvania.
Obverse side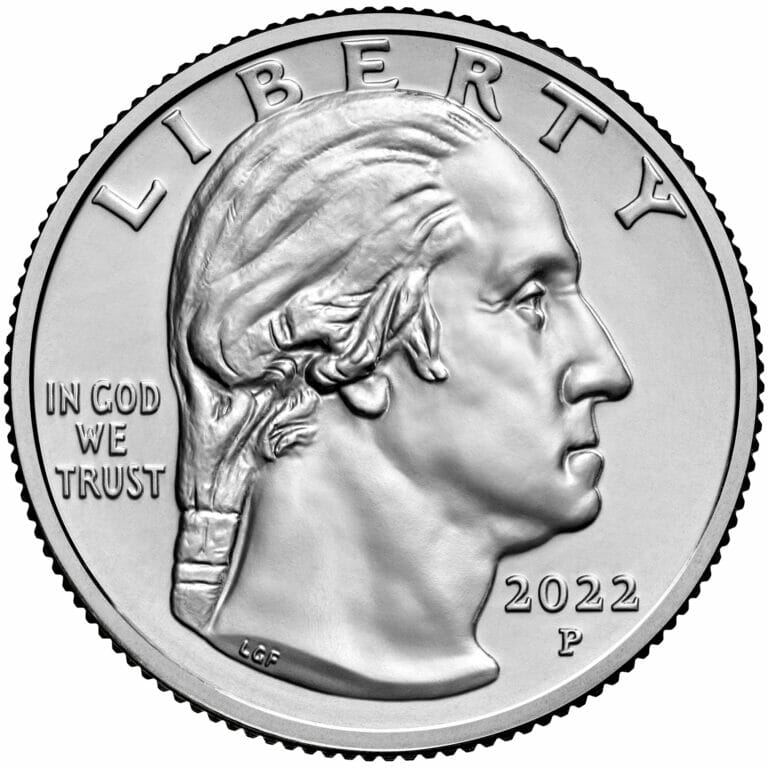 The obverse of the Wilma Mankiller quarter showcases a lifelike depiction of George Washington, the esteemed Founding Father and the United States' first president. His confident and poised right-facing portrait graces the coin's design.
At the top of the coin, the word "LIBERTY" is traditionally engraved, while on the left side, the US motto "IN GOD WE TRUST" can be seen, symbolizing the nation's values. On the right side, the year of issue, 2022 in this case, is displayed, along with a mint mark – P, D, or S – indicating the minting location, whether it be Philadelphia, Denver, or San Francisco, respectively.
Reverse side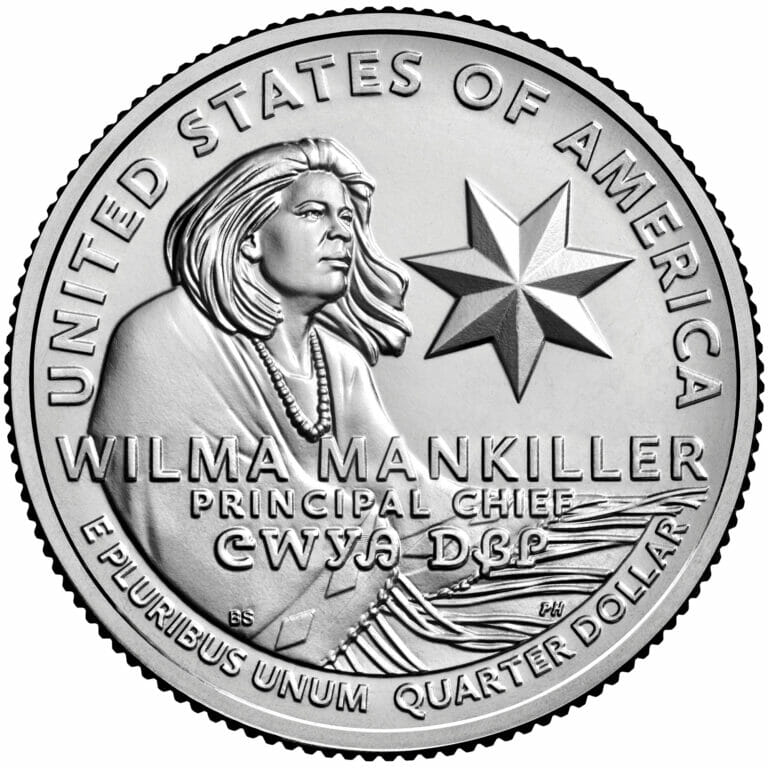 The reverse of the Wilma Mankiller quarter portrays Wilma looking in front of her, symbolizing her gazing at the future of the Cherokee people. The seven-pointed star is next to her, representing Cherokee's seven clans. Her name and the title are inscribed in the center middle of the coin. The top of the quarter says UNITED STATES OF AMERICA and the motto E PLURIBUS UNUM is engraved at the bottom. Right next to the motto is the denomination.
Related: The 2022 Nina Otero Quarter Value, Design, Mintage & Error List
Wilma Mankiller Quarter Mintage and Circulation
Among the five quarters released in 2022, the Wilma Mankiller quarter had the highest mintage. The three mints collectively produced over 600,000 coins, distributing them relatively equally. As a commemorative program, none of these coins were circulated for regular use. Instead, they are available for purchase online or at auctions, making them accessible to collectors and enthusiasts.
2022 Wilma Mankiller Quarter Error List
Common errors found in the 2022 Wilma Mankiller quarter production
Given that the Wilma Mankiller quarter was released a mere year ago, there is not an exhaustive list of errors that you can come across when dealing with this coin. Collectors have reported die cuds, off-center mistakes, and chipped planchets. These errors are quite common in every coin the Mint issues, and they can be valuable, so always inspect your specimens before selling them. Ideally, have them professionally graded.
Notable varieties that make certain quarters unique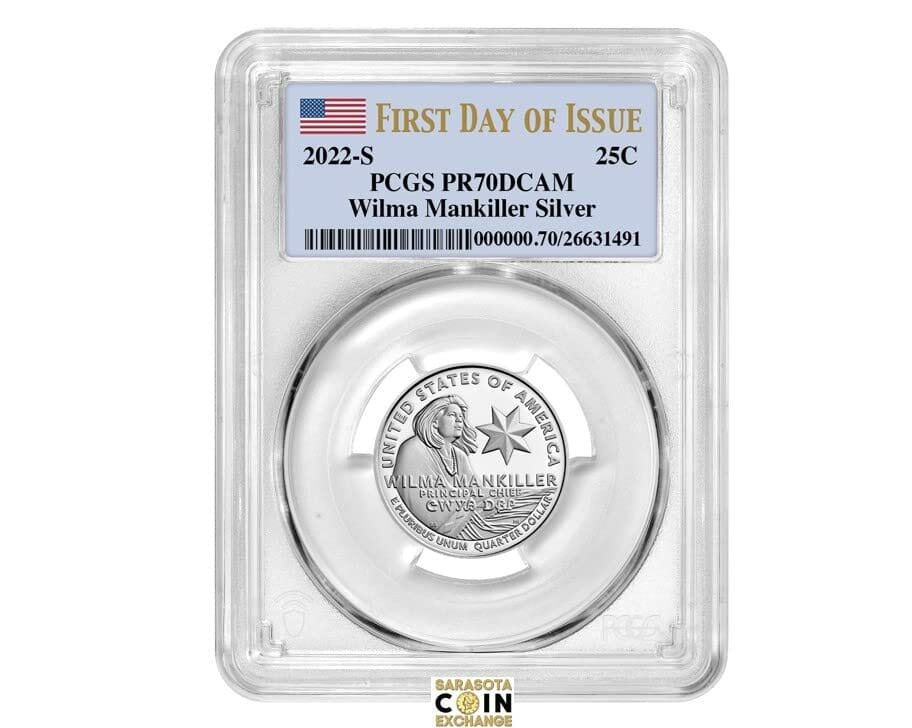 The most valuable variation of the Wilma Mankiller quarter is the silver-proof specimen. It is always worth at least its melting value but can sell for hundreds of dollars once enough time passes.
2022 Wilma Mankiller Quarter Worth
Wilma Mankiller Value List
Currently, the Wilma Mankiller quarter holds a relatively modest value, with most of these coins being worth only a few cents to a few dollars. The quantities minted in Philadelphia, Denver, and San Francisco were roughly similar, making the mint mark a negligible factor in determining their price.
Some errored coins can sell for $5 to $20. However, if you want to sell your Wilma quarter, you should probably wait another few years. The US Mint doesn't sell them anymore, so that they will be in greater demand in the future and, therefore, more valuable.
2022-D Wilma Mankiller Value
A Wilma Mankiller quarter produced in Denver is usually worth $2 to $5 if it is in uncirculated condition. The coins with the signs of handling sell for less than a dollar.
Who is Wilma Mankiller?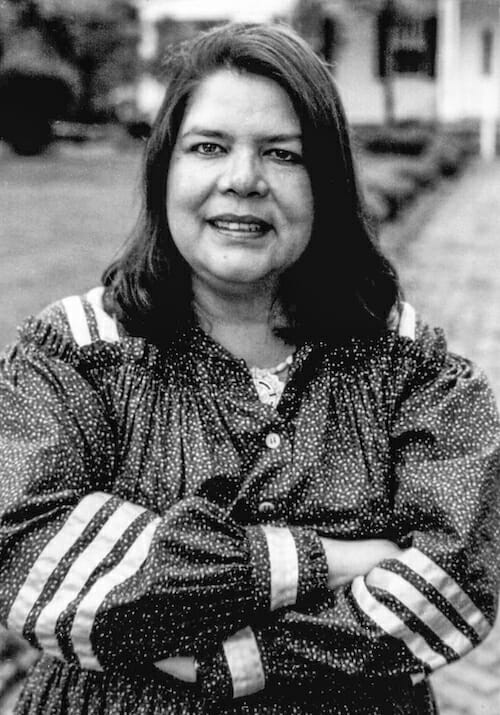 Wilma Mankiller's life began in 1945 in Oklahoma, where she was born as the sixth child to a Cherokee father and an American mother. Their family struggled with extreme poverty, and the situation worsened in 1955 when a devastating drought hit their region, making it even harder to make ends meet. Basic necessities like food, electricity, and plumbing became luxuries for them.
To seek a better life, her father took advantage of the newly-established Indian Relocation Act, which promised Native American families steady jobs and homes in urban areas. In 1956, the family relocated, hoping for improved circumstances. However, the promises made by the government did not materialize, and they continued to face financial hardships.
Wilma started attending school but faced numerous challenges trying to keep up with her studies and the workload. The experience was worsened by relentless bullying from her classmates, who targeted her because of her heritage, name, and clothing. Seeking solace, she ran away to her grandmother's farm and spent a year there before eventually returning to her parents and completing her High School education in 1963.
Within a year, Wilma married Hector Hugo Olaya de Bardi, and together, they welcomed their daughter, Felicia. A few years later, their second daughter, Gina, was born. It was after becoming a mother that Wilma decided to pursue higher education. Despite not enjoying High School, she found joy in college as she had the freedom to take classes that truly interested her.
Activism and Leadership Emergence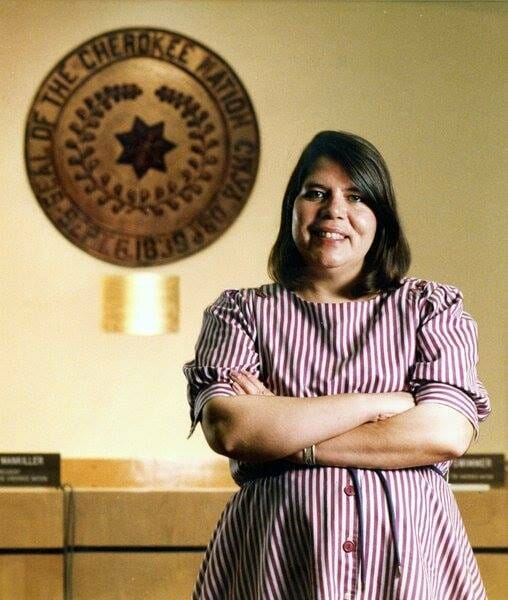 Wilma was a primary homemaker and a stay-at-home mom for years before she started getting involved with activism and social work. What sparked her interest was the nineteen-month occupation of Alcatraz – a protest held in support of Native Americans who had been treated horribly for centuries prior.
Wilma's involvement in the American Indian Movement (AIM)
Upon witnessing this courageous act of defiance, Wilma felt inspired to support the activists on the island. She dedicated herself to providing the occupants with essential supplies such as water, food, and clothing. In her efforts, she collaborated with organizations like the American Indian Movement (AIM) and the United Bay Indian Council.
This involvement allowed her to build strong connections with like-minded comrades who encouraged her to pursue her studies further. Wilma acquired valuable skills and knowledge during this period to shape her future endeavors.
Advocacy for Native American rights
In the early 1970s, Wilma Mankiller began asserting her independence from her husband, a decision he did not support. She started driving independently and took her daughters to various events, signaling her growing autonomy. Her academic choices also evolved, reflecting her newfound passion for social work and justice. Eventually, in 1974, she took the step of divorcing her husband.
As the years progressed, Wilma became increasingly engaged in activism. For a span of five years, she tirelessly worked to raise funds to reclaim lands that had been unjustly taken from Native Americans. In addition to her activism, she founded the Native American Youth Center, which garnered praise and support from the community.
Wilma played a significant role in establishing the Indian Child Welfare Act, a crucial legislation ensuring that Native American children are not adopted or placed in foster care outside of Native families.
During this period, Wilma actively volunteered for the Cherokee Nation. In 1977, she completed her undergraduate degree and continued to pursue her graduate studies. She fiercely advocated for her people with unwavering dedication, spearheading community development programs that raised millions of dollars for various worthy causes. Wilma Mankiller's determination and commitment to her community were evident in every aspect of her life's work.
Challenges faced as a female activist in a male-dominated society
Despite the traditionally matriarchal Cherokee community, Wilma Mankiller was taken aback by the sexism and discrimination she encountered throughout her political career. In 1983, she courageously ran for the position of Principal Chief of the Cherokee Nation against Ross Swimmer, who held the title at that time and had initially recommended her, recognizing her dedication to the community.
Unfortunately, the election period was marked by ruthless bullying and hostility towards Wilma. She endured horrifying acts, such as slashed tires and death threats, among other disturbing incidents. Despite her valiant efforts, Wilma ultimately lost the race to Swimmer but was later appointed as Deputy Chief.
The opposition even resorted to filing a lawsuit, alleging irregularities in the voting process. Although the court ruled in Wilma's favor, the sexism persisted, leaving her feeling unsupported by her community and her choices.
Wilma Mankiller's political journey highlights the struggles faced by women, even in matriarchal societies, when challenging the status quo and striving for leadership roles. Her perseverance and resilience in the face of such adversity continue to inspire and pave the way for future generations of female leaders.
Principal Chief of Cherokee Nation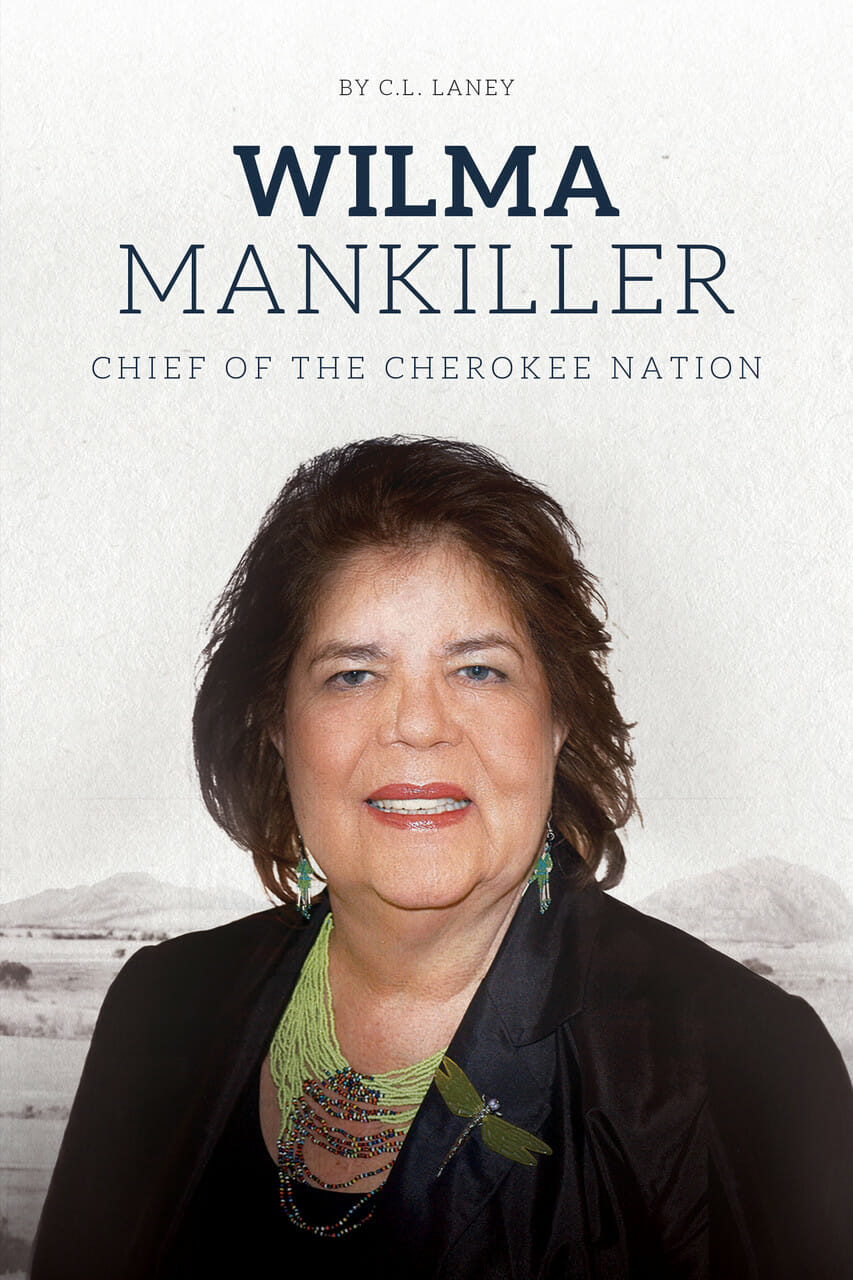 Becoming the first female Principal Chief
In 1985, a historic moment unfolded as Wilma Mankiller assumed the role of Principal Chief of the Cherokee Nation, marking a groundbreaking achievement as the first-ever female to hold this esteemed position. Her ascension to leadership garnered widespread attention and admiration, extending far beyond the Native American community, with media and people alike lauding her remarkable accomplishment.
Mankiller proved her capabilities throughout her tenure, securing her title in both the partial election that followed Swimmer's departure and two consecutive full elections. For an impressive ten years, she served as Principal Chief, leaving behind a legacy that would resonate for generations to come.
Wilma Mankiller's leadership style and principles
As a leader, Wilma Mankiller was revered for her fairness and firmness. She led her community with unwavering passion, diligently fulfilling her goals and promises. Her principles were deeply rooted in the advancement of Native Americans' living conditions in various areas, and even in the face of challenges, she unwaveringly adhered to these values.
Major accomplishments during her tenure
Wilma's time as a series of groundbreaking achievements marked Principal Chief. She raised millions of dollars to benefit different tribes, and under her guidance, the Cherokee Nation saw more than 100,000 new citizens welcomed. Additionally, she spearheaded a revolution in the healthcare system, leaving a lasting impact on her community. Her leadership became a source of inspiration not only for women but for people across the entire nation.
Conclusion
Wilma Mankiller emerged as a formidable and impassioned woman, accomplishing what no other Native American had achieved before – she made history as the first-ever female Principal Chief of the Cherokee Nation, holding this prestigious title for an impressive ten years despite the challenges posed by a sexist environment.
Her extensive and far-reaching list of accomplishments attests to her unwavering commitment to uplifting her community, earning her numerous well-deserved accolades. Despite facing serious health issues throughout her life, Wilma remained undeterred, fearlessly advocating for justice and transformation.
In 2022, the US Mint honored her remarkable life and achievements by including her in the American Women Quarters program. While these coins may not hold substantial monetary value, they are a poignant representation of a woman embodying qualities we should all aspire to – determination, perseverance, and strength. Therefore, the Wilma Mankiller quarter is a remarkable addition to any coin enthusiast's collection, symbolizing the enduring legacy of an extraordinary individual.
Sources & References