Throughout American literary history, Maya Angelou stands as an unparalleled beacon of influence. Her profound legacy, immortalized in her words and actions, will resonate for generations to come. In tribute to her remarkable contributions, the US Mint selected her for the American Women Quarters Program initiated in 2020, celebrating eminent women. Journey with us as we explore the nuances of Angelou's life and the intricacies of the associated coin's value, design, and rare errors.
The 2022 Maya Angelou Quarter Release, Design & Composition
Official announcement and release date
The Circulating Collectible Coin Redesign Act of 2020 authorized the American Women Quarters program. Maya Angelou is the first woman celebrated in the Mint's AWQ program. The quarter was first issued on January 3rd, 2022, and it marked the first time in US history that a black woman was featured on a currency. Mint Deputy Director Ventris C. Gibson said:
"It is my honor to present our Nation's first circulating coins dedicated to celebrating American women and their contributions to American history. Each 2022 quarter is designed to reflect the breadth and depth of accomplishments being celebrated throughout this historic coin program. Maya Angelou, featured on the reverse of this first coin in the series, used words to inspire and uplift."
The Maya Angelou quarter mintage numbers
The Maya Angelou commemorative coin was produced across three U.S. Mint facilities: Philadelphia, Denver, and San Francisco. Denver minted 258,200,000 coins, identifiable by the 'D' mint mark. Philadelphia released 237,600,000 quarters bearing the 'P' mark. In contrast, San Francisco had a limited run of just 303,480 pieces, each distinguished by the 'S' mint mark.
The 2022 Maya Angelou Quarter Design
The Maya Angelou quarter is considered one of the most beautiful coins in the AWQ series. The captivating engravings represent her writing and activism; many believe they perfectly encapsulate Maya Angelou's essence.
Artists and engravers involved in the project
There are several incredibly talented people behind the artistry of this iconic quarter. Laura Gardin Fraser, a sculptor from Chicago, designs the obverse. She first created the design for the Mint's competition back in 1931. The US Commission of Fine Arts had only nice words for her art:
"This bust is regarded by artists who have studied it as the most authentic likeness of Washington. Such was the skill of the artist in making this life-mask that it embodies those high qualities of the man's character which have given him a place among the great of the world…Simplicity, directness, and nobility characterize it. The design has style and elegance…The Commission believes that this design would present to the people of this country the Washington whom they revere."
Despite being highly praised for her talent, the Treasury Secretary didn't choose Laura's submission. The US Mint decided to bring it back for a fitting occasion more than nine decades later – celebrating incredible women and their achievements. The reverse is the work of Craig Campbell, a Medallic Artist, and Emily Damstra, a designer from the Artistic Infusion Program.
The Maya Angelou Quarter obverse side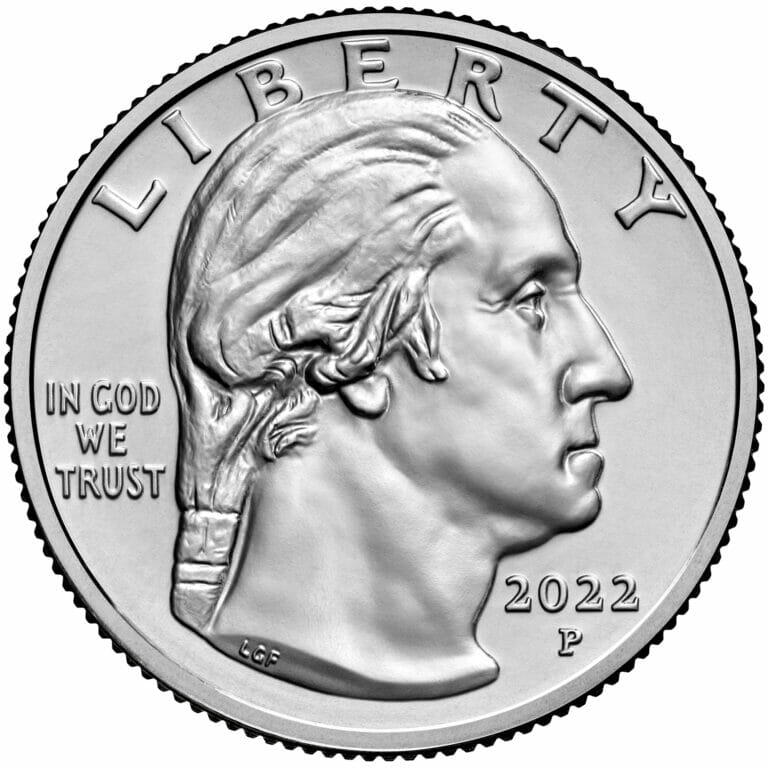 The obverse of the Maya Angelou quarter features a right-facing depiction of George Washington, a paramount figure in U.S. history. Flanking him to the left is the nation's motto, "IN GOD WE TRUST," while the year "2022" and the mint mark are displayed to his right. Emblazoned at the coin's apex is the word "LIBERTY," symbolizing Lady Liberty.
The Maya Angelou Quarter reverse side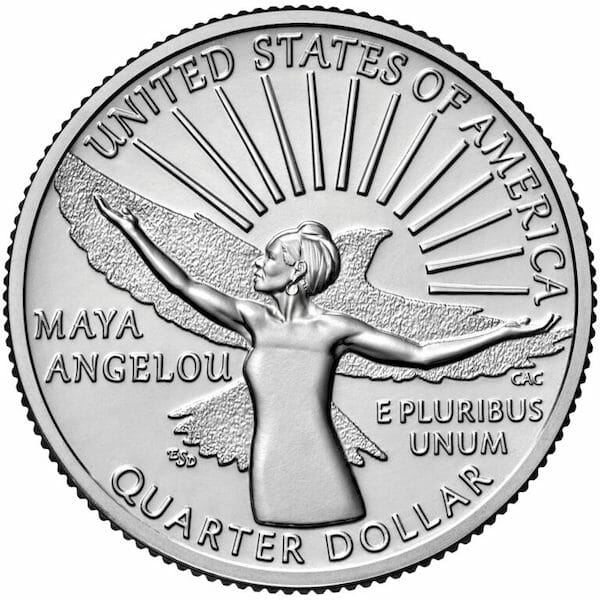 The reverse side of the Maya Angelou quarter stands out as one of the most captivating designs in the AWQ program. At its heart, Maya Angelou is depicted with arms outstretched, her hands aligning with a bird soaring beneath the sun, paying tribute to her seminal autobiography, "I Know Why the Caged Bird Sings." Angelou's portrayal exudes both freedom and resilience, reflecting her real-life persona.
Circumscribing the top is "UNITED STATES OF AMERICA." To the left of Angelou's figure, you'll find her name, "MAYA ANGELOU", and to her right, the national motto, "E PLURIBUS UNUM." The coin's denomination graces the bottom edge.
The 2022 Maya Angelou Quarter Composition
The Maya Angelou quarter has the same composition as the other coins in the AWQ program. It consists of copper and nickel alloy, with nickel comprising 8.33% of the planchet. The quarter is 5.670 grams (0.2 ounces) heavy, and it is 24.26 millimeters (0.9 inches) in diameter. It is reeded with 119 reeds and is 1.75 millimeters (0.06 inches) thick. A small number of Maya Angelou coins are made of 99.99% silver, and they were minted in San Francisco only.
Related: What Quarters Are Worth Money? List of Rare Quarters
The 2022 Maya Angelou Quarter Worth
Most of Maya Angelou's quarters on the market are worth between their face value and several dollars. It's been only a year since the coin was first issued, so it is still relatively new and easy to find. The coins minted in San Francisco are slightly more expensive as they are either proof or silver proof. The first sells for up to $2 – $5, and the latter for $20+.
According to pcgs.com, the highest price someone paid for a Maya Angelou quarter was $2 374. It was a coin minted in Philadelphia and rated MS67+.
The 2022 Maya Angelou Quarter Error list
Minting errors can substantially increase a coin's value due to the added rarity of that particular variation. Given the intricacies of the coining process, such anomalies arise in nearly every coin series. While the Maya Angelou quarter was introduced only a year ago, and thus a comprehensive list of errors is yet to be compiled, a few noteworthy mistakes have emerged that may be of value to collectors or sellers.
Among the most sought-after errors in the Maya Angelou quarters is the "Drooling Washington". This is a result of a die chip — an error arising from the deformation of dies under persistent pressure. Positioned at the edge of Washington's lips, it gives the illusion of drooling, leading to its quirky moniker. Coins featuring this anomaly can fetch values ranging from $2 to $10.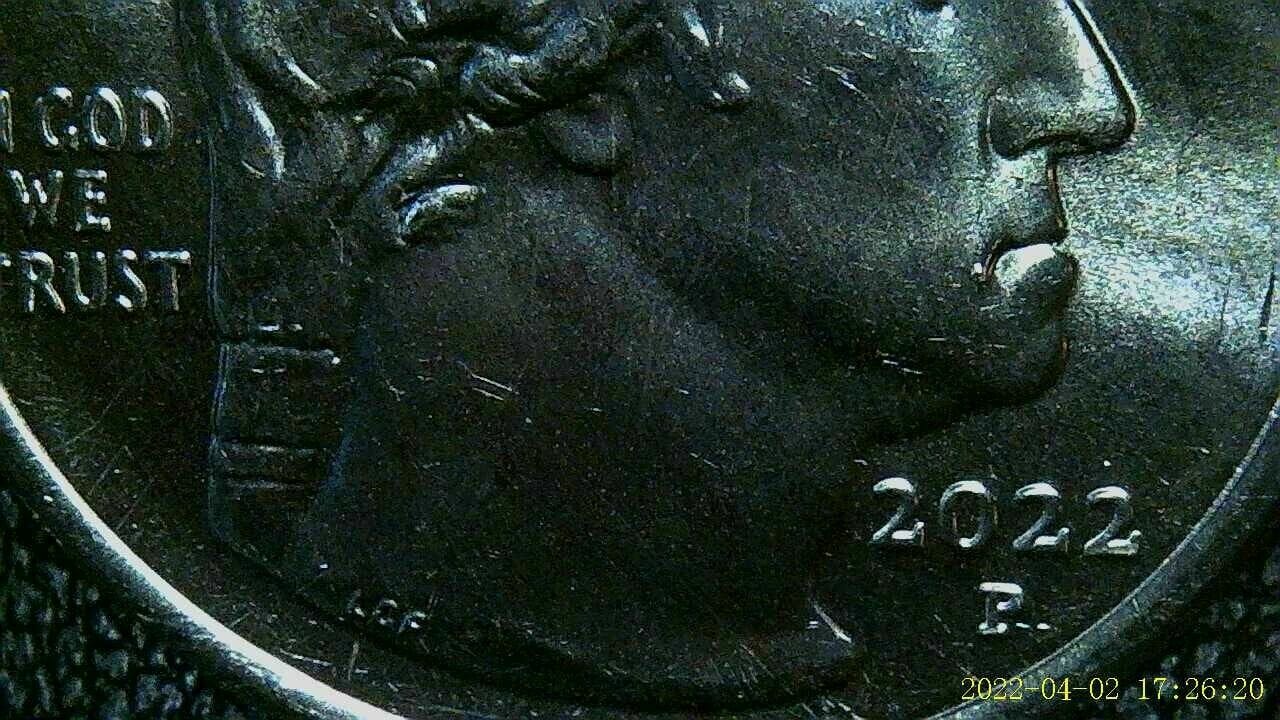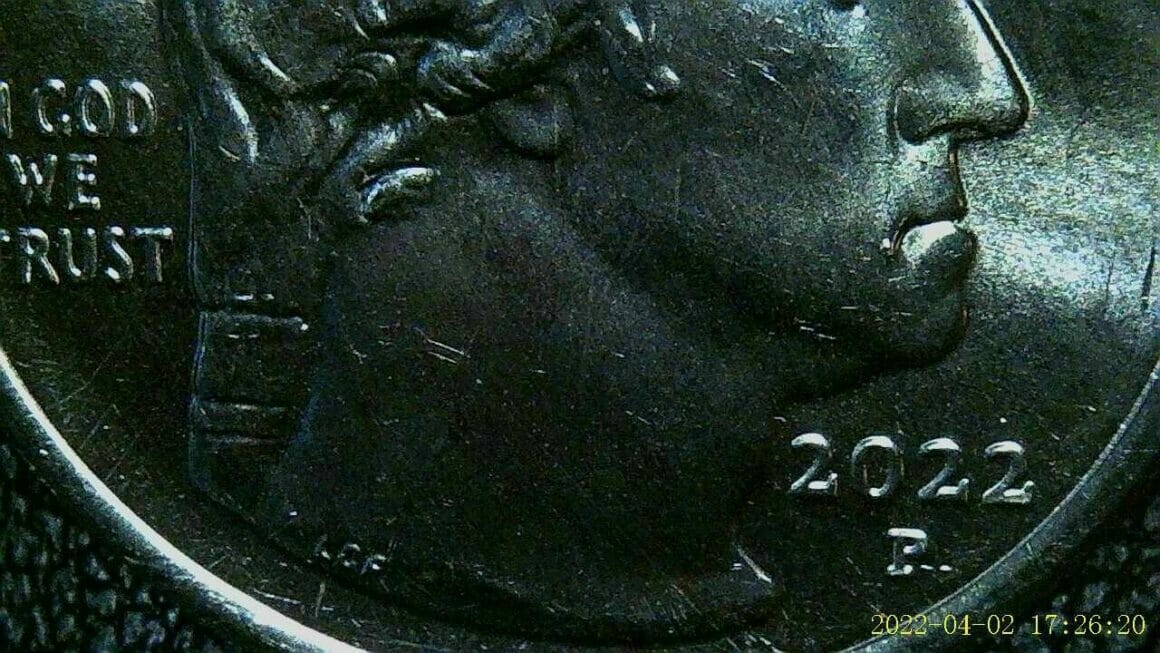 Some other mint errors you may come across are double die, clipped planchet, off-center image, and die cuts. Be careful when selling your Maya Angelou quarter because some of these mistakes are difficult to spot if you are not an expert in numismatics. It's important to professionally grade your coin before putting it up for sale.
Public Reception to the Maya Angelou Quarter
The quarter that honors Maya Angelou is the first US coin in history to feature a black woman. As such, it garnered a lot of attention and favorable feedback from the public ever since it was first announced. The congresswoman Barbara Lee said:
"I'm just excited because of so many who have contributed to the building of this country, the public only sees the Founding Fathers, and now they'll be able to see women, women of color, and our first coin is our beloved Dr. Maya Angelou."
Initial public response upon release
With the release of the Maya Angelou Quarter, there was palpable excitement as it heralded enhanced recognition for individuals who shaped the essence of the US. Currency plays a pivotal role as a reflection of a nation's values, ideals, and ethos. Thus, this progressive shift in the country's numismatic legacy was long overdue. As Treasury Secretary Janet Yellen said:
"Each time we redesign our currency, we have the chance to say something about our country – what we value, and how we've progressed as a society. I'm very proud that these coins celebrate the contributions of some of America's most remarkable women, including Maya Angelou."
Criticisms, praises, and controversies
The decision to feature Maya Angelou in the first quarter of the AWQ series was mostly met with praise. Rare criticism focused on the fact that it was still a man on the obverse of the coin, even though the program should celebrate women. Granted, a woman designed George Washington, but some feminist organizations didn't agree with this selection.
The Life and Legacy of Maya Angelou
Early life and upbringing
Maya Angelou was born Marguerite Annie Johnson in 1928. When she was three, her parents divorced, and she was sent to live with her grandmother and her brother. Maya and her sibling were returned to their mother several years later, possibly shaping the outline of Maya's future.
Namely, Angelou was raped by her mother's boyfriend at the tender age of eight. She told her brother about it, who told the rest of the family. The rapist was eventually killed, presumably by one of the older members of Maya's family. This is when Maya stopped speaking for five years. As she later recalled:
"I thought, my voice killed him; I killed that man, because I told his name. And then I thought I would never speak again, because my voice would kill anyone."
Career highlights and accomplishments
Angelou had an interesting start to her career. She became the first black female streetcar conductor when she was only 16. A year later, she became a mother, giving birth to her son Guy Johnson (born Clyde).
During most of the '50s, Maya worked as a professional dancer. She danced in various clubs in San Francisco and New York, which was when she changed her name. Angelou also sang professionally and started to write somewhere around this time.
In 1969, Maya published the first part of her autobiography. I Know Why the Caged Bird Sings. This book got her international fame and recognition. Soon after, she produced a movie, "Georgia, Georgia", and wrote a soundtrack for it.
Maya also wrote plays, continued composing, and was even nominated for Tony for her role in Look Away. Angelou became a professor in the late 80s despite never getting a traditional bachelor's degree.
She was awarded over 50 honorary doctorates throughout her lifetime. Moreover, she is the recipient of three highly precious awards – the Spingarn Medal, the National Medal of Arts, and the Presidential Medal of Freedom. Maya also won three Grammys.
Maya Angelou died in 2014 at age 86 after being in poor health for a while.
Her impact on literature and civil rights
Angelou's influence on literature, arts in general, and civil rights is immeasurable. Although her seven-part autobiography is considered the highlight of her career, Maya also wrote incredible poetry. Her words helped millions not to feel alone and inspired even more people to pursue their dreams, visions, and talents.
She wrote fearlessly and unapologetically, and that's how she fought for people's rights too. It was much more difficult passing the messages the people didn't want to hear back then, but Maya knew what she was fighting for and didn't have a scared bone in her body, as some would say. Her battles weren't for nothing, as she managed to motivate millions to stand up for their rights and freedoms.
Maya Angelou Quarter FAQs
Where can I find a Maya Angelou quarter?
You can find a Maya Angelou quarter on the official website of the US Mint. You can also check out online and in-person auctions as well as websites such as ebay.com.
Who are other women featured in the American Quarters Program?
The American Women Quarters Program features five women annually for four consecutive years. The program started in 2022 and included Maya Angelou, Sally Ride, Wilma Mankiller, Nina-Otero Warren, and Anna May Wong.
Why was Maya Angelou featured in this program?
Maya Angelou was featured in the AWQ program because she is one of the most inspiring and incredible women in American history, which is what this program is all about.
Conclusion
Maya Angelou, a remarkable artist, advocate, and visionary, undeniably holds a distinguished place in the annals of literature and art. It's fitting that she claims the inaugural position in the American Women Quarters program.
While the quarter celebrating her legacy might be monetarily appraised at just a few dollars, the symbolic significance of her being the first black woman represented on US currency is beyond valuation. Her indomitable spirit and resilience will echo through time, and future generations will possess a tangible token etched with her likeness as a lasting testament to all she championed.
Sources And References