The winner of the Modern Fabric Studio giveaway is:
#161 Rebecca who said, "I'd buy a bunch of FreeSpirit designer solids! THANKS for the chance!"
Great choice Rebecca! I'm loving those colors, too! Maybe you'll even make one of these:
Summer Sampler Quilt by Faith at Fresh Lemons
Sale!
The Thanksgiving Sale is still going on over at Modern Fabric Studio through November 27th! I just picked up some of her awesome Sale Fabrics at an extra 10% off with free shipping. I got some Anna Maria Horner Little Folks Voile at $8/yard and Valori Wells Birds in Sage at $5/yard. So cute! Of course, I had to add a few other lovely things to take advantage of the free shipping for $35+ orders.
Here are the details again:
The sale ends Sunday, November 27, so that's one week from tomorrow. Happy shopping!
Thanks to the awesome Amanda for hosting this giveaway and a big congrats to Rebecca!
Charm Swap
Also, here's an update on the Aqua, Yellow and Gray charm swap hosted by Craft Buds and Crafty Girls Workshop. The charms are in the mail and some people have received! Aren't they awesome? This is Melinda's haul.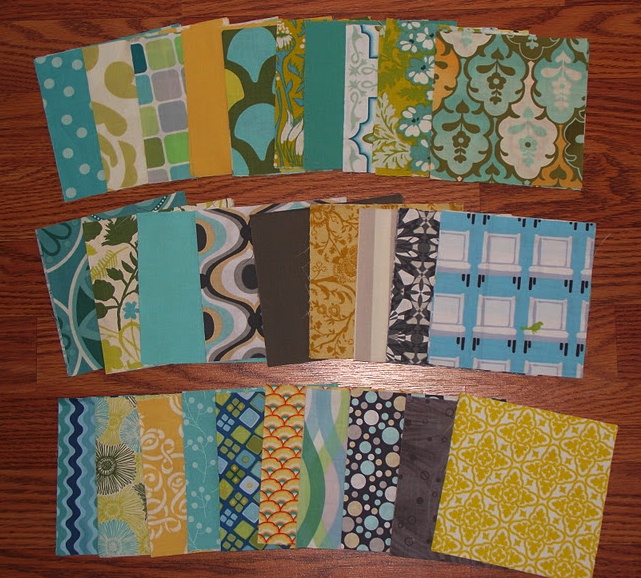 Anna certainly had her work cut out for her, as she cut more than 20 yards of fabric from her shop into charms for participants. Thank you Anna! You made it so easy for us to participate.
Sale Alert: I picked up some $5.99 fabric from Anna's shop the other week, and there's still loads of good stuff left!
We are voting on the theme for the next charm swap over at our Facebook page. So head on over and cast your vote for your favorite color combo or design. Polka dots, anyone? Have a great weekend!