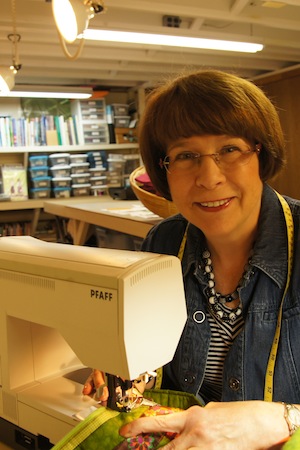 Today, we're excited to welcome craft book author Elaine Schmidt to chat more about the process of writing her recent book Pre-Cut Patchwork Party: Projects to Sew and Craft with Fabric Strips, Squares, and Fat Quarters.

Don't forget to leave a comment after the post for your chance to win a copy of the book!

Elaine, welcome to Craft Book Month! What's your favorite pre-cut to sew with, and why?

I love them all and find them handy in so many ways, but I really like the 2 1/2″ width-of-fabric strips that many manufacturer's sell as "jelly rolls" or "designer rolls". They can be easily cut into squares or rectangles for piecing. They are perfect for quilt-as-you-go projects where you sew the strips directly to the batting and backing. (Quick way to make a placemat!) And I love using them for straight grain quilt bindings. Because all the fabric prints coordinate, yet every strip is different, you can make a quilt binding that has an eclectic mix and match look.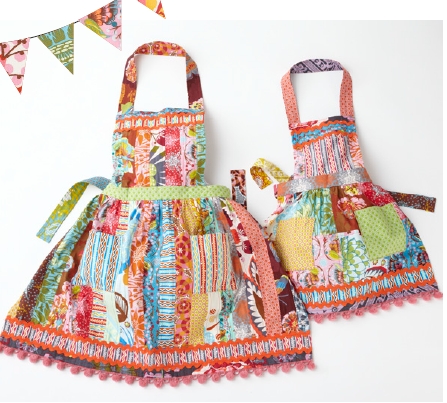 Can you tell me a little bit about the process of writing a sewing book?
Once you have an idea for a book, you need to approach a publisher with a proposal. Submission guidelines are on their websites so make sure to follow them in presenting your ideas. If your book proposal is accepted, a contract will be drafted for you and the publisher to sign. This contract will list everything you are required to do and a timeline of deadlines along the way.
Make sure you understand everything and discuss with the publishers any concerns or questions you may have. Also, allow enough time to work on the book! Whenever I start a book, I always think I have plenty of time to get it all done in the time allotted. But, I have found that it always takes me longer to work out designs, get all the instructions written, source supplies, and do photography if that is included than I thought it would at the beginning of the process. Depending on the book, I like to allow at least 6 months to finish everything.
When writing a book for Creative Publishing, I am given three deadlines to meet. The first is for the "dummy material", which includes the working contents list, a manuscript for one chapter of each section of the book, step-out samples or photographs to accompany the manuscript and an art log of images for what has been written to this point. The second deadline is for one-third of the manuscript with samples or photos and an art log. And the third deadline is for the final manuscript, complete with all samples and art work and the final art log.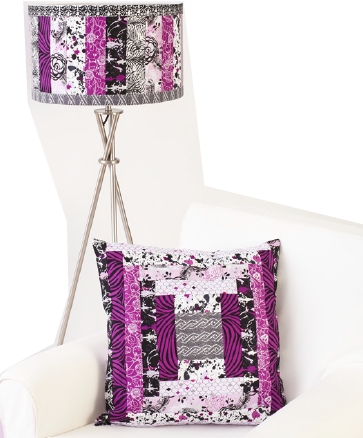 That's so interesting, Elaine! How did writing this book compare or differ to writing your last book, The Complete Photo Guide to Ribbon Crafts?
Pre-Cut Patchwork Party is a project-based sewing book. Each project is an original design focusing on using pre-cut fabrics. Detailed instructions were written for each project. Step-out samples of each construction step had to be made so they could be photographed to accompany the instructions.
The Complete Photo Guide to Ribbon Crafts includes a few projects, but mostly it is focused on various ribbon techniques with suggestions on how the techniques can be incorporated into a project. It was part of a series of "Complete Guides" and gives an overview of working with ribbons like making various styles of bows, creating ribbon flowers and trims, making hair accessories, sewing with ribbons, paper crafting with ribbon, etc. So those were the main differences.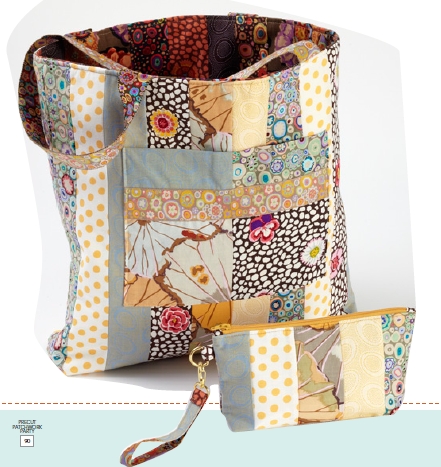 You seem to stay busy with many different aspects of the crafting business other than just writing books. How does your work with designing products, writing for magazines and TV appearances complement your role as a craft book author?
It all works together because everything I do involves things I love to do: sew, create with fabric and thread, and work with embellishments–the "fun stuff", like ribbons, buttons and beads. I have great working relationships with many fabric, ribbon and embellishment manufacturers and work with them to create projects that showcase their products in the best light. Cross-marketing is very important for both the manufacturers and the retailers who carry their products. I am careful when working with any companies who are competing for the same business, and I align myself up with those manufacturers who offer beautiful, quality products.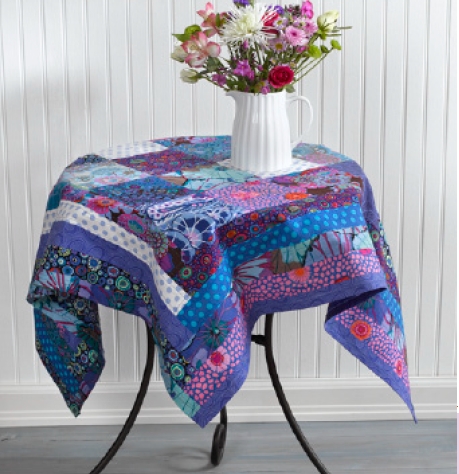 What is one thing that would surprise most people about being a professional crafter?
I don't think it is a surprise to anyone that you will have to work hard to be successful. And, you do not do this type of work because you want to make lots of money. You do it because you love the techniques, the products and the joy of sharing with others the excitement of making something truly unique and personal. There is no greater joy than making something with your own two hands, especially in this high tech world. Crafting and sewing are a form of self expression and bring balance to our busy lives.
I have been lucky that every job I have held has led me to the next and has been an important influence on my work today. One of my first jobs was in a retail buying office. From that, I understand what buyers consider when making decisions about the products they will carry in their stores. I have also worked as an employee for manufacturers who make products for the sewing/crafting market. From that, I understand the importance of filling the needs of the consumer with new and inspiring products, as well as the challenges faced in bringing those products to market. I have also done a great deal of marketing, education and promotion work to both retail buyers and the end consumer. All that experience and those points of view help me to understand the full picture. But, most importantly, I am the consumer. My vocation is my avocation.
Do you have any tips for helping others grow their own creative business?
The best way to grow your business is to find you passion, which is what you are good at and what makes your heart sing. Then develop yourself as a brand and work on several streams of income, like writing books and tutorials, selling products and completed projects online, licensing your designs to manufacturers, selling at local and national art shows and fairs, etc. You'll have to wear a lot of hats, but it can be very rewarding . . . and you'll be doing what you love to do every day.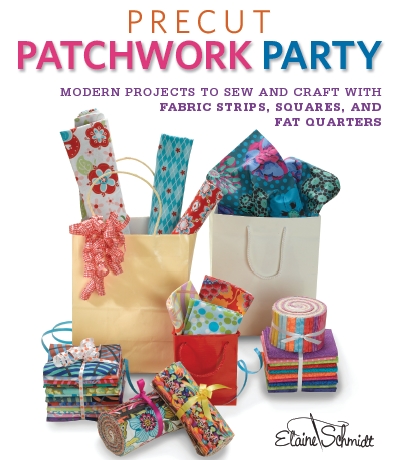 Giveaway!
Creative Publishing International is generously offering a copy of Elaine's book Pre-Cut Patchwork Party to one reader! To enter the giveaway, simply leave a comment on this post telling us one thing you learned about craft book publishing from our interview with Elaine. Good luck!
(Giveaway open to U.S. readers only. We'll choose a winner one week from the date of this post.)