The 1941 nickel holds immense substance in the world of numismatics, resonating with collectors and history enthusiasts. This coin serves as a poignant reminder of the challenges, triumphs, and unwavering resilience of an era overshadowed by the arrival of World War II in the United States. While its monetary value may not be substantial in the market, it offers a cherished glimpse into the turbulent times our nation faced.
The 1941 nickel showcases Thomas Jefferson, one of the esteemed Founding Fathers who played a pivotal role in shaping the nation. On its reverse side, it pays homage to Jefferson's beloved home, Monticello, a masterpiece he meticulously designed over four decades.
In 1941, the United States minted over 280 million nickels across three facilities: Philadelphia, Denver, and San Francisco. The large production quantity and the absence of precious metals in its composition contribute to the modest price tag associated with these nickels today.
The 1941 Nickel Design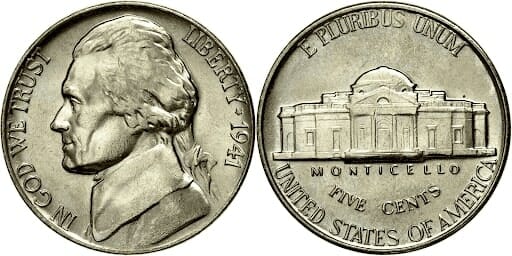 Felix Oscar Schlag designed the 1941 Nickel.
The obverse side of the 1941 nickel coin features a captivating left-facing portrait of Thomas Jefferson, the renowned designer of the Declaration of Independence and the third President of the United States. Jefferson's lifelike profile, with a gentle half-smile, is framed by flowing hair extending to the coin's edge. Positioned to his left side is the iconic US motto, "IN GOD WE TRUST," On the right side, the word "LIBERTY" is elegantly engraved alongside a star and the year 1941.
When flipping the coin, one discovers the depiction of Monticello, an architectural landmark that served as Jefferson's cherished home for over five decades and became his final resting place. Despite the controversy surrounding Monticello, as Jefferson owned more than 600 slaves despite his famous words proclaiming equality, it remains a National Historic Landmark and a UNESCO World Heritage Site, lending its grandeur to one of the most widely circulated coins in the United States.
The reverse side of the 1941 nickel displays another notable US motto, "E PLURIBUS UNUM," beautifully inscribed at the top. The denomination is Positioned just below Monticello, and beneath it, the country's full name, "UNITED STATES OF AMERICA," is proudly presented.
Related: Nickels Worth Money Exploring the History and Worth of America's Smallest Coin
The 1941 Nickel Composition
Nickels minted in 1941 are composed of 75% copper and 25% nickel, creating an alloy that guarantees both durability and a brilliant appearance. This year marked the final year before the US Mint adjusted the composition of five-cent coins to include copper, silver, and manganese (56%, 35%, and 9%, respectively). The modification was made due to the necessity of allocating nickel for the war effort.
Consequently, finding a 1941 nickel-containing any amount of silver is virtually impossible.
Related: The 1941 Lincoln Wheat Penny Value, Design, Mintage & Error List
The 1941 Nickel Mintage
Now that you are acquainted with the historical importance of nickel from 1941, let's look into its mintage figures and the different varieties you can come across.
1941 Nickel No Mint Mark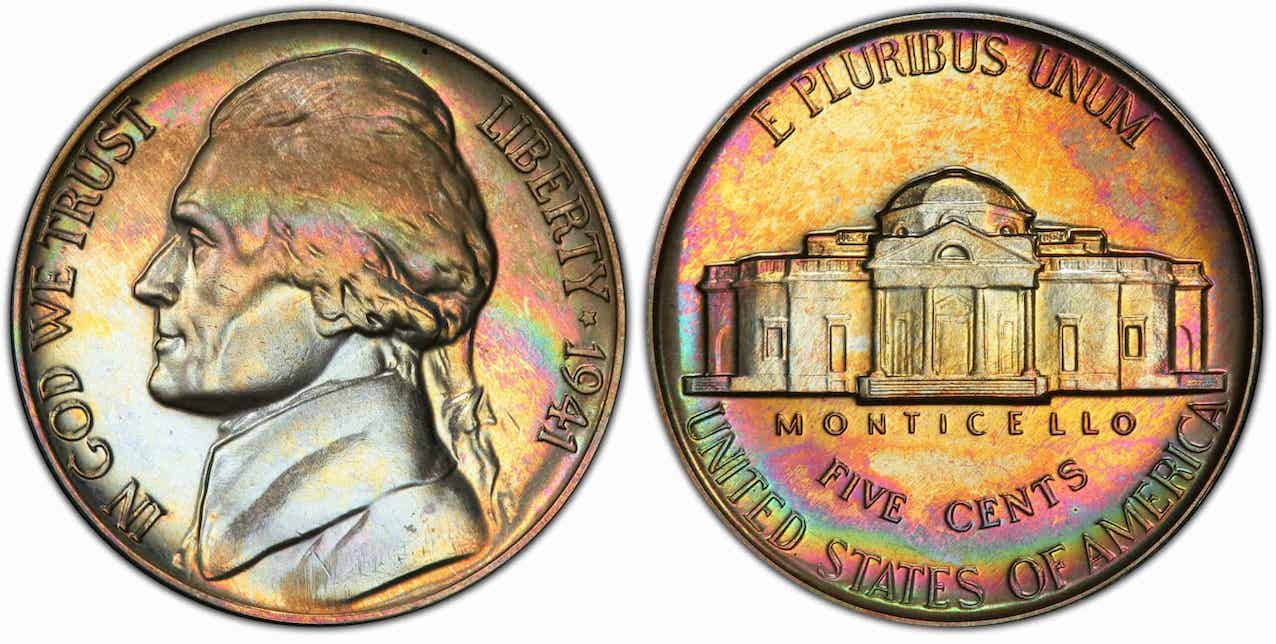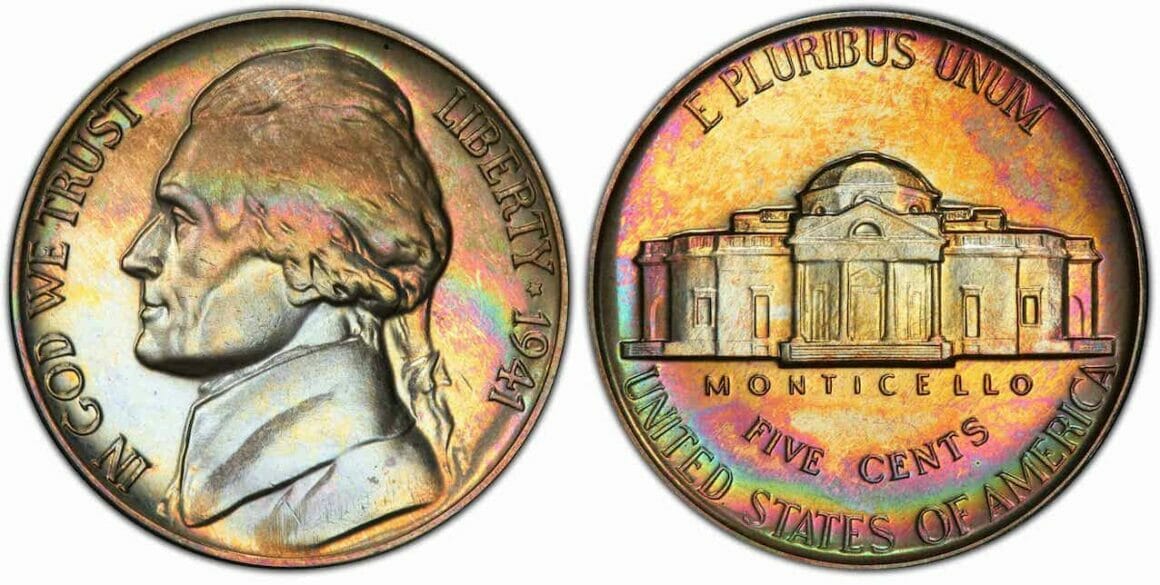 The most common variation of the 1941 nickel you are likely to come across is the 1941 Nickel with no mint mark. These nickels were minted in Philadelphia, which did not use mint marks for nickels until the following year. The introduction of the letter "P" as a mint mark on silver five-cent coins was implemented to distinguish them from their predecessors with a copper-nickel composition.
The Philadelphia Mint produced the majority of nickels in 1941, specifically 203,283,720 of them. As a result, there is still a plentiful supply of these unmarked coins readily available for collectors and enthusiasts alike.
1941-D Nickel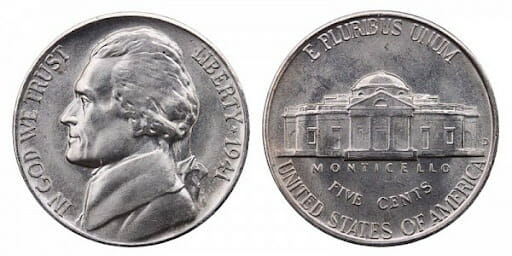 The second variety of nickel from 1941 is marked with the letter D on the right side of Monticello. This letter indicates that the coin was minted in Denver. The Denver facility made over 52 million Jefferson Nickels during this particular year. Although this is almost four times less than what the Philadelphia Mint produced, the nickels from 1941 marked with D are still easy to find nationwide.
1941-S Nickel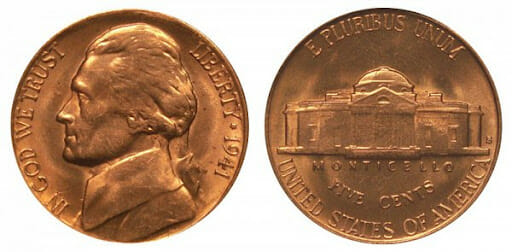 If you come across a nickel from 1941 that has the letter S on the back, you can be certain it was minted in San Francisco. The San Francisco Mint manufactured over 45 million five-cent coins in 1941, only about 10 million less than Denver. While these nickels are readily available, they tend to be slightly pricier compared to their counterparts.
1941 Nickel Value
1941 Nickels with the letters D or S (indicating the mint mark) are slightly more expensive by just a few cents than those without a mint mark.
The highest recorded price for a 1941 Nickel from Philadelphia was $5,175 in 2006 (rated 67).
In 2018, a collector bought an almost flawless D-marked 1941 nickel (rated 68) for an astonishing $11,400.
The most expensive 1941 nickel from San Francisco was sold at an auction in 2008 for nearly $9,000.
Its rarity and level of preservation primarily determine the worth of any coin. In the case of 1941 nickels, over a quarter billion were minted, making them far from rare. Consequently, the value of nickel from this year will depend mostly on its condition.
Typically, the price range for all three varieties of 1941 nickels is between their face value of five cents and approximately $15 for well-preserved specimens. The nickels marked with the letters D and S are slightly more expensive than those without a mint mark, usually by just a few cents.
However, numerous instances have been where a 1941 nickel was exchanged for hundreds or even thousands of dollars. Coins graded 65 and 66 usually sell for several hundred dollars, while higher-graded specimens are much more valuable.
The highest recorded price for a 1941 nickel produced in Philadelphia was $5,175 in 2006. This particular coin was rated 67. In 2018, a fortunate collector acquired an almost flawless specimen marked with the letter D and graded 68 for an astonishing $11,400. The most expensive 1941 nickel from San Francisco was sold at an auction in 2008 for nearly $9,000.
If you aspire to sell your nickel for a substantial amount, remember that it must be in impeccable condition. Only coins graded 67 and above can fetch a premium price. If you believe your coin holds such value, consider having it professionally graded by a coin grading service before selling it.
The 1941 Nickel Error List
Another characteristic that can notably increase the value of your coin is a potential factory error. This is another crucial reason to hire a professional coin grader – mint errors are not always obvious, so if you are not a seasoned expert, you may not notice them or simply misinterpret them.
The 1941 Nickel Lamination Error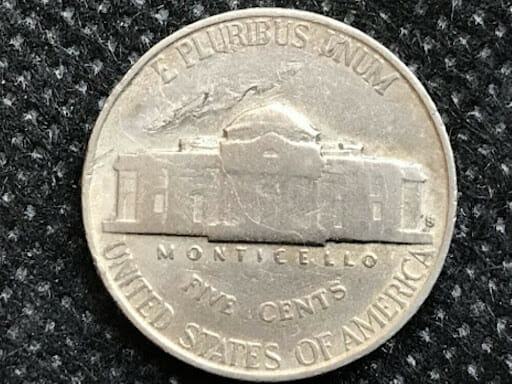 Lamination error happens if an alloy of copper and nickel used for five-cent coins gets contaminated, resulting in a weakened integrity of the coin, consequently causing layers to separate. Depending on the severity of the error, you can see the cracks and thin flaps on the surface of the coin's obverse or reverse.
This error is not very common, yet it can increase the value of your 1941 nickel by only a few dollars.
The 1941 Nickel Double Die Error
Another potential variation you might encounter with 1941 nickels is double die errors. This mistake occurs when the dies used in the minting process are flawed, resulting in an incorrect and usually doubled image on the coin's surface.
Double die 1941 nickels can fetch prices ranging from approximately $20 to around $100, depending on the coin's condition. It's important to note that detecting this error can sometimes be challenging, so it is advisable to have your five-cent coin professionally graded before considering selling it.
The 1941 Nickel FAQS
Which wartime nickels hold the highest value?
The most valuable wartime nickel is the 1943 Philadelphia issue with a distinctive error known as the "3 over 2." This error occurred when the Mint accidentally struck 1943 over 1942 nickels, resulting in a doubled image of the first three digits and the number 3 over the number 2. These coins, in circulated condition, can command prices ranging from $100 to $500 on average, while uncirculated specimens can sell for thousands of dollars.
Related: 1943 Copper Penny – Value, Mint Mark, Errors, And More
What distinguishes silver from nickel silver?
Nickel silver does not contain actual silver in its composition. Its name comes from its silver-like appearance.
When did nickels cease to contain silver?
Nickels were made of silver during World War II, from 1942 to 1945. After the war ended, nickel was no longer diverted for wartime purposes, and the US Mint reverted to using the standard copper-nickel composition for five-cent coins.
Conclusion
1941, the United States stood on the brink of war and all the accompanying tragedies. As the year drew close, the Mint prepared for upcoming changes by replacing the copper-nickel alloy with a copper-silver-manganese composition. This blend remained used for the next four years until world peace was achieved and nickel was no longer needed for the war effort.
While most 1941 nickels hold a value of just a few dollars, their significance lies in the historical context of the tumultuous era in which they were minted—an era of great turmoil both in the United States and worldwide. Consequently, these coins hold a special place in the hearts of many collectors.
Moreover, a small fraction of perfectly preserved 1941 nickels can be valued anywhere from $100 to $10,000. Owning one of these coins is indeed a stroke of fortune. For collectors looking to expand their collection, acquiring 1941 five-cent coins provides a meaningful connection to an important piece of history—one that is unlikely to be regretted.
It is worth noting that having your nickels professionally graded and purchasing coins with certificates is always a wise decision. Doing so can potentially save you significant time and money in the long run.